This Lemon Garlic Chicken recipe will take your taste buds on a journey towards dinner perfection. Get ready… this is about to become a weeknight favorite for your family.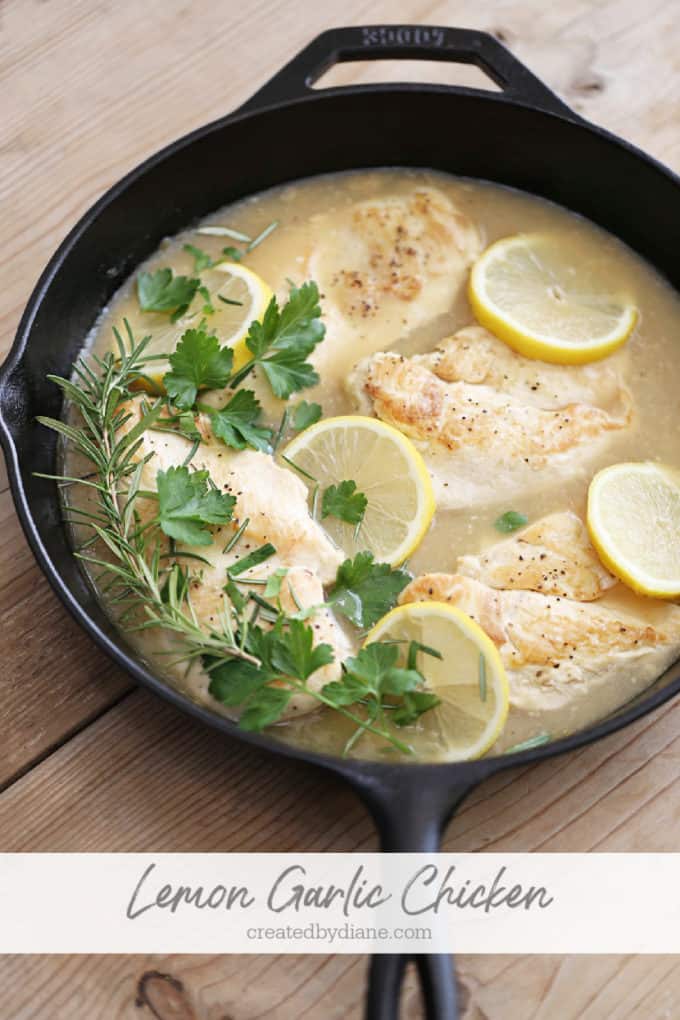 Who here loves the taste of lemon?
I'm a huge fan of lemon in desserts and it's one of my favorite flavors for chicken.
Chicken is the type of meat that really does a great job of soaking up the flavors so the lemon and the garlic are a perfect flavor combo for deliciously juicy flavorful chicken.
What I also really love about this simple chicken recipe is that it takes minimal ingredients to make. And I'm not talking about funky ingredients that you'll have to run to the store and grab. More than likely, you have all these ingredients already waiting for you at home. I'm the type that keeps chicken stock in the pantry at all times, and a few tubes of Gourmet Gardens Garlic Paste in the fridge, I always have at least two, but mostly I have 3 or 4 of them in there it's my favorite garlic paste, alternatively, I use a garlic press and press fresh garlic cloves.
I often serve this dish with a side of pasta or rice for the carb eaters in my house and me I enjoy a double helping of broccoli, brussels sprouts or asparagus.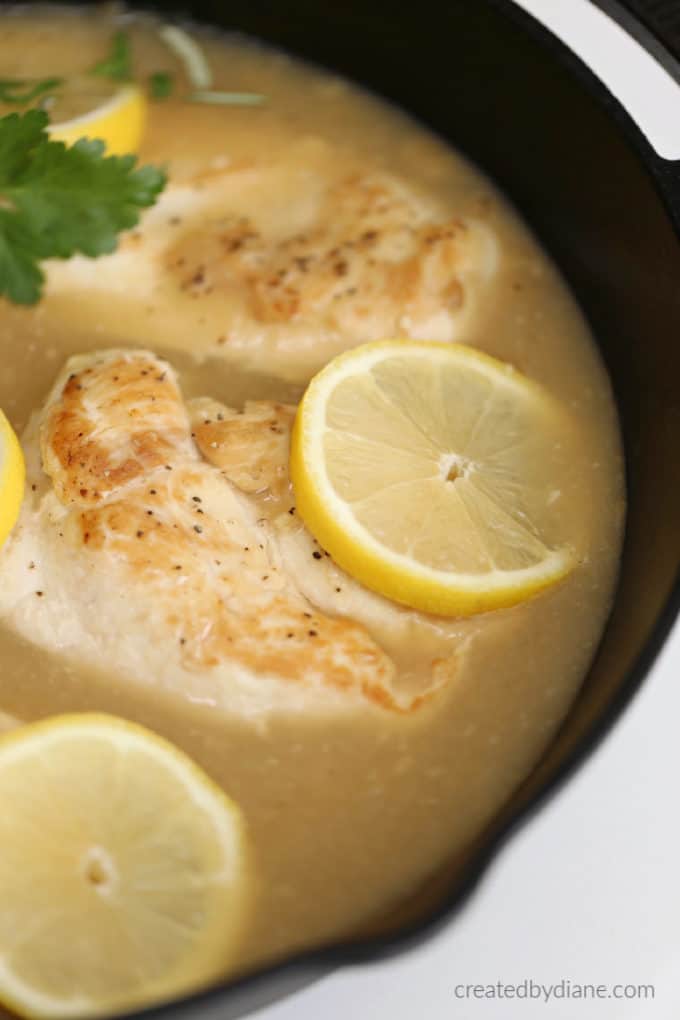 Herbs, What herbs go best in this recipe?
I love fresh rosemary in this recipe, I also add fresh parsley if you don't have fresh rosemary, dry rosemary is a good substitute, but dry parsley isn't full of flavor so you can totally skip it. Other herbs that will go well in this recipe are thyme and basil, so add what you have and if you're like rosemary like I do, did you know all rosemary is edible.
Rosemary plants are hardy, and they even survive the frost here so check in your are about which herbs do well rosemary and parsley survive our mild winters here in Southern California so I try to keep some planted all year long and make sure I check on them in the late fall if I need to replenish any plants, they are really great to have and it ensures I can make this dish all year long with great flavor. If you don't have fresh herbs, you can pick them up in the produce section of your grocery store. Fresh herbs seem to make the lemon flavor stand out a bit more and that's not a bad thing at all!
Do you have to marinate the chicken before cooking it?
You don't have to marinate this chicken! This is just another awesome reason why this simple dinner recipe totally rocks. You don't have to wait hours to get that wonderful taste and flavor and you can cook it up immediately once you have all the items ready. 
How do you reheat leftovers for this Lemon Rosemary Chicken?
If you're lucky enough to have leftovers, the reheating of them is simple! You can reheat it low in a skillet until it's fully heated through.
Or, if you're running short on time, you can pop it in the microwave at 30-second intervals stirring and turning the chicken to cook evenly, until it's piping hot and ready to enjoy! 
Are you ready to make this delicious chicken dinner recipe? All you need to know is ready and waiting below. 
We joke that the sauce is like liquid GOLD, it's so yummy you'll want to stick a straw in it. I mention in the notes on the recipe card, you can add white wine to the sauce, it really makes the sauce delicious but if you're serving this to kids, they may prefer it without the wine. But don't worry the flavor of the sauce is delicious with or without the wine.
What kind of Lemons did you use in this recipe?
I love lemons as I've mentioned. My favorite variety is Meyer Lemon and they are readily available where I live, growing on trees everywhere and they are available in the grocery stores as well. Most often in stores we see the bright yellow Lisbon and Eureka lemons which are tangier in flavor than Meyer Lemons which are actually a combination of lemon and mandarin orange and give a milder flavor. So adjust the amount of lemon in the recipe to fit your taste buds.  Meyer lemons also usually have more juice in them, so you may not need as many lemons when making this or other lemon recipes versus using other varieties. I like lots of lemon flavor, some may only prefer a tablespoon. Add some lemon in and give it a taste then add more to your liking if you're not used to cooking with lots of lemons. I use the juice of Meyer Lemons in the recipe and top the dish with typical grocery store Lisbon or Eureka Lemon slices.
Be sure to take a look at some of my other popular lemon recipes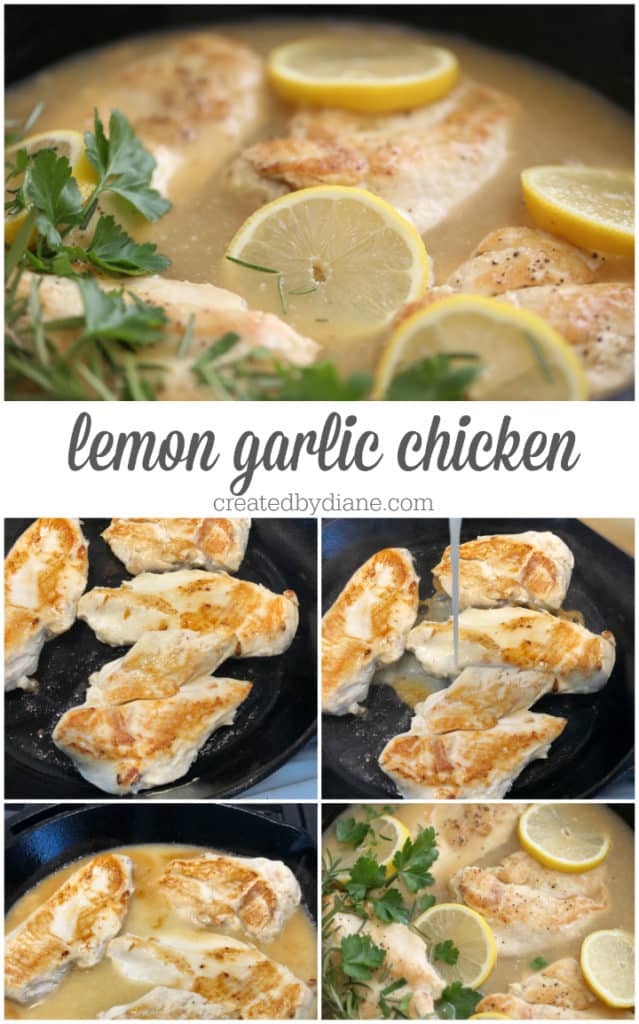 Two tips on making this recipe
Browning the chicken:
Don't underestimate the flavor of browning both sides of the chicken in the skillet, when you add the sauce, some of the browning will seep into the sauce making it EXTRA flavorful. Trust me, this is where some magic happens!
Salt and pepper:
Be sure to season the dish…  add salt and pepper for some really great flavor. I love coarse kosher salt and coarse black pepper. I don't prefer the taste of table salt and really only use it in baking, so if you haven't tried coarse kosher salt, give it a try you may find a new favorite!
And if it needs to be mentioned…
cooking in a cast-iron skillet really makes great-tasting chicken.
Here is the Cast Iron Skillet on Amazon. I have lots of cast iron skillets in many sizes, the 12″ is the one I have 3 of and use them every day. These tongs are great as well.
Lemon Rosemary Chicken
A simple skillet chicken dish that is full of flavor and will make its way into your meal rotation for sure.
Author:
Diane Created by Diane
Ingredients
2.5 lbs boneless skinless chicken breasts (I used 4 medium breasts, you can use more or less chicken, and you can also cut the chicken in half if desired)
1 1/2 cups chicken broth
1 tablespoon cornstarch
1-2 tablespoons oil to cover the bottom of pan lightly (I use avocado oil or vegetable oil)
1 tablespoon garlic paste or minced garlic
1 lemon, juiced (about 2-3 tablespoons)
1 tablespoon butter
salt and pepper to taste
1 tablespoon rosemary, fresh (or 1 teaspoon dried)
1 tablespoon parsley, fresh (or 1 teaspoon dried)
Instructions
In a measuring cup add chicken broth, cornstarch, and lemon juice, garlic paste, salt, and pepper if you want or you can add it at the end of cooking after tasting the flavor.
Heat skillet on high until it's hot.
Add the oil to the hot skillet (you can add some butter at this time if you want a real buttery flavor)
Place chicken in skillet and brown the chicken on both sides over high heat.
Then turn the burner to medium temperature.
Slowly pour in the sauce mixture.
Bring sauce to a simmer, (small bubbles) and cover the pan with a lid.
After a few minutes turn the chicken over to cook evenly.
The chicken is cooked when it reaches at least 165° internal temperature.
Add butter to sauce and once it's melted serve chicken.
Add herbs and serve.
Notes
Wine: You can add 1/2 cup of white wine to sauce mixture, it makes it really delicious but if serving it to kids they may prefer it without the wine.
Butter: I add a tablespoon of butter into the sauce at the end of cooking for a rich flavor.
Heavy Cream: Add 1/2 cup heavy cream or whole milk for a creamy sauce.
Add any fresh herbs you like, I added rosemary and parsley. Thyme, oregano, and basil are other options.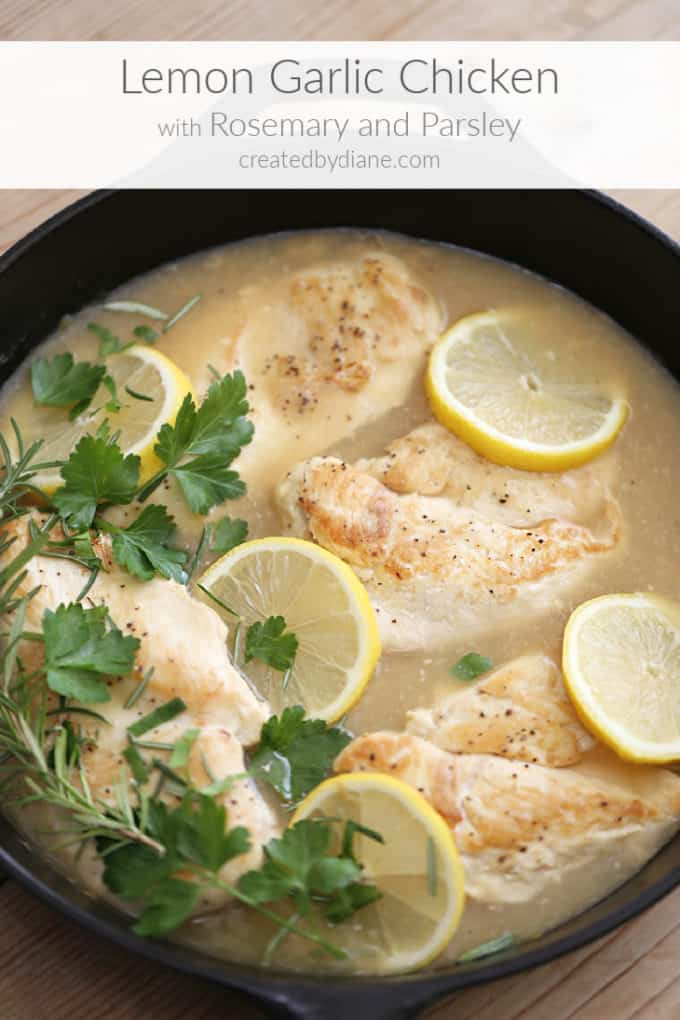 As you can see, this lemon rosemary chicken recipe is simple and easy to make! It's one of those dinner recipes that you can whip up and have ready in no time at all! 
Once you make this recipe once, you're going to have it on your monthly meal rotation for certain!