This fresh lemonade recipe is not only deliciously refreshing it's easy to make with a few tips you'll be making the best lemonade around.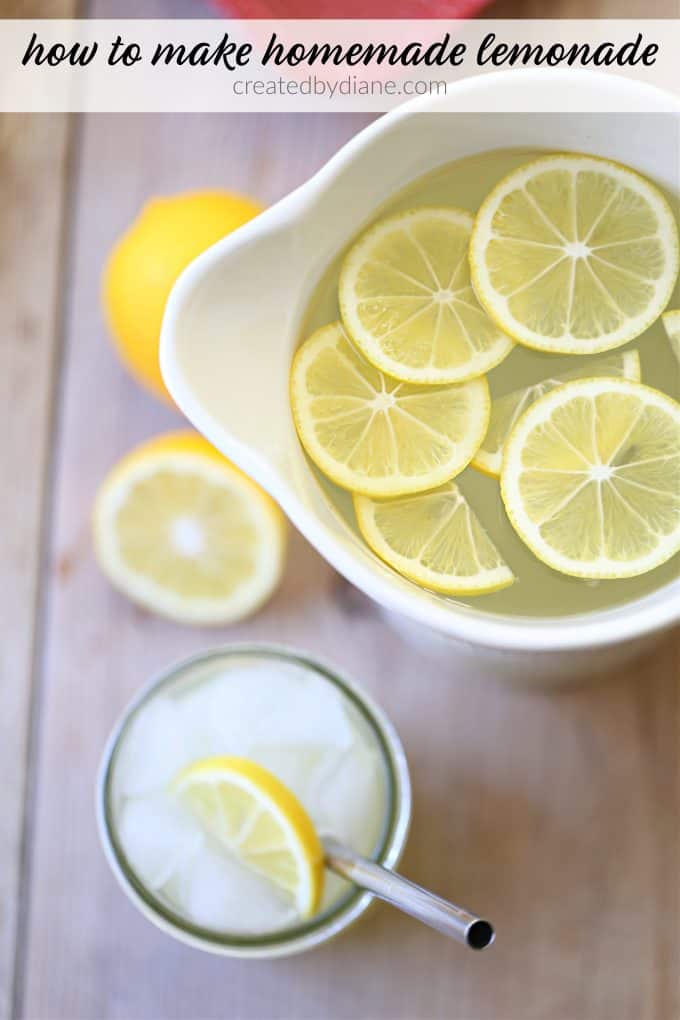 If you like lemonade and want it to be as delicious as you'd get on the boardwalk or fair, you're going to love this.
The heat is moving in slowly all over, and for me, nothing tastes better than fresh lemonade. It's not only perfect on a hot summer's day, and it brings back memories of me as a child. What kid hasn't drank a tall glass of this classic drink after running around outdoors? I'm going to show you how to make fresh lemonade to keep your thirst quenched all summer long!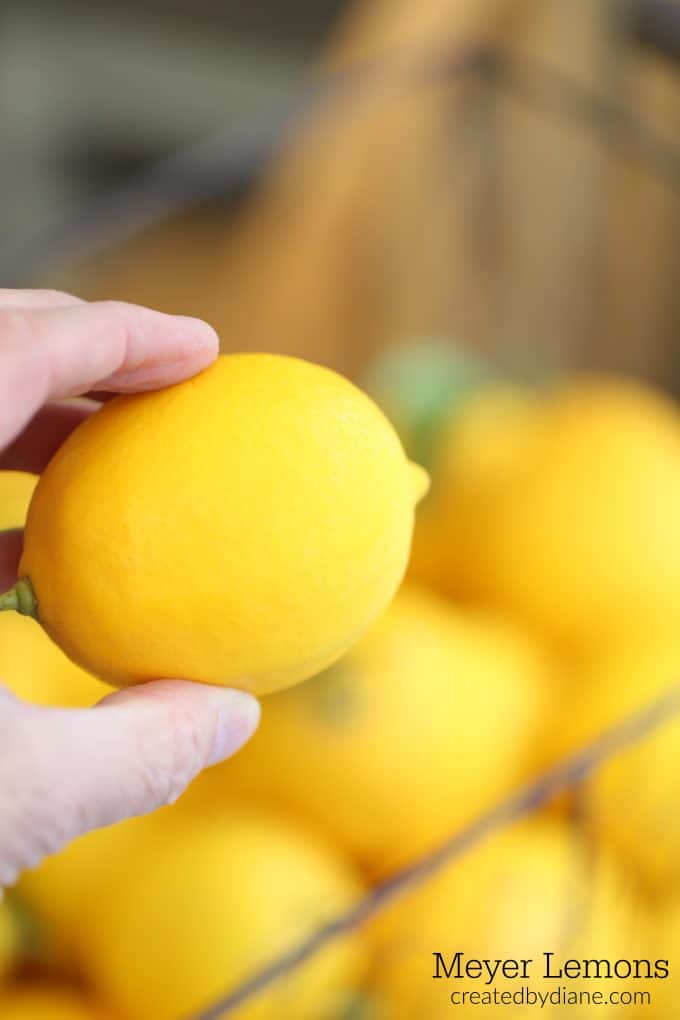 So, let's talk lemons! There are actually quite a few varieties of lemons out there – 30 to be precise! However, there are usually only a few to choose from in the grocery store or your local farmers' market. The two most common types seen are Lisbon and Eureka (these are typically labeled "lemons" with no other variety added). Any lemons will work for fresh lemonade, you can adjust for sweetness according to taste, some lemons are tangier than others, and the riper the lemon the more juice.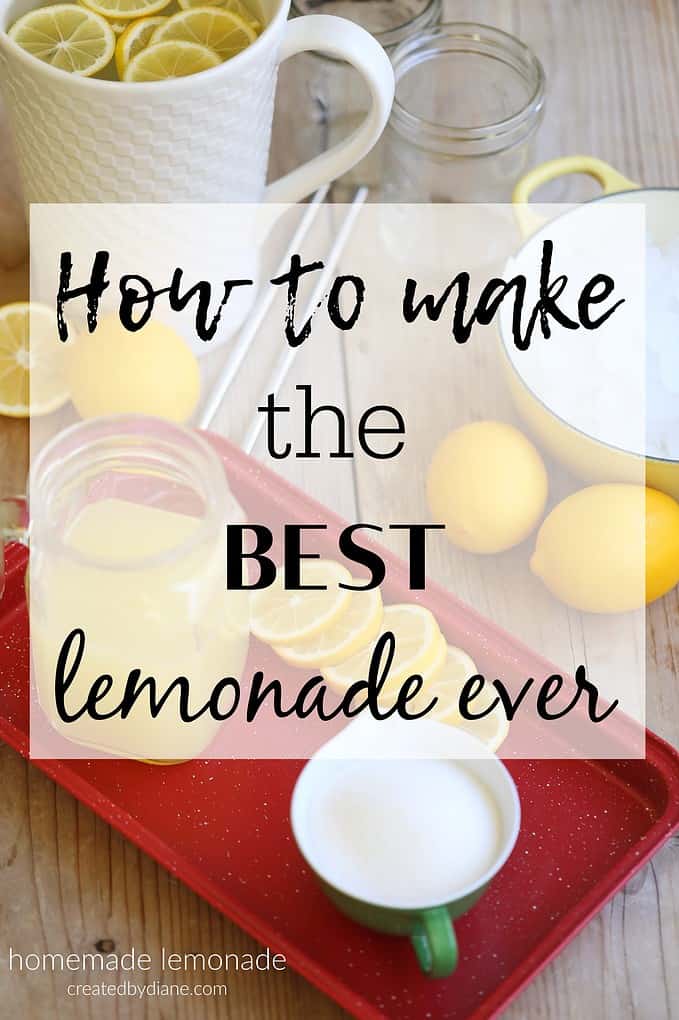 My favorite lemon is a Meyer Lemon, and lucky for me my mom has a Meyer lemon tree, which means I get spoiled with 5 gallon buckets of lemons! My mom has a Meyer lemon tree that produces an abundance of lemons and has for over 25 years. I feel blessed to get them.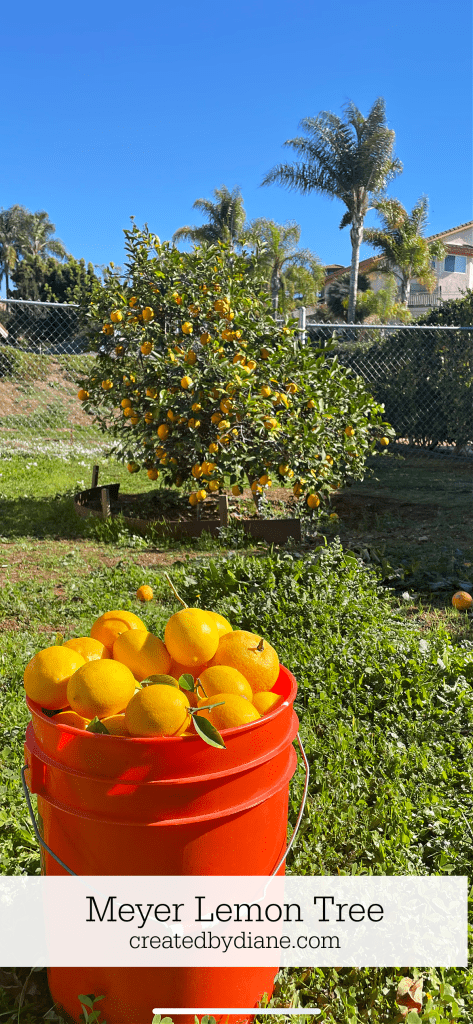 A week ago I stopped by for a visit with my parents and brought home a 5-gallon pail full of lemons. Oh, I knew just what I was going to make with some of them… first was some lemon scones, and then I got ready to make some lemonade to share with you my tips for great lemonade, and of course, I shared some lemons with friends too.
Don't worry you don't need a 5 gallon bucket of lemons to make lemonade, so how many lemons to make lemonade? I break it all down for you from the glass to the gallon.
Meyer lemons are popular lemon trees to have here in southern California, Meyer lemons are juicier and sweeter in taste as they are a hybrid of a lemon and a mandarin orange. They are my absolute favorite go-to, but you can use whatever lemons you have handy!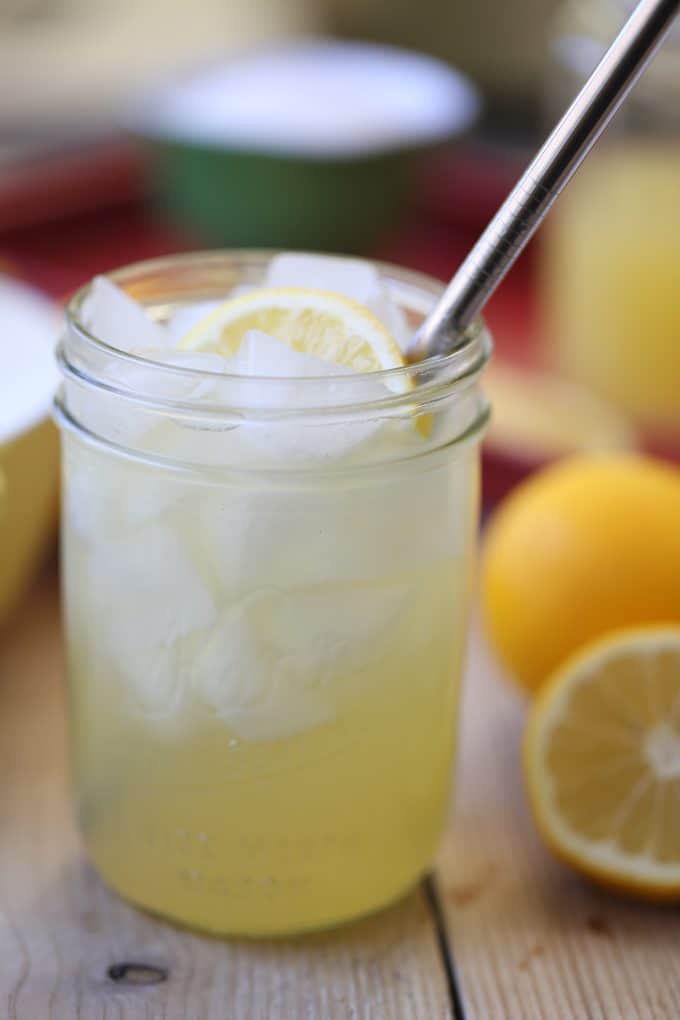 And the best thing about this fresh lemonade recipe is how you can adapt it to fit your taste buds! Add in any of these fruits to mix up the fresh flavors a bit:
Lavender

Blueberry

Cherries

Strawberries

lime

Mint

Sparkling water makes it bubbly!
I often make fruit syrups and add them to the lemonade (you can reduce the sugar in the lemonade recipe if using syrup to flavor the lemonade)
You can even per up lemonade mix by using fresh lemon juice, nothing beats the taste of fresh lemons, but if you don't have lemons, you can add the juice of a lime for a fresh flavor. The same additions as above would make a great flavor combination for store bought lemonade mix. You can add in some fresh strawberries or blueberries and puree them for a fun fruity flavor. Add some seltzer to make it fizzy.
Want it boozy? Add in tequila, Vodka, or Bourbon for an extra kick. You could even float some sliced jalapenos on top for some spice – there are so many options.
So, what to use to juice your lemons? Everyone has their opinion on this. Ideally, you want to get the most bang for your buck – meaning you want the tool that will squeeze every last drop out of your lemon with minimal effort.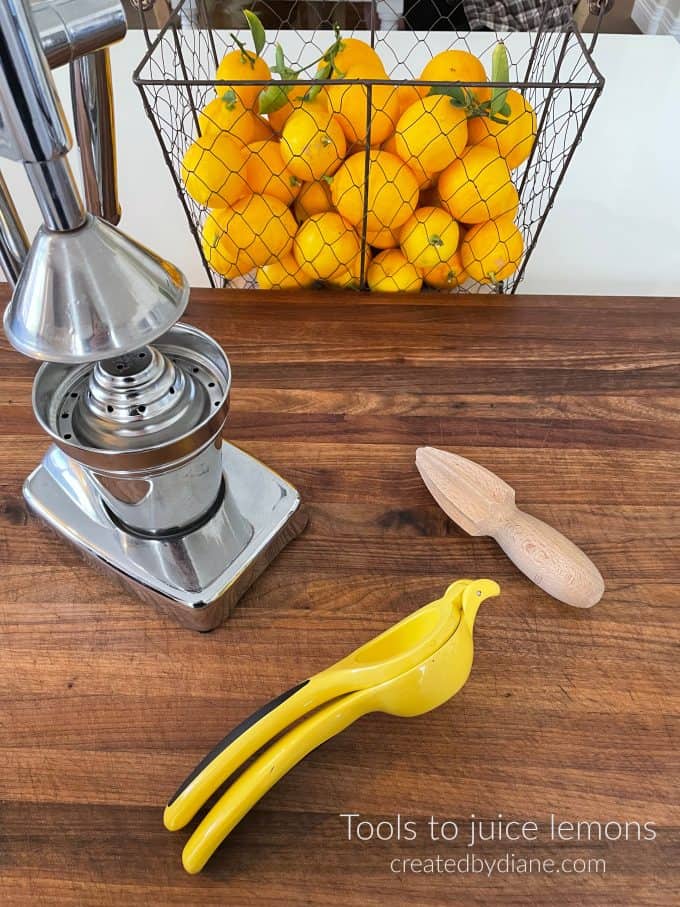 I've used lots of juicers, from hand-held presses, and reamers, to stand juicers you press by hand to electric juicers (which are great if you juice lemons or oranges all the time, grow your own citrus etc. 
If you're only juicing a few lemons, any tool will likely be fine. But when trying to get a lot of juice, your forearms and hands will get tired if using something that isn't efficient. So, for larger jobs, I prefer the handheld press. It seems to fit all lemon sizes well and it renders the most juice, even more than the standing press. A quick tip: If your lemons are really firm and you're struggling to get the juice out, try microwaving them for 30 seconds, this will make them juicier!
I prefer the handheld press, it seems the lemon sizes fit well, and it lends the most juice. I love the standing press but found the handheld got more juice out of each lemon on the first attempt. 
 

How many lemons to make a gallon of lemonade

?
You'll need 8-12 lemons to make a gallon of lemonade. The reason there's such a variance in lemons depends on the size and ripeness of your lemon. And if you end up being short on lemons, you can use lemon zest – the skins of lemons have great flavor. Just don't go overboard, it could become bitter.
So now let's look at the recipe!
In the printable recipe card, you'll see instructions and amounts for making lemonade by the gallon, half-gallon, 2 quarts, and by the glass. 
To mix the lemonade well, it's important the sugar is dissolved, so pour the sugar into a container/pitcher or glass, then add a small portion of warm water and stir to dissolve the sugar, then add the lemon juice and remaining water. Stir well, then pour over ice.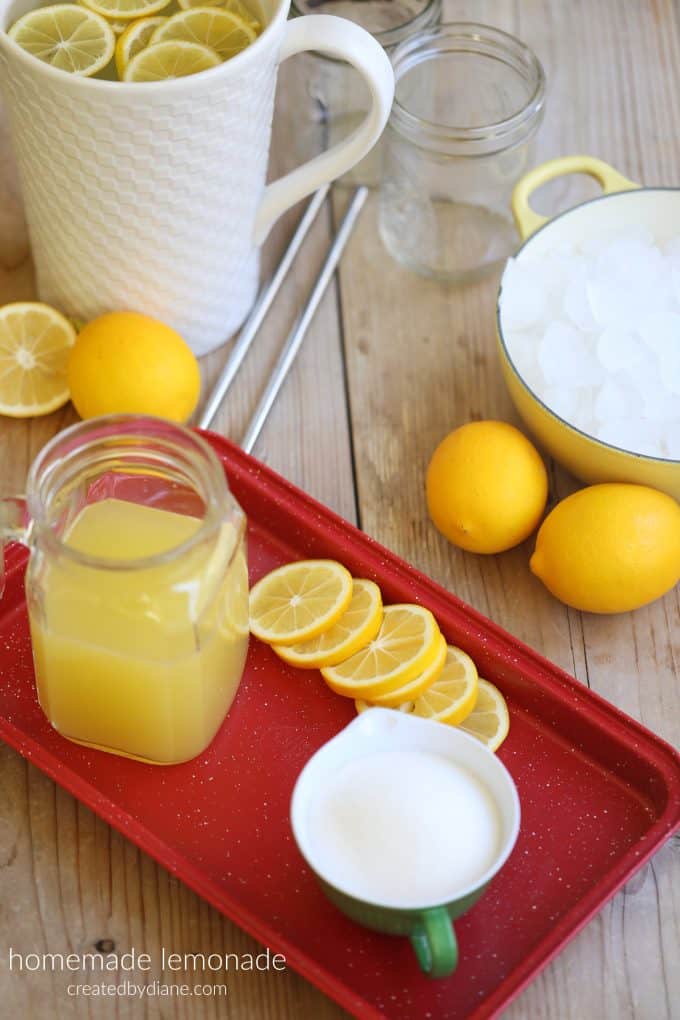 All lemons will give different amounts of juice, if the lemons are larger or smaller, if they are juicier or dryer. The amount of lemons is an estimate. 
1 cup fresh lemon juice: juice from 4-6 lemons (large Meyer lemons-home grown) 8 Sunkist lemons from the store. 
1/2 Gallon lemonade:

1 cup fresh lemon juice, juice from 4-6 lemons (Meyer lemons) 8 Sunkist lemons from the store.

3/4 cup granulated sugar
1/2 cup warm water, to ensure the sugar dissolved well
Then add the remaining water stir well and serve over ice.
16 oz Glass of lemonade: 

1/4 cup lemon juice

2 tablespoons of

sugar

¼ cup of warm water to dissolve the sugar 

Add 14 oz cold water and stir.

Serve over ice.
And don't forget, you can add in fresh fruit, booze, whatever floats your boat really!
I hope you enjoy this recipe, and if you love lemon, take a look at these other lemon recipes!
And I have lots more lemon recipes here!
Can I use limes in place of lemons?
Absolutely! Lime-aid is delicious and you can do an even exchange using my recipe. It's also great for many of the add-ins mentioned above.
Is there a good way to substitute the real sugar for a sugar replacement?
I've made lemonade with monk fruit sweetener and with swerve sweetener with good results, start by adding half the recommended sugar, then add more to taste. Sugar replacements tend to taste sweeter.
What's the best way to pick ripe lemons?
Ripe lemons should have glossy skin, be firm and bright yellow with no green showing. Ideally, you want a lemon you can press and it'll give a bit,  really firm lemons won't render a lot of juice.
How to make lemonade with a mix better? 
If you're don't have an abundance of lemons and want to make lemonade you can start with a mix and add in a couple of fresh lemons, or make another flavor to elevate the lemonade mix to taste fresher. Like adding a cup to two of fresh strawberries, raspberries or blueberries, pureed to give it a nice fresh fruit flavor. If you like lemon-lime, go ahead and add in a couple of fresh limes juiced to give a nice zing.
Another way to add a fun flavor is to add fresh muddled mint or basil leaves to lemonade, a nice alternative if you have them growing in your garden and don't have fruit available.
Can I make this into a frosted or creamy frozen lemonade drink like chick-fil-a? 
You can, add in some vanilla ice cream and ice and whip it in a blender, or use some milk and sweetened condensed milk, another option is to use frozen lemonade with either of those options to create a cold, frosty and creamy lemonade.
Can I make lemonade without using all the calories in regular granulated sugar?
Yes, as I mentioned you can use monk fruit sweetener or swerve, both are zero calories. Start with less than the recommended sugar and add more to taste.
Can I make this lemonade sparkling or bubbly?
If you want to make lemonade fancy, go right ahead and add seltzer, club soda, Topo Chico, La Croix, or another fizzy water to give it that great bubbly sensation.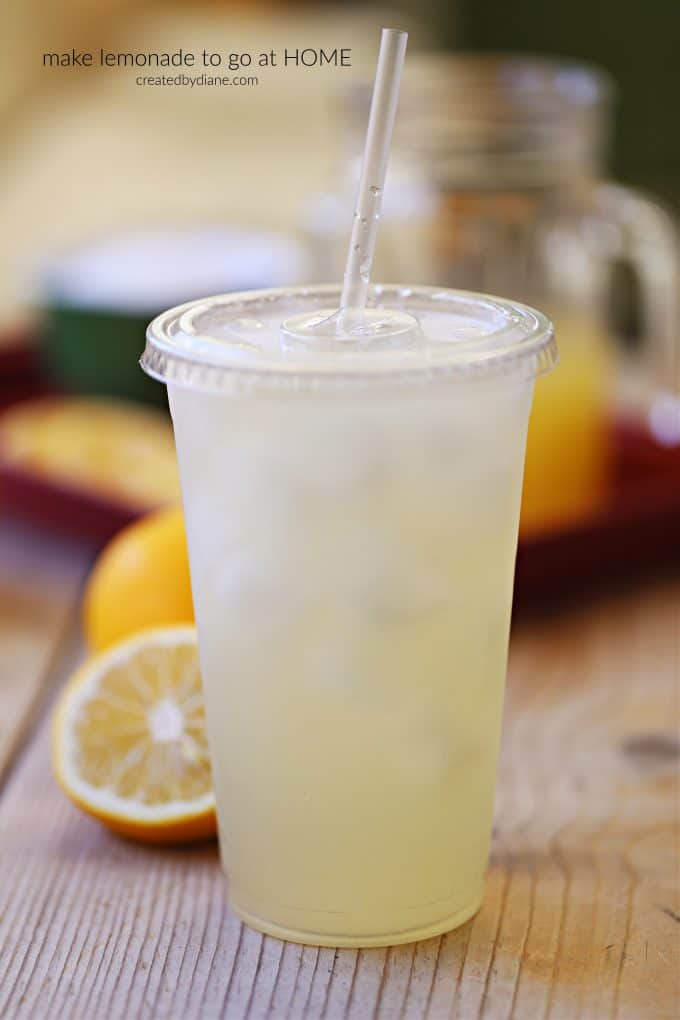 Next time you see some to-go cups at the store, pick some up, or grab some on Amazon here. They are great to have around, I use them to send my kids off to work with a frosty lemonade on hot summer days. When repairmen come by to fix things or we have someone doing a project or work for us, I know just what I'll save them. Everyone seems to love lemonade, especially homemade!
How to make Homemade Lemonade
refreshing lemonade you'll make by the gallon all summer long, with instructions to make half gallon and by the glass to enjoy any time of year you like. Just like carnival and boardwalk lemonade.
Author:
Diane Schmidt, Created by Diane
Ingredients
Gallon Lemonade (128 oz) 16 cups
2 cups lemon juice (8-12 lemons)
1 1/2 cups sugar
14 cups water
1/2 Gallon Lemonade(64 oz) 8 cups
1 cup lemon juice (4-6 lemons)
¾ cup sugar
6 cups water
1 quart Lemonade (32 oz) 4 cups (double for 2 quarts)
1/2 cup lemon juice (2-4 lemons)
2/3 cup sugar
3 cups water
Lemonade by the glass (16 oz) 2 cups
1/4 cup lemon juice (1-2)
2 tablespoons sugar
14 oz water
Instructions
The number of lemons will ultimately depend on size, variety, and ripeness.
I use granulated sugar to make lemonade, but if you're looking for a sugar alternative I've used monk fruit sweetener and swerve with good results. Start with half the recommended sugar then add more to taste, those sweeteners tend to taste sweeter than sugar, so you will not need as much.
The best way to make the lemonade is to add the sugar and a small portion of warm water to the container and mix until the sugar is dissolved.
Add the lemon juice and remaining water and stir well.
Serve over ice.