Raspberry Swirl Cupcake with Raspberry Frosting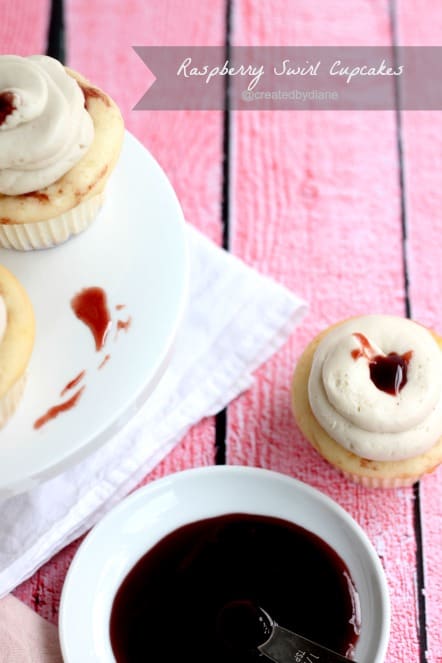 My go to jam on a PB&J is strawberry,
but for everything else it seems like raspberry is my favorite.
I love it on scones, especially lemon scones, on a piece of toast, bagels and… well….
cupcakes!!!!
It's like a surprise inside a surprise.
And a little bit of jam/preserves goes a long way.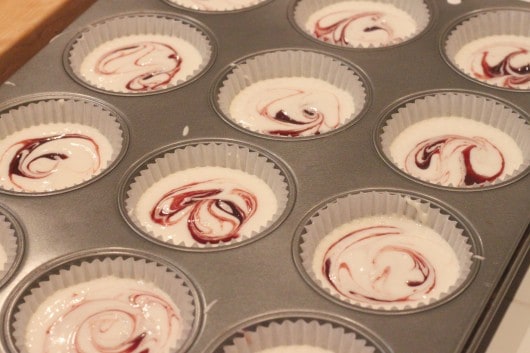 To create the swirl in the cupcakes. Add a teaspoon raspberry jam and use a toothpick to swirl it into the cake batter, in a figure 8 shape a few times. Since the jam is heavier than the cake batter, some settles on the bottom as they are baked and it's perfect for biting into the cupcake and having the raspberry jam all through the cupcake and at the bottom.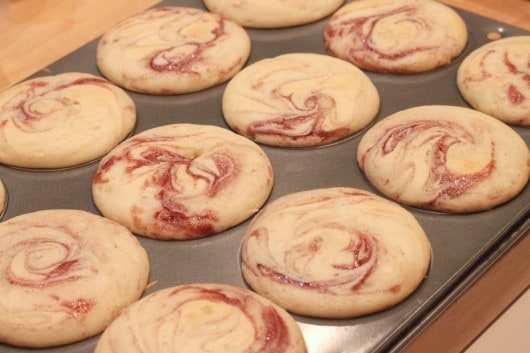 The swirls stayed nicely when baked.
They are pretty enough to serve with frosting, but really WHY, then they'd be more muffin-like and well, Frosting is where it's at!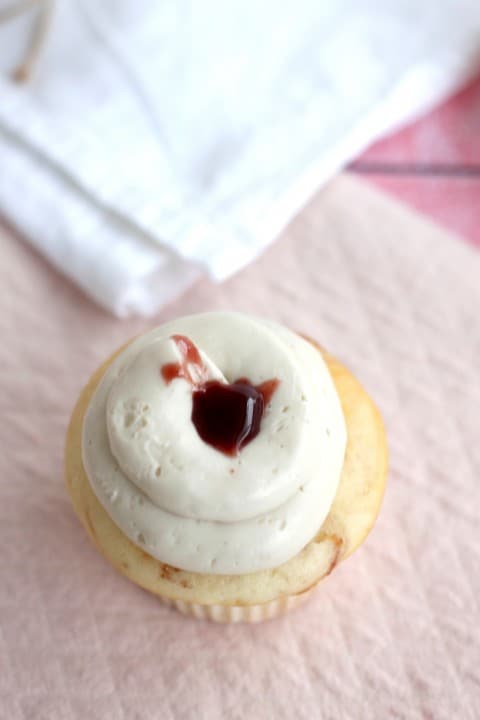 I make a batch of Italian Buttercream Frosting and added Natural Raspberry Extract, I found it at Savory Spice Shop. As soon as I walked into their spice shop I knew I'd find lots of yummy things, and I did. Their Raspberry Extract is delicious and doesn't have that medicine like taste that usually comes with typical raspberry flavoring. I can't wait to use all the items I bought there. *All opinions are my own, I'm not being compensated for this post, I just happen to love their items.
Then I topped off the cupcakes with a bit more raspberry jam in the center of the frosting.
Raspberry Swirl Cupcake with Raspberry Frosting
Raspberry Swirl Cupcakes with Raspberry Italian Buttercream Frosting and Raspberry Jam
Ingredients
1 box white cake mix (and ingredients to prepare mix)
I added milk instead of water when preparing the mix.
One batch Italian Buttercream Frosting
2 teaspoons Savory Spice Shop Natural Raspberry Extract
1/2 cup raspberry jam/preserves (seedless and smooth variety)
Instructions
Prepare cupcake mix and place 3 tablespoons of batter into each cupcake lined portion of your cupcake pan.
Place a 1/2-1 teaspoon of raspberry jam/preserves into the center of each cupcakes batter and swirl with a toothpick a few times in a figure 8 pattern.
Bake cupcakes according to directions.
Remove cupcakes and cool completely
Make Italian Buttercream Frosting and add to it 2 teaspoon Natural Raspberry Extract.
Place frosting into piping bag with a 1A tip and pipe 3 rings in a circular motion leaving a small hole in the center.
Add a teaspoon of raspberry jam/preserves into the hole in the frosting.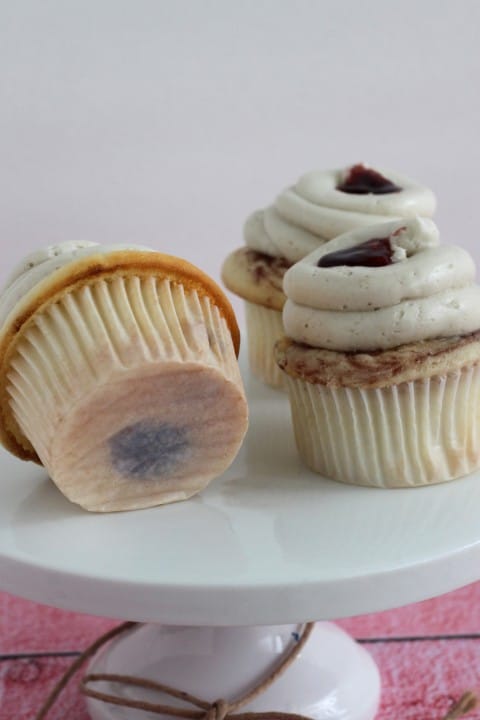 I love the way there is raspberry jam on the top of the cupcake in the center of the frosting, and it's swirled inside the cupcake and makes a small puddle of yumminess at the bottom of each cupcake.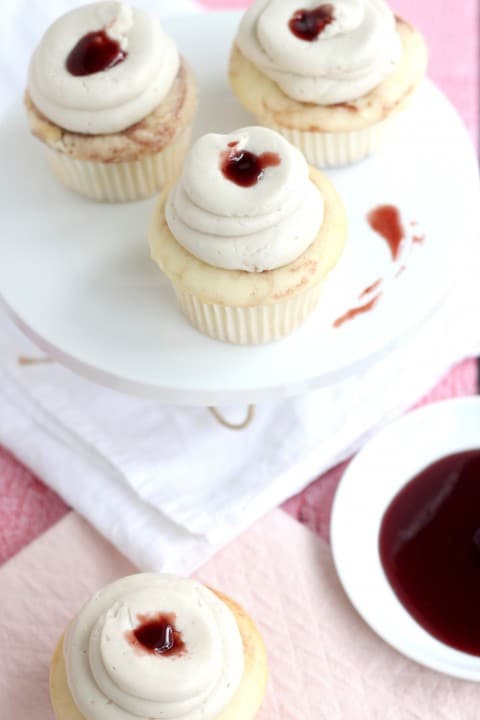 These are nice and light and would be fun for a brunch. That is my way of saying I'm eating them after breakfast until they are all gone! No need to wait until after dinner to enjoy these. Jam and Preserves are enjoyed at breakfast and lunch time, so no need to wait to have them. If anyone ask, just say I said it was ok!