Tender juicy chicken is always a huge hit at mealtime,
and chicken thighs are a sure fire way to guarantee you perfect results.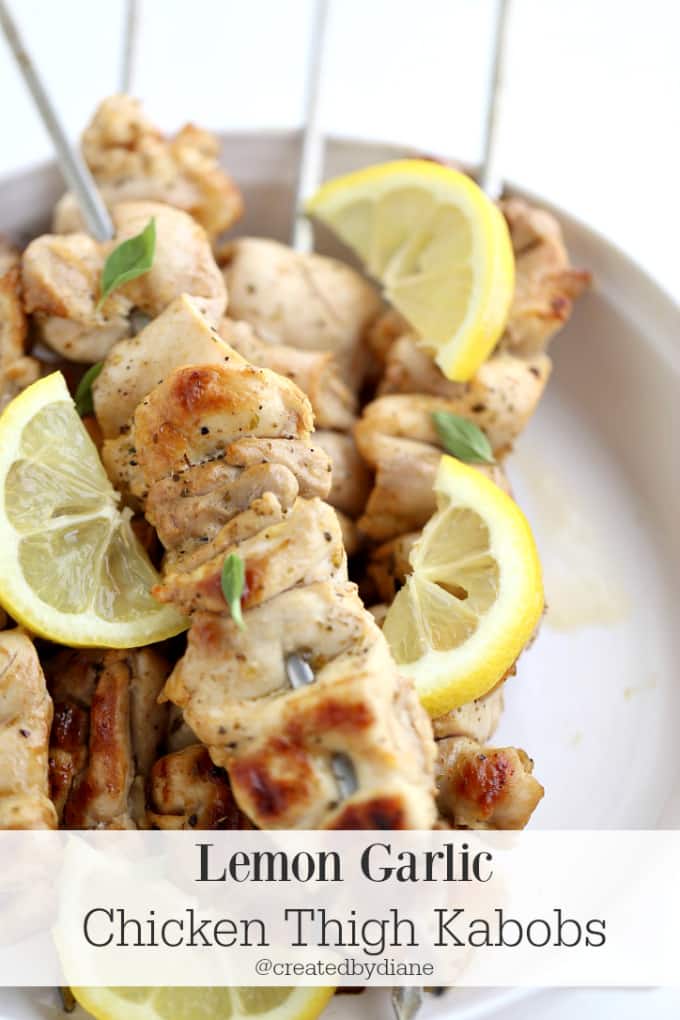 Lemon and garlic have got to be my all time favorite flavors for chicken,
this recipe is simple and you don't need to plan too far ahead to marinade.
Since chicken thighs are already moister than chicken breasts when cooked you don't need to marinade to penetrate, you're just imparting flavor with these, this quick marinade is great on vegetables too.
Go ahead and plan on some zucchini, onions, tomatoes, and mushrooms to add to your meal and use another batch of marinade for those and you'll have a complete dinner in no time at all.
There really is nothing like sinking your teeth into tender juicy flavorful chicken hot off the grill. It's great all year long if you don't want to go outside to grill, use a cast iron pan or a grill pan.
I always order chicken kabobs when I go out to dinner and I just LOVE how tender and juicy they are, I 've made many kabobs and right now these are my favorite… I think you'll fall in love with them like I have!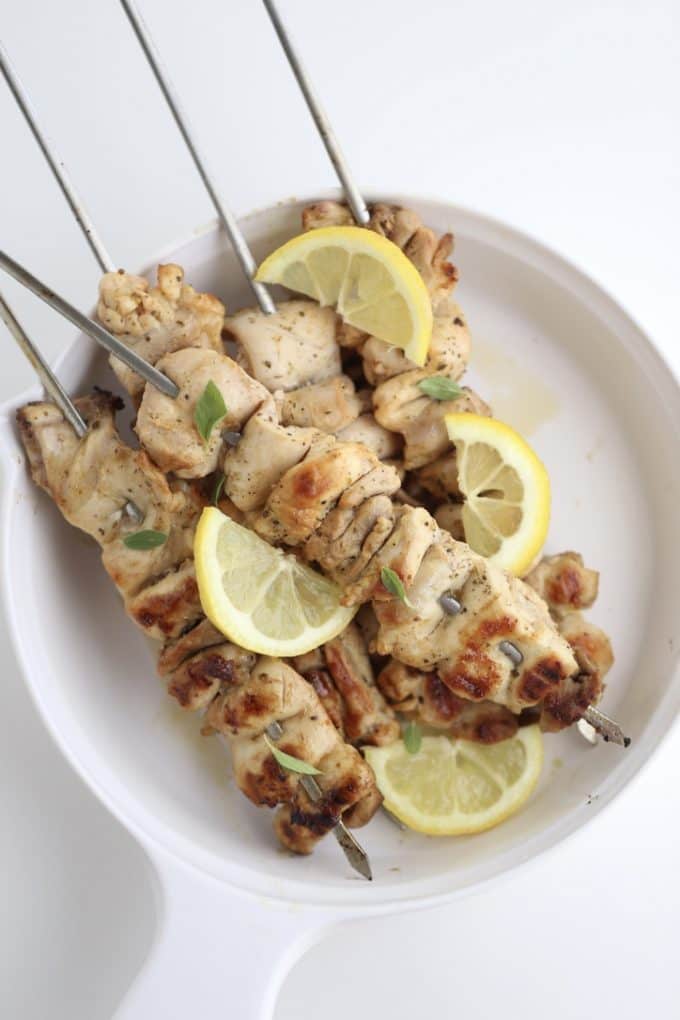 I've got to say, nothing makes me happier than when I realize I have some of these leftover in the fridge. I can grab one or two and enjoy them cold or heat for a quick protein pick me up!
If you have extra lemons, go ahead and grill them cut in half and they'll sweeten right up. Oh, how I LOVE Lemon!
If you happen to love lemon as much as me, you will love this Lemon Ebook I created, it's full of lemony goodness!
Now if you plan on serving this with rice, be sure to check out my post on how to make Rice 3 Ways!
THIS is the skillet I use and love and I use it so much I have 3 of them and more in other sizes too, it's a kitchen must have.

Lemon Garlic Chicken Thighs
Ingredients
3lbs boneless skinless chicken thighs
2 lemons juiced (you'll need at least 1/2 cup lemon juice)
2 tablespoons minced garlic
1 tablespoon olive oil
1/2 teaspoon dry oregano
1/4-1/2 teaspoon salt
1/8 teaspoon black pepper
optional fresh oregano (you can use this in the marinade and garnish)
Instructions
Slice chicken thighs into strips to they will skewer easily. I typically cut them into 1 1 /2 inches wide strips.
In a large plastic zipper bag combine all ingredients and let chicken combine with marinade.
Get your pan or grill hot.
Start placing the chicken on the skewers, I put the chicken on the skewers in a "wavy" pattern, alternating the chicken so it won't fall off the skewers as its being cooked.
Cook the chicken and rotate it so it cooks evenly until it reaches 170 degrees,
This chicken is delicious with a salad, over rice or pasta and make a fun appetizer to enjoy with drinks.