Fresh raspberry syrup is a great addition to drinks, breakfast items, cocktails, ice cream and so much more. If you like raspberries you'll love this raspberry simple syrup.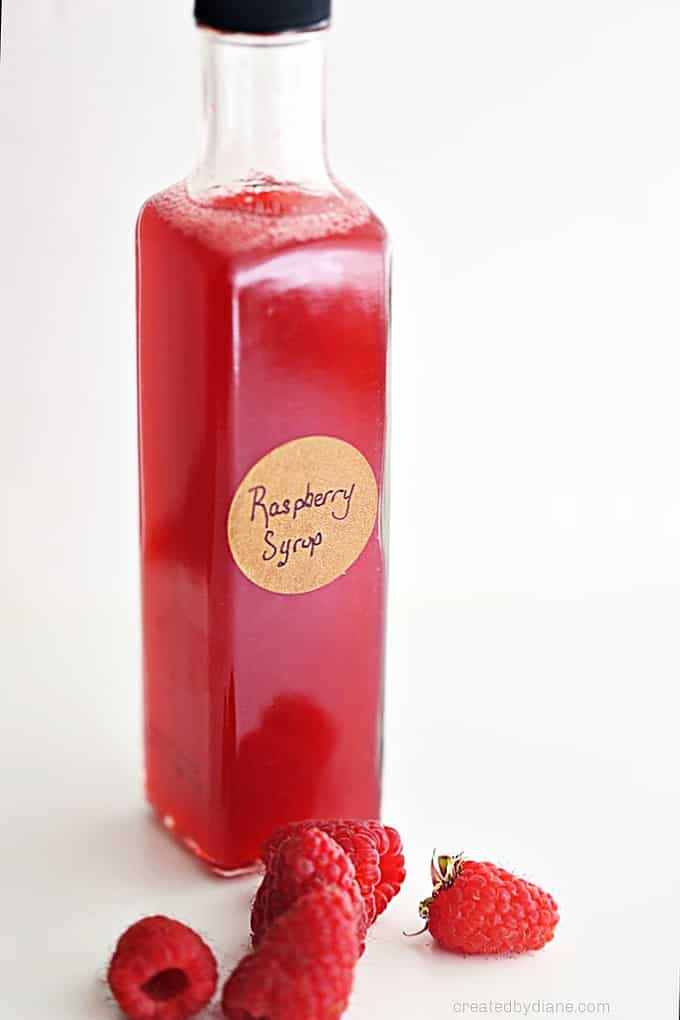 Whether you pick up raspberries from the store or from a bush in your yard, making raspberry syrup is a very good idea.
There are so many uses for it, you'll have to try them all!
Keeping it simple first with a raspberry soda- add some syrup to a glass of ice and top it with seltzer/sparkling water. Check out my post on Chocolate Soda and Cherry Soda.
Make an Italian cream soda by adding some heavy cream and then add in some raspberry syrup, then top it with ice and seltzer/cream soda.
Pour it over some pancakes, waffles, or French toast.
Use it to fill a cake, I have a cake coming soon with raspberry filling.
Make raspberry lemonade, and turn it into a yummy cocktail by adding vodka.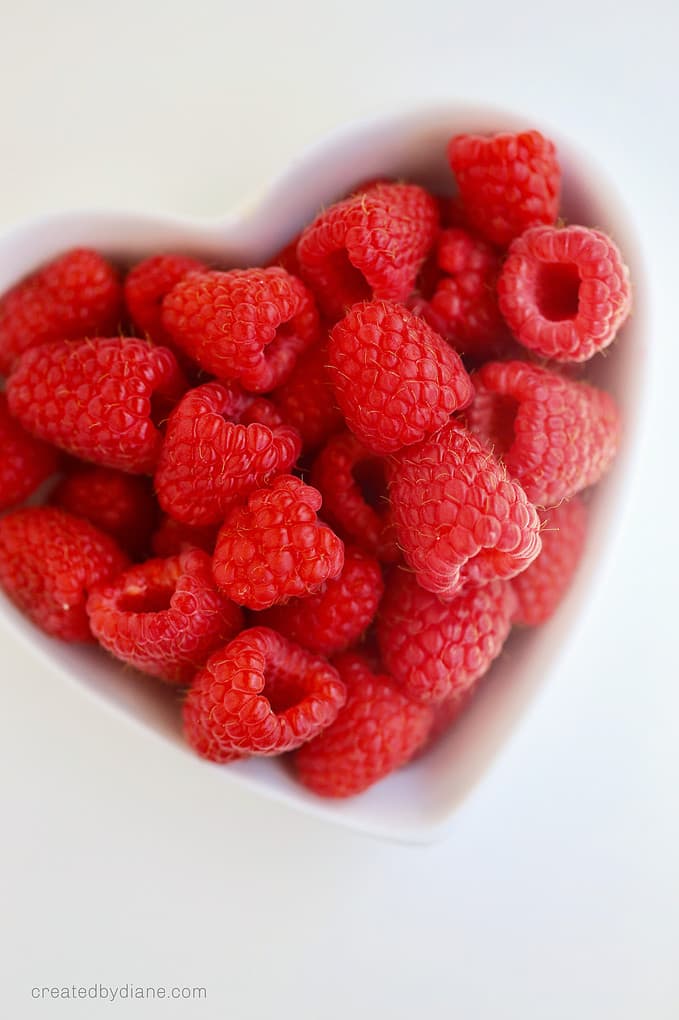 Turn it into a delicious margarita by adding lime juice, triple sec, and tequila… my favorite!
Drizzle it over your yogurt for breakfast.
Top your favorite ice cream, make it a sundae, add milk, and whip up a delicious milkshake.
Turn in into a delicious oatmeal breakfast smoothie.
add it to your iced tea.
Raspberry syrup for drinks and cocktails will make outstanding drinks, the fresh flavor is undeniable.
Sugar-free raspberry syrup can be made with monkfruit, adjust sweetness according to preference, start with 1/2 cup monkfruit. Syrup is sweet but you don't want the sweetness to overpower the fruit flavor.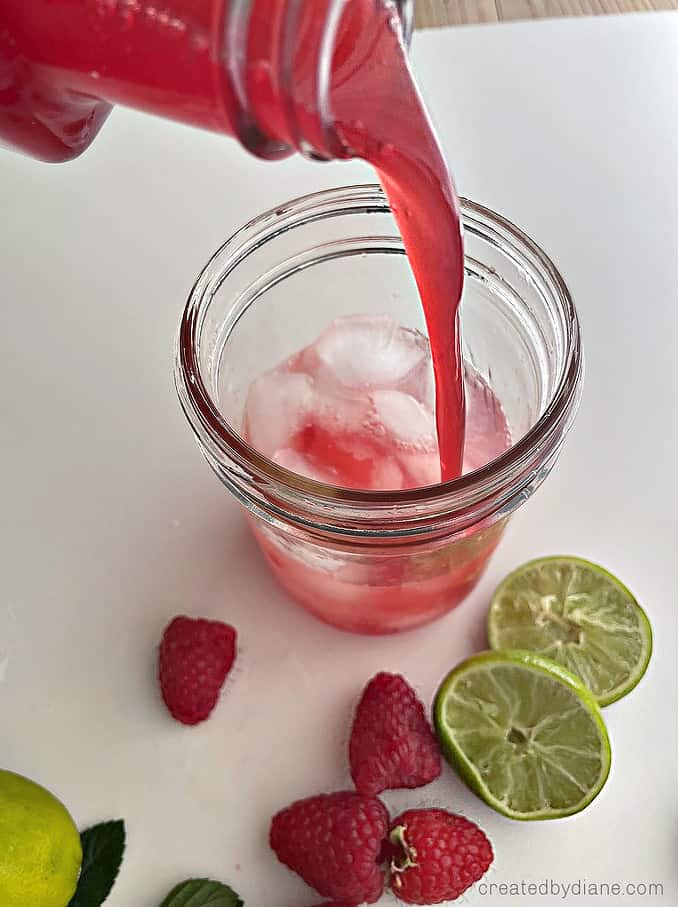 More syrup flavors here
Drizzle raspberry syrup over your breakfast oatmeal, yogurt, or ice cream, the fresh fruity flavor will have to make another batch real soon. You can freeze the syrup if you come across berries in the summer and want to enjoy it all winter long!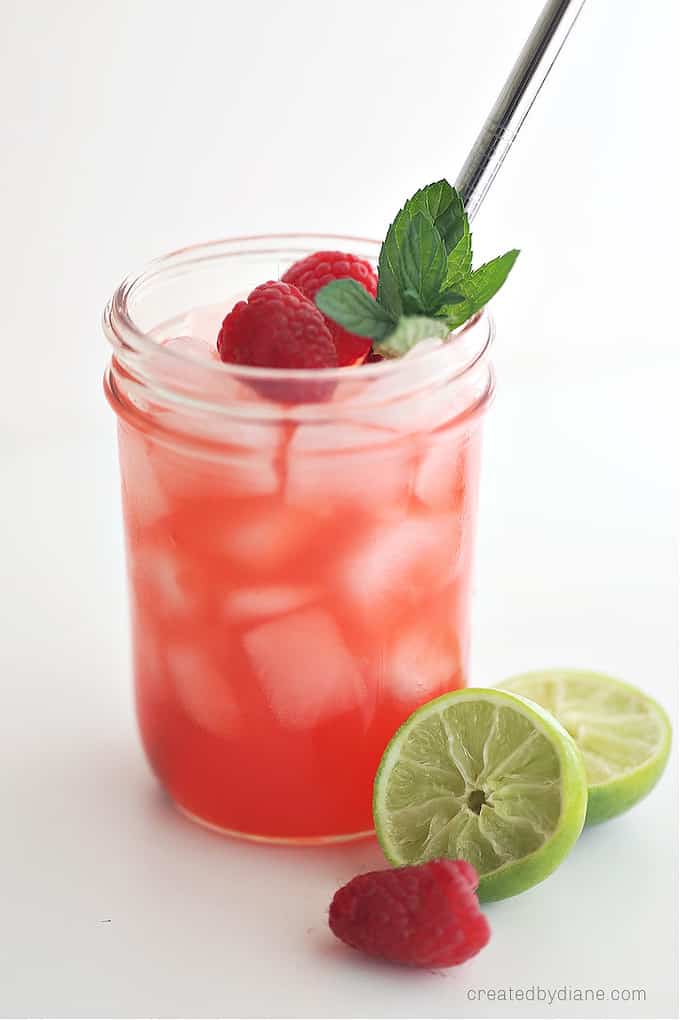 Find more Syrup Recipes here!
Raspberry Syrup
Fresh raspberry syrup is perfect for drinks, cocktails, pancakes, waffles, french toast, lemonade, milkshakes, Italian cream soda, over, ice cream, yogurt, and cake.
Author:
Diane Schmidt, Created by Diane
Recipe type:
syrup, sauce
Ingredients
1 1/2 cups (6 oz) raspberries
1 cup water
1 cup sugar
Instructions
In a medium saucepan bring raspberries, water, and sugar to a boil, and simmer on medium heat for 5 minutes.
This will release the pectin that will help thicken the syrup as well as release all the great fruit flavor from the raspberries. Eat or discard the fruit, or leave the fruit in the syrup for pancakes for a thick fruit syrup.
Allow to cool for 10 minutes, strain in a fine strainer, and press the berries with the back of a spoon.
Pour syrup into a glass jar and store in the fridge.