This lavender syrup may just become your go-to flavor. It's great in lattes, lemonade, iced tea and more.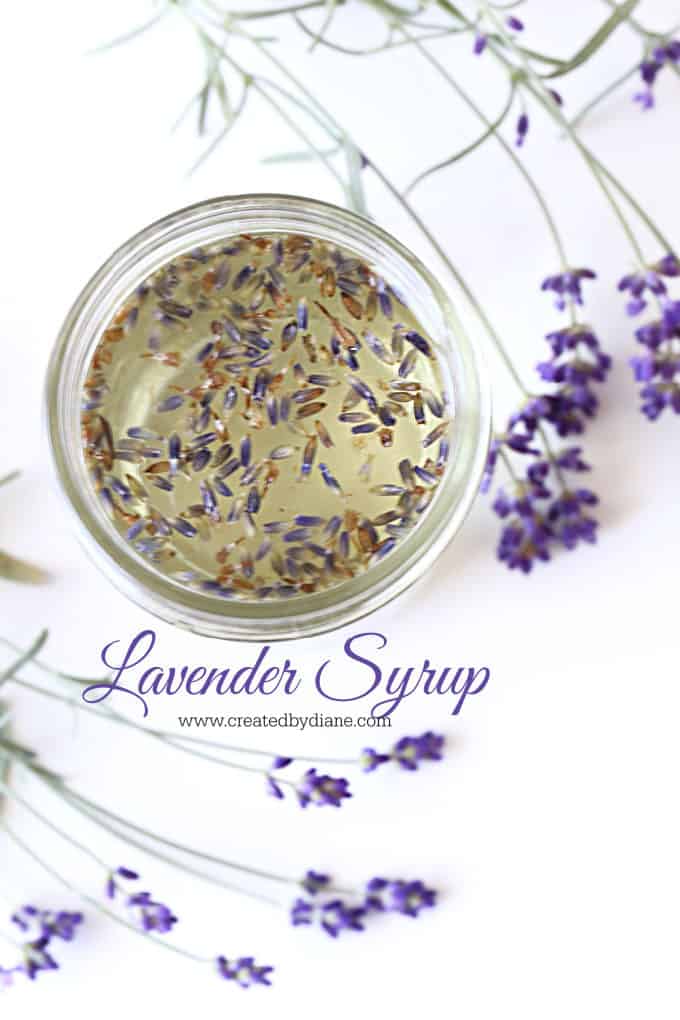 There are over 450 varieties of lavender that is a whole lotta LAVENDER.
This lavender simple syrup recipe is not only a really fun flavor it's great to elevate your cocktail, drinks, pour in on cake layers to keep them moist, oh so many possibilitites.
Lavender is so pretty and smells amazing. I didn't always like lavender, but once I got a taste of some lavender syrup in iced tea, I was hooked.
There are so many things I add it to, so go ahead and try some and see if you find a new favorite yourself.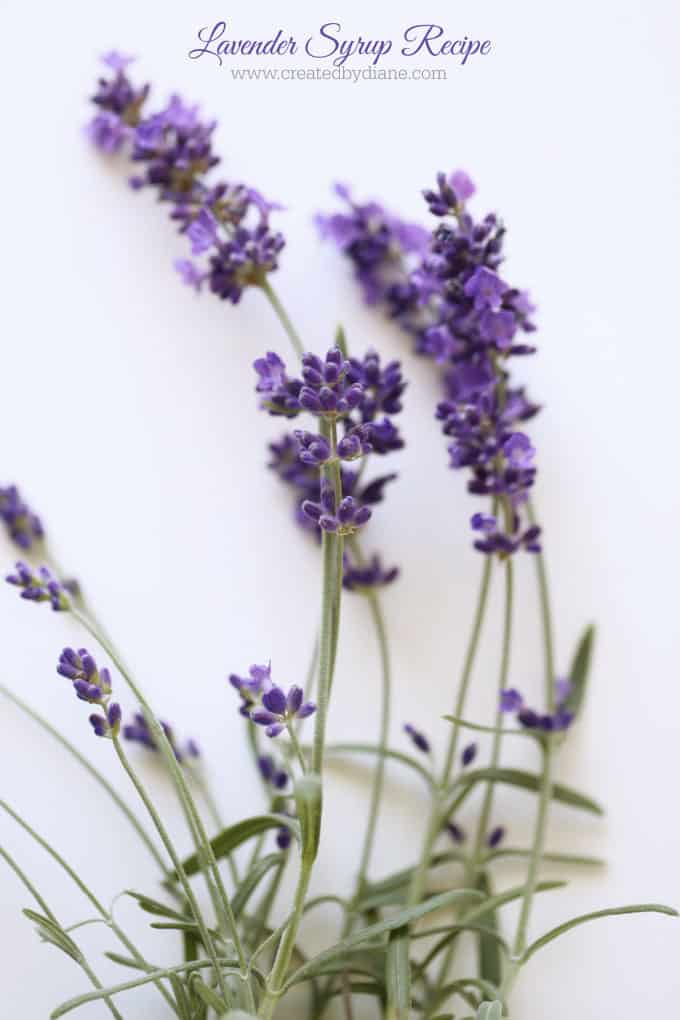 I have a plant that is growing in a pot in my yard and…
Oh, how I LOVE the deep purple color it is, so pretty and smells amazing.
I just have to touch it every time I walk by it.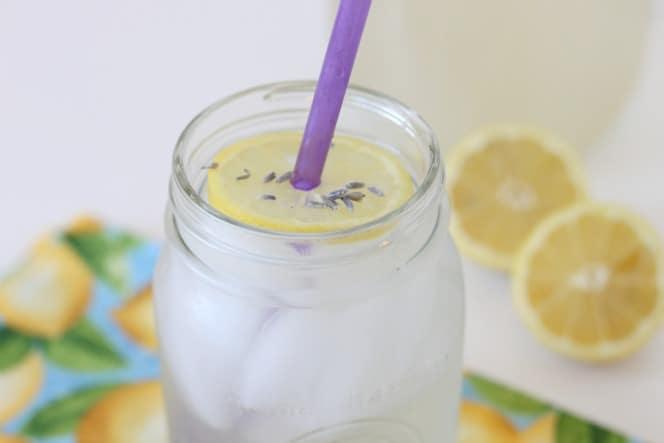 I use the lavender syrup in lots of drinks.
I add it to lemonade,
and cocktails, coffee- hot or cold a fun lavender latte is always a winner!
Lemonade vodka and lavender syrup with some seltzer added in and is a great and light summer drink perfect for sipping around the pool!
If you like your drinks sweet, use a lemon soda.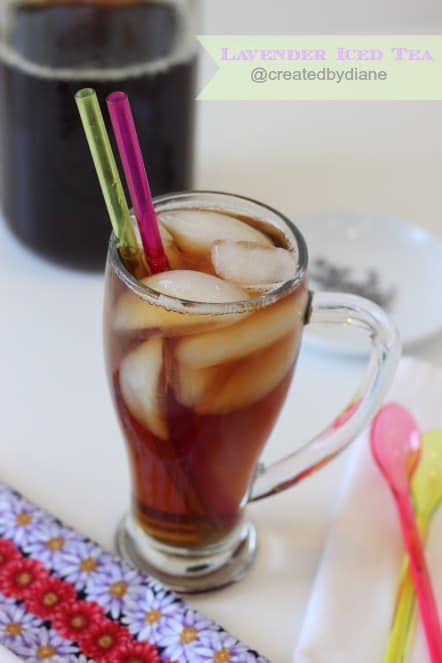 I love it in iced tea, so try adding a tablespoon in a glass of iced tea and give it a try.
If you drink hot tea, lavender is yummy in it too.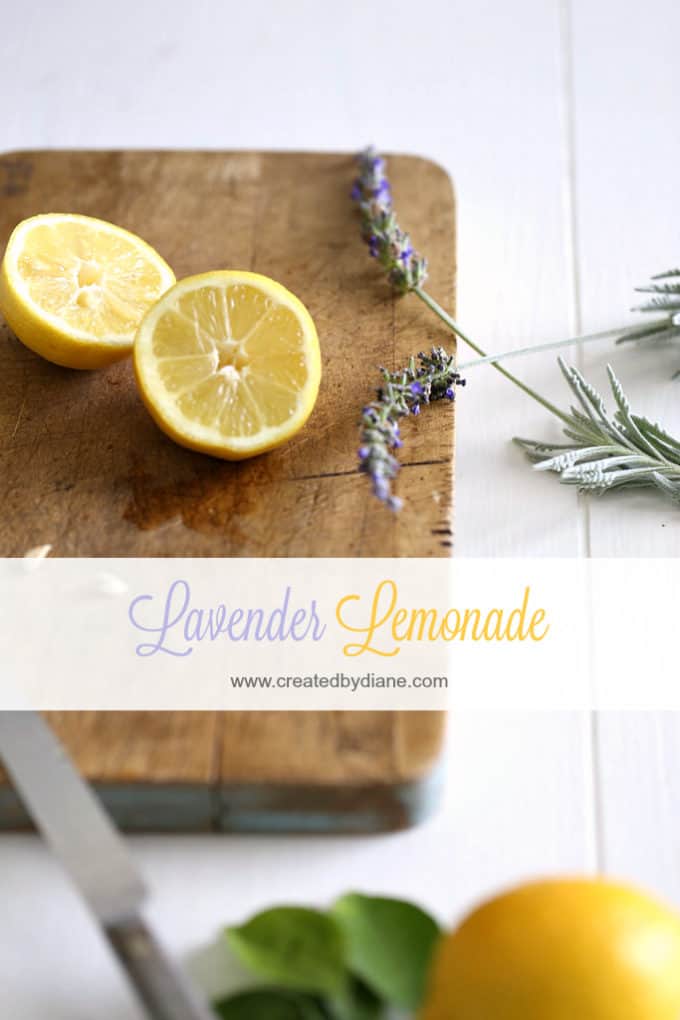 I typically buy edible lavender that is already dried. 
You can use lavender you grow as well. Both the flowers and leaves are edible.  Since I'm not great at gardening and want lavender at the ready I find it easy to purchase it just like THIS.
You only need a small amount to make the syrup so it'll last a while.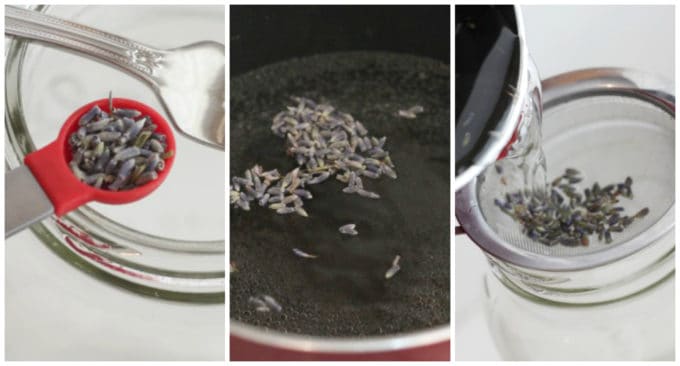 In a saucepan bring a cup of sugar and a cup of water to a boil with one teaspoon lavender.
Strain the lavender out. If you want to add some new lavender into the jar you'll be storing the lavender in, use some new lavender it will have better color and flavor. You can also choose to not have the lavender pieces in the syrup if you choose.
You can also add new lavender to the item you'll be serving it in. Nothing looks cuter than a sprig of lavender tucked in it!
I store the lavender syrup in a glass jar with a lid on it, in the fridge and it stays fresh for a few weeks.
What is lavender syrup made of?
It's an easy-to-make lavender simple syrup. sugar, water, and dried lavender blend together to make this sweet floral syrup perfect for drinks, frosting, and more.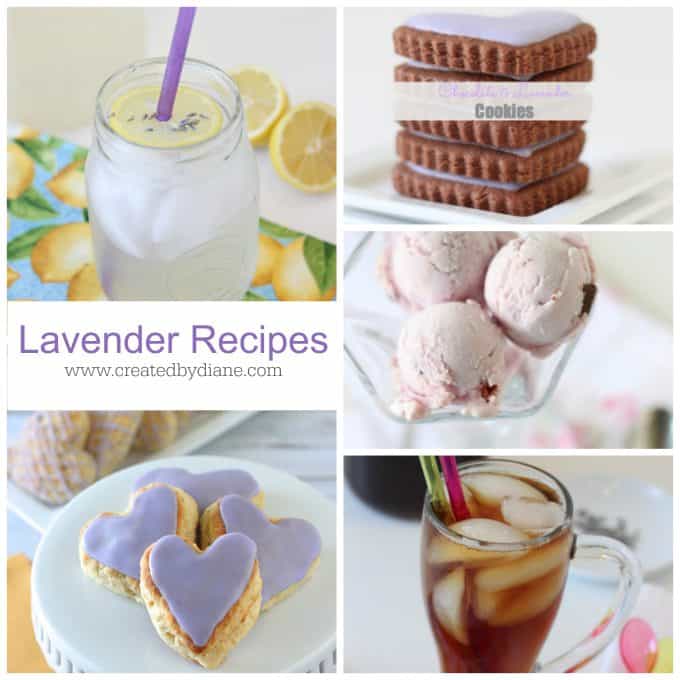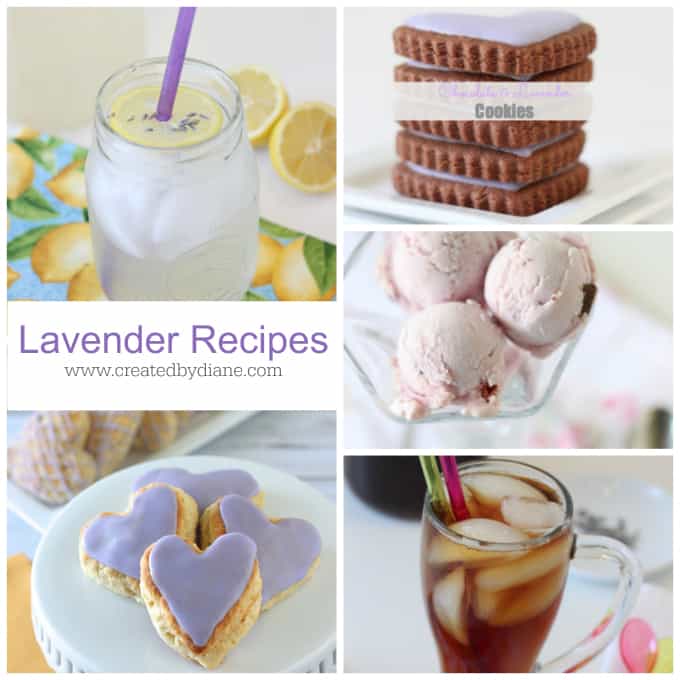 Lavender Syrup
Ingredients
1 cup sugar
1 cup water
1 teaspoon lavender (I use dry edible lavender that I purchase, fresh lavender is ok too. The more aroma the lavender has the more flavor it will produce)
Instructions
In a saucepan bring the water and sugar to a boil.
Turn the burner off.
Allow the syrup to cool.
Strain the lavender pieces from the syrup by pouring it through a fine strainer.
Add more lavender into the jar you'll be storing the lavender syrup in if you prefer. The lavender you boiled will lose its color and flavor, it's best to add some new lavender.
If you like syrup as much as I do try some of these too: