I'm always looking for ways to make food fast… if you like seafood, crab, California rolls, or similar… This Seafood Salad recipe is one you'll make again and again!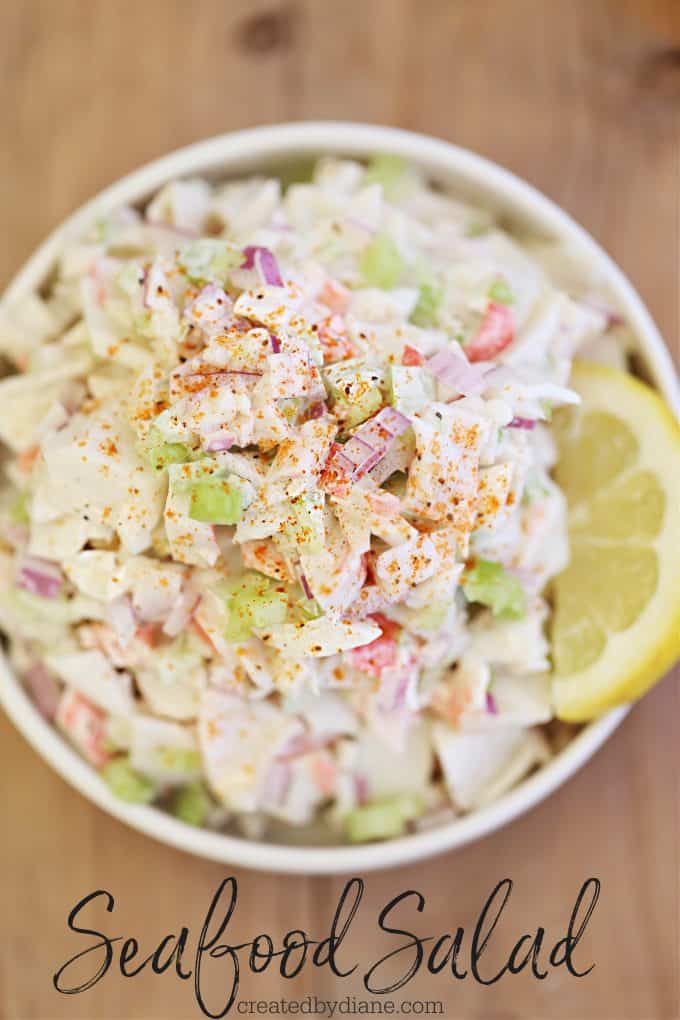 I'm all about quick easy recipes, and this is one that is great straight out of the bowl or on a croissant, crackers, mixed into pasta, served on top of a green salad, you can roll it in rice paper with some veggies like these egg salad spring rolls and enjoy them poolside in the summer,r at the beach, they're great for snacking, lunch and so much more!
This savory salad is delicious made with imitation crab. Before we move on, let's talk about what imitation crab is. Basically, it's fish, sometimes called Krab, this product is made from surimi or minced fish. The fish used is usually pollock, commonly consumed as fish sticks, or fried fish. And though it is a bit saltier than real crab, it's lower in cholesterol and carbs, for those keeping an eye on their waist and heart.
And if you've ever eaten a California roll, you've already had it. Don't miss seeing my  Deconstructed Cali Roll Bowl, it's super easy to make, and everyone raves over it even the kids!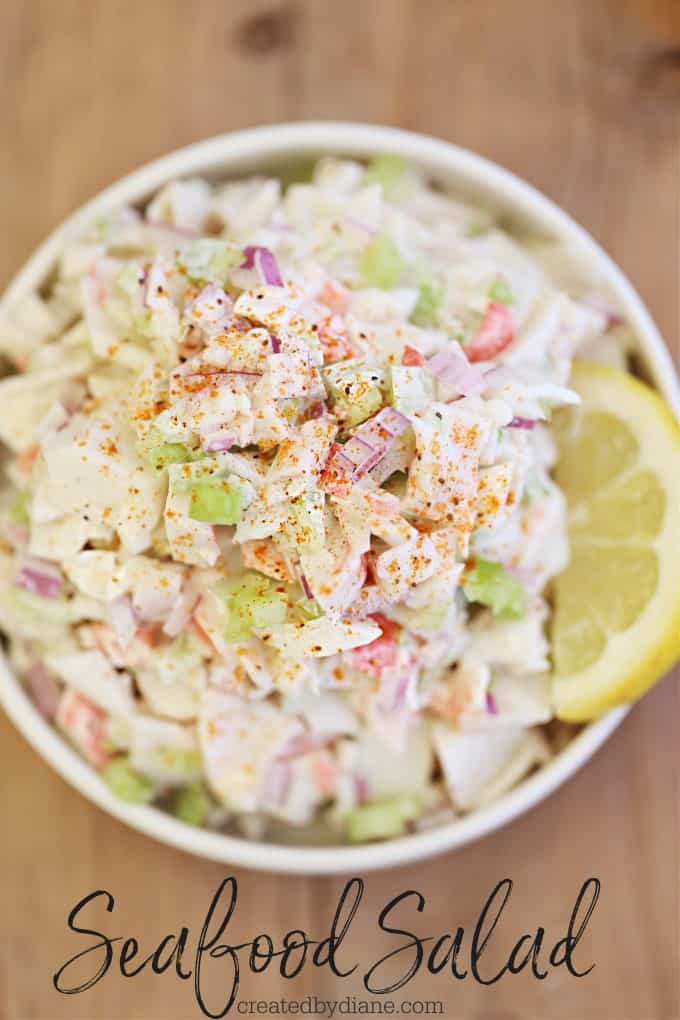 This salad is versatile!
Too often when people think of crab salad, they only think of eating it on greens or with crackers.
And there's nothing wrong with that, but there are some other great ways to enjoy it as well. Such as wrapped in spring rolls like my Egg Salad Spring Rolls, or you can put them in wonton wrappers and cook it like these fun Pork Wontons – just replace the pork with the crab salad! And if you like wontons, which almost everyone does, try out my Avocado Wontons, they are sure to delight your senses!
This can also be served on pasta as well as a quick seafood pasta dish, just add a little more mayo to be sure the pasta gets coated evenly. Serve with a little white wine or an Apple Sangria as an extra treat, and you have a simple and delicious meal that's just perfect for the end of any day.
No matter how you decide to try this crab salad, whether wrapped in lettuce wraps, served on a roll, or simply with crackers, you'll be amazed at how quickly it is devoured! And the best thing is it only takes a few minutes to whip up.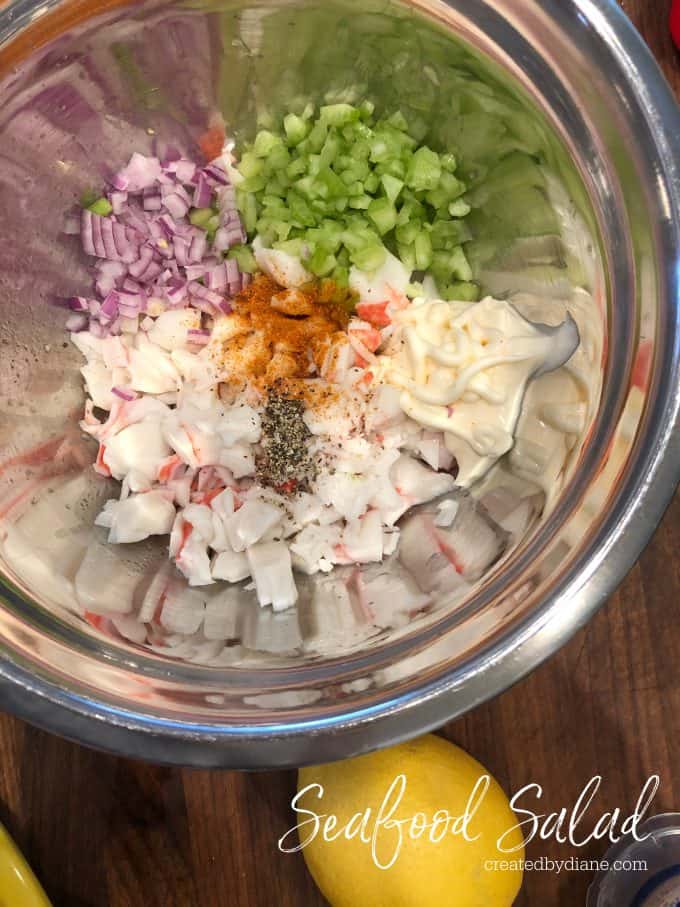 Cooks Note:
Always mix the main item, in this case, crab with mayo first before adding in onion or celery or the finished seafood salad can become watery, the oil in the mayonnaise coats the crab to prevent a watery result, which doesn't often happen on day one, but if you put it in the fridge and eat it the next day or so it can become water and the "sauce" will be thin. The exception is if you're going to eat it right away, then you can mix it all up together at once.
If you want to make homemade mayo, WHICH I LOVE!!! Give my recipe a try, you won't believe how easy it is.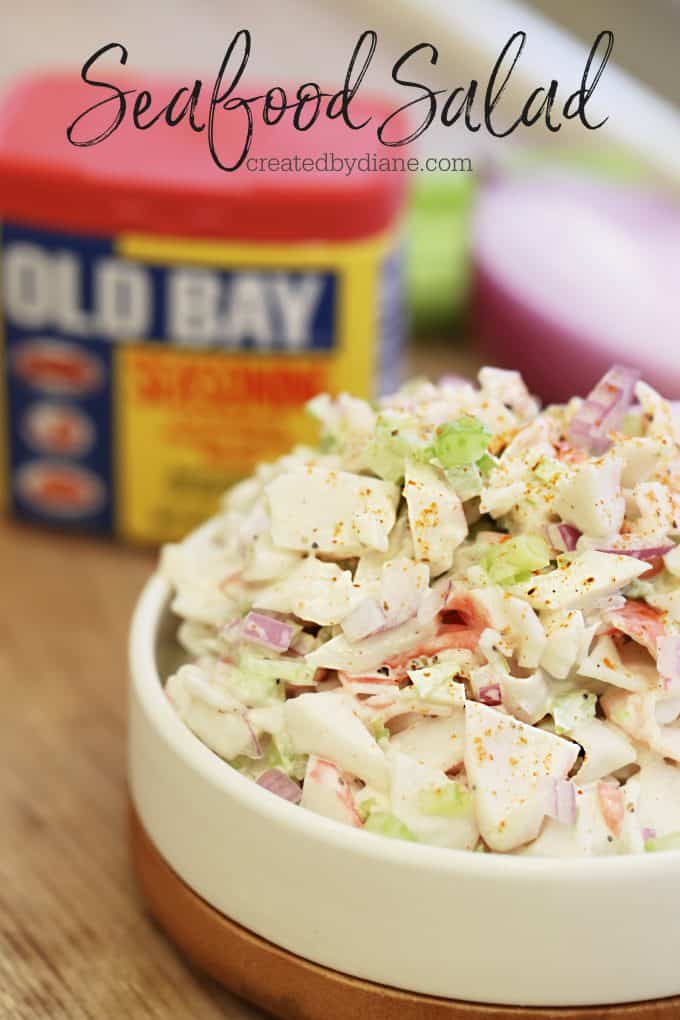 I really want to make this as a pasta salad, is that a good idea?
Yes, and if you keep a bag of imitation crab in the freezer you can easily whip this together at a moment's notice to take to a BBQ, summer party, or to the beach.
Can I replace the crab with chicken or even real crab?
Yes, of course. The Old Bay Seasoning will add a kick to the chicken, and it will be a nice change from a regular chicken salad! You can also make this with tuna fish.  If you use real crab, be sure you use proper handling when cooking, or just buy pre-cooked crab. 
What other Add-Ins do you recommend? 
Avocado is an excellent and creamy addition to this salad. Another popular choice is carrots, or for an extra kick, a jalapeno pepper which has been deseeded and chopped finely.
More recipes to enjoy using imitation crab:
And if you're a big seafood fan be sure to check out more of my seafood recipes here.
If you're looking for more cold protein salads be sure to check out my
Now that summer is just around ht e corner, I caught a glimpse of large packages of imitation crab at Sam's Club, perfect to make this for a party! Serve it as a dip with crackers or tortilla chips, or slather it on mini croissants for a fun brunch item.
Seafood Salad
A quick and easy seafood salad great on your plate, a roll, lettuce wrap and so much more. Filled with fresh lemon flavor and old bay seasoning, bring the feel of a warm summer day to your table fast.
Author:
Diane Schmidt, Created by Diane
Recipe type:
Main Dish, Seafood, Salad,
Ingredients
8 oz package imitation crab
1/4 cup mayo
1 teaspoon fresh lemon juice
1.4 cup diced celery
1/4 cup diced red onion
1/8-1/4 teaspoon old bay seasoning
Salt to taste
optional add-ins
dill, add a pinch for great flavor
capers, add a fun flavor to this dish
black olives are a great addition to seafood salad
cucumbers, diced adds a great crunch to this recipe
Instructions
Break apart the imitation crab into pieces, cut it into smaller pieces if desired.
In a medium bowl toss the mayo with the crab before adding anything else, the oil in the mayo will coat the crab this will prevent the crab from getting watery.
Next, add in the lemon, celery, red onion, old bay seasoning and stir to combine everything.
Add in any additional salt, or add-ins at this time.
Then eat immediately or refrigerate for best flavor when it's all chilled.