If you like appetizers chances are you've seen some version of these creamy, cheesy slightly spicy egg rolls on a menu somewhere, if you haven't had them you are in for some deliciousness.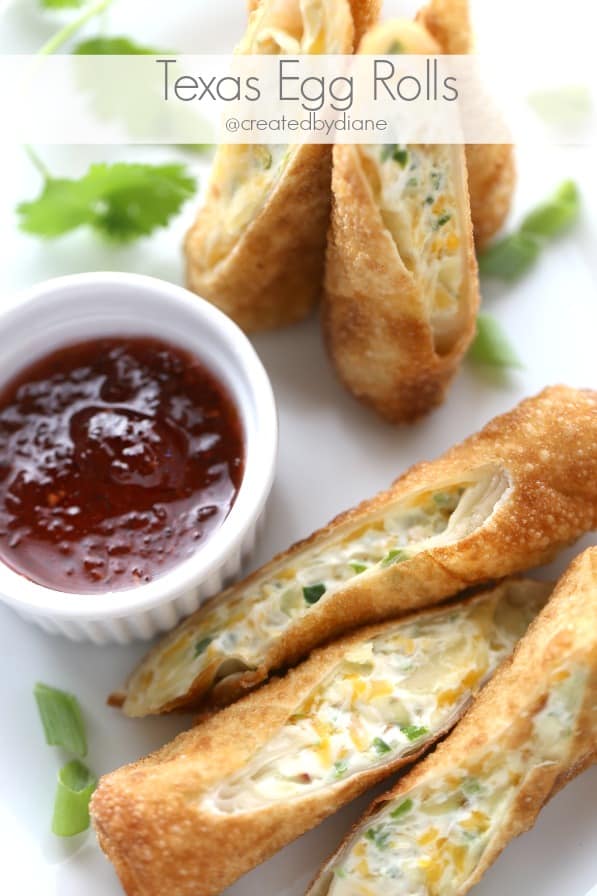 Texas Egg Roll Recipe
Pin this onto your appetizer board Pinterest to save it for later!
Follow Created by Diane on Pinterest to see delicious recipes!
I will tell you these have been the most talked about item for weeks!
I just love them and so does everyone else. They are creamy and cheese and slightly spicy and then you dunk them into the Jalapeño Pepper Jelly and WOW, it's a flavor explosion!
In minutes you can have restaurant quality appetizers, but you get to make as many as you'd like…and enjoy them all if you choose!
Believe me they won't last long.
You can find my post on how to easily roll egg rolls here. That post has how to step by step photos that will help you roll them so the filling won't come out when they are cooking.
I just love jalapeños and love how you can customize how spicy you prefer your food, by adding more or less peppers, removing the seeds to have them be less spicy. Once you cut into one jalapeño you can typically tell if they have come from a super spicy batch or not and adjust accordingly. I'll be sharing with you soon a whole post full of jalapeño recipes! Stay tuned for that it's a don't miss of jalapeños!
One of my kids described these saying, they are FIRE…I said oh are they too spicy for you. They said on no, not at all they are just great and we all say they are "fire" now for great. Oh my goodness, more words I need to learn. Some days I feel so far behind all the lingo, now I know what my parents felt like when we said "we are going out" they would say oh, where are you going? I'd say no we are a couple, dating, we aren't going anywhere today, we just don't say going steady like you did.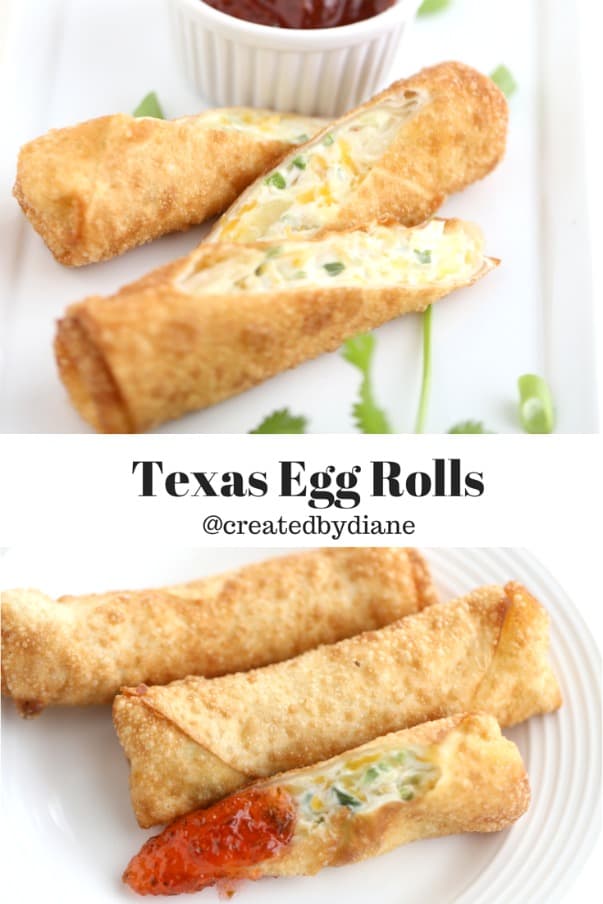 I think I could actually make a whole meal out of these I love them so much!
Texas Egg Rolls
Ingredients
8 egg roll wrappers
8 oz. cream cheese (room temperature)
2 oz. cheddar cheese grated
2 oz. pepper jack cheese grated
2 diced jalapeños (remove seeds if you prefer less spice)
Instructions
Mix cream cheese, cheddar and pepper jack cheese along with diced jalapeños.
Place 3 tablespoon in the center of each egg roll. Diagonally, fold corners into center and roll. (link to how to post in notes below)
Wrap the egg rolls sealing the seams with water so the filling does not fall out.
Heat oil in pan to 400 degrees.
Place egg rolls into hot oil and cook until golden brown.
It's easiest to cook just a couple of egg rolls at a time and have more control over how quickly they cook.
Remove egg rolls and drain excess oil on paper towels.
Allow to cool a couple minutes.
Slice the egg rolls diagonally and serve with Jalapeño Pepper Jelly Recipe HERE
One 4 oz jar of pepper jelly is a nice amount for 8 egg rolls.
*I use a 3 quart pot to heat my oil and check the temperature with a thermometer. I use about 2 1/2 inches of oil.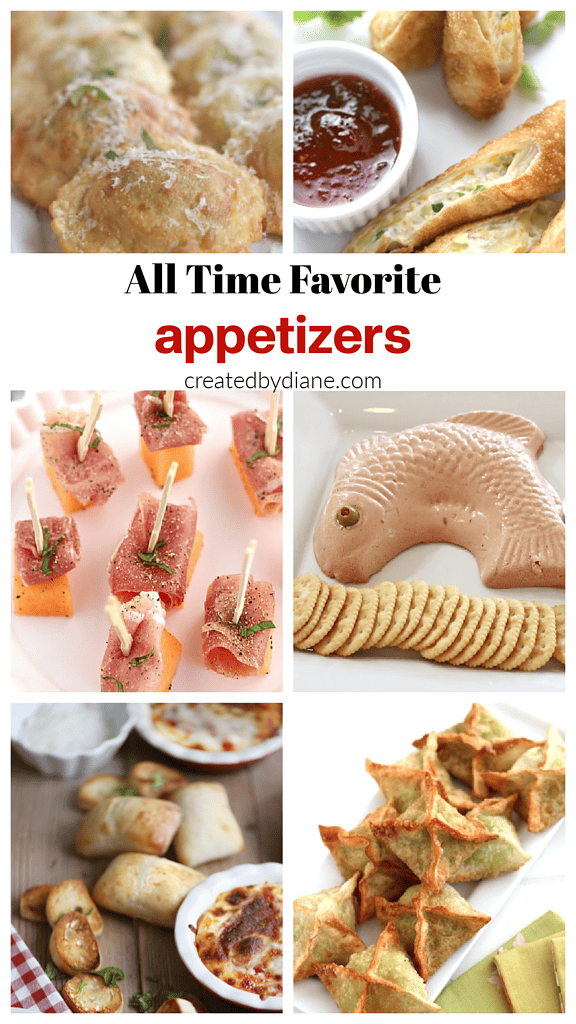 If you like this or any other recipe on Created by Diane be sure to share the post with the ones you love. You can click on the "share" buttons on the top and the bottom of each post, you can share it on social media or in an email.
Thanks for being such loyal readers, I truly appreciate it!
~Diane