A delicious blend of spices can perk up so many items to make them irresistible.
Taco Seasoning
Don't miss one delicious recipe and get my FREE e-cookbook click here!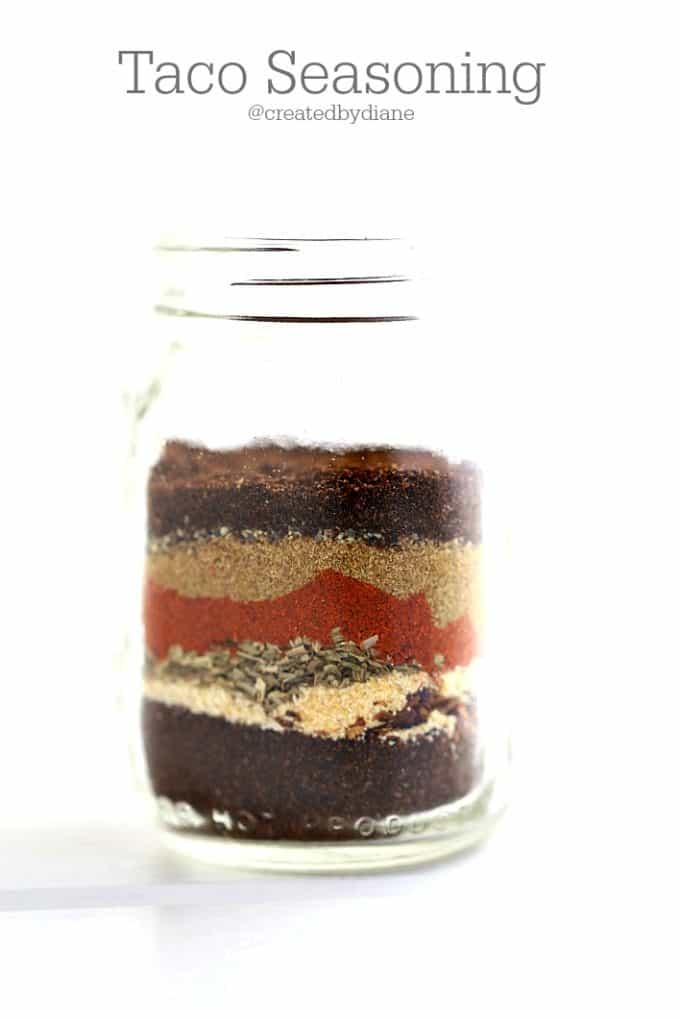 Taco seasoning can be used for way more than making tacos.
Add a couple tablespoons to sour cream and cream cheese you'll have a really tasty dip perfect with tortilla chips, taquitos, tamales and if you need a cute dip platter here is what you can make it look like.
You can make this taco seasoning mix in a large quantity, just multiply the ingredients to make the portion you want. The quantity that is given is for about 6 tablespoons, the jar you are seeing is not a big jar, it's a salt shaker that looks like a mason jar.
You can sprinkle this with oil and vinegar salad dressing and add some tortilla chips for a fun taco flavored salad.
Taco Seasoning
Serves:
about 6 tablespoons
Ingredients
3 tablespoons chili powder
1 tablespoon cumin
2 teaspoons smoked paprika
1 teaspoon oregano
½ teaspoon crushed red pepper
½ teaspoon black pepper
½ teaspoon garlic powder
½ teaspoon onion powder
Instructions
Measure ingredients and mix well to combine.
Mix 2-3 tablespoons with ½ tablespoon corn starch and1 cup water for 1 lb ground meat for tacos.
Mix 3 tablespoons with 2 cups sour cream or greek yogurt for taco dip.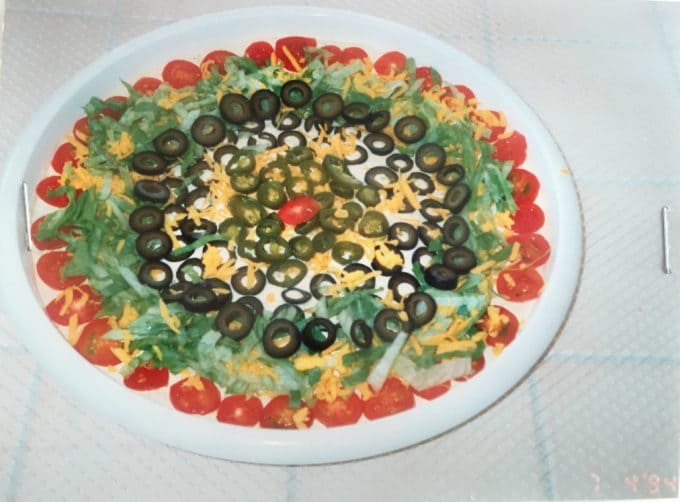 I went through my recipe box to grab a photo of the taco dip I've been making for YEARS, this photo is from 1994. Everyone loves this taco dip. I picked up a round plastic tray that had an edge that is an inch high, great for keeping all the tip on the platter including the toppings.
I use 8oz cream cheese, 16 oz sour cream 3 tablespoon taco seasoning whipped up smooth then spread on a platter.
For the toppings, I use cherry tomatoes cut in half, shredded lettuce and diced scallions, sliced black olives, pickled jalapenos, and cheddar cheese. You can vary the items to what you have on hand, it's a great last-minute dip.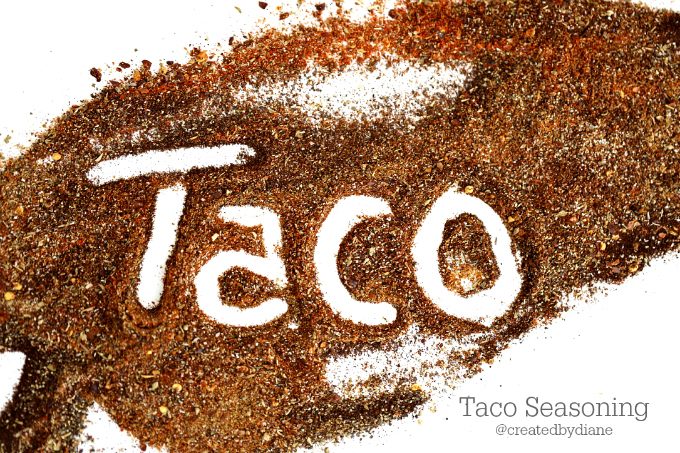 Thanks so much for stopping by to see this recipe!
Sharing this post is appreciated and encouraged. Use the share buttons at the top and bottom of the post, there are many options to all your favorite social media channels and you can also email it to a friend. Print out the recipe to enjoy it on your next kitchen adventure. Please don't copy and paste the full post, it's prohibited without written consent from me. Recipes including wording and photographs are Copyright of createdby-diane.com.
Please enjoy this recipe and click here to sign up for email updates to receive recipes in your inbox.