My favorite way to enjoy fresh ravioli!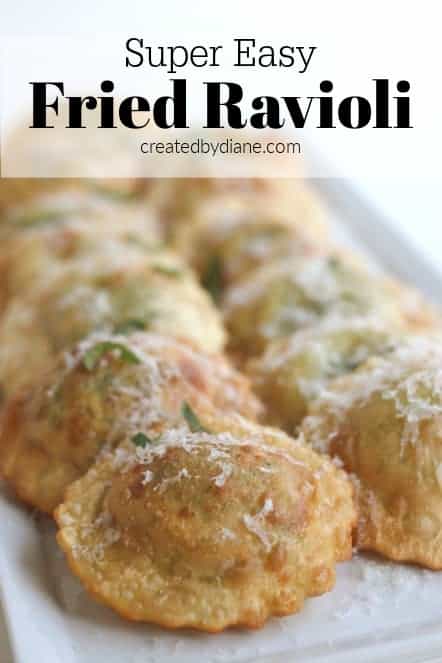 I am a pasta girl through and through,
It's no wonder then, that frying raviolis have been on my mind, right?
This is one easy and delicious appetizer that you can whip up and it sure is great to have a hot and tasty appetizer in minutes.
The feta and basil dip is super easy and WOW is it tasty, it goes really well with the spinach ravioli.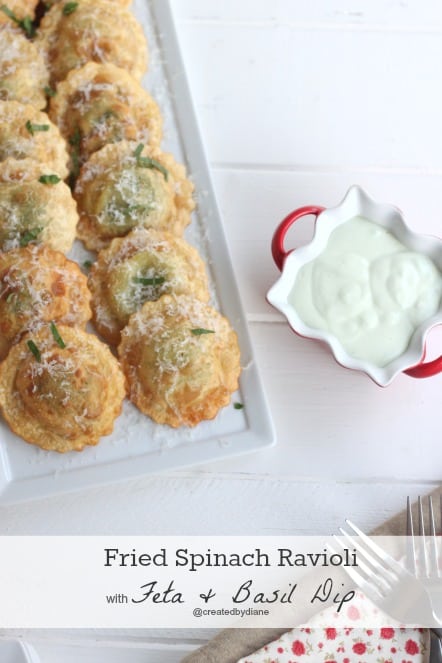 There are many types of gourmet flavored ravioli at the stores than just cheese, so take a look and you may find a new favorite yourself.
I love spinach ravioli, but the possibilities are endless here, I've seen mushroom ravioli, crab ravioli, and chicken. I'm sure I will be making some more varieties soon new dips too. Snacking and appetizers are a must this time of year. There is always a game on, a last-minute get-together or I need something to bring somewhere and not a whole day to plan it out. So these just may be my new go-to app!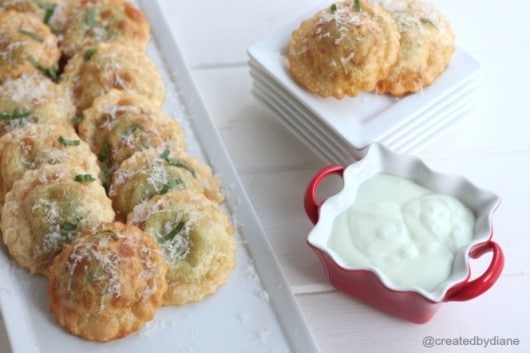 The feta and basil dip is slightly tangy and pairs really well with the ravioli, what a fresh taste the basil ads to it. Not going to lie, I have dipped pretzels, chips, bread, zucchini into this dip and it's so yummy, I bet your will find some more items you love dipped in it too!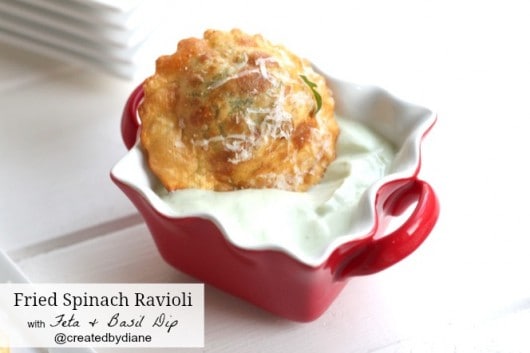 There is a game on now….I better go make another batch of these!
OTHER COOKING OPTIONS- Air Fryer check this out!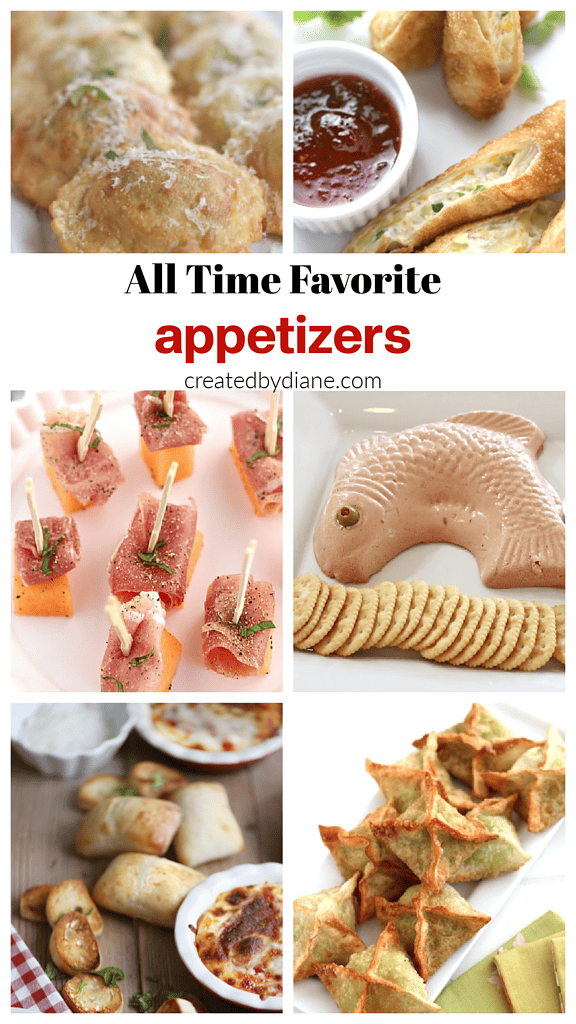 Fried Spinach Ravioli
Ingredients
1 package fresh spinach ravioli (found in the refrigerator section of grocery stores) I used Monterey Gourmet Foods Ravioli
Oil for frying
Instructions
In medium saucepan
Heat 3 inches of oil 350-375 degrees
Drop in 3-4 ravioli and cook until crisp
Drain on paper towels
Continue this until all ravioli are cooked
Keeping an eye on the temperature of the oil so they are all crisp and evenly cooked.
Plate with grated Parmesan or Romano Cheese and Basil and serve with Feta Basil Dip, recipe below this one.
Feta and Basil Dip
Ingredients
1 cup plain Greek Yogurt (or sour cream)
2tablespoons milk (if needed to thin yogurt)
6 2" fresh basil leaves
1 teaspoon garlic (I use Gourmet Gardens)
2 oz feta cheese (goat cheese will work too)
Instructions
Place ingredients into a blender (or food processor) and mix until smooth and creamy and basil is completely mixed in.