This is not your traditional ceviche, it's updated with a delicious fruity flavor and it's irresistible!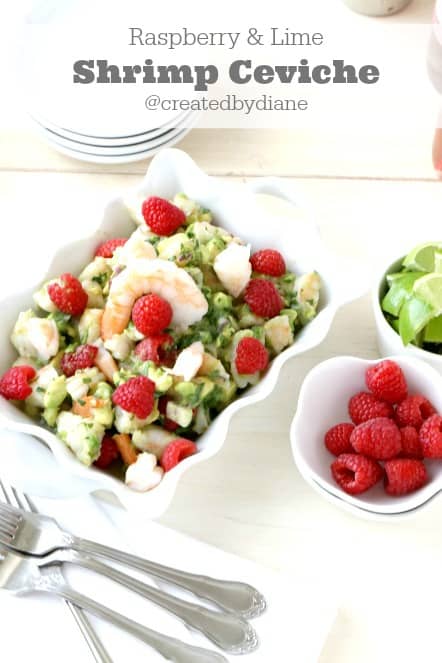 Throwing tradition to the wind with this one…
I'm a seafood lover through and through and have made ceviche many times,
I often don't use raw fish and seafood, because I like to be sure it's safe to eat so I often steam/cook it first before putting it into the lime juice.
This however I was a little different, I cooked the shrimp in Moscato Wine and the flavor was delicious, not building on the classic with lime and avocado I added red onion, jalapeño and no Mexican Recipe(s) would be complete without cilantro now would it?!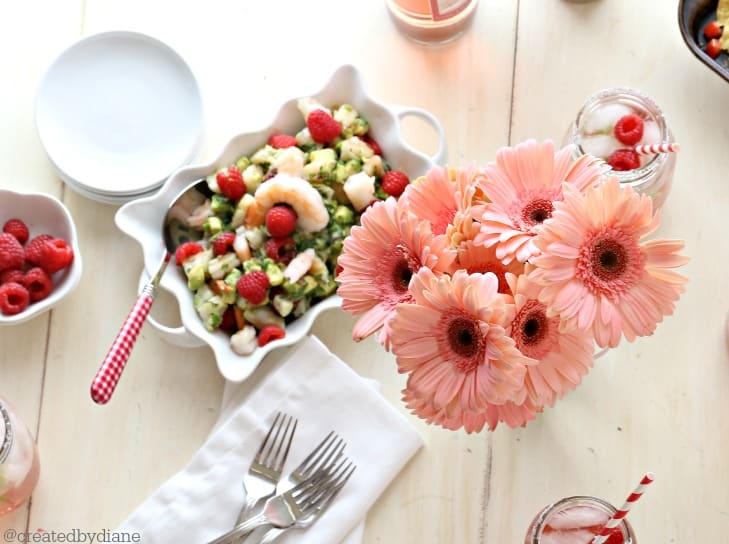 The kicker here is the raspberries, they added this super delicious flavor and with their pretty color….this was an eye-catcher.
The Moscato wine has a fruity flavor and adding in fruit to this dish really made it over the top delicious.
I recently posted Moscato Margaritas HERE. Take a look at how to through together some quick drinks and appetizers, perfect for weekend entertaining.
So grab a few items and get "Cookin" everyone will love you for it and you don't have to spend a ton of time in the kitchen, really!
How else can I make Ceviche?
If you don't want to add the raspberries it's still plenty delicious,
and if you don't have wine, just add more lime juice, lemon juice to the mixture, and allow the ceviche to chill in the fridge so it'll have time to blend all the delicious flavors.
This is easy entertaining!

Raspberry and Lime Shrimp Ceviche
Ingredients
1 lb shrimp (extra large)
5 oz fresh raspberries
1/2 cup Moscato wine (I used Gallo Pink Moscato)
1 jalapeño diced
1 avocado diced
2 tablespoon red onion diced
2 tablespoons cilantro finely chopped
1 lime juiced
1/2 teaspoon salt (I use coarse kosher salt)
Instructions
Shrimp: you can use cooked shrimp or uncooked (the cooking time in the wine will just be reduced if you use pre-cooked shrimp)
Cook shrimp in wine (if it's precooked you are just heating it on low so the shrimp absorbs some flavor, if it's raw shrimp it will just take a few minutes to cook the shrimp until it's fully cooked)
Cut shrimp into 1/2 inch pieces, mix the shrimp with the avocado, jalapeño, red onion, cilantro lime, and salt.
Lastly, stir in the raspberries reserving some to place on top.
Refrigerate until ready to serve.
Making this an hour ahead of serving time will help the flavors meld together nicely.