Zuppa Toscano is one of my favorite soups, now I can indulge in this low carb version without the guilt.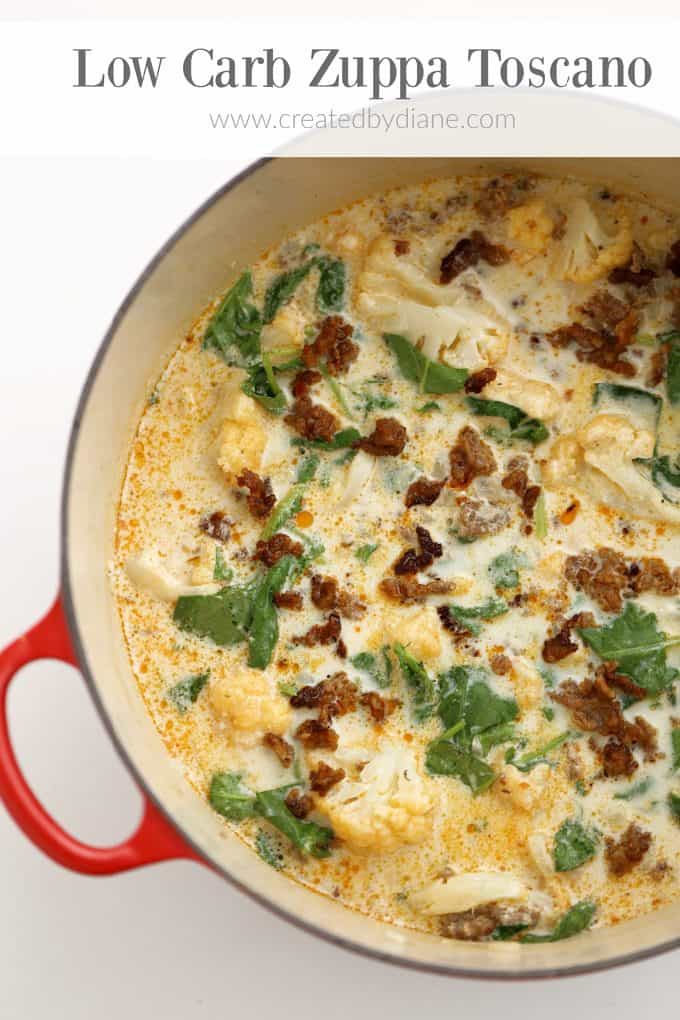 Looks like the evening temperatures are going to drop down to the 40's this week, still sunny and 80 during the day… but now that it's dark by 5 o'clock that means its officially SOUP SEASON!
Join me in embracing this great soup…
and yes, it is low carb!
Let's talk carbs for a minute, this soup usually has potatoes in it, and to reduce the carbs in the soup will not only reduce the carbs it will also reduce the calories which is great for any low carb diet.
This dish is just as delicious with cauliflower and if you already eat low carb there really is no convincing involved. You already know that great recipes don't have to be carb loaded.
This soup is lightly creamy, slightly spicy and full of delicious flavor. I keep sausage frozen in small portions just to make this any time I get a craving for a bowl of this yummy comfort food!
You'll find more yummy recipe here:
I don't know about you but I just love soup, I do really make some all year long and this one is one of them. I've made it even in the heat of the summer!
When I get a hankering for something it doesn't really matter what time of year it is, I make it! I'm not really traditional, at all. Well maybe a few things, but not many.
I love to change up recipes,
I love to keep some things simple and then go ALL out on others.
I really do love to cook,
it's somewhat therapeutic for me.
I couldn't wait to share this version of Zuppa Toscano Soup with you!
It's so amazing!
I buy a lot of cauliflower, and the other day at the store the person ringing me up asked what are you making… I said cauliflower. She laughed as she looked over and saw 3 heads of cauliflower and two bags of cauliflower rice! I sautee it, roast it and pretty much make everything with it. I even love it with scrambled eggs… YUM!
This meal comes together quickly and easily so get in the kitchen and start up that stove!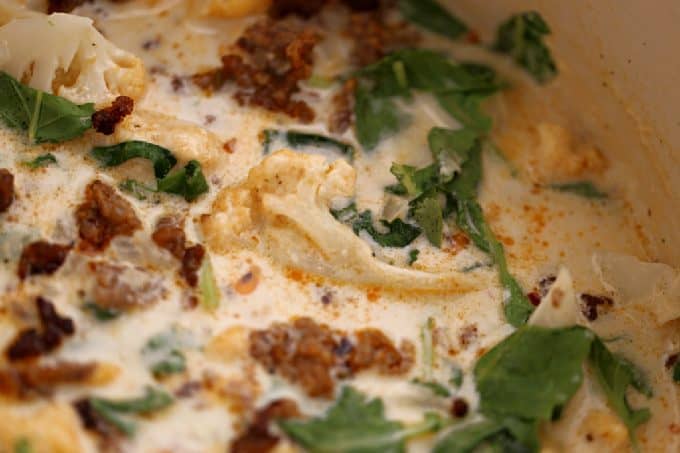 Add in kale, or spinach if you prefer…
another substitute you can easily make is with ground chicken, turkey or even bacon.
I like it best the way the recipe is written, I've made it with the other options so feel free to use what you have on hand!
Low Carb Zuppa Toscano
Ingredients
1/2 onion
1 tablespoon butter
1 tablespoon flour
1/2-1 lb ground hot Italian sausage (I often use a pound as I like a lot of sausage, but it's delicious with 1/2 lb if you prefer less)
3 cups milk
1 cup water
1-2 tablespoons chicken bouillon (dry or paste chicken flavor)
1 head cauliflower
4 cups baby kale
Instructions
In a 4 quart saucepan or larger saute butter with onion, then add in flour.
Saute sausage until browned and cooked.
Slowly pour in milk and water, then stir in chicken flavor.
Add in chopped cauliflower, bring to a simmer (low boil) and cook for 5 minutes until cauliflower is tender (not mushy)
Remove from heat, then stir in kale and serve.