A delicious favorite, this Tomato Bisque is creamy and will keep you warm all winter long, or summer. I'm a huge soup fan and eat it all year long truth be told!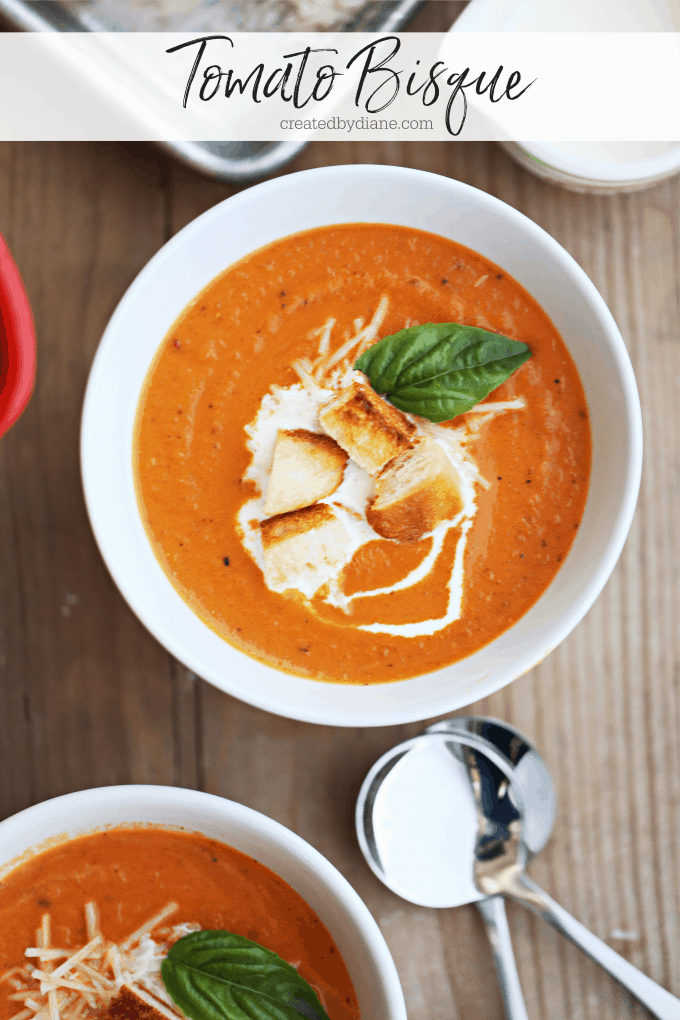 One of my favorite aspects of fall and winter are the large varieties of soups, stews, and bisques that can be made.
This creamy tomato basil bisque fits right in. I love soup because they leave a lot of room for creativity, and nothing is better after a long day than sitting down in your favorite comfy socks with a warm bowl of soup. 
This tomato basil bisque goes way beyond the tomato soup of your youth, this soup has texture and the flavor of butternut squash, which is rich and full with a hint of nutty flavor. And this isn't a sweet soup, it can be spiced to meet whatever your taste buds require.
I like mine a little kicked up with some crushed red pepper, you could add some hot sauce. It can be served with fresh baked bread, like this French Bread recipe or if you like Rustic Artisan bread give the recipe in his post a try, it's wonderful. 
Like I said, soup allows you to get creative and this tomato bisque can be made to suit a vegan diet as well. I'll have some tips for that below in my question section.
And if you want more ideas for soup, below are a few of my favorites!
Let's start by deciding on whether you'll be roasting your own butternut squash, using a precooked version, or cooking your cubed squash in the soup. Each has its benefits, but there's no wrong way!
Also, you can add cooked chicken to this soup if you want to make it heartier, another option is adding white beans.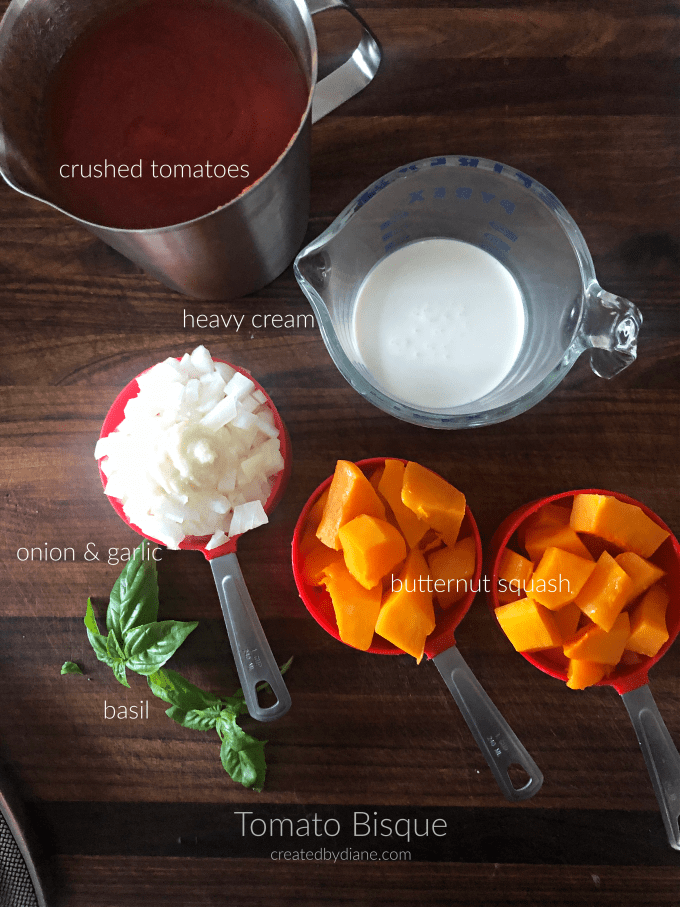 In a 4 quart or larger pot, saute your onion and garlic in oil and cook until tender.
Add in the butternut squash and cook until heated and tender. (I used cooked butternut squash I roasted in the oven at 400° for 20 minutes)  If you add it raw, just add a tablespoon or two of water, cover with a lid for a couple of minutes, then continue with the recipe.
If you're using raw cubed squash, be sure it is cut small so it cooks quickly.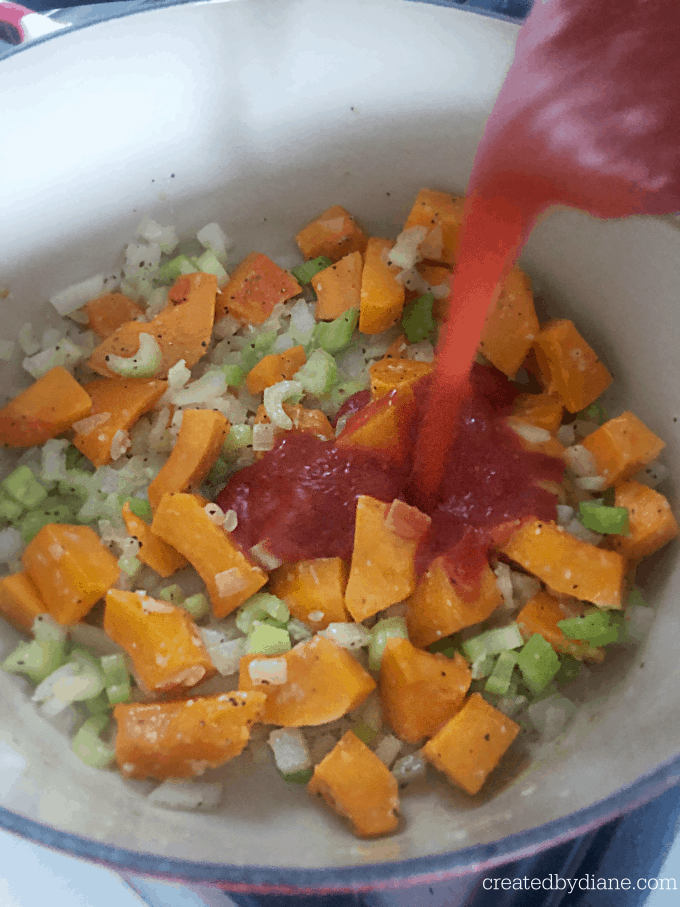 Add in chicken broth, tomatoes, and chicken bouillon, then bring to a simmer.
Once your soup is at a simmer, add heavy cream basil, salt, black pepper, crushed red pepper. Mix until combined.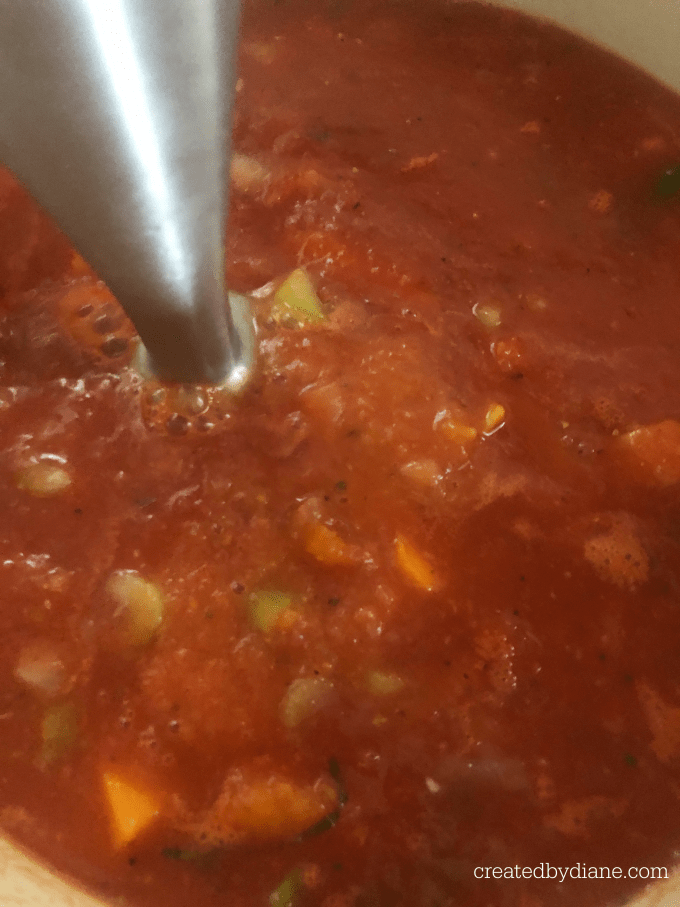 Remove from the heat and, using an immersion blender, puree smooth. You can also use a blender by pouring in small batches at a time. Add more heavy cream for desired creaminess.
Taste your soup to be sure you like the flavor, add salt and pepper to taste.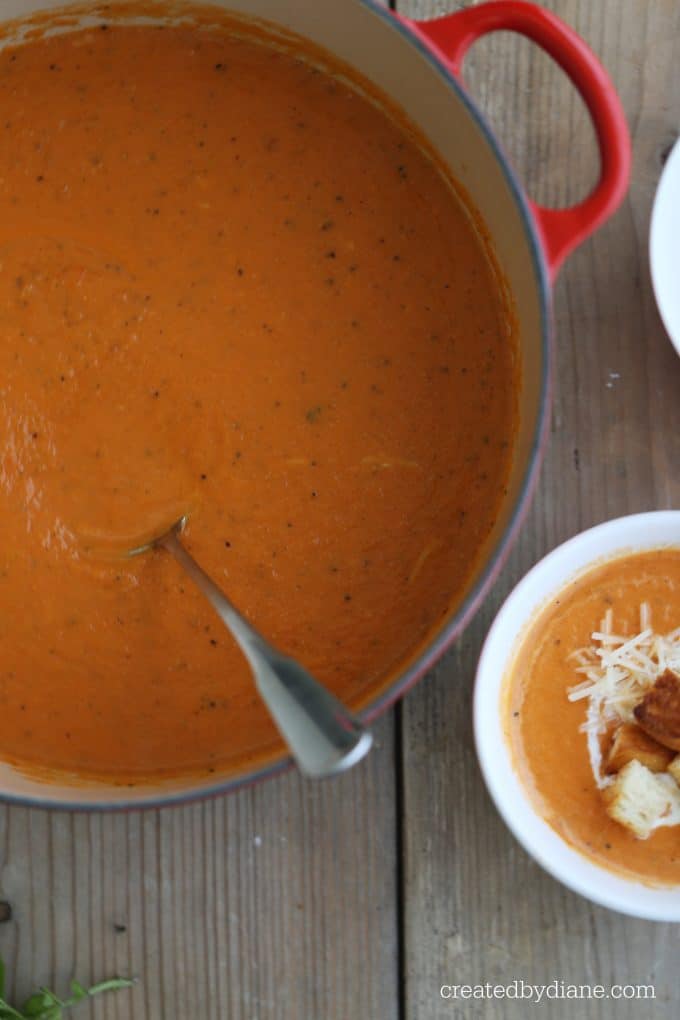 What if I have no broth?
No broth? No problem! A great replacement is chicken bouillon with water. In my opinion, it's a must have in the pantry, you can add as much or as little as you like, and it's great to make quick sauces, gravy and add extra flavor to lots of recipes.
Are there other squashes that could be used in this soup aside from butternut squash?
Acorn squash is a great replacement here, it's found almost anywhere too, making it an easily accessible option.
So, what are my vegan options?
To make a Vegan Tomato Bisque: instead of butter, use a plant-based option like Myokos or Earth Balance. Country Crock also has some amazing options too. Replace your cream with unsweetened oat milk or my personal favorite is cashew cream. Clicking here will take you to a page with many options. If you'd like more texture you can add in extra-firm tofu.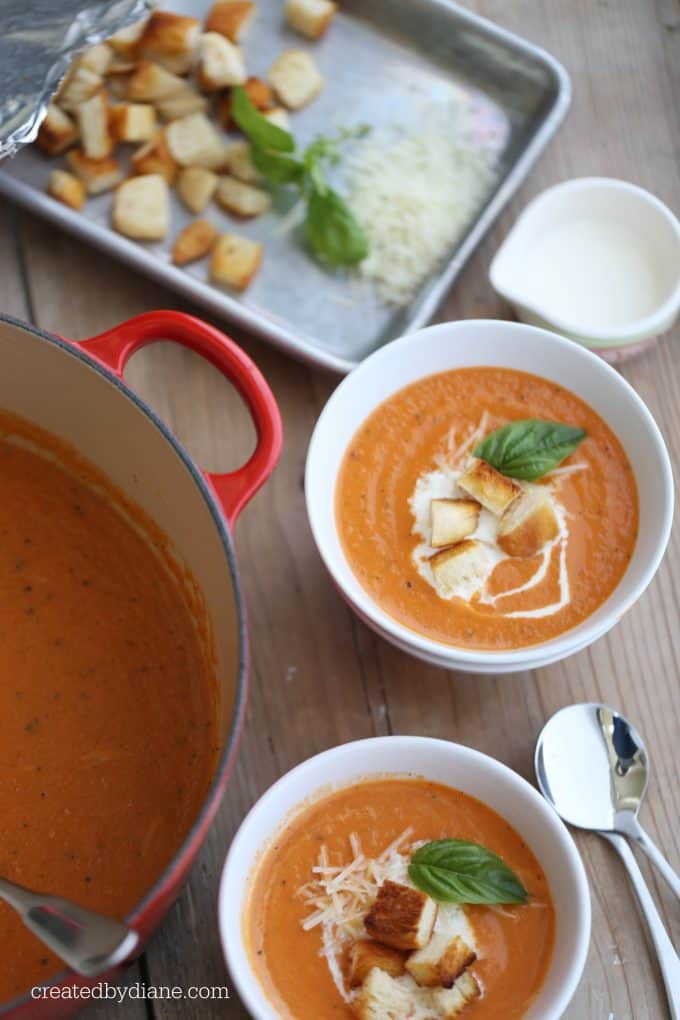 Pile on the toppings!
I topped these with added cream, cheese, croutons, and fresh basil.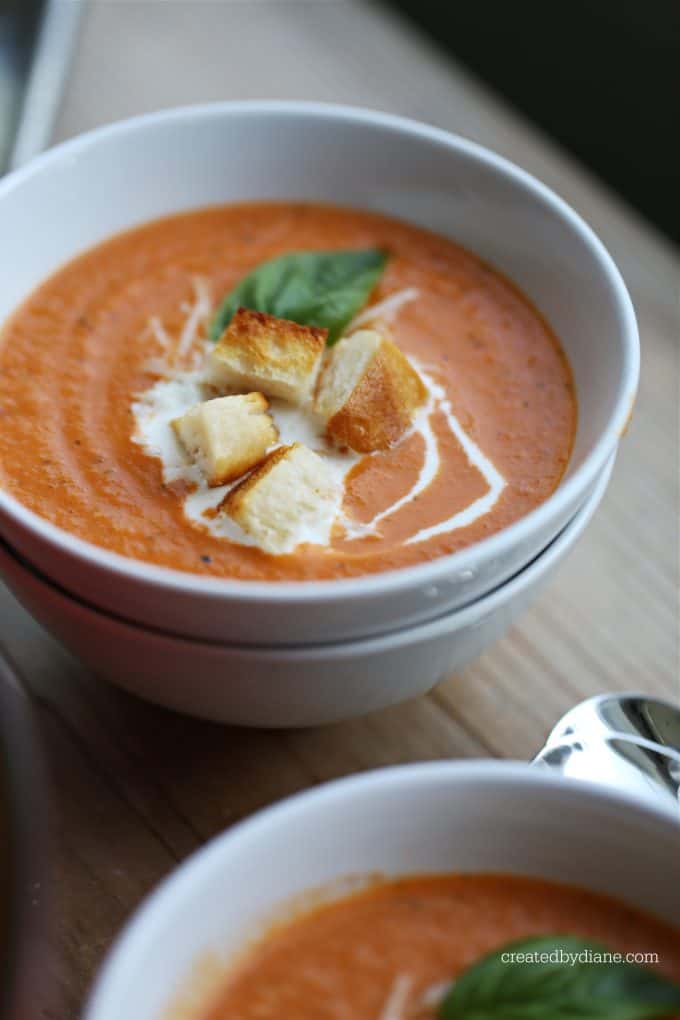 Warm up on a cold night with a big bowl,
pour it over a nice bowl of pasta for a really delicious meal you won't regret it!
Tomato Bisque
Thick, rich, and creamy tomato soup with added flavor and texture perfect for enjoying on a cool day, over pasta, or with a grilled cheese sandwich. This is a great tomato soup kicked up for adults.
Author:
Diane Schmidt, Created by Diane
Ingredients
1 cup diced onion
2 tablespoons minced garlic
1 tablespoon oil (I use avocado oil, olive oil or butter)
½ cup diced celery
2 cups butternut squash, cooked ( I baked mine in the oven ahead of time, alternatively you can cook it in the pot you cook the onions in, dice the butternut squash small, so it will cook faster)
28 oz tomato (crushed or diced)
2 cups chicken broth
2 teaspoon chicken bouillon
½ cup heavy cream (or half and a half)
6 leaves fresh basil
½ teaspoon dry oregano
½ teaspoon salt
½ -1 teaspoon black pepper (I added a teaspoon)
¼ teaspoon crushed red pepper flakes, or more for more spice
Additions
add carrots to the soup if you want it sweeter
fresh toasted croutons are great on top
garnish with grated Romano/Parmesan Cheese
Additional heavy cream for a pretty drizzle on top and to make it creamier
Add cooked bacon for a smokey flavor
serve with grilled cheese sandwiches if desired
serve over pasta for a complete meal
Instructions
*decide if you'll be using pre-cooked butternut squash, roasting it before beginning, or cooking it in the soup (dice it small so it cooks fast)
In a 4 quart or larger pot saute onion, garlic in oil, cook until tender.
Add in the butternut squash, cook until heated and tender (If using raw add chicken broth and boil until tender)
Add in chicken broth, tomatoes, and chicken bouillon and bring to a simmer.
Add heavy cream, basil, salt, black pepper, crushed red pepper.
Puree smooth, either by using an immersion blender or pouring batches into a blender.
Taste your soup to be sure you like the flavor, season as desired.