If you like biscuits and gravy, this version will have your mouth watering. This ground turkey gravy is healthier, really tasty and so simple to make. Creamy delicious turkey gravy to eat with biscuits and so much more.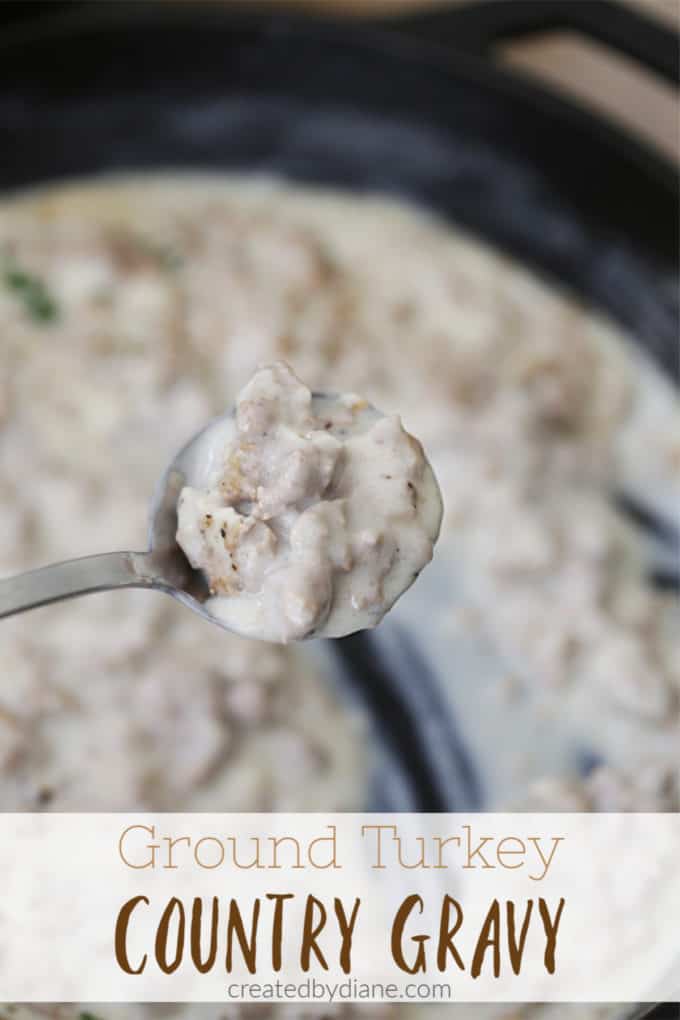 There is no denying it… southern food is irresistible!
I just don't think I could eat it all the time, at every meal. But that doesn't mean I don't get a hankering for some great tasting southern inspired recipes. This is one of those times. 
I changed up the from typical sausage in the country gravy to ground turkey.
So the gravy is creamy and thick and delicious and leaner than gravy made with pork sausage which is typically what country gravy is made with. 
Why ground turkey?
Truth be told, I can't find a great tasting ground turkey sausage… I often buy ground turkey… and I love trying new recipes so ground turkey works really well in this recipe. Add in some of your favorite spices if you'd like.
Ground chicken will work well in this recipe too, so will lean ground pork.
Be sure to check out my other Ground Turkey Recipes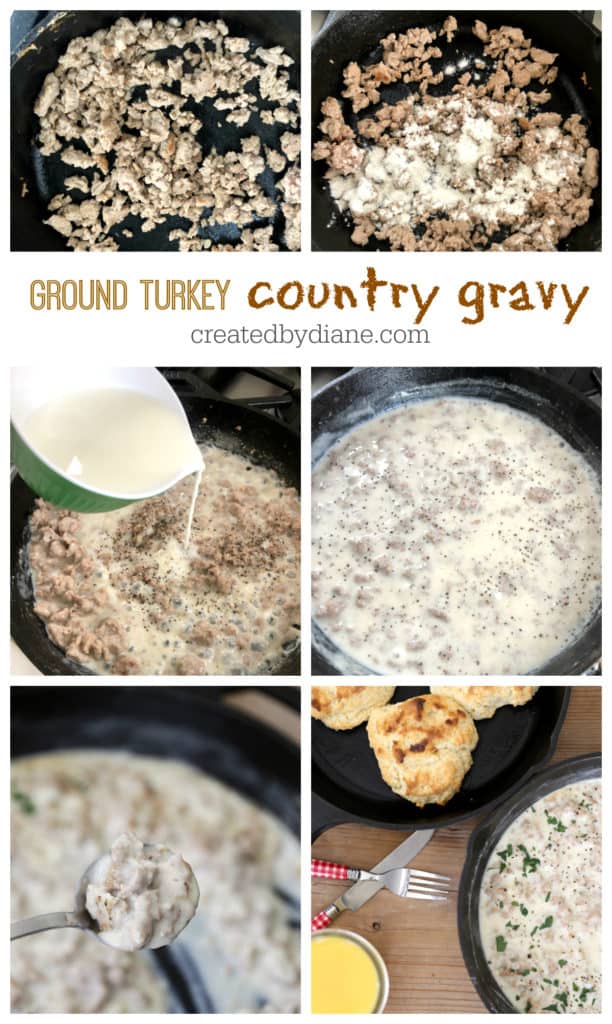 In just a few simple steps the gravy will be done, and if you're like me you popped biscuits into the oven before starting the gravy and they'll both be done about the same time!
I made a small batch of biscuits (4 biscuits) and you'll never guess they're made out of pancake mix. OH, these are a MUST make!
What you'll need
a skillet
a whisk
ground turkey
milk
salt and pepper
any of these: garlic powder, onion powder, seasoning salt, chicken bouillon, sage, marjoram, Worcestershire, soy sauce
(I most often use some garlic and a dash of soy sauce, but give any of these a try to kick up the flavor, try two or three of them, not all of them).
Steps to making the gravy
In a hot skillet, saute the ground turkey until it's no longer pink and cooked to 165 degrees.
Next, you'll add in a little butter or oil, then stir in the flour to coat the ground turkey
slowly pour in the milk a whisk as you pour it so the sauce stays thick as you are adding it slowly
add in any flavors as well as salt and pepper (since this isn't sausage there are no spices in the ground turkey so adding in a little bit goes a long way with this recipe).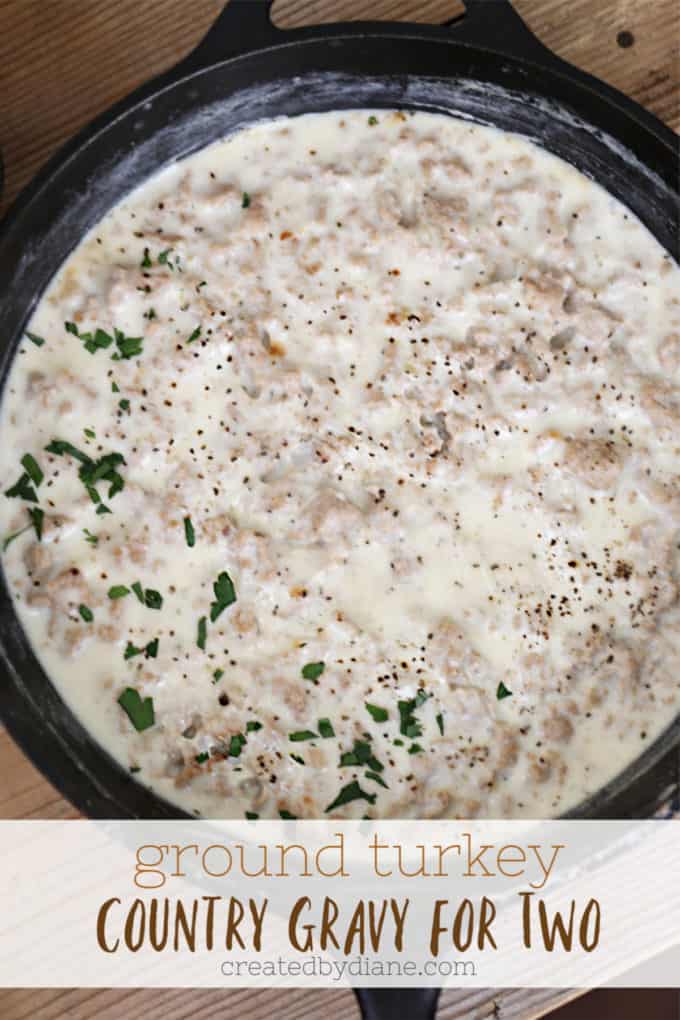 What else can I use this gravy on?
If you don't have biscuits you can pour it over
a couple of slices of toast
English muffins
pour it over a burger
over roasted potatoes
mashed potatoes
rice
broccoli
mushrooms
all good options!
Ground Turkey Country Gravy
A lean ground turkey country gravy that is great for breakfast over biscuits, with vegetables like broccoli or mix in some chicken and mushrooms for a whole meal.
Author:
Diane Schmidt Created by Diane
Recipe type:
Sauce, Side Dish
Ingredients
1 lb ground turkey
1 tablespoon oil (I use avocado oil)
1 tablespoon butter
2 tablespoons flour
1 1/2 cups milk
salt and pepper to taste
Flavor options
garlic powder, onion powder, sage, seasoning salt, dill, marjoram, Worcestershire, soy sauce
Instructions
In a hot skillet, saute the ground turkey until it's no longer pink and cooked to 165 degrees and broken into small pieces.
Next, you'll add in a little butter or oil, then stir in the flour to coat the ground turkey.
Slowly pour in the milk slowly, this allows the milk to soak up the flour and become a thick sauce as the milk heats up.
Add in any flavors as well as salt and pepper (since this isn't sausage there are no spices in the ground turkey so adding in a little bit goes a long way with this recipe)