There is no time where PUMPKIN is out, it's always IN….
in my book!
I love pumpkin and make sure I always have some canned pumpkin on hand.
The aroma of these baking is truly irresistible!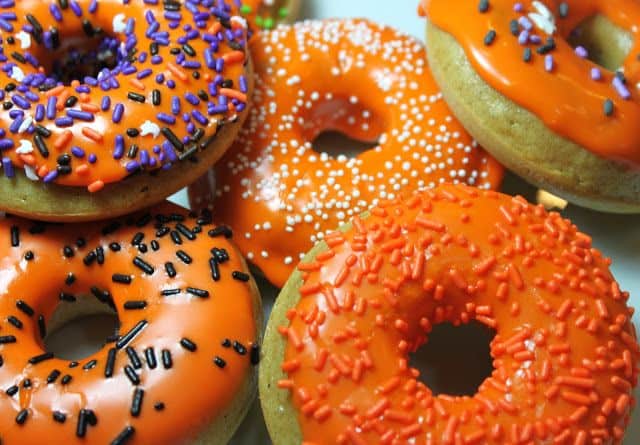 You will need a donut pan to bake these in, they are readily available in baking stores and
AMAZON.
It's great to know that you can whip up a batch of wonderful donuts at a moments notice.
The thought of baked donuts doesn't usually sound so appealing to me,
 but I figure we consume enough fried food when we go out that I don't typically fry food at home. Baked donuts were worth a try!
They were a huge hit and my family can't wait to have more.
 They tasted delicious and there isn't much butter in them, and next time I might omit it entirely.
These have great pumpkin flavor and are easy to make in a donut pan. They bake up fast, adding orange glaze icing and sprinkles looks so PRETTY!
Baked Pumpkin Donuts
Ingredients
2 cups flour
3/4 cup sugar
2 tsp baking powder
1 1/2 tsp pumpkin pie spice
1/2 tsp salt
3/4 cup milk
2 eggs
3 tsp vanilla
1Tablespoon butter
1 cup canned pumpkin
Instructions
In a medium bowl mix flour, sugar, baking powder, pumpkin pie spice, and salt.
Then mix in milk, eggs, vanilla butter and pumpkin.
Combine all ingredients.
Lightly grease donut pan.
Preheat oven 325.
Fill each compartment of donut pan 3/4 full.
Bake for 8-10 minutes.
Notes
glaze I used a cup of powdered sugar mixed with 4 Tablespoons hot water and two drops orange food coloring and a teaspoon vanilla. Apply sprinkles before glaze dries. This was enough for the 12 donuts the recipe made.