Chocolate and peppermint together is an amazing flavor combination…   
It always reminds me of a peppermint patty and those commercials when I was young of the people skiing or them saying that one bite in and they get the sensation of cool winds… and so on.
I always loved peppermint patties, so to make the same great flavor combo in a brownie cookie, seemed far overdue.
These are great all year long,
and the pretty pink drizzle of icing on top makes them perfect on a holiday cookie platter or to giving to the one you love on Valentines Day!
(which is coming soon)
Some people are all over the holidays and events coming up, some are actually surprised that even if the holiday is on the same date each and every year they have no idea that it's approaching. So there is plenty of time to whip up a batch of these and share them with the ones you love, or eat them all yourself if you prefer!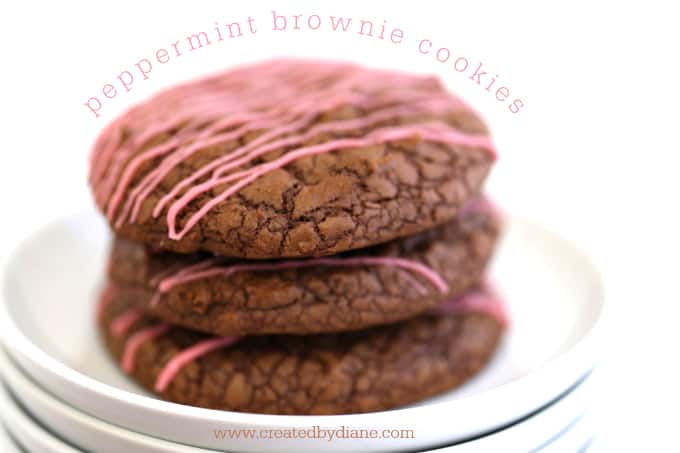 Options for decorating these could be you can dunk 1/2 the cookie into the icing. You could also make peppermint flavored white chocolate by adding peppermint extract to melted white chocolate and dunking or drizzling that over the cookies.
You could even make a peppermint buttercream frosting like this Peppermint Frosting Recipe and fill the cookies like sandwiches to get some extra mintiness going on.
If you're not an icing person and want to enjoy them "plain" there is plenty of peppermint flavor going on and you can always add more peppermint extract if you prefer.
Here is my recipe for brownie cookies and there is a video in that post if you'd like to see it.
Peppermint Brownie Cookies
Ingredients
16 oz dark chocolate (I use Ghirardelli 60% cacao chips) melted
1/2 cup butter
1 cup flour
1/2teaspoon baking powder
4 eggs
1 cup brown sugar
1 teaspoon vanilla extract
1 teaspoon peppermint extract
peppermint icing
1 cup powdered sugar
1 tablespoon corn syrup
2-3 tablespoons water
1/2 teaspoon peppermint extract
2 drops soft pink color
Instructions
In a microwave-safe bowl, melt butter this usually takes 30 seconds or so on high.
In a medium bowl mix brown sugar and eggs with a fork, add in melted chocolate, butter, flour, baking powder, and vanilla and peppermint extract.
Scoop 3 tablespoons sized scoops of dough onto parchment lined baking sheets for these large cookies.
Bake at 350 degrees for 14-15 minutes.
Allow the cookies to cool on the pan.
Test with a toothpick before removing the cookies from the oven, the batter should not stick to the toothpick, but be careful not to overbake or they won't be chewy, they will dry out.
Remove the baking sheets from oven and allow the cookies to cool on the baking sheets.
Peppermint Icing
Mix the powdered sugar, corn syrup, water, peppermint extract and pink food coloring together until smooth and creamy.
Drizzle over cooled cookies.
Allow icing to dry before stacking cookies.
Notes
How I Melt chocolate for this recipe: I do this at 30% power in the microwave for 1 minute and 10-15 seconds at full power to melt completely and stir in every 30 seconds.