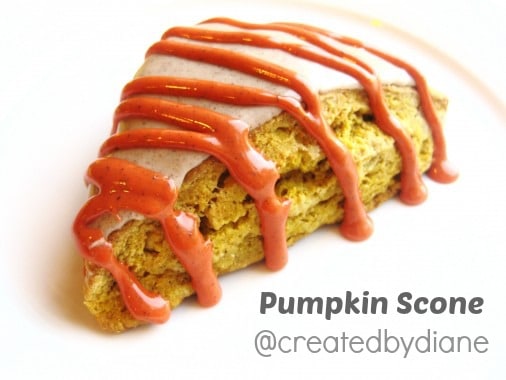 It's PUMPKIN time of year!
Yes, that should be the official name of this time of year.
Have you ever had a
pumpkin scone
 from the coffee house we all know and love?
If you have and wished you could make them yourself, then you're in for a treat.
I have been told MANY times that these scones are even better than theirs.
Here is my  
SECRET
recipe for Starbucks Pumpkin Scones
This is a true WINNER, print it let's get baking!
I make batch after batch of these beauties and they are always devoured.
They smell amazing and I just love how pretty the frosting is all speckled with pumpkin goodness.
Fall is such a great time of year, I can't wait for it to cool off a bit.
Fresh baked apple pies, pumpkin desserts and then add in some hot apple cider or hot cocoa….sounds perfect!
These aren't just great in the fall, pumpkin can be enjoyed ANYTIME.
Scones are not just for breakfast. These are great for snacking, dessert, oh yes and midnight snacking.
You can ice them in any color you prefer, if you don't color it will be a slightly off white color with specs of cinnamon and other spices.
But for Fall, I really love the ORANGE!
Better than Starbucks Pumpkin Scone
Ingredients
Pumpkin Scones
2 cups all-purpose flour
1/2 cup sugar
1 Tablespoon baking powder
1/2 teaspoon salt
8 Tablespoons cold butter
1/2 cup canned pumpkin
3 Tablespoons milk
1 large egg
1 teaspoon vanilla extract
1/2 teaspoon ground cinnamon
1/2 teaspoon ground nutmeg
1/4 teaspoon ground cloves
1/2 teaspoon ground ginger
Pumpkin Icing
1 cup powdered sugar
2 Tablespoons milk (or heavy cream)
1/4 teaspoon ground cinnamon
1/4 teaspoon ground nutmeg
1/8 teaspoon ground cloves
1/8 teaspoon ground ginger
(orange Americolor food coloring)
Instructions
Preheat oven to 400°
Combine flour, sugar, baking powder, salt, and spices in a large bowl.
Cut in butter with a pastry knife, until mixture is crumbly with no chunks of butter.
In a separate bowl, whisk together pumpkin, milk, and egg.
Fold wet ingredients into dry ingredients and form into a ball.
Pat out dough onto lightly floured surface and form into a 1-inch thick rectangle
(about 9 inches long and 3inches wide)
Divide into three sections and then make each section into two triangles.
Bake on a parchment lined cookie sheets for 15 minutes at 400 degrees. (10 minutes for small scones)
Scones should begin to turn light brown, let cool on a rack.
Pumpkin Icing
Mix powdered sugar and milk together with spices and apply to scones when cooled. I applied the first coat of icing then colored the rest orange and drizzled over the tops.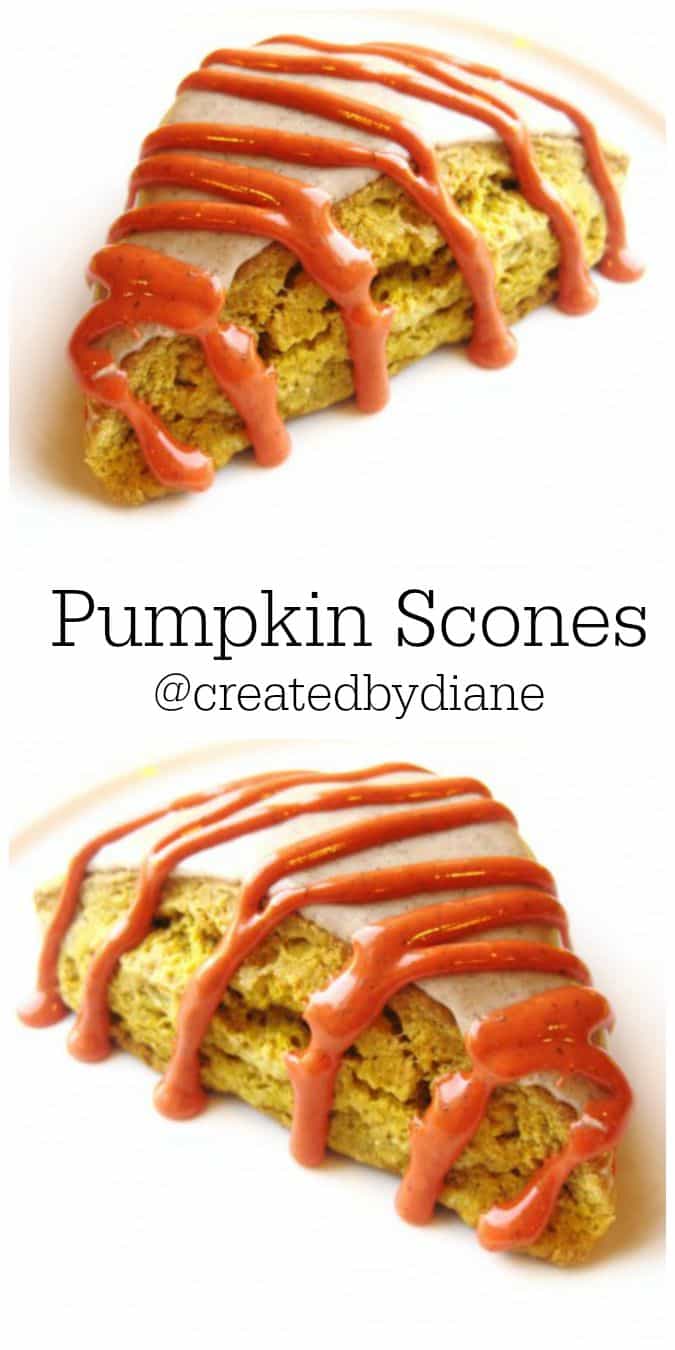 More PUMPKIN yumminess: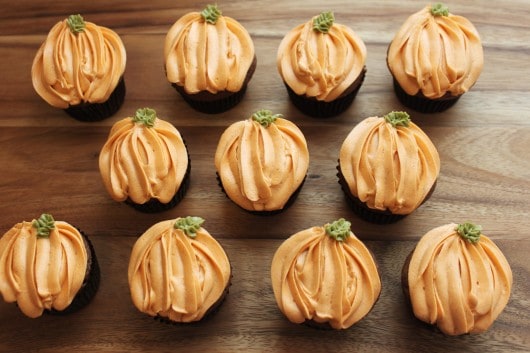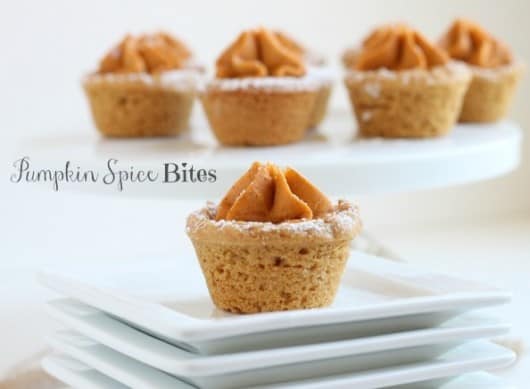 If you like this or any other recipe on Created by Diane be sure to share the post with the ones you love. You can click on the "share" buttons on the top and the bottom of each post, you can share it on social media or in an email.
~Sign up for email updates and GET delicious recipes delivered right to you! Plus get my free e-cookbook too.
Thanks ~Diane