Once fall rolls around there is nothing better than a fresh-baked pumpkin scone, full of fall flavors and yumminess you'll love any time of day. Iced to perfection and ready to fulfill your sweet tooth! Give this great Starbucks Copycat Pumpkin Scone Recipe a try, you won't regret it!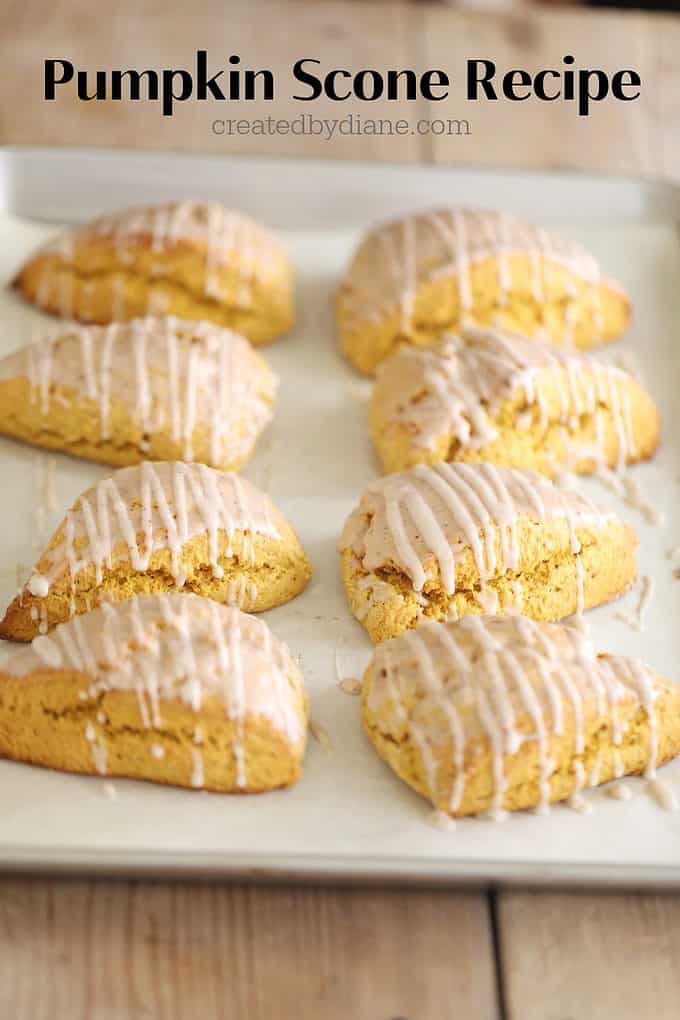 It's PUMPKIN time of year! (or you can make these any time if you're like me and stock up on canned pumpkin just to make these amazing scones any time I want)
Yes, that should be the official name of this time of year. Fall and winter is a great time to make them. 
Have you ever had a
pumpkin scone
 from the coffee house we all know and love?
If you have and wished you could make them yourself, then you're in for a treat.
I have been told MANY times that these scones are even better than theirs.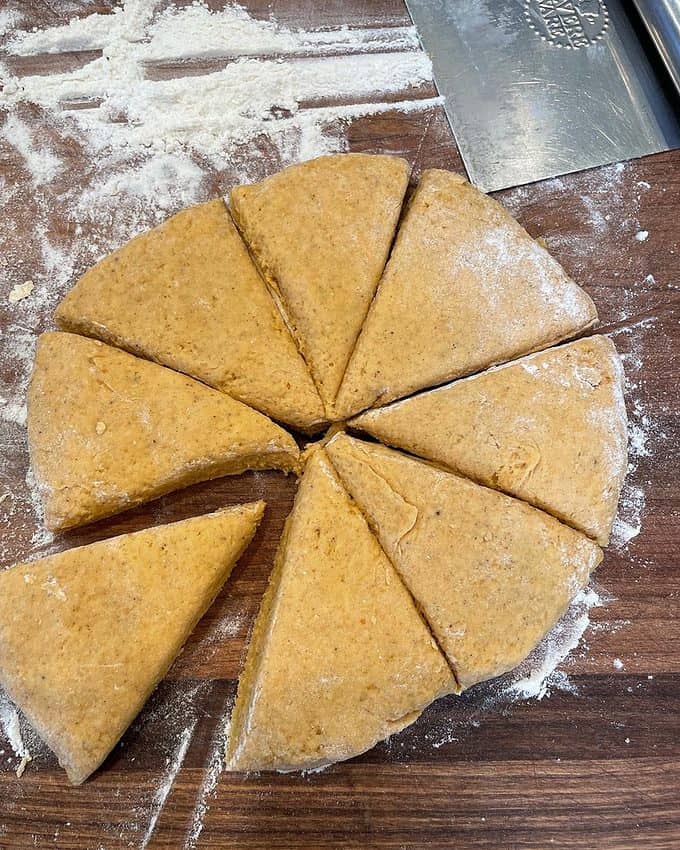 Here is my  
SECRET
recipe for Starbucks Pumpkin Scones. These copycat pumpkin scones are amazing and there is no need for a trip to the local coffee house or bakery to get them, you can make a batch yourself!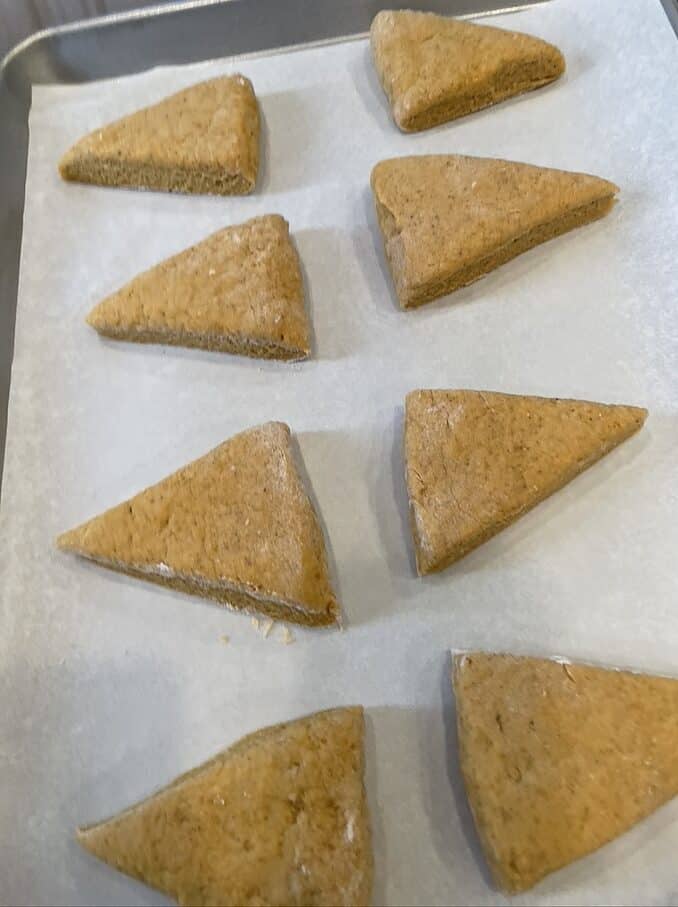 I've included my original recipe in this post PLUS a new version using no butter, no cutting in like regular scones or biscuits. It's so easy you can mix it all up using a mixer, which is good news if you don't want to mix by hand.
This is a true WINNER, print it let's get baking!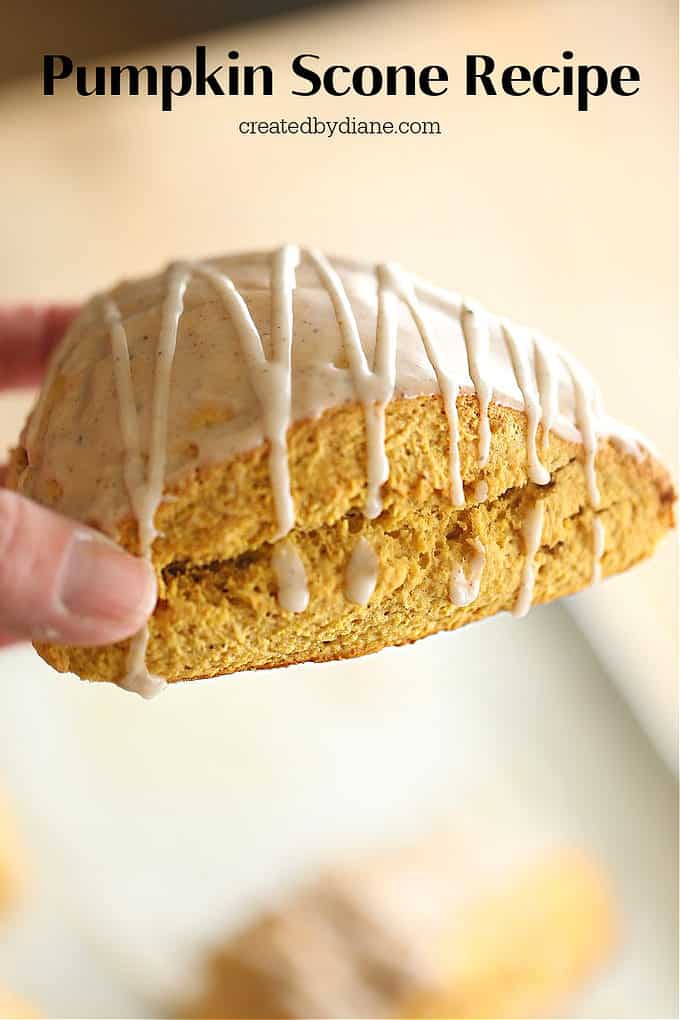 I make batch after batch of these beauties and they are always devoured.
They smell amazing and I just love how pretty the frosting is all speckled with pumpkin goodness.
Fall is such a great time of year, I can't wait for it to cool off a bit.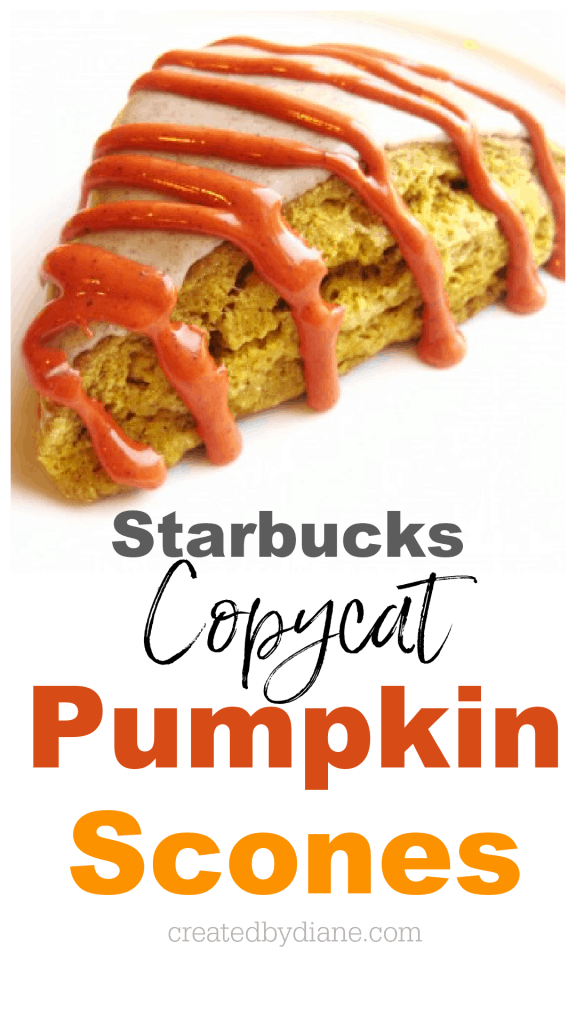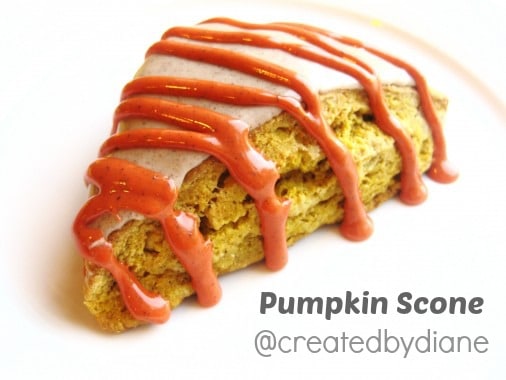 These aren't just great in the fall, pumpkin can be enjoyed ANYTIME.
Scones are not just for breakfast. These are great for snacking, dessert, oh yes and midnight snacking.
You can ice them in any color you prefer, if you don't color it will be a slightly off-white color with specs of cinnamon and other spices.
But for Fall, I really love the ORANGE!
These scones are a sweet biscuit type of treat with a nice tender inside with a great pumpkin flavor. 
These scones bake up beautifully.
There are topped with a pumpkin spice flavored icing, you can leave the icing white or you can color it orange like I did.
You can drizzle the icing on top, or dip the tops into a bowl of icing if you want it simplified.
The simple ingredients in this recipe will result in a super flavorful and delicious scone!
flour
sugar
pumpkin
butter
cream
all the yummy pumpkin seasonings, clove, cinnamon, ginger, and nutmeg
egg
salt
vanilla
See… pretty simple, don't overcomplicate it, baking should be fun and there is no better time to try baking that now!
What makes these scones so great?
Keep the ingredients cold, and don't overwork the dough and these will bake up beautifully every time.
What is the difference between these and Starbucks pumpkin scones?
These are moist and sadly Starbucks scones can be a bit dry, along with a great flavor and texture these are really better than Starbucks, and I look forward to making many batches each and every year. 
Do scones have to be cut into triangles?
No, you can cut them with a knife into any shape you prefer, or use a cookie butter or biscuit cutter, or cut them into squares in a grid pattern. You can leave them touching cut sides together if you want fluffier, more tender, lighter scones, if you separate them they will get a nice "crust" on the cut edges and they will rise well in addition.
TIPS on baking flakey, tender, moist scones:
Don't over mix the dough, it only needs to be kneaded until it comes together,  over kneading/mixing makes for tough scones as well and the texture will be a little dryer as well.
Fold the dough by hand over and over until blended, be sure to take a look at my post on buttermilk biscuits for more tips.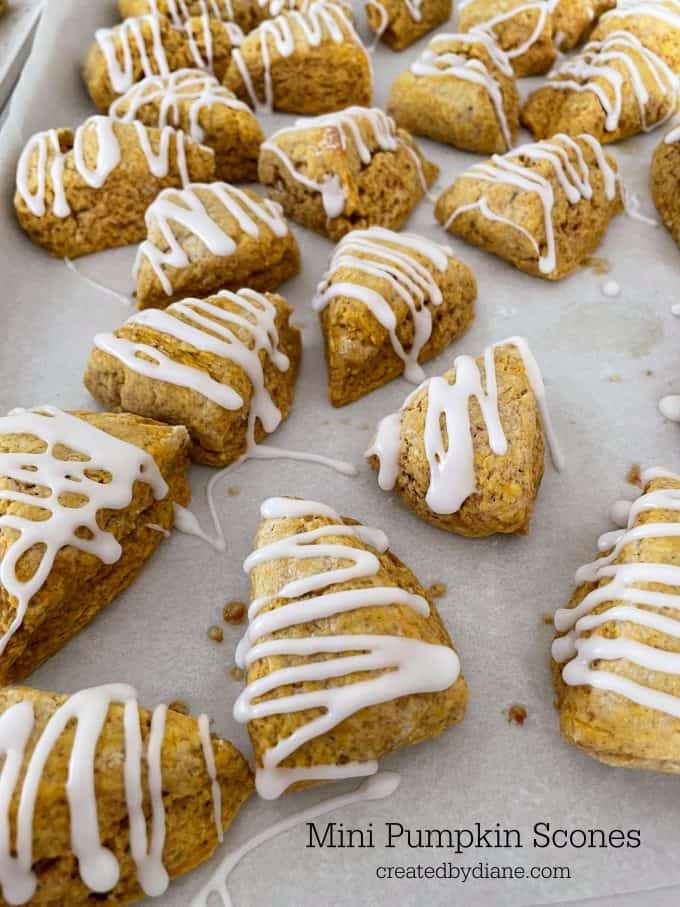 This recipe makes 24 mini pumpkin scones, perfect for sharing! Simply cut them into small triangles. They take less time to bake, about 10 minutes. 
Better than Starbucks Pumpkin Scone
Baked to perfect these pumpkin scones are amazing and the perfect item to make all fall and winter, better than Starbucks pumpkin scones
Author:
Diane Schmidt, Created by Diane
Ingredients
Pumpkin Scones
2 cups all-purpose flour
1/2 cup sugar
1 Tablespoon baking powder
1/2 teaspoon salt
8 Tablespoons cold butter
1/2 cup canned pumpkin
3 Tablespoons heavy cream (additional cream to brush tops with if desired)
1 large egg
1 teaspoon vanilla extract
1/2 teaspoon ground cinnamon
1/2 teaspoon ground nutmeg
1/4 teaspoon ground cloves
1/2 teaspoon ground ginger
Pumpkin Icing
1 cup powdered sugar
2 tablespoons water
1/4 teaspoon ground cinnamon
1/4 teaspoon ground nutmeg
1/8 teaspoon ground cloves
1/8 teaspoon ground ginger
(orange Americolor food coloring)
optional, use 1 1/2 teaspoon pumpkin pie spice for the batter instead of the individual spices for the batter and 3/4-1 teaspoon for the icing.
Instructions
Preheat oven to 400°
Combine flour, sugar, baking powder, salt, and spices in a large bowl.
Cut in butter with a pastry knife, until the mixture is crumbly with no chunks of butter.
In a separate bowl, whisk together pumpkin, milk, and egg.
Fold wet ingredients into dry ingredients and form into a ball.
Pat out dough onto a lightly floured surface and form into a 1-inch thick rectangle
(about 9 inches long and 3 inches wide)
Divide into three sections and then make each section into two triangles.
It's optional to brush the tops of the scones with cream before baking for a nice sheen and crust on top.
Bake on a parchment-lined cookie sheet for 15 minutes at 400 degrees. (10 minutes for small scones)
Scones should begin to turn light brown, let cool on a rack.
Pumpkin Icing
Mix powdered sugar and water together with spices and apply to scones when cooled. I applied the first coat of icing then colored the rest orange and drizzled over the tops.
Pumpkin Cream Scones
The simplest pumpkin scone recipe ever, in a short time you could be enjoying these right out of the oven. No cutting in butter, no hand mixing required. Use a mixer to combine the scone dough and bake. This recipe makes 16 large scones or many smaller-sized scones.
Author:
Diane Schmidt, Created by Diane
Cuisine:
English, American
Ingredients
4 cups all-purpose flour
1 cup granulated sugar
2 tablespoons baking powder
1 teaspoon salt
1 egg
1 cup canned pumpkin
1 cup heavy cream
2 teaspoons vanilla extract
1 teaspoon cinnamon
1 teaspoon nutmeg
1 teaspoon ground ginger
1/2 teaspoon ground cloves
Pumpkin icing
1 cup powdered sugar
1-2 tablespoons water
1/4 teaspoon ground cinnamon
1/4 teaspoon ground nutmeg
1/8 teaspoon ground cloves
1/8 teaspoon ground ginger
Instructions
Preheat the oven to 400°
Line 2 baking sheets with parchment paper.
In the large bowl of a mixer add flour, sugar, baking powder, salt.
Mix to combine dry ingredients.
Add in the egg, pumpkin, vanilla, cinnamon, nutmeg, ginger, and cloves.
Start the mixer on low to medium speed and slowly pour in the heavy cream as you mix until everything is combined well.
Scone dough is sticky, if it's super wet or soft add a tablespoon or two of flour.
Turn the dough out onto a floured work surface, then roll the dough into a ball.
Cut the ball in half and fold over the dough twice, pat it into place so it's in a flat, disk shape.
Then cut with a pastry cutter into 8 triangles. Then repeat with the second disk into triangles.
Place each piece on the parchment-lined baking sheet and bake for 15 minutes.
If you make smaller scones they may be done sooner. Test with a toothpick, until it comes out clean.
Remove from oven and allow scones to cool. If you plan on icing them, the cooler they are the more the icing will stay on top.
Pumpkin Icing
In a small bowl mix powdered sugar with water, cinnamon, nutmeg, cloves, and ginger until smooth. Adjust the consistency by adding more water for thinner icing, or more powdered sugar for a thicker icing.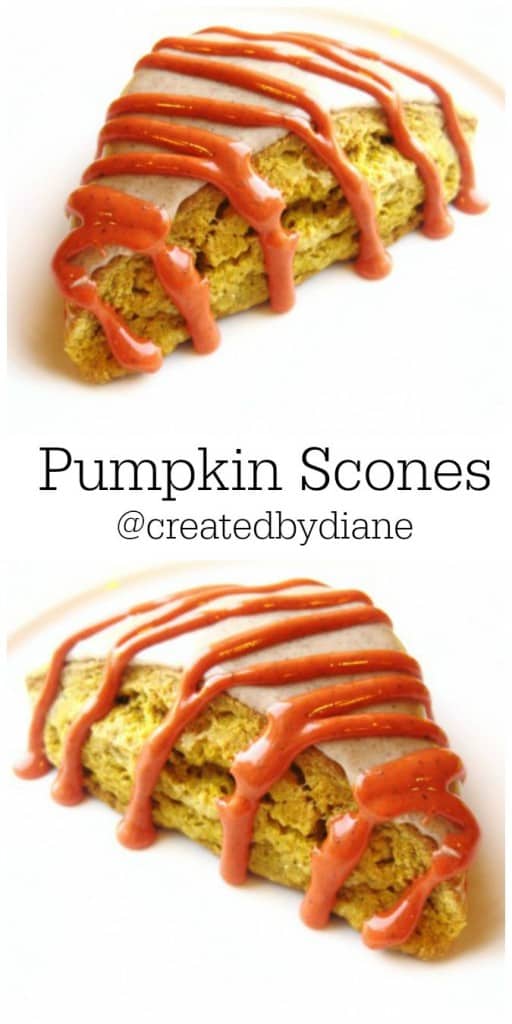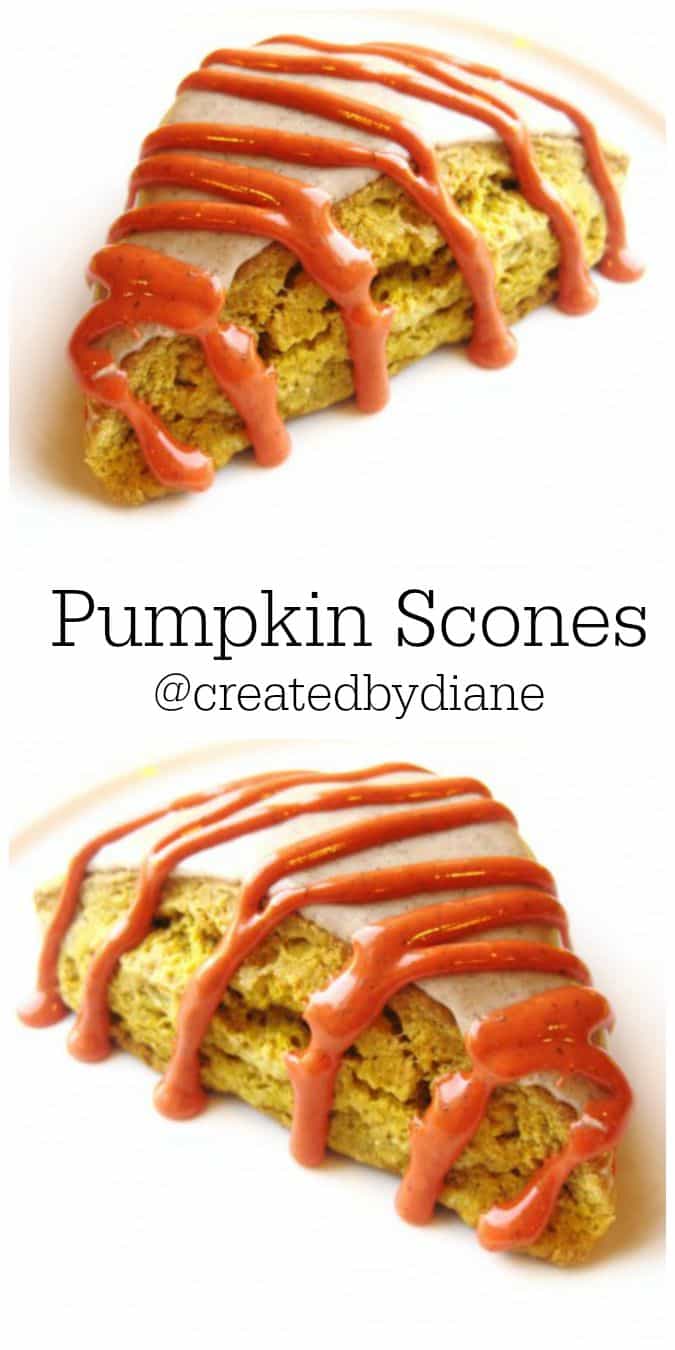 More PUMPKIN yumminess: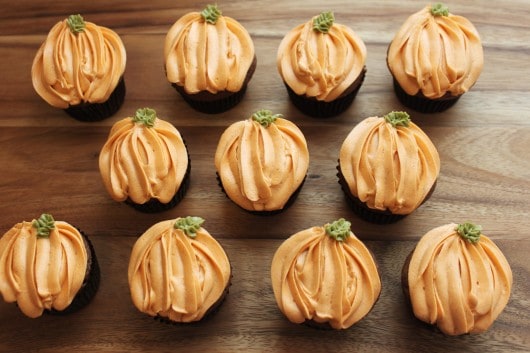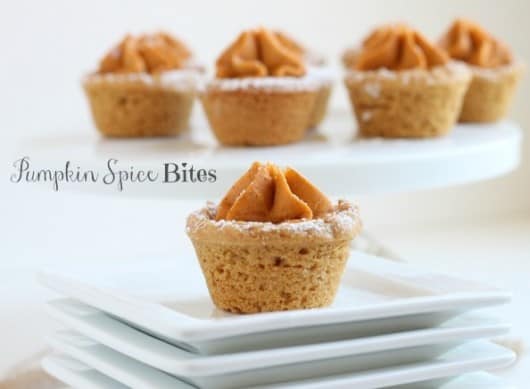 If you like this or any other recipe on Created by Diane be sure to share the post with the ones you love. You can click on the "share" buttons on the top and the bottom of each post, you can share it on social media or in an email.
~Sign up for email updates and GET delicious recipes delivered right to you! Plus get my free e-cookbook too.
Thanks ~Diane