I created a crowd-pleasing cake that is fun and best of all easy to make. There are Hershey's kisses hidden inside!
The flavor of the cake can be adjusted to your liking, for Christmas add peppermint kisses and add some peppermint extract to the cake and icing.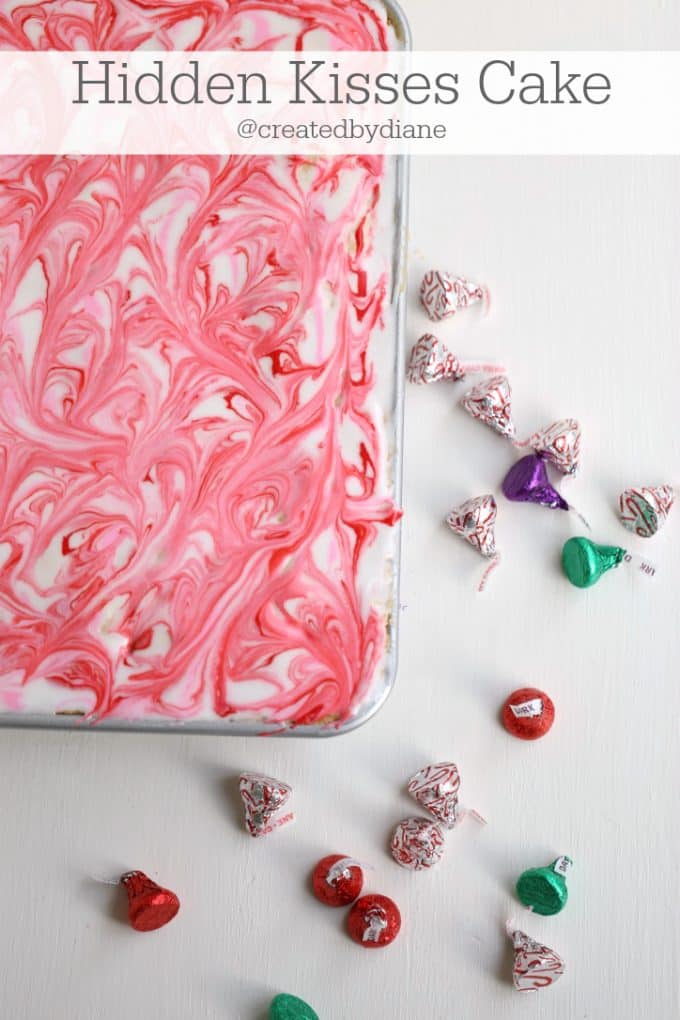 More flavor options…
If you like almond, add some almond extract and kisses with almonds in them.
I love dark chocolate and dark chocolate kisses are just perfect with this tender vanilla cake, it's a perfect match.
If caramel is your favorite add some caramel to the icing and you'll have an irresistible combination with caramel kisses inside the cake.
This is the perfect dessert to bring to your next potluck, party or large gathering since it can be made in a 9×13 baking pan or ¼ sheet cake pan.
I love a fluffy cake as much as the next person, but sometimes I just want to sink my teeth into a dense, rich cake, reminiscent of a pound cake.
At the center of each piece is a sweet surprise.
I think it's fun to mix it up and have both, you never know what you'll get!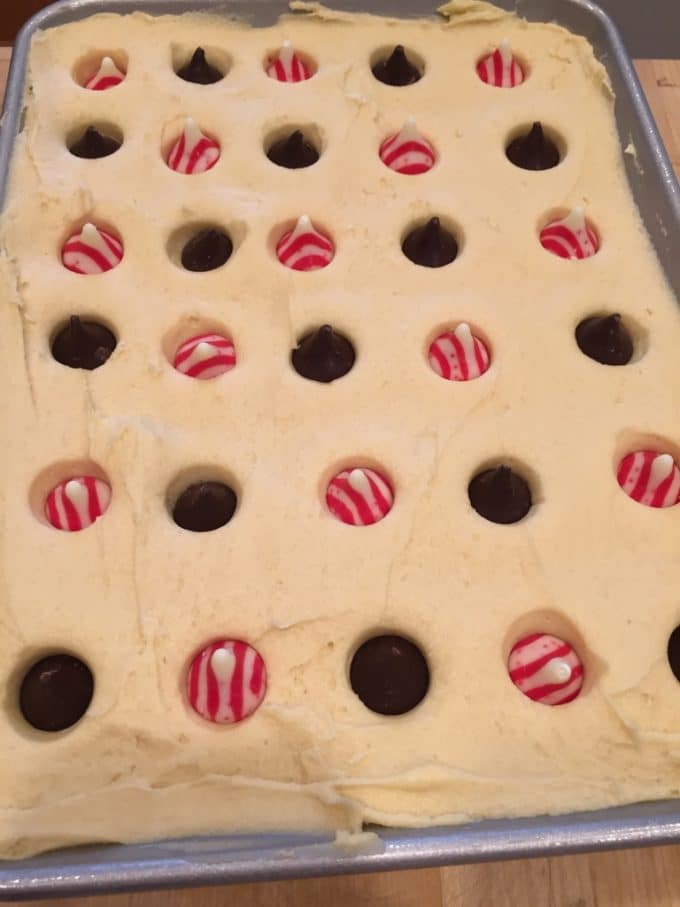 I mixed peppermint kisses and dark chocolate kisses for this cake.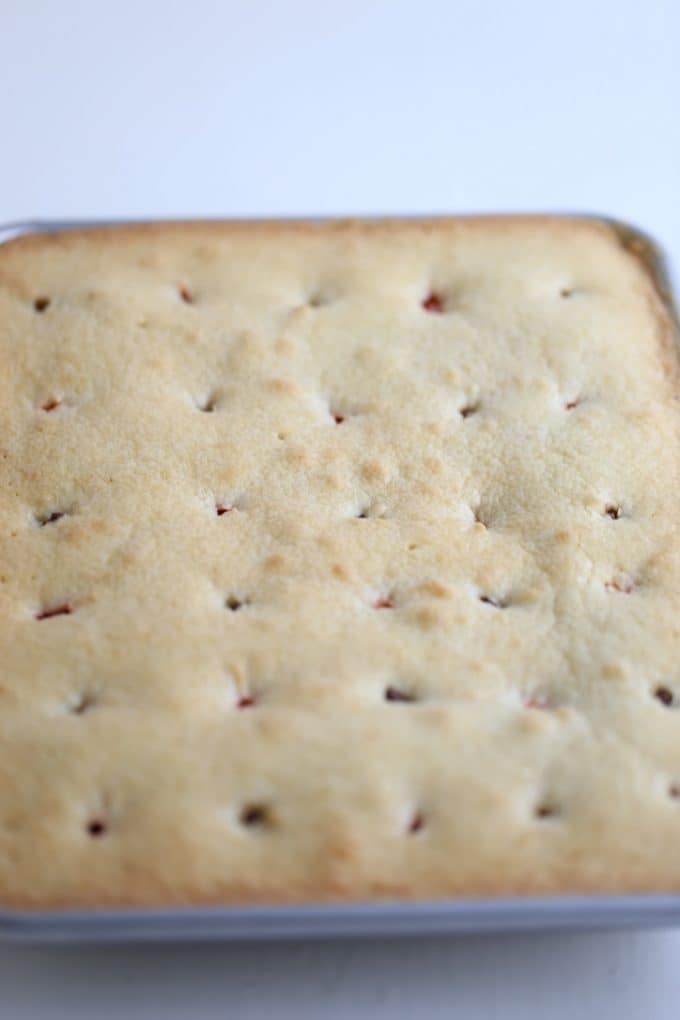 (you can see the kisses peeking out after the cake is baked)
There you are, happily nibbling away at your cake, and surprise,
a hidden treasure!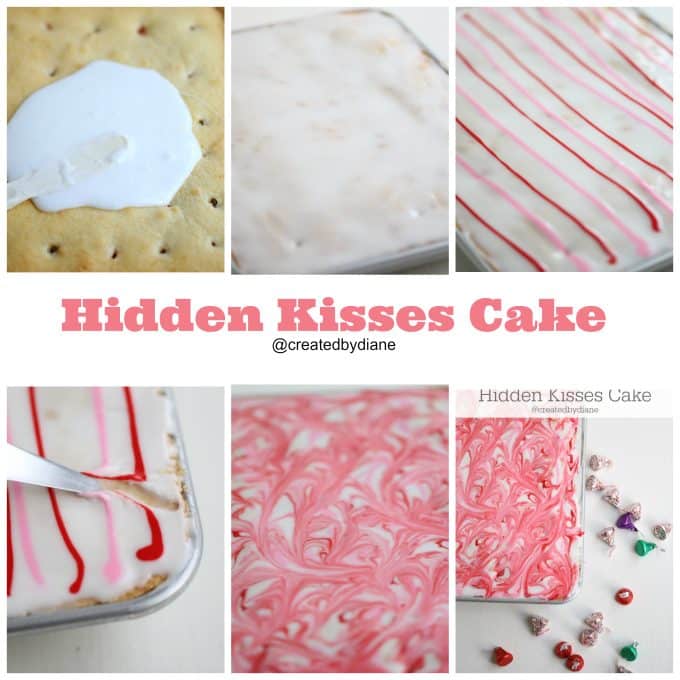 The crowning touch is the pretty pink pepperminty swirl icing.
This has me thinking of ice skating with all the figure eights going on in the icing.
This would also be a great cake to make with the kids since it's so easy, and it's downright foolproof.
They'll have a great time mixing the batter and swirling the color into the icing.
Not to mention how great it is to have extra hands around to unwrap the candy too!
Hidden Kisses Cake
Ingredients
1 cup butter
1-1/2 sugar
4 eggs
2 cups flour
1 teaspoon vanilla
1/2-1 teaspoon peppermint extract depending on how much peppermint flavor you'd like
30 Hershey's Kisses ( in any variety you choose, I mixed dark chocolate and peppermint)
Instructions
In large mixing bowl beat butter with sugar until fluffy.
Add in eggs one at a time mixing thoroughly.
Add in flour, vanilla, and peppermint extract until smooth and well blended.
This is a thick batter, you'll need to spread it.
Spray a 1/4 sheet pan with a baking spray, spread batter evenly over pan.
Place Hershey's kisses into cake batter in a grid pattern
Bake cake at 350 degrees for 30 minutes or until toothpick comes out clean.
Allow cake to cool.
Spread icing over top of the cake and add lines of colored icing and swirl it with the tip of a spatula or knife to mix the colors.
The cake can be served slightly warm, the kisses will then be soft and the icing will drip down the sides of the cake slices as it's sliced or you can serve the cake completely cooled.
Cut the cake to have a kiss in the center of each piece.
Notes
3 cups powdered sugar mixed with 1 tablespoon corn syrup and three-four tablespoons water to have the icing be spreadable without being too thin or too runny.(add 1 teaspoons vanilla or peppermint extract to this mixture)
Separate the icing into three bowls and tint one with red coloring and one with pink coloring and leave one white.
Spread the white icing over the cake, make some lines with the other colored frostings and swirl with the end of a spatula, spreader or knife to swirl the colors in a figure 8 pattern to create a swirled design.