Peanut Butter Banana Bread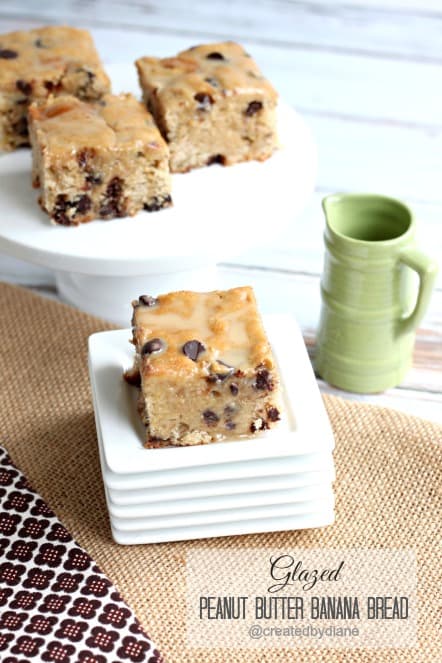 I swear some days I think my cat gets into the peanut butter jar,
really he smells like peanut butter.
I don't know how that can be, but it's true.
So if I pick him up, do you know what happens…
YES, I want peanut butter!
Well if you like peanut butter like I do then you are in for a REAL treat with this one,
The peanut butter glaze puts this RIGHT over the TOP!
Trust me, this is peanut butter heaven!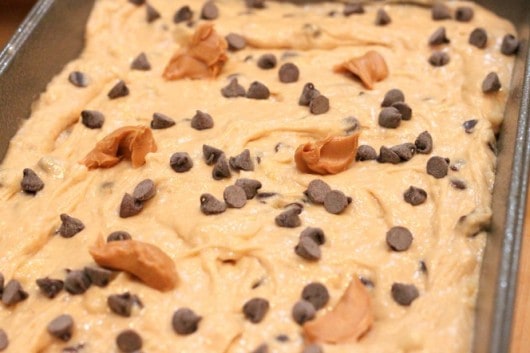 I mixed some peanut butter into the batter and then placed the remaining peanut butter by teaspoons onto the top of the batter,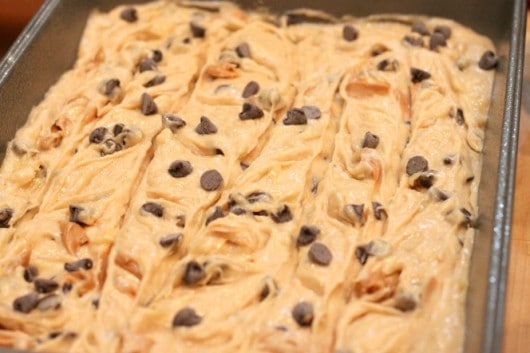 then swirl the peanut butter into the batter with a toothpick or knife.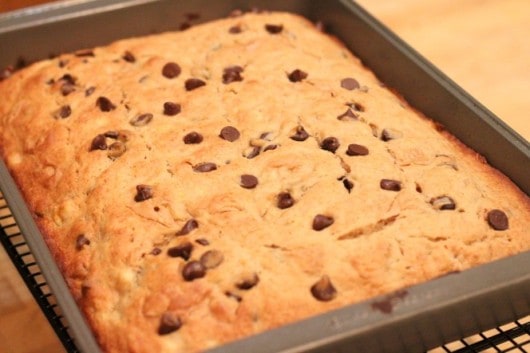 Let the banana bread cool.

Peanut Butter Banana Bread
Ingredients
½ cup butter
1 cup sugar
1 egg
2 bananas sliced
3/4 cup peanut butter
3 tablespoons milk
2 teaspoons vanilla extract
2 cups cake flour
1 teaspoon baking powder
½ teaspoon baking soda
½ teaspoon salt
1 cup chocolate chips
Instructions
Line a 13×9 pan with parchment paper and spray with a baking spray.
Preheat oven to 350 degrees.
Cream the butter with sugar in mixing bowl with paddle attachment.
Mix in egg until combined.
Stir in milk and vanilla.
Mix in the flour, baking powder, baking soda and salt.
Stir in bananas, 1/2 cup peanut butter and ¾ cup chocolate chips.
Spread batter in pan, place remaining chocolate chips on top, and the remaining 1/4 cup peanut butter and swirl it in with a toothpick or knife.
Bake for 30-35 minutes or until toothpick comes out clean.
you will find the
Peanut Butter Icing Recipe Here
, to make it thinner to pour I added a more water until it reached a pouring consistency.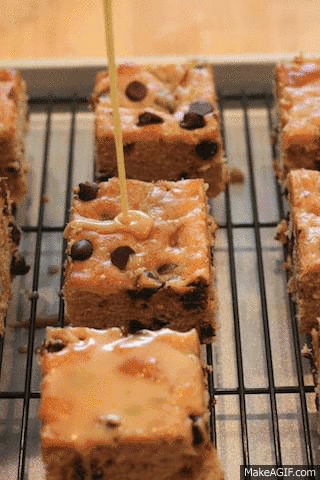 Place the cut pieces of banana bread on a rack on top of a baking sheet and pour the peanut butter glaze icing over top, I used a silicone brush to smooth it out so it dripped to the sides if it pooled up to much on top and then let the icing dry. well I did have one piece while it was wet, I couldn't resist.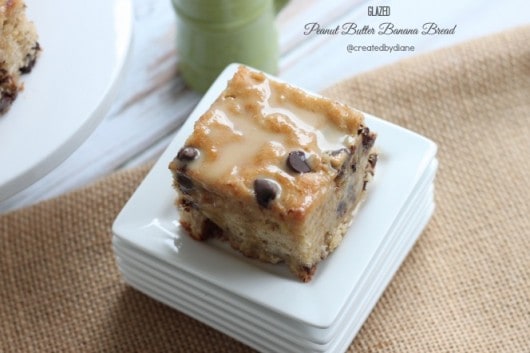 Can you smell the peanut butter yet?
If you like banana bread, then check out these other varieties I've made Coconut Banana Cake, Gingerbread Chocolate Chip Banana Bread, Chocolate Chip Banana Cake, Oatmeal Cinnamon Banana Cake, Pumpkin Pecan Banana Cake, Strawberry Banana Bread with Chocolate Chips and Blueberry Banana Chocolate Chip Cake.