The three "C's"… cookies, chocolate, and coffee. It's an irresistible combination that will have you and your family coming back for more of these espresso brownie cookies!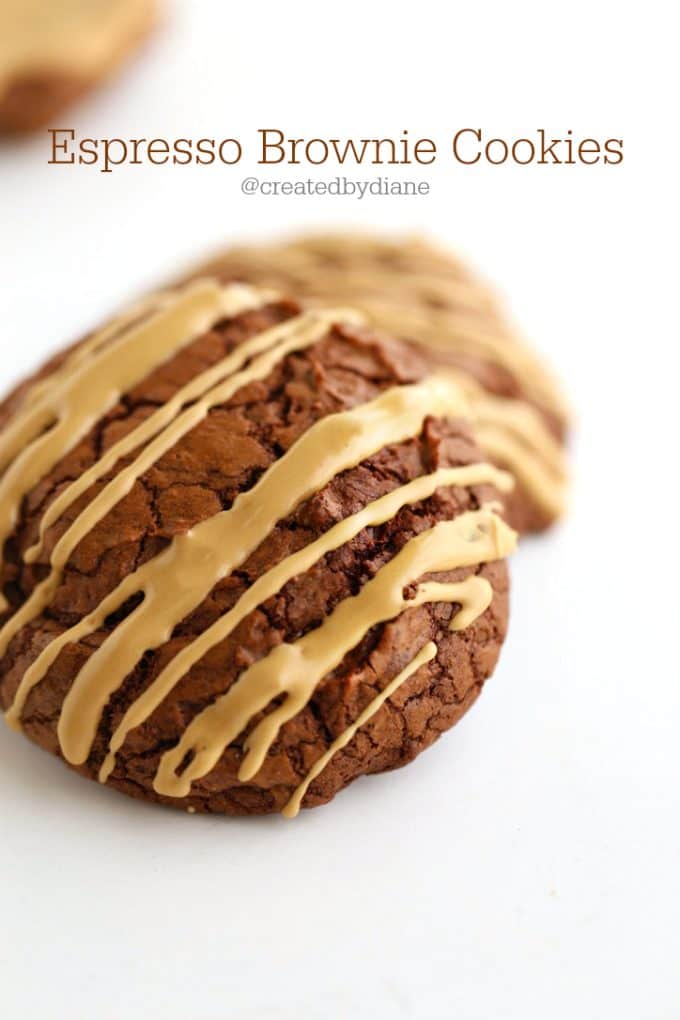 It's no secret that I love chocolate, and brownies are one of my favorite desserts. When I set out to create the perfect brownie cookie, they quickly became a favorite around here, especially with my son, who can't get enough. But I admit, I think I love them as much as he does!
I wanted to take my brownie cookies to the next level with a new twist, something with a touch of elegance and – dare I say – sophistication.
Most people don't know that I don't drink coffee or espresso. Not that I don't enjoy the flavor because I definitely do. But I'm already a high energy person… need I say more?
While I may not drink coffee, I really love the rich flavor it imparts on desserts, especially chocolate desserts. Coffee and chocolate are each great on their own, but together they are heavenly, almost addictive.
These espresso brownie cookies are lightly crispy with a deep mocha flavor.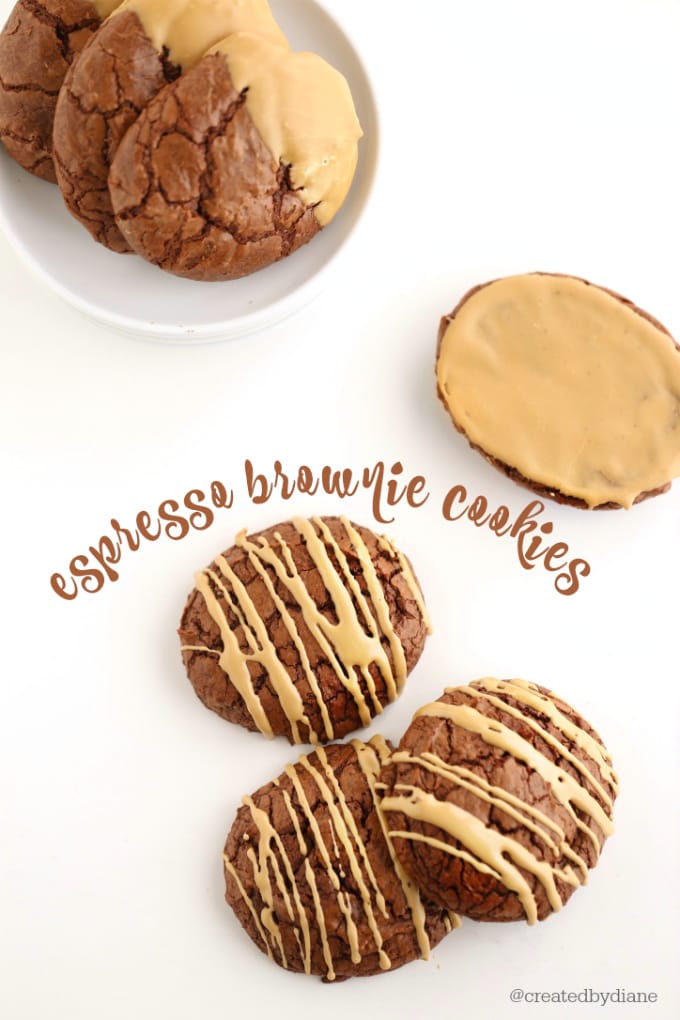 The best part of this cookie is the espresso glaze icing. Not overwhelming or too strong, but the perfect complement and finish to the chocolatey goodness. Quick to make, easy to drizzle on. Oh, these are absolutely delicious!
You can whip these up in a snap, too.
Instant espresso is the secret, so you don't need to worry about brewing espresso from a fancy machine. You won't regret keeping a little jar of instant espresso on hand.
These are so yummy,  I can almost guarantee that there won't be any left over to bring home, and everyone will want the recipe.
they are great to bring to parties, they pack well as the crisp edge of the cookies really hold their shape, so pack them up and take them to a friends house, the beach or hide some so everyone doesn't eat them in 5 minutes! Really they easily can be devoured that fast.
Then you can enjoy them whenever a chocolate or coffee craving arises! I can almost guarantee that there won't be any left over to bring home, and everyone will want the recipe.
You may want to make a double batch!
I made this brownie cookie video if you'd like to take a look.
Espresso Brownie Cookies
Ingredients
1 lb (16oz) dark chocolate (I use Ghirardelli 60% cacao chips)
½ cup butter
1 cup flour
½ teaspoon baking powder
4 eggs
1 cup brown sugar
1 teaspoon vanilla extract
2 tablespoons instant espresso powder-smooth, if it's powder it will mix well if it is in granules crush them smooth before adding to recipe.
Instructions
Instant espresso powder: this needs to be smooth, and powder consistency if it's powder it will mix well if its granules crush them smooth before adding to recipe.
Next melt the chocolate. You can do this at 30% power in the microwave for 1 minute and 10-15 seconds at full power to melt completely and stir in every 30 seconds. Be careful not to burn the chocolate, that is why you stir at each heating interval, the heat from the bowl and the chocolate will help it melt quicker.
Place the butter in a microwave dish melt the butter for about 30 seconds or so on high.
In a medium bowl mix brown sugar and eggs with a fork, be sure the mixture is well mixed, add chocolate, butter, flour, baking powder, and vanilla and espresso powder.
Scoop 3 tablespoons sized scoops of dough. Place dough on a parchment-lined baking sheet. Use smaller scoop if you want smaller cookies, be sure to reduce baking time for smaller cookies.
Large 3 tablespoon sized cookies bake at 350 degrees for 14-15 minutes.
When you remove the pan from the oven allow the cookies to cool on the pan.
Test with a toothpick before removing the cookies from the oven, the batter should not stick to the toothpick, but be careful not to overbake or they won't be chewy, they will dry out.