I dare you NOT to be tempted by this cake… it's irresistible!   
Maple Banana Walnut Bundt Cake
Don't miss one delicious recipe from Created by Diane and get my FREE e-cookbook click here!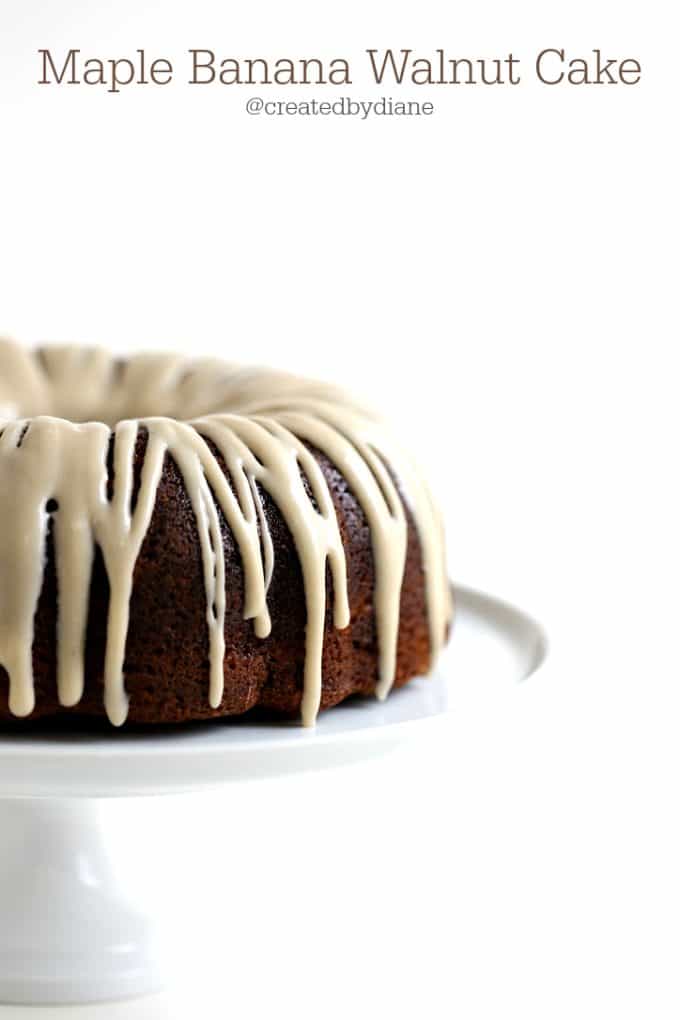 Let's begin chatting about the glaze on this cake.
Oh my goodness, it's amazing.
It's a maple cream cheese glaze… one whiff and it will draw you in.
Then when you slice into the cake,
well…
it's all over
it's AMAZING, it smells amazing and tastes delicious and it's SO EASY to whip up. Really in no time you can be enjoying a slice or three 🙂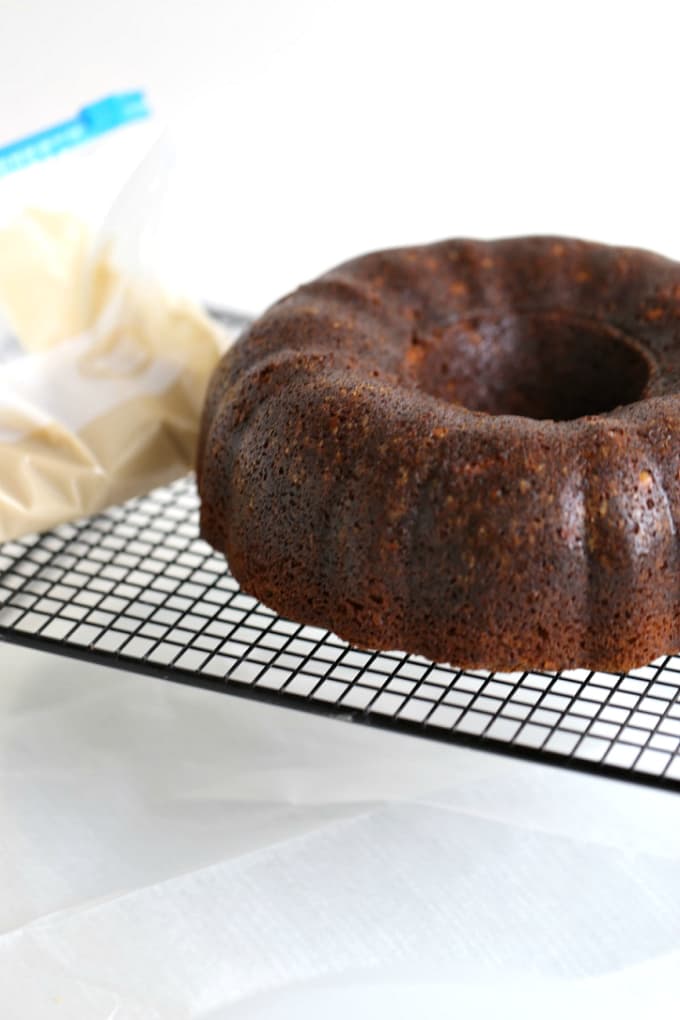 I know I've mentioned before how much I love my new bundt pan. The wide grooves allow the cake to be released beautifully. It's a CUISINART BUNDT PAN, I linked to it on Amazon here.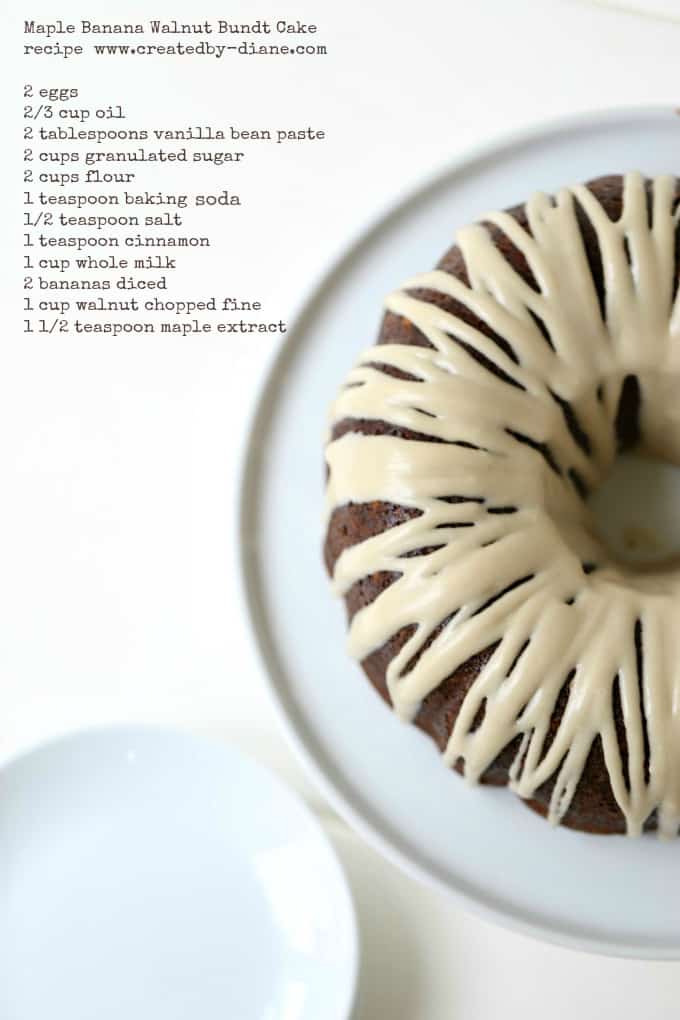 Bundt pans seem to make the cutest cakes with how the icing drizzles down all the edges!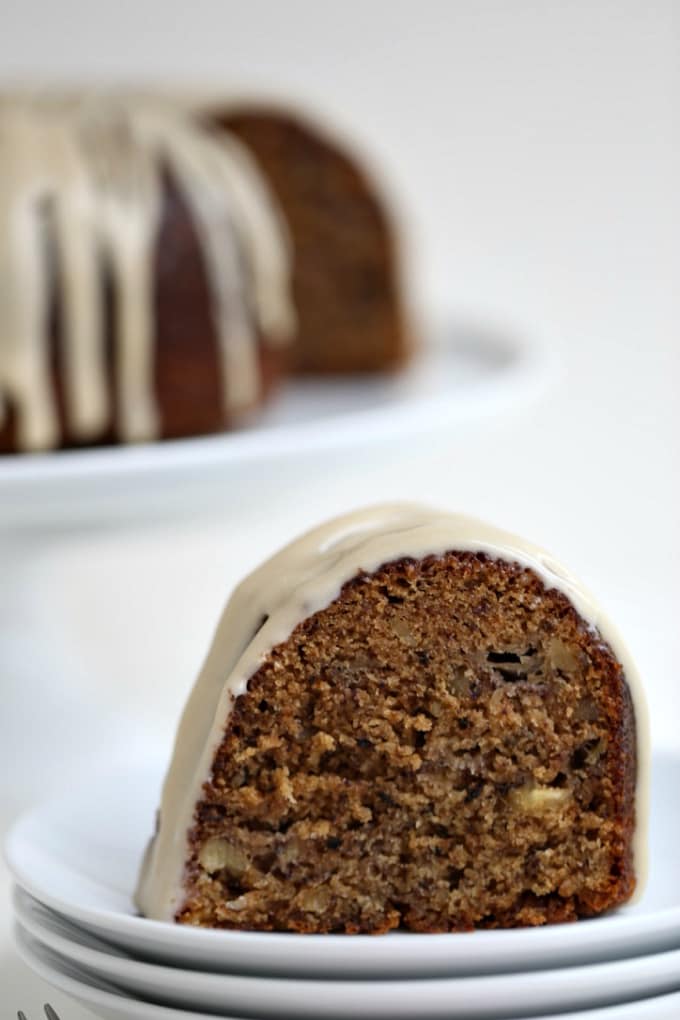 It's hard to wait until it cools to slice it.
It's hard to wait until it cools to slice it.
If you don't like nuts, leave them out. If you love coconut add some in!
This cake can be easily adjusted to your likes. Raisins would be fun too.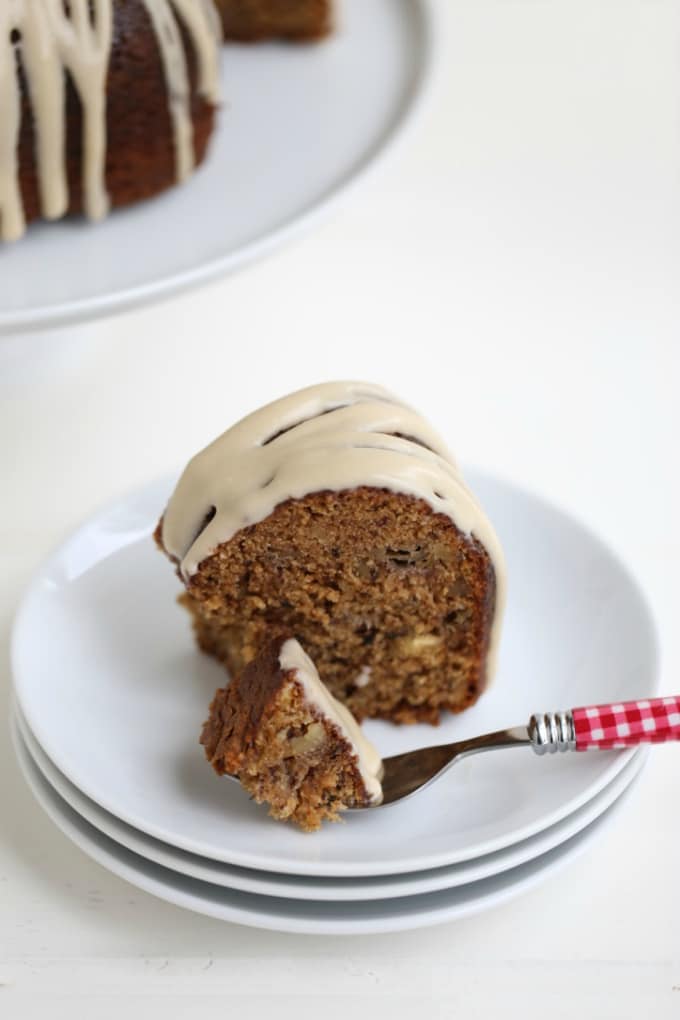 This is a great cake for a holiday dessert, or for just sitting around and enjoying a cup of coffee or tea with. Alternatively, you can bake this in a 13×9 pan.
The flavor of this cake is so comforting it's perfect for the crisp fall and winter weather.
Now after making this cake numerous times I tried it in a sheet pan, and it's perfect… the perfect ANYTIME cake! No excuse not to make this cake, now even if bundt cakes aren't you thing, sheet cakes are a great option.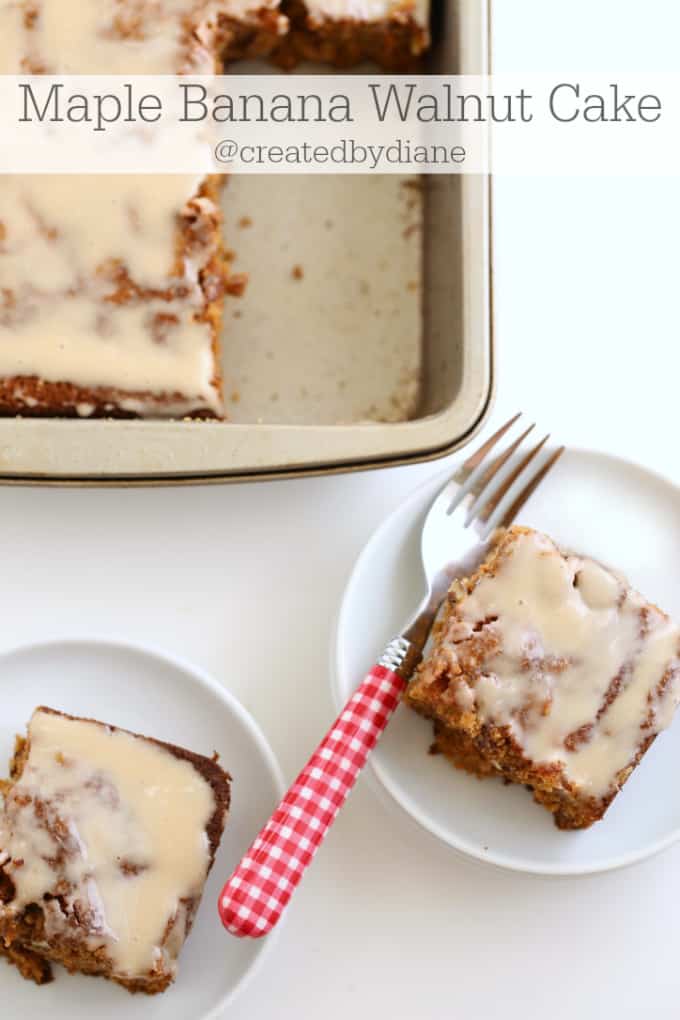 The glaze icing spreads nicely over the top of the cake and it's great for a breakfast cake or to serve after dinner!

Maple Banana Walnut Cake
Ingredients
2 eggs
2/3 cup oil
2 tablespoons vanilla bean paste
1 1/2 teaspoon maple extract
2 cups granulated sugar
2 cups flour
1 teaspoon baking soda
1/2 teaspoon salt
1 teaspoon cinnamon
1 cup whole milk
2 bananas diced
1 cup walnuts chopped fine
maple cream cheese glaze
4 oz cream cheese, room temperature
2 tablespoons butter, room temperature
1 cup powdered sugar
1 teaspoon vanilla extract
1 teaspoon maple extract
Instructions
In a large bowl with a mixer blend eggs, oil, vanilla, maple extract and sugar until whipped up well. Mix in the diced banana.
Add in flour, baking soda, salt, and cinnamon.
Mix in the milk, then stir in chopped walnuts.
Place batter in a bundt pan (or 13x9 pan) that has been liberally sprayed with a baking spray.
bake at 350 degrees for 50-55 minutes for bundt or 35 minutes for 13x9 or until toothpick comes out clean.
Allow cake to cool for 20 minutes, then turn bundt out onto a cooling to completely cool for bundt, for 13x9 you can leave it in the pan to cool completely before adding icing.
Mix icing:
In a mixer beat cream cheese, butter, sugar, vanilla and maple extract until silky smooth.
Drizzle over the cooled bundt cake.