Pumpkin Chocolate Cupcakes with Pumpkin Cream Cheese Frosting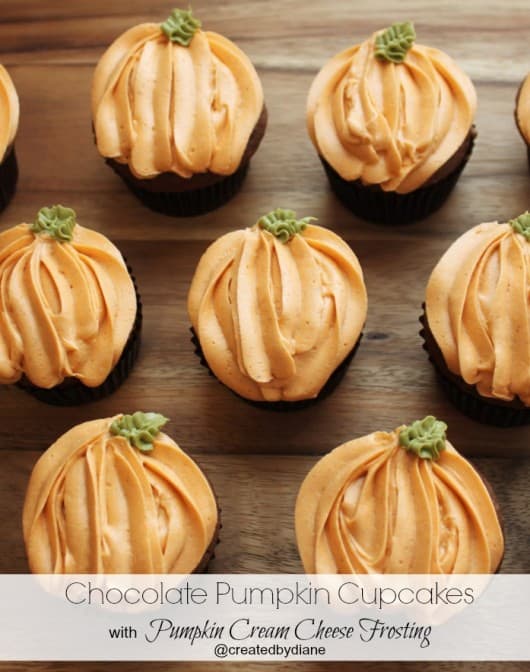 Pumpkin Chocolate Cupcakes with Pumpkin Cream Cheese Frosting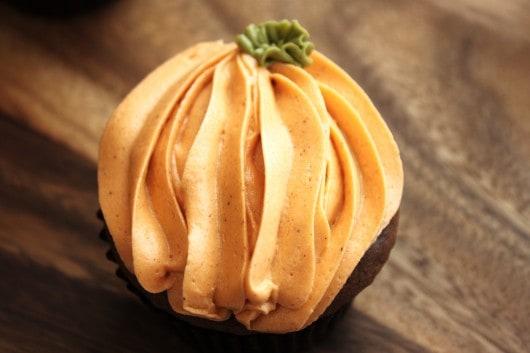 Chocolate and pumpkin are two great flavors that go really well together,
add on pumpkin cream cheese frosting and it's a win-win!
I love Fall, pumpkin and all that goes along with Halloween.
Having fun dressing up and the silly fun that follows.
This year, I am a little behind though, as I just realized I don't have costumes picked out. Believe me I did think about it for 2 seconds and there was that day that I took the kids to the store and they looked and looked, but didn't find THE costume.
Now that Halloween is only a few days away, I guess I should really put my thinking cap on and decide what I'm going to be and help the kids pin point what they want to be and then there is my husband, yes he does dress up when I make him. I secretly think he enjoys it but doesn't want to hear about it until we are almost out the door, so I usually have a back up plan of something easy for him to dress as.
This year, no.
Do you dress up?
Are you all ready?
Am I the only one that didn't prepare in advance? Ok panic is setting in and I need to decide, help me what should my husband and I dress up as, what costumes have worked best for you? Really I'm desperate, I NEED HELP!
While you're thinking of costumes I'll tell you all about these easy and delicious cupcakes.
Chocolate Pumpkin Cupcakes (with chocolate chips) Printable Recipe
1 box German Chocolate Cake mix 3 eggs 1/2 cup butter 1 cup pumpkin puree 1 1/4 cups milk 2 teaspoons pumpkin pie spice 1 cup mini chocolate chips Place cake mix, room temperature butter, eggs and milk, pumpkin and pumpkin pie spice into mixing bowl and mix on medium speed for two minutes, scrape down sides after one minute. Stir in chocolate chips. Use a large scoop (3 Tablespoon size) it helps them to all come out in a uniform shape, into your lined cupcake pans. Bake at 325 degrees for 20 minutes. Let cool completely.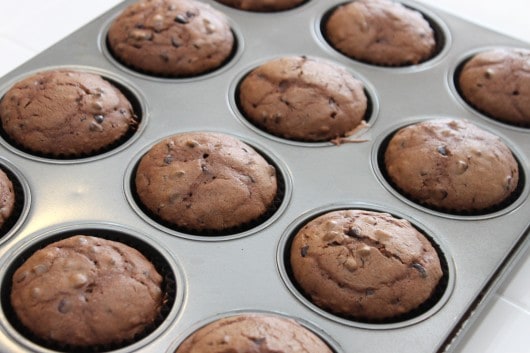 Pumpkin Cream Cheese Frosting 4 oz cream cheese 1/2 cup butter 5 cups powdered sugar 2 teaspoons pumpkin pie spice 3 Tablespoons milk Beat cream cheese and sugar then add powdered sugar pumpkin pie spice and milk and mix until fully blended together and fluffy. Remove 4 Tablespoons frosting for the stems, add two drops of Americolor Avocado for the green. Add a drop of Orange Americolor coloring to the remaining frosting
I placed the orange frosting in a piping bag with a #2D tip and started piping the pumpkins. Begin at the top of each cupcakes and pipe down three lines one on each outer edge and one down the center. Then pipe two additional lines in the spaces in between the other three. Apply the green stems with tip #66.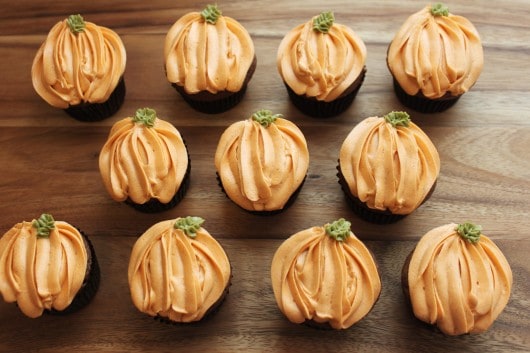 It's a pumpkin patch of cupcakes!
Don't forget to tell me all about what costumes you think we should wear.