Who doesn't like easy and delicious… I certainly do. This cake is full of fantastic flavor with apples and cinnamon, then it's covered in a cream cheese frosting that is not too sweet and then the caramel sauce is slathered on… it's a perfect party or weeknight cake.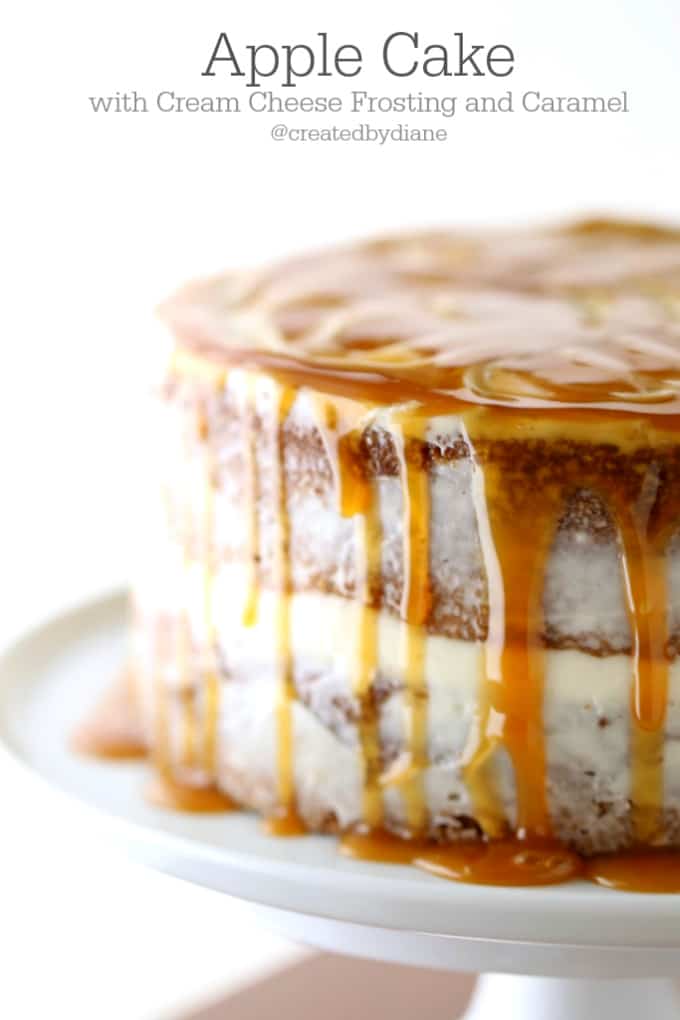 The apples in it make this cake a true favorite with EVERYONE!
The frosting has less sugar than traditional cream cheese frosting and it soft and creamy.
This cake can be made in 2 8-inch pans or a sheet pan. There is no need to think it's overly fancy, it's just simple, really it's one of the easiest cakes to make.
Just peel and slice a couple of apples, mix up the batter, and bake.
You can make the caramel sauce click here for my recipe or use a purchased sauce. Ghirardelli makes a great caramel sauce.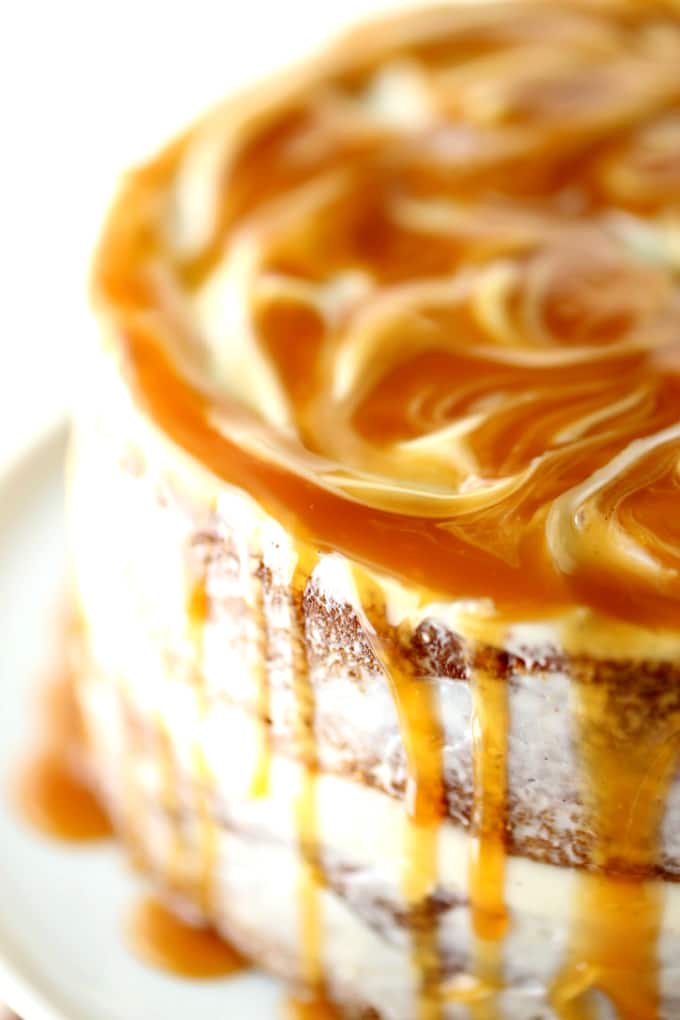 There is a thin coating of frosting covering the outside of the cake, and it's a yummy soft cream cheese frosting it's also inside the cake and on top and then the caramel. At first, I wasn't going to add the caramel, but I just couldn't help myself. It's pretty irresistible.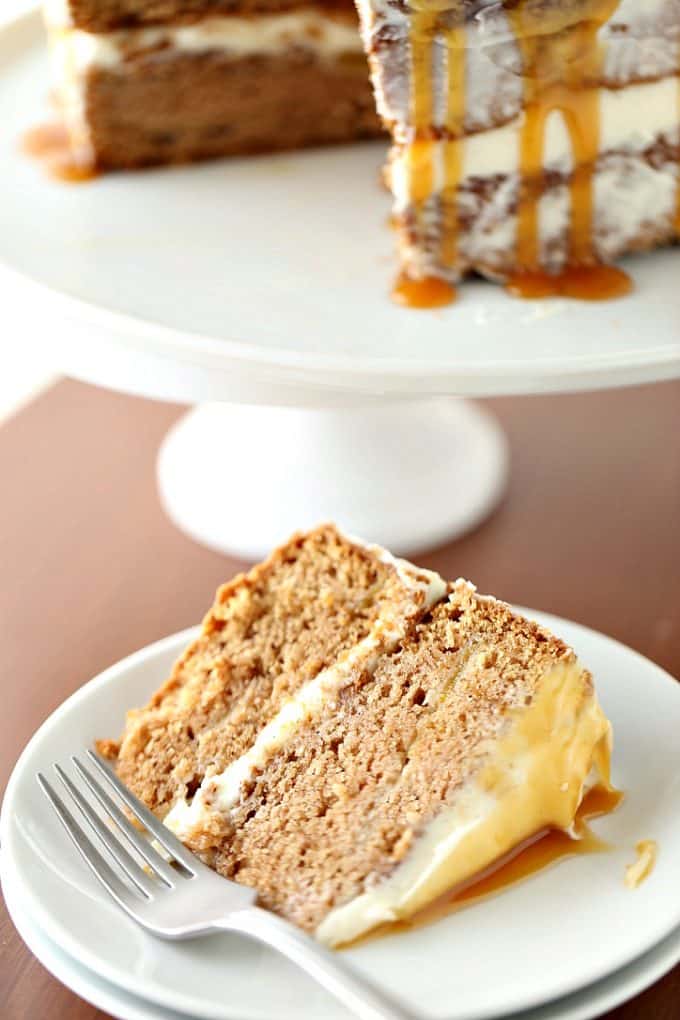 The caramel is drizzling down the edges and on top, it's swirled into the frosting with a spatula in a figure eight pattern to create a swirl. The combination of the frosting and the caramel swirled together is so pretty. If you are not a caramel fan and just looking for a simple cake, bake this in a sheet pan and slather on the frosting and you're all set.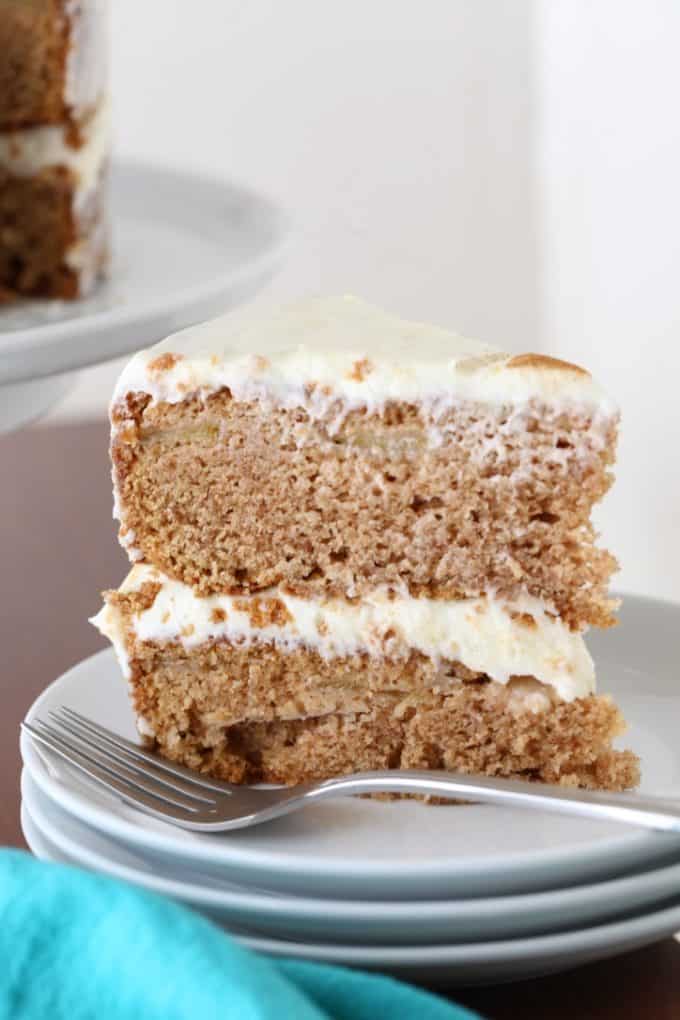 You can make caramel or purchase some. It's often found near the ice cream and sundae toppings, I like Ghirardelli's caramel if I'm going to buy it. 
And if you run out of cream cheese, THIS frosting for Alternative cream cheese frosting tastes just like the real thing but doesn't have cream cheese in it.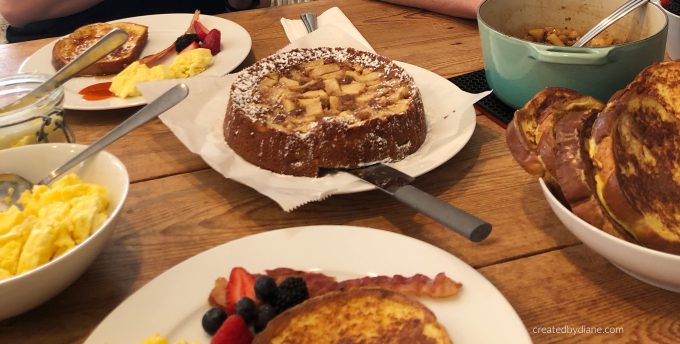 This apple cake recipe is so nice to whip up and serve on the breakfast table, with french toast, eggs, apple syrup. You can bake and serve single layer cakes, or reduce each ingredient in half to make just 1 8″ round cake.

Apple Cake
Ingredients
3 medium apples
2/3 cup oil
2 eggs
2 tablespoons vanilla bean paste
2 cups sugar
2 cups flour
1 teaspoon baking soda
1/2 teaspoon salt
2 teaspoons cinnamon
1 cup milk
Instructions
preheat oven to 350 degrees
Peel and slice apples (into rings or pieces)
In large mixer bowl combine oil, eggs, vanilla, and sugar and mix on medium.
Add in milk until completely blended.
Add in flour, baking soda, salt and cinnamon and mix on medium.
If you are mixing apples into batter do that now, or lay apples into a baking dish that has been lined with parchment paper and sprayed well with a baking spray.
Bake cakes until a toothpick comes out clean 35-40 minutes.
Allow cakes to cool for 15 minutes then turn over onto a cooling rack to completely cool.
Notes
If the apples are cut into small pieces and mixed throughout the cake, it will take longer for the cake to bake. Closer to 45 minutes or maybe even a few more minutes.
Not over sweet cream cheese frosting
Ingredients
1 8oz package cream cheese (room temperature)
1/2 cup butter (room temperature)
2 cups powdered sugar
1 tablespoon vanilla bean paste
Instructions
In mixer beat cream cheese and butter until smooth.
Add in powdered sugar and vanilla.
To assemble the cake, spread almost half the frosting onto the first layer, then add the second cake layer and spread an even layer of frosting over the top and around the cake, smooth the sides of the cake so there is a barely-there thin layer with an offset spatula or pastry cutter.
Drizzle the top of the cake with caramel so the caramel just barely goes off the edge.
Take the offset spatula and swirl the frosting with the caramel, this all further pushes the caramel off the edges and create a pretty pattern on top of the cake, swirling in a figure-eight pattern works well.