Often the simplest things are just what we need. This 2 layer white cake recipe will win you over with its ease and enjoy the tender moist white cake.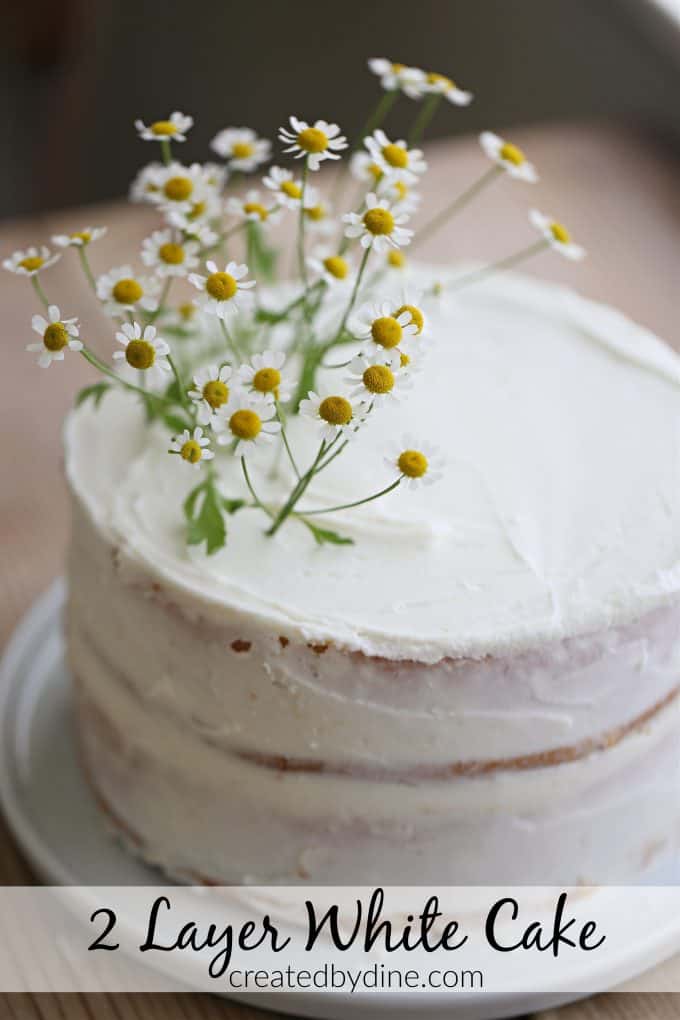 One bite and you'll be shocked this is made with a box cake mix This may just be the greatest box cake mix hack ever!  It does not taste like it has odd ingredients, no processed aftertaste and it's not so heavy that it seems gummy. It really is the best white cake!
Starting with a box mix ensure the crumb on this cake is super delicate, but not fluffy… think of the great texture of the best homemade baked cake, with the additions you won't only be able to make it with ease, but you'll be putting it in the oven before you would have gathered all your typical ingredients for a totally scratch cake.
This cake recipe is simple and delicious and is sure to become your favorite two-tier white cake that you'll make again and again. I've made many white cake recipes and this takes the stress away… it all starts with a Duncan Hines White Cake Mix, then you add a few times in, and wow… you get a really great cake. 
Now the flavor…
keep it simple with vanilla or add in some almond, or lemon or do what they call Princess Flavor and add all three, vanilla, almond, and lemon. You might recognize that flavor when you've had bakery cakes and can't quite put your finger on the flavor it's a combination that has plenty of great taste but not one is more overwhelming than another.
Gather the ingredients
white cake mix (Duncan Hines) 

all-purpose flour

granulated sugar

pinch salt

 water

egg whites

butter

sour cream

 oil 

optional: lemon extract/baking emulsion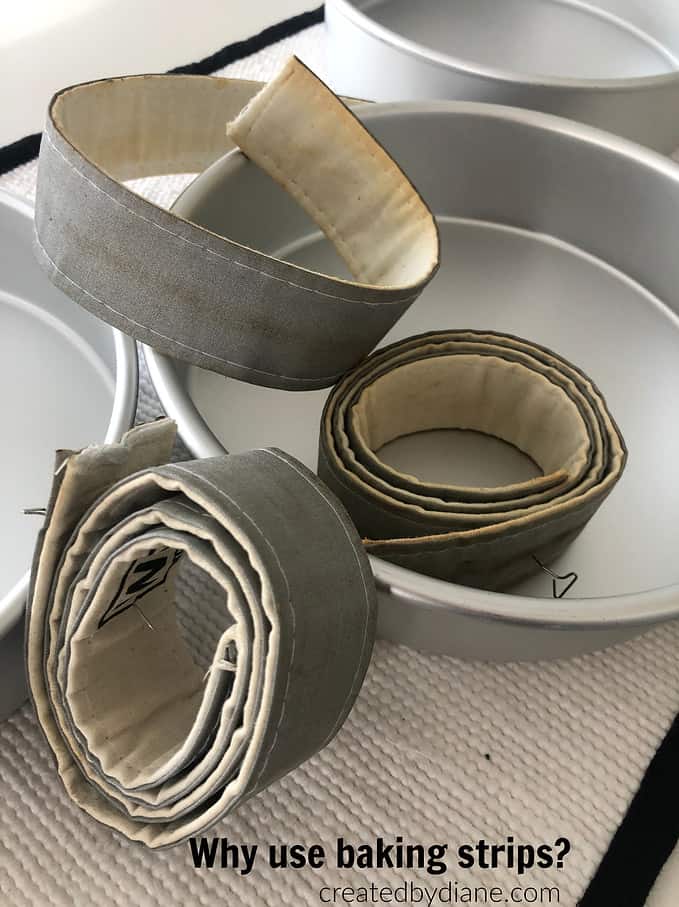 Why use baking strips?
Because it ensures the cake will bake evenly, nice a flat, no need to trim cakes, no domb, cakes won't overbake since the edges won't overbake quickly and the center won't rise above them, so the cakes are nice and flat and will look great, taste great and easier to frost when stacking cakes. Baking strips can be found here.
Prepare your pans, for even baked layers with no domb, use baking strips and spray pans with a baking spray a mix of oil and flour.
Mix up the batter and pour it into your prepared pans for baking.
Be sure your oven is at the proper temperature so that cakes bake evenly and won't be too dark.
Allow the cakes to cool for 5-10 minutes then turn them out onto a cooling rack to completely cool.
If you like a more dense cake, wrap them in plastic wrap and refrigerate or freeze them overnight, the moisture in the cakes will be absorbed into the cake and the cake will then have a tighter crumb. The cake without freezing does have a great texture, I refrigerate the cake as I layer it with the frosting so the cake doesn't slide.It helps to firm up the cake nicely without a super dense crumb.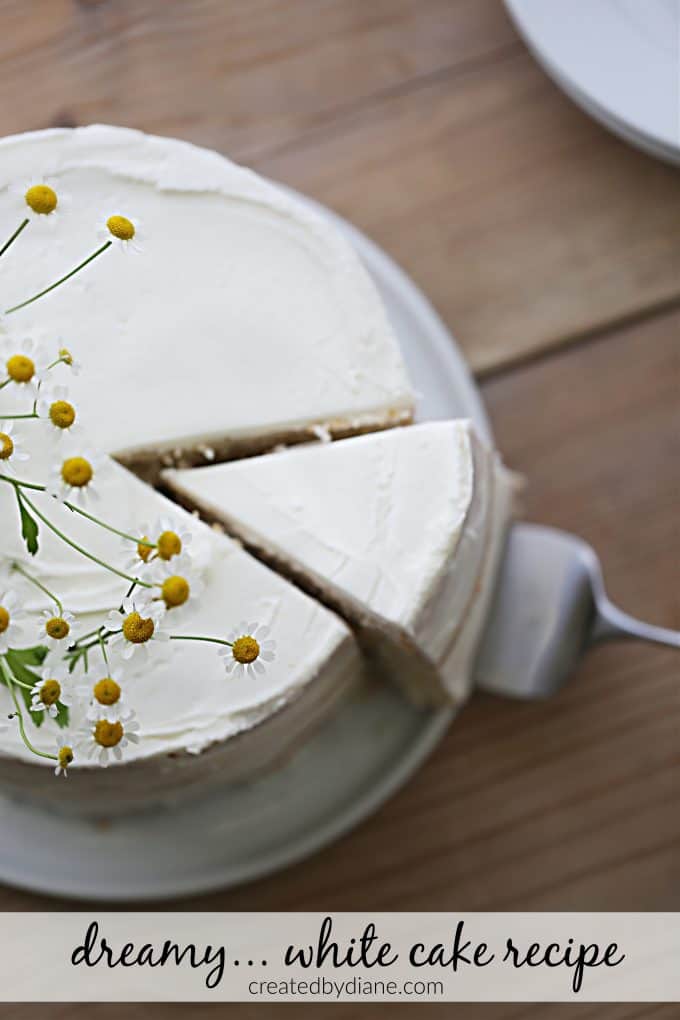 How do you make a box cake taste like a bakery cake?
The addition of sour cream with the box mix gives the perfect texture of the cake to replicate a deliciously fresh baked cake from a nice bakery.
How can make white cake mix better?
The additions in this recipe somehow remove the processed flavor that can come with a box mix, it's simple everyday ingredients and it's so great to have a simple recipe to use anytime you want an easy white cake.
How can I make a box cake taste homemade?
The addition of sugar, flour, sour cream, and melted butter gives this cake the perfect homemade texture and taste.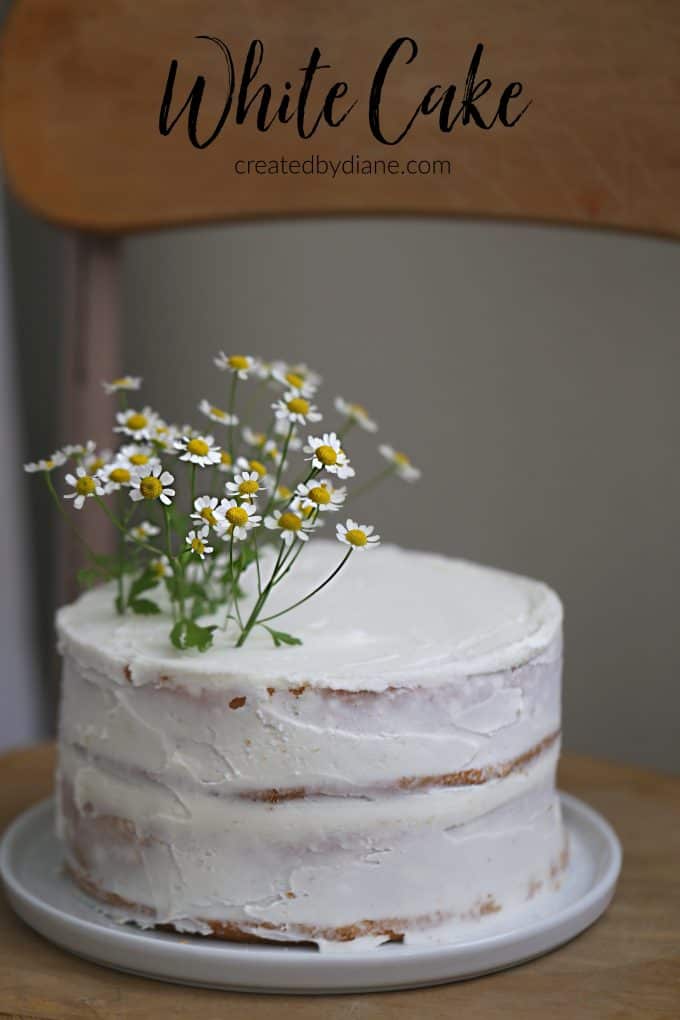 The frosting I used is Sour Cream Frosting- recipe added in recipe card under cake recipe card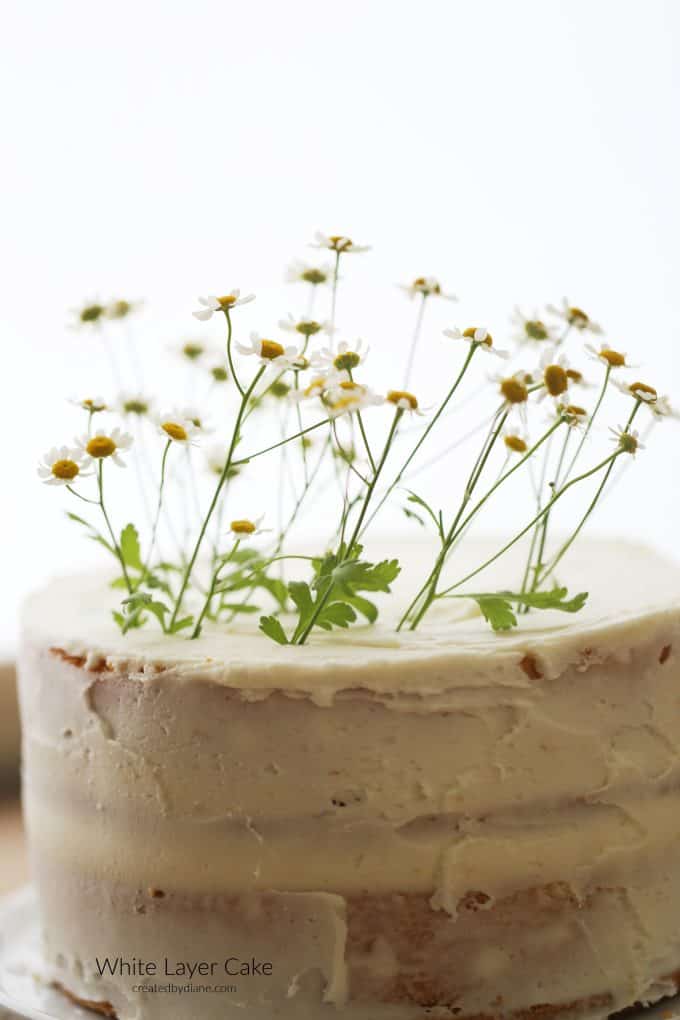 I decorated this cake with fresh camomile flowers.
You can choose to add 1-2 teaspoons of lemon extract for a fresh lemon flavor, but Id omit the almond extract in that case but still add vanilla. Or a great-tasting lemon baking emulsion, which is my favorite to the cake and the frosting recipe for a really fresh lemon flavor.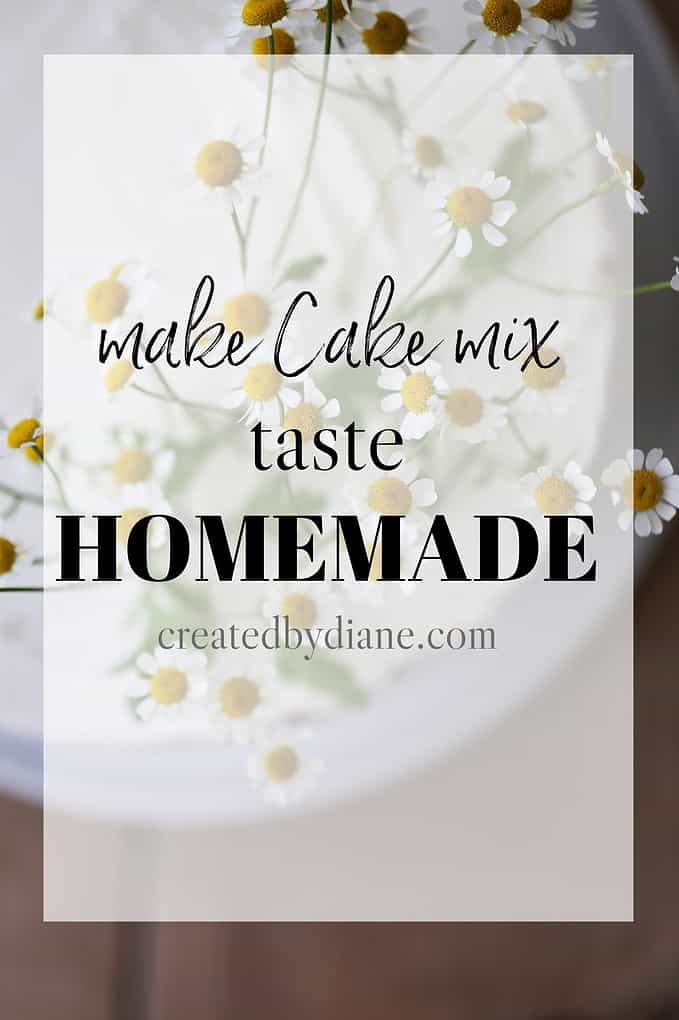 You can opt to keep it all almond flavor… then add toasted sliced almonds on top or just along the sides of the cake while the frosting is soft so they will stick. Then place it in the fridge to firm up nicely.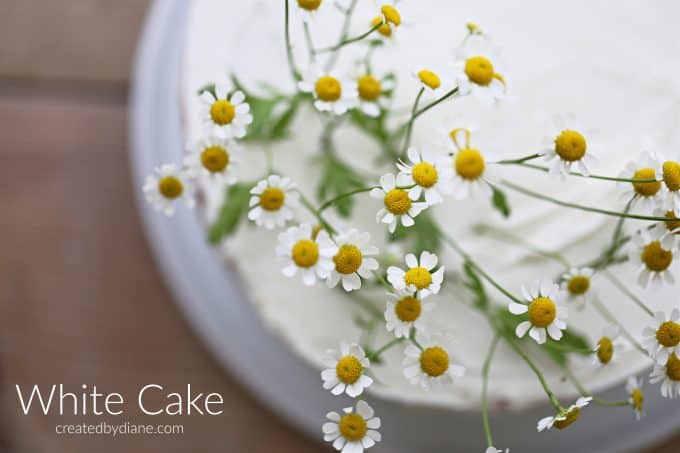 Or go with a classic vanilla. Use a delicious vanilla extract for the best flavor. I like THIS vanilla extract best, and their vanilla bean paste is wonderful too. All vanilla extracts are not created equal, they can actually taste very different, some taste like alcohol more than vanilla, they should smell amazing, it'll really make a huge difference in your baked items.
2 Layer White Almond Sour Cream Cake
2 layer white almond sour cream cake, easy and delicious. This doctored up cake mix cake will become your go-to cake recipe. Tender with a great crumb,
Author:
Diane Schmidt, Created by Diane
Recipe type:
Dessert, Cake
Ingredients
1 box white cake mix (Duncan Hines 15.25oz) do not follow the directions on the package
1 cup all-purpose flour
1 cup granulated sugar
pinch salt
1 1/4 cups water
4 egg whites, from large eggs
4 oz (½ cup) butter, melted
1 cup sour cream
2 tablespoons oil (I use avocado oil, vegetable or canola would work as well)
1 teaspoon almond extract (or almond baking emulsion)
1 teaspoon vanilla extract (or vanilla bean paste)
optional
1 teaspoon lemon extract (or lemon baking emulsion)
Instructions
Prepare two 8" round cake pans. Use a baking spray or use a thin coating of shortening and flour, then wrap the pans with wet baking strips to ensure evenly baked cakes.
In a large bowl with a mixer add all the ingredients in the order they are listed. Cake mix, flour, sugar, salt, water, egg whites, butter, sour cream, oil, almond, and vanilla flavors. For a more intense flavor cake you can use more vanilla or lemon, but with almond more is often too much.
Mix on low speed until the mix starts blending, then turn onto medium speed and mix for 2 minutes, scraping the bowl and under the beater after the first minute to be sure they combine fully, then continue mixing until well blended.
Pour the cake batter evenly amongst the two pans and tap the pans gently on the counter so the batter is level in the pans.
Bake at 335° (not 325° and not 350° for a well-risen cake that isn't dark in color). I have the oven rack set just above the center and it bakes evenly.
I start timing the cakes at 30 minutes, then I test them about every 5 minutes until they are just set and a toothpick comes out clean when tested in the center of the bake.
Remove the cakes from the oven, and allow them to cool for 10 minutes.
Then turn the cakes out onto a cooling rack to cool them completely.
Then refrigerate or freeze the cakes so they will stack well and not slide. They don't need to be completely cold or frozen thru, you just want them to be firm so they hold up well when stacked and won't slide.
Prepare the frosting, I used a batch of my sour cream frosting, added a thin layer of frosting in the middle, and top, and gave it a thin rough coating around the sides.
Sour Cream Frosting
A silky smooth slightly tangy delicious flavor, you can add vanilla, almond, or lemon extract to make the frosting just perfect for the cake you really want, it's customizable for all your frosting needs.
Author:
Diane Schmidt, Created by Diane
Recipe type:
Dessert, Frosting
Ingredients
1/2 cup butter
1/2 cup sour cream
3-4 cups powdered sugar (add more for thicker frosting)
1 teaspoon vanilla
Instructions
In the bowl of a mixer cream butter until smooth and add in the sour cream, powdered sugar, and vanilla, and whip until fully combined and smooth.
Use more powdered sugar for a thicker frosting or add a little milk to make it thinner.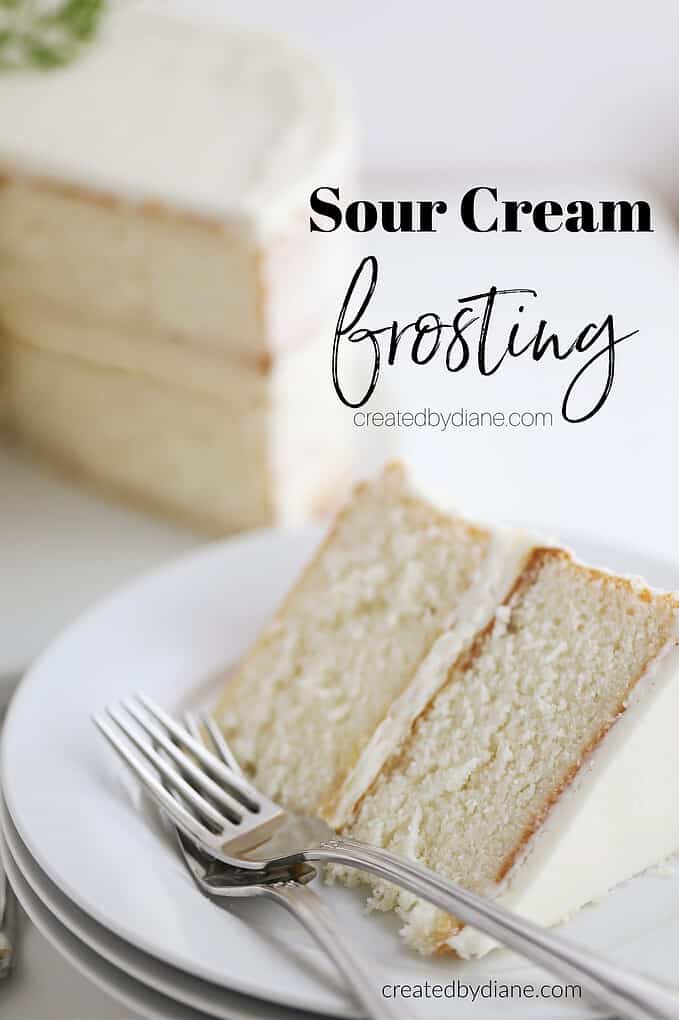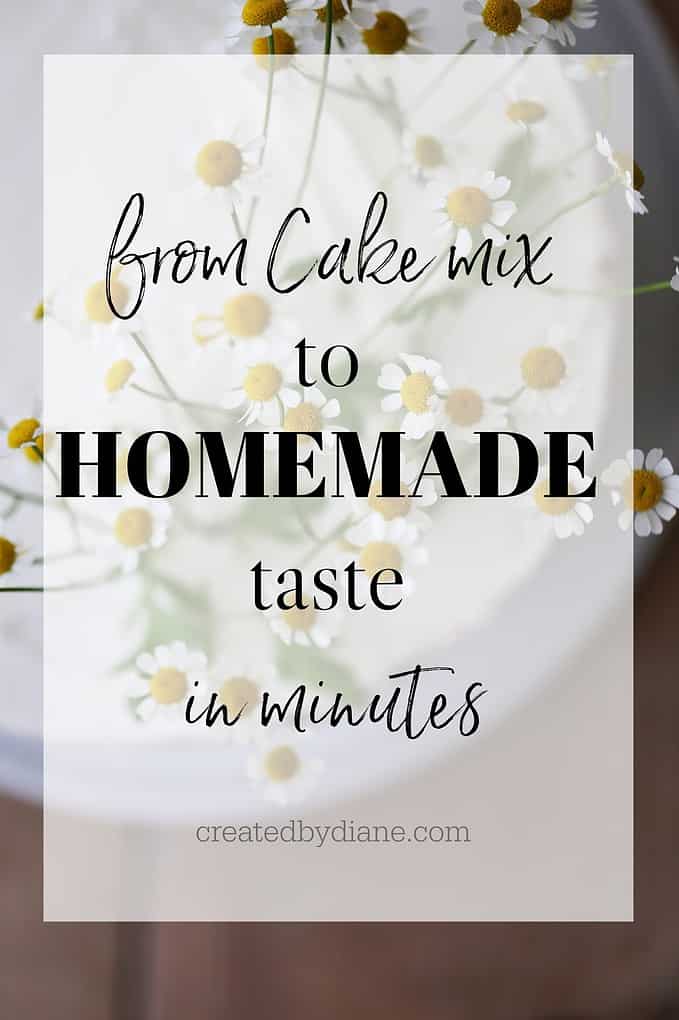 Looking for a chocolate cake…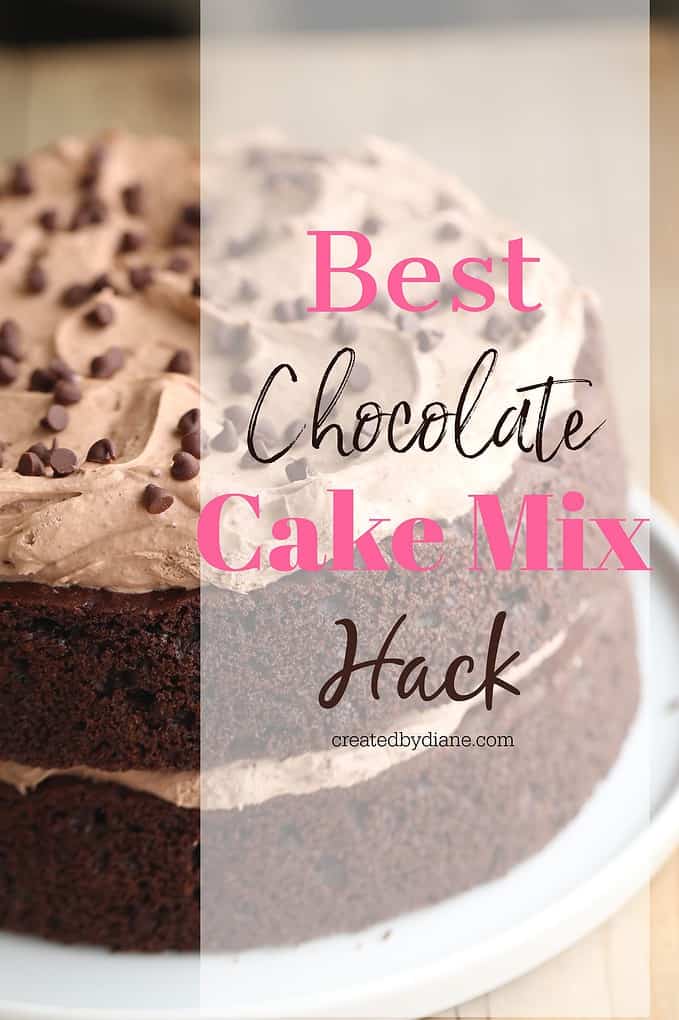 Give this one a try… chocolate cake mix hack, check it out here.