The perfect balance of tart and sweet, these Cranberry Banana Muffins are sure to be hit!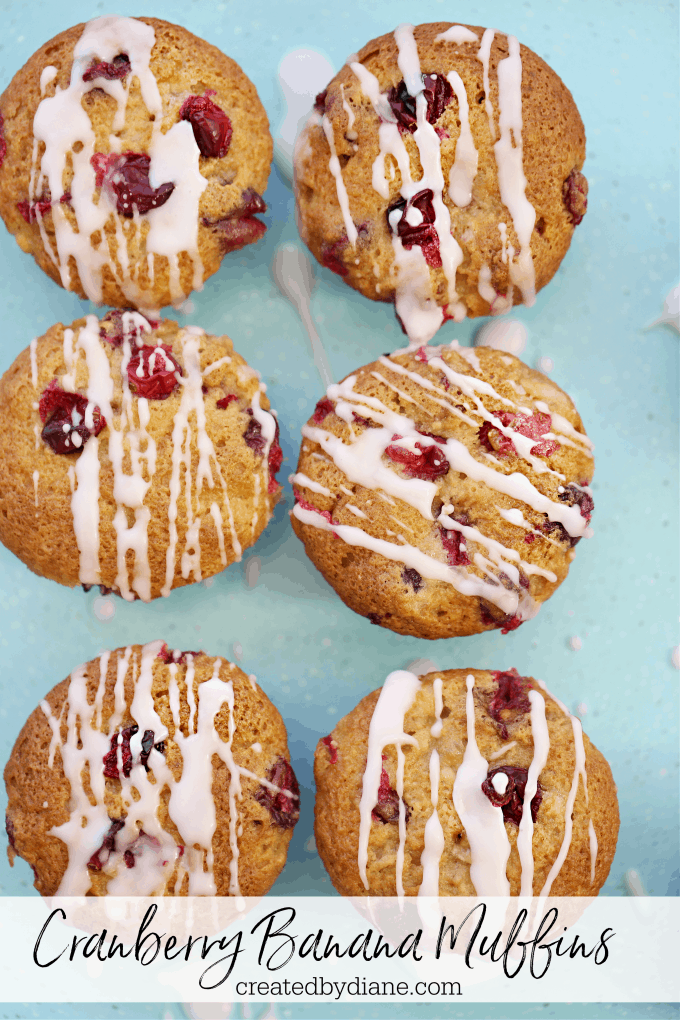 I LOVE Fall and Winter, and not just because of the changes in weather and colors. No, I love these seasons for all the variety of different foods it has to offer. Fall signals a time of creativity in my kitchen, and if I close my eyes I can smell all the fresh baked goods await me. And these muffins are some of my favorites.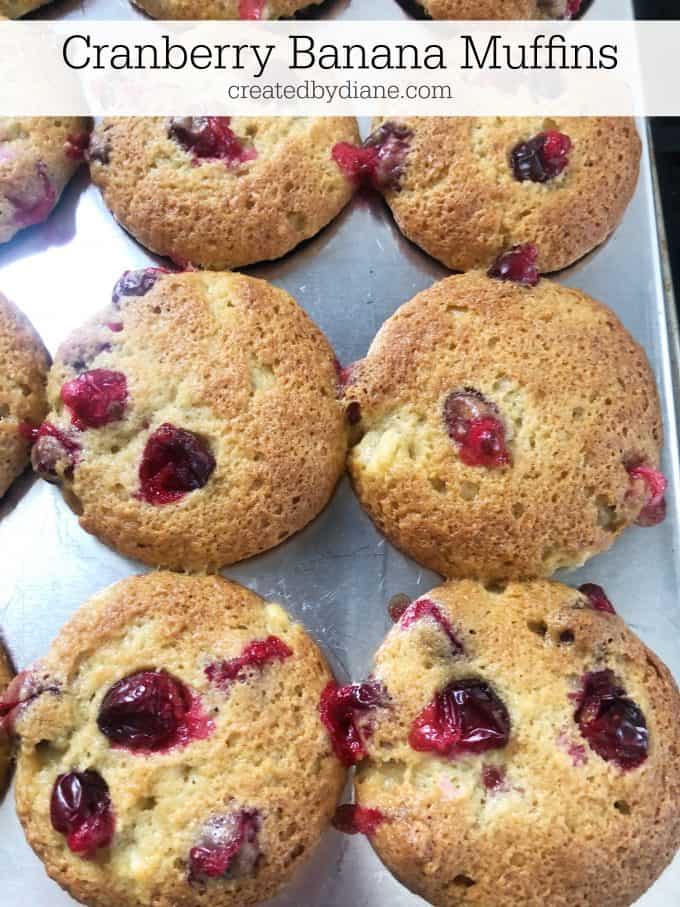 Banana adds the sweetness that isn't too overbearing but just enough to balance the sweet-tart taste of cranberry. These are one of my go-to' for breakfast or brunch – and sometimes as a mid-day treat! Muffins are the perfect portable bread for picnics in the park or on-the-go breakfast, which is why I have loads of muffin recipes! I even have more decadent options like Coffee Chocolate Chip Muffins. 
And if you're looking for more ways to use cranberries, I have you covered! I make all kinds of recipes with these bright red berries! Such as 6 Different Cranberry Sauces to test and use in a variety of different ways. I also include them in savory dishes too – Cranberry Brussel Sprouts being one of my favorites! There are so many ways to enjoy them.
Hopefully, your mouth is watered up for cranberry and banana flavor, I'm going to walk you through the steps – ensuring you get one great muffin!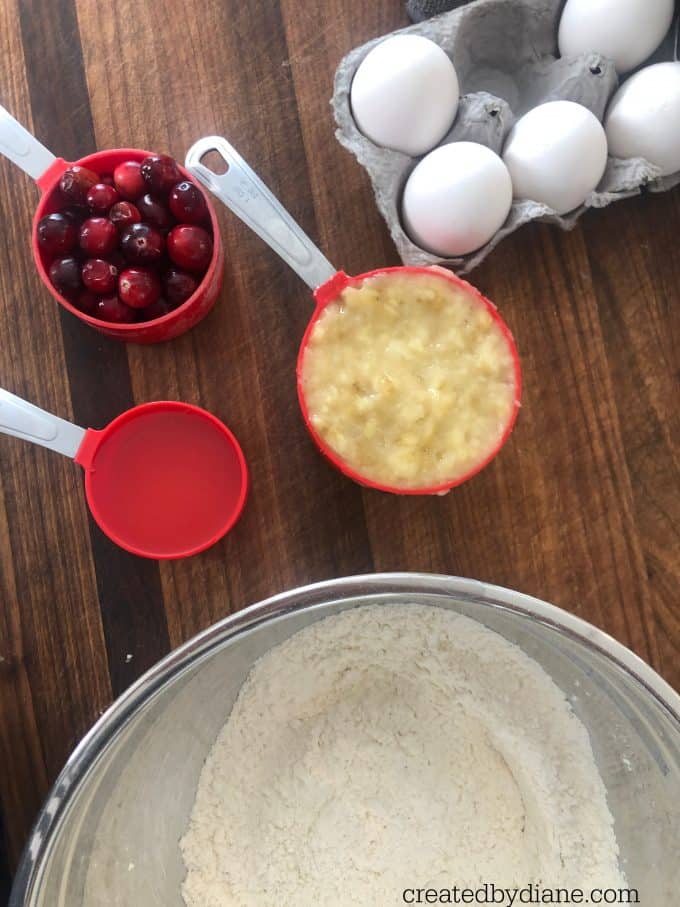 To begin, preheat your oven to 350° and line your muffin pan with paper liners. Or you can spray your pans generously with baking spray.
In a medium bowl whisk together your dry ingredients – flour, baking powder, baking soda, and salt.
Next, add in your banana, oil, eggs, and sugar. Mix this well until blended. It can help to pre-cut and pre-smoosh your banana ahead of time so there are no lumps.
Add in your cranberries, reserving a few to decorate the tops with if you like.
Place 3 tablespoons of batter in each cup of the muffin tin. I use an actual tablespoon but you could use a cookie scoop of equal size.
Bake your muffins for 20-35 minutes until a toothpick comes out clean.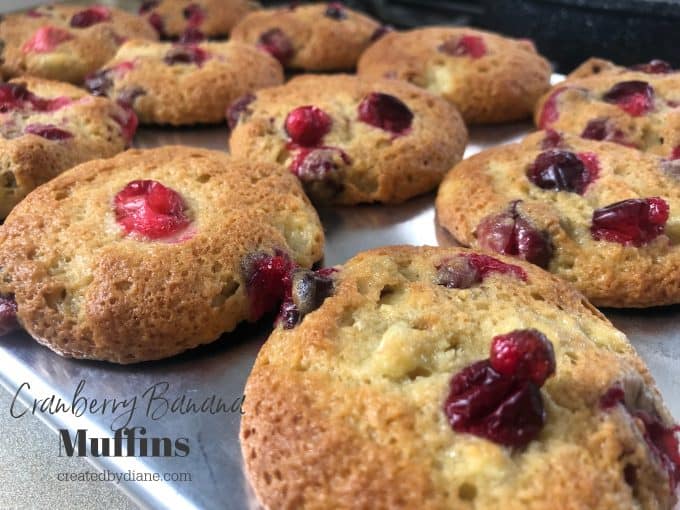 Allow them to cool for 5 minutes before removing them from the pan and placing on cooling racks.
Cool completely.
Now, enjoy the smell of your house, as it's sure to smell delicious!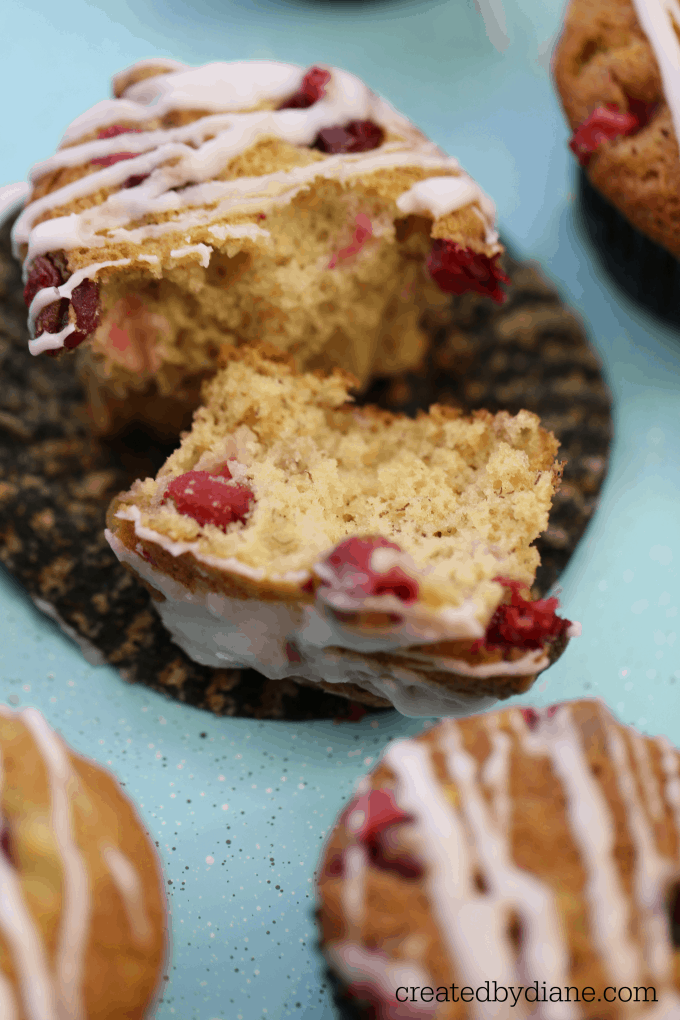 What type of oil is best to use in muffins?
Canola oil, vegetable oil, or avocado oil are the three types of oil I recommend using.
Can I use frozen cranberries?
Yes, do not thaw them though. Put them in frozen and fold them in gently to avoid turning your whole dough pink!
What if I wanted frosting or thick icing, instead of a thin glaze?
Mmmmm….I love a good thick frosting cream cheese frosting would be delicious on top. If you want a thick icing, just use the recipe given but don't add as much water, it'll be thicker. It's like dessert for breakfast! I have one here that's a real crowd and tastebud pleaser! And it's banana flavored! Be sure to check out these banana muffins with banana glaze, so yummy!
What about other sugar options?
You could definitely play around with it! I've been experimenting with monk fruit with great results, you can substitute it 1:1 for the sugar that is called for in the recipe. 
Do I have to use muffin liners?
No, you can simply spray the muffin pan with a nonstick baking spray. You can also add a little flour if you are using a cooking spray. Alternatively, you can use shortening and flour. All these options have a bit of flour so the outer side of the muffins isn't oily to touch.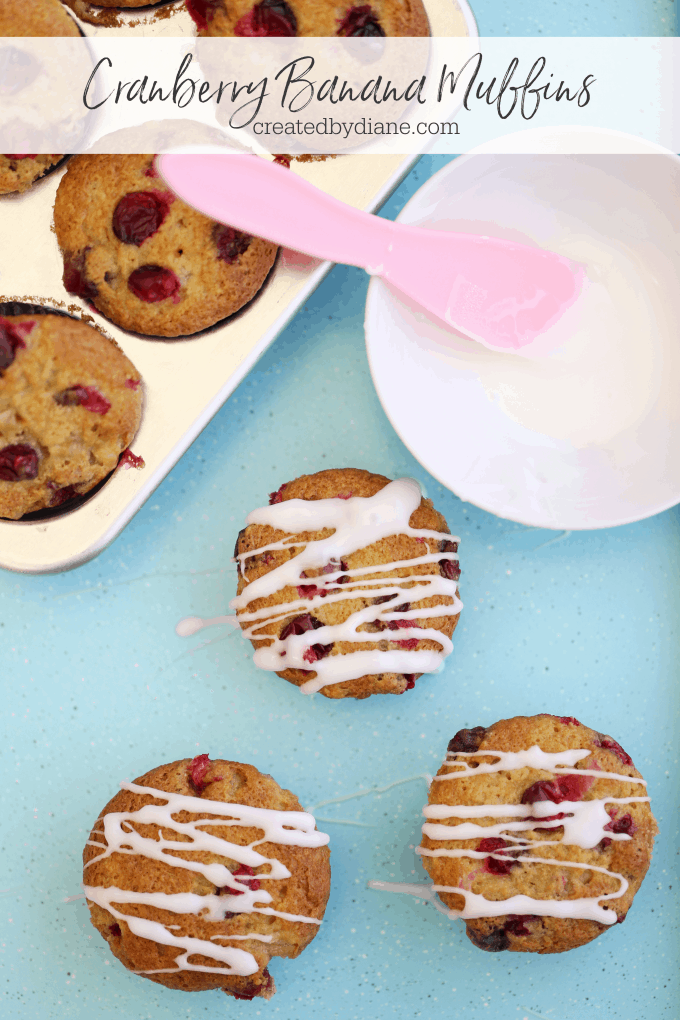 Mix up with glaze icing and drizzle it over the tops of the muffins, you won't regret it!
And just about the most delicious things slathered on these muffins is this Cranberry Curd!
Cranberry Banana Muffins
Sweet with a tangy kick these cranberry banana muffins have a great flavor combination you'll make again and again.
Author:
Diane Schmidt, Created by Diane
Recipe type:
Breakfast, Dessert, Bread
Ingredients
1½ cups flour
1 teaspoon baking powder
½ teaspoon baking soda
½ teaspoon salt
1 cup banana, (about 1 1/2 medium bananas, cut and pressed into measuring cup)
⅓ cup oil, I use avocado oil, other options are canola oil or vegetable oil
2 large eggs
1 cup sugar
1 cup fresh cranberries
Glaze
1/2 cup powdered sugar
1-2 tablespoon warm water
Instructions
Preheat oven to 350°
Line a muffin pan with paper liners or spray the muffin pan with a baking spray.
In a medium bowl whisk flour, baking powder, baking soda, and salt together.
Add in the banana, oil, eggs, and sugar until blended.
Stir in the cranberries until well combined. (leave some cranberries out if you want to place some on top of the muffins)
Place 3 tablespoons of batter into each muffin pan compartment.
Bake muffins for 20-35 minutes bake until a toothpick comes out clean.
Allow muffins to cool for 5 minutes in the pan, then remove from the pan.
Allow muffins to cool completely.
In a small bowl mix powdered sugar with warm water until the desired consistency, (start with 1 tablespoon water and add a little more at a time, don't add all the water if you don't want it thin).
Drizzle icing over muffins.