A nearby Mexican restaurant to me makes the most delicious avocado sauce, and OH MY GOODNESS… they told me exactly how to make it. It's so exciting when great recipes get shared, don't you think!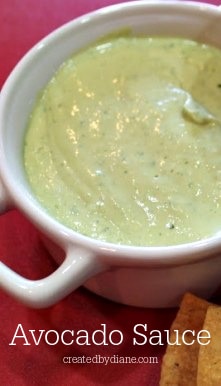 Avocado season is May thru October, I really prefer the flavor and texture, but all year avocados are available from different regions. 
This Avocado Sauce is so delicious you will want to slather it on chips, tacos, and so even on top salads, and really great on this
taco salad
it's also great for a veggie dip.
This sauce is great on 
Avocado Sauce Recipe
a smooth and creamy avocado sauce that has a slightly tangy flavor and goes perfect on tacos, chips, veggies and so much more.
Author:
Diane Schmidt, Created by Diane
Recipe type:
Sauce, Appetizer
Cuisine:
Mexican, American
Ingredients
2 Avocados, remove the pit, scoop out the avocado
1 tomatillo, peel outer leaves, then dice
1 lime, juiced
3 scallions
1/2 cup plain yogurt
1/2 cup sour cream
2 tablespoons diced green chiles, or 1/2 fresh jalapeno for a spicier kick
*optional add fresh cilatnro
salt and pepper
Instructions
Place all items into blender and blend until smooth
If you need it a little thinner for salad dressing, just add a little water.
It stays fresh in the fridge for several days, the sour cream and lime juice help to preserve the flavor and color.