OMG, these cookies have the most delicious flavor.
Browning the butter only takes a few minutes and takes these cookies from good to great!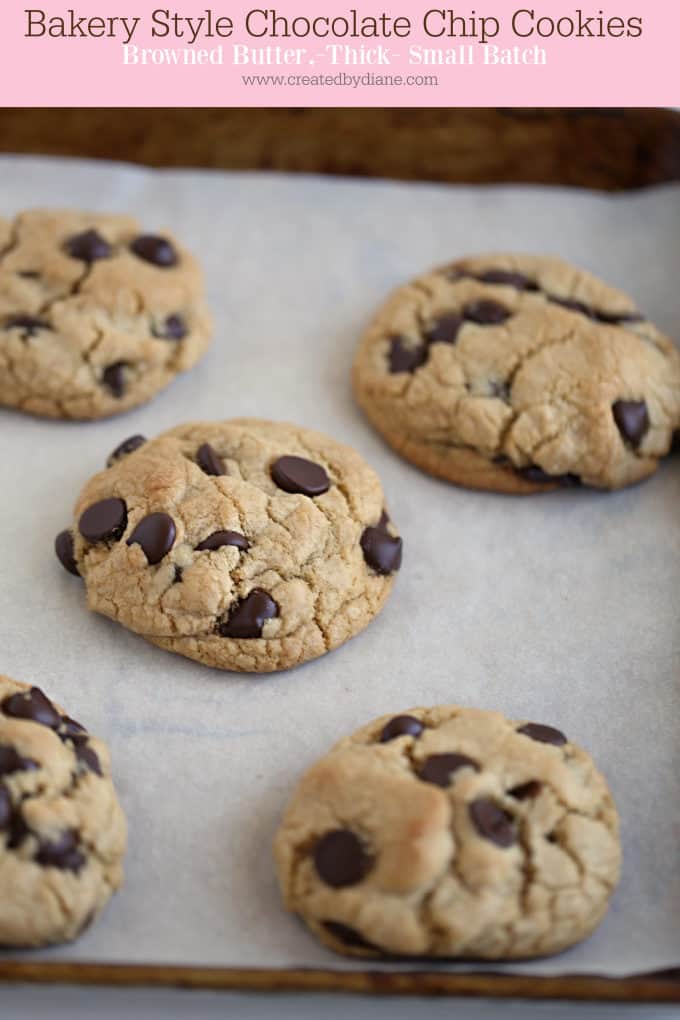 I love bitting into a thick cookie,
even better when the chips are all warm and melted.
This is the perfect small batch, the recipe makes 8 large cookies. Which is great if you want a small batch and avoid eating over 30 cookies, or is that just me…
I have a self-control issue. Chocolate chip cookies are my greatest weakness, if I see them, I want them ALL!
About the brown butter, it really ads delicious flavor to these cookies. Kinda nutty, a perfect compliment to the chocolate. You can make them without browning the butter and they are great as well. I made many batches testing how they were both ways.
In a skillet over medium heat bring the butter to a boil and cook until it's a deep golden brown. Browning the butter reduces the water in the butter and creates a rich deep flavor in the butter, adding a depth of flavor to the cookies.
It'll smell like toffee when it is done browning! Oh, how I love toffee, click for my toffee recipe.
[ess-cut]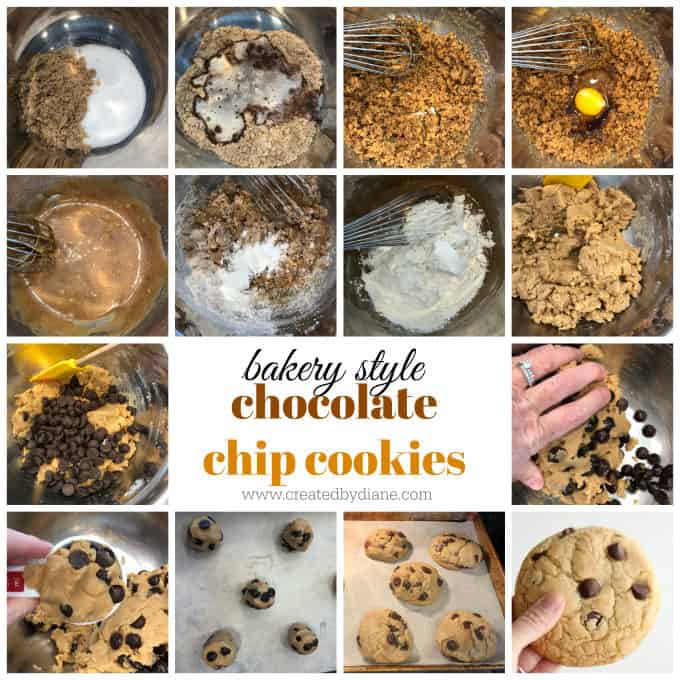 These cookies are BIG, they are made with a 1/4 cup of dough for each cookie that is about double the size of an average cookie. 
In this case, bigger is better, says me!
Just wait until you pick up one of these, nice and big and thick and full of delicious chocolate…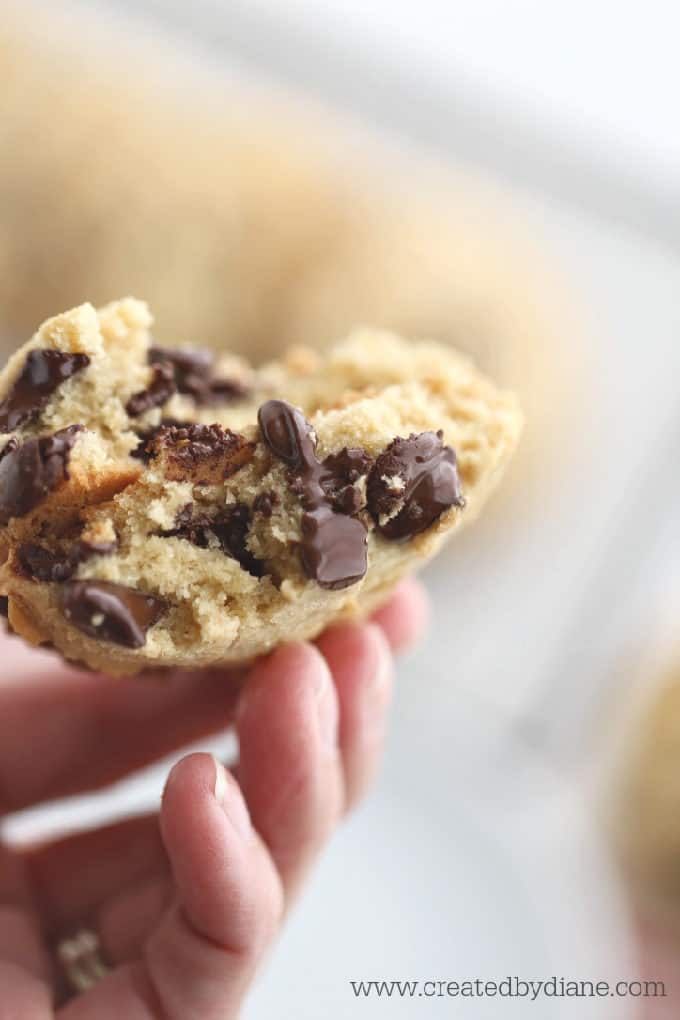 They taste amazing.
If you don't eat them right away… if you're crazy like that!
Reheat a cookie in the microwave for 8-10 seconds to warm them up nicely and the chips will begin to melt and be just like it came out of the oven.
Ok I was crazy enough to keep one for a few days and microwave it to be sure it would be just as great as out of the oven.
Brown Butter Bakery Chocolate Chip Cookies
Brown Butter Bakery Chocolate Chip Cookies Serves: 8 large cookies
Ingredients
1/2 cup butter, (browning instructions below)
1/2 cup brown sugar
1/2 cup granulated sugar
1-1/2 teaspoons vanilla
1 egg
1-1/2 cups all-purpose flour
2 teaspoons cornstarch
1/2 teaspoon baking powder
1/2 teaspoon baking soda
1/4 teaspoon salt
1-1/4 cups chocolate chips (I use Ghirardelli 60% chips, they are larger than most)
Instructions
In a skillet, you'll brown the butter by cooking it until it bubbles and becomes golden brown over medium heat. Stir while browning so it does not burn.
Place butter, brown sugar and granulated sugar in a bowl and whisk.
Add in vanilla and egg and mix to combine.
Add in flour, cornstarch, baking powder, baking soda, and salt and mix completely.
Stir in chocolate chips.
Portion out the dough into 1/4 cup measuring cup, then roll it slightly into a cylinder shape so the dough is taller than wider.
(the dough is a bit crumbly but comes together as soon as you roll it)
Place dough on a parchment lined baking sheet allowing plenty of room for the cookies to spread as they bake without touching.
Bake at 350° for 18 minutes or check to be sure the cookies are not gooey with a toothpick and the edges are getting slightly firm.
Remove baking sheet from oven and allow the cookies to cool on baking sheet, they will continue to cook and firm up nicely.
The cookies have a lightly crisp exterior with a soft chewy inside, if you like your cookies gooey, remove them from the oven after 15 minutes.
Notes
This recipe can be made with room temperature butter. Just mix it well with both sugars as instructed in the recipe.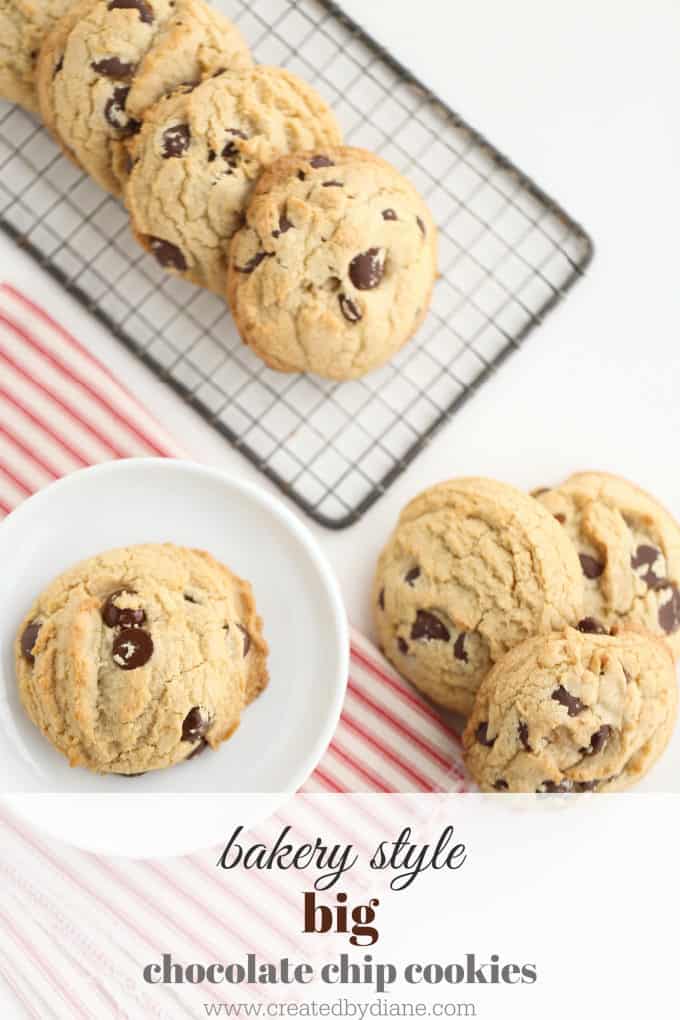 This batch was made with room temperature butter, they are really delicious too! 
So if you choose not to brown your butter, they'll still be delicious. The browned butter adds a rich flavor and smoother texture to the cookies.