There is no denying that carrot cake with cream cheese frosting is a winning combination, this recipe is absolutely perfect. Where other carrot cakes are thick and oily, this one will have you adding it to your cake rotation and making it more often than not!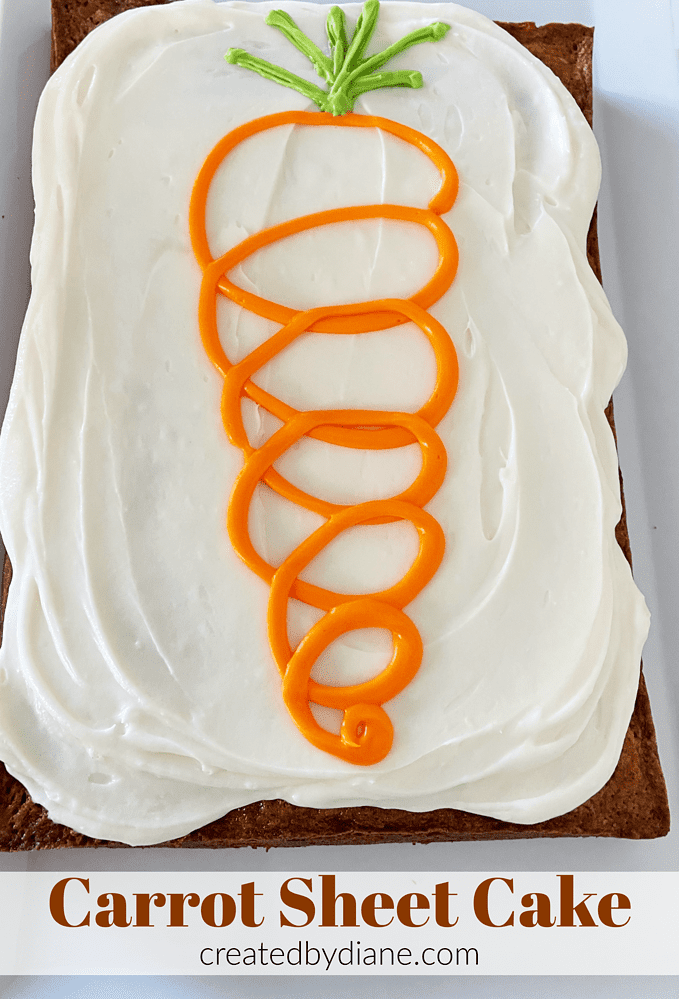 I baked it in a 9×13 pan, you could make it a carrot cake sheet cake and bake it in a 1/4 sheet cake pan.
For me, this is the percent 13×9 carrot cake recipe, it comes together quickly and easily and bakes up nice, and isn't overly heavy.
Carrot cake is like a nice spice cake, it's great any time of day. It makes a great breakfast cake, the perfect snack cake to serve with coffee or tea, it's a nice birthday cake as well. It freezes nicely and well. I love carrot cake and have made many recipes. Sometimes I like making a smaller carrot cake, 8″ round or loaf cake, sometimes I like to make a carrot bunt cake. 
Carrot cake makes the perfect Easter cake, but trust me you don't need to wait for an occasion to make carrot cake, it's a favorite all year long. 
I like adding walnuts, but they can leave them out, you can also add in some sweetened shredded coconut or crushed or diced pineapple… if you add pineapple toss a tablespoon or two of four on the pineapple so it doesn't all sink, the flour will absorb some of the moisture and mix well. If you use crushed pineapple drain it well first. If you like raisins you can add a cup of raisins to the cake as well.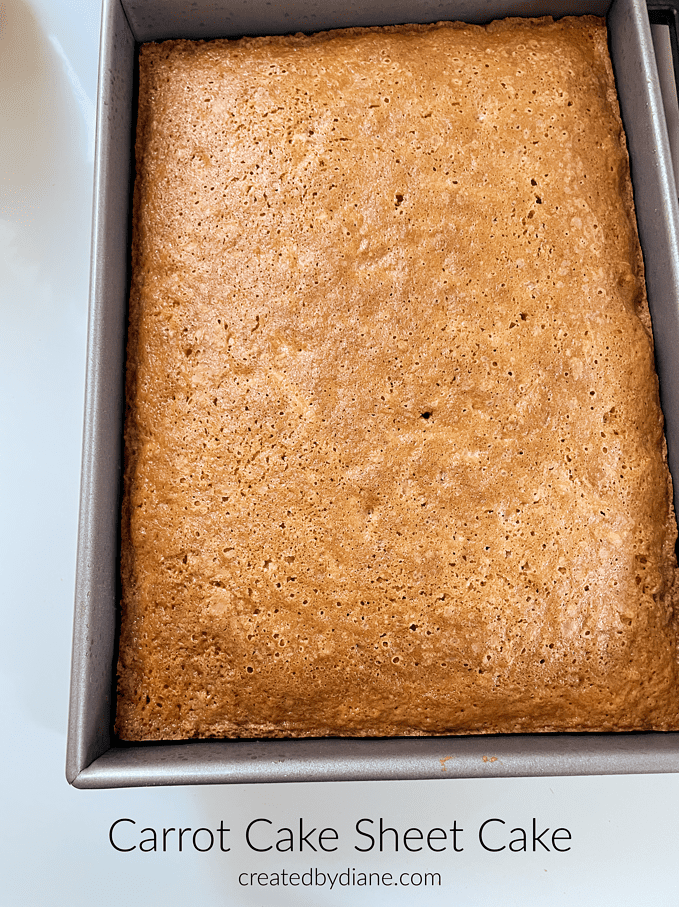 If you don't prefer icing or frosting, you can serve it plain or sprinkle on some powdered sugar for a simple addition, no matter how you serve this carrot cake… you'll just be happy you did. It's so delicious!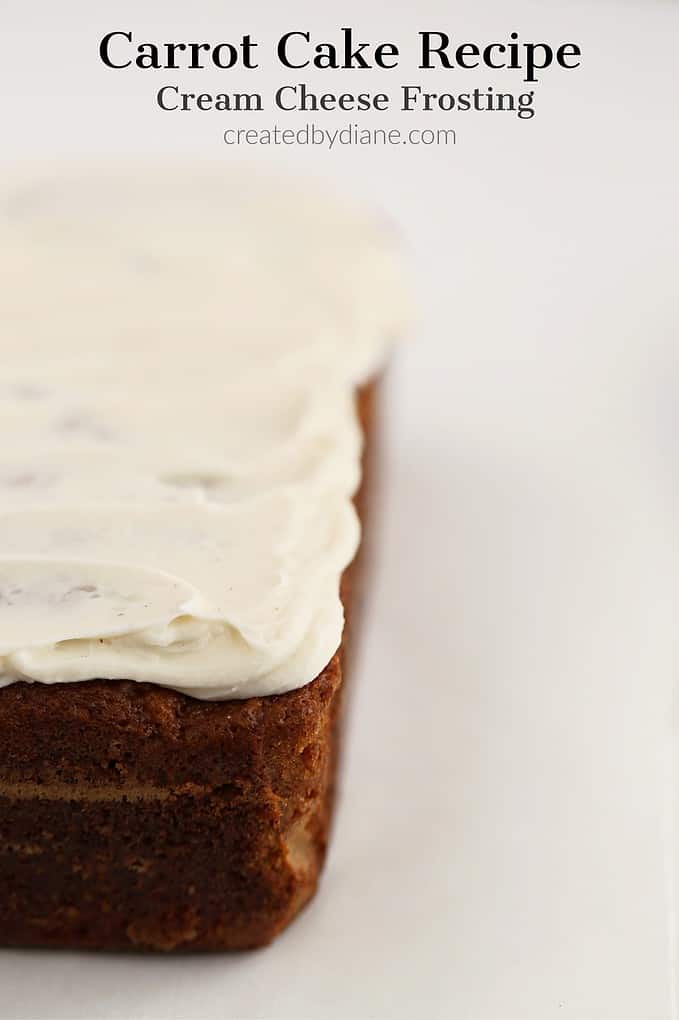 I like to keep things simple, so slathering on some cream cheese frosting is usually my go to…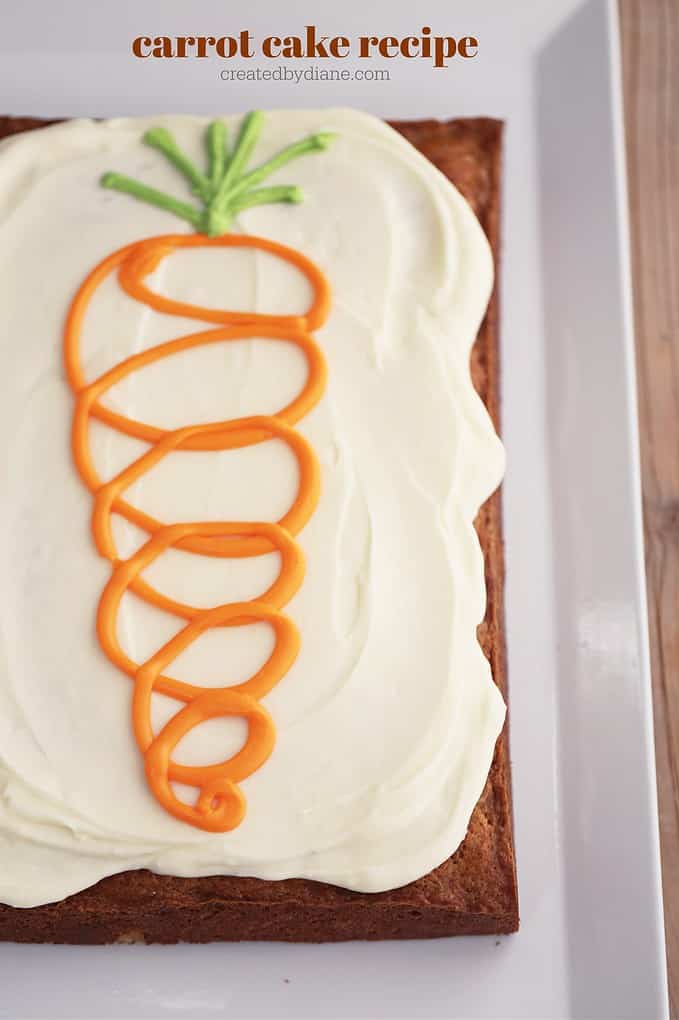 With Spring upon us, I took some frosting from the batch and used some orange and green food coloring to make a quick swirled carrot and stem. No need to be all perfect just make a carrot shape with swirls or lines and add a green stem and you're all set for the perfect carrot cake decoration.
What oil should I use to make carrot cake?
I prefer to use avocado oil, but you can use vegetable oil or corn oil if you prefer.
Should I refrigerate Carrot cake with cream cheese frosting?
Yes, refrigerate the cake if you're not serving it the day it's made. It's my preference to refrigerate the cake and get it cold before I frost the cake even if I'm serving it the same day I make it. An hour or two in the fridge will set up the cake nicely and have it not be so "fluffy" and help the frosting set up quickly especially if it's warm in the kitchen. Then place it in the fridge to set the frosting on the cake. Take the cake out of the fridge 30-60 minutes before serving.
If your looking for other carrot cake options check out this post even a cute small 1 layer 8″ round cake for smaller gatherings.
And if you forget to buy cream cheese, don't worry… I've got you covered with this great faux cream cheese frosting recipe.
Carrot Sheet Cake
REWRITE INGREDIENTS AND INSTRUCTIONS
Author:
Diane Schmidt, Created by Diane
Ingredients
2 eggs
2/3 cup oil
2 tablespoons vanilla extract
2 cups sugar
2 cups flour
2 teaspoon baking powder
1 teaspoon baking soda
1/2 teaspoon salt
1 teaspoon cinnamon
1/2 teaspoon nutmeg
1/4 teaspoon dry ginger
1 cup whole milk
2 cups grated carrots (about 3 medium carrots)
1 cup chopped walnuts
optional
1 cup drained pineapple pieces chopped (mix with 1-2 tablespoons flour so it doesn't sink in the cake)
1 cup sweetened shredded coconut
1 cup raisins
frosting
4 oz cream cheese, room temperature
½ cup (4 oz) butter, room temperature
Pinch of salt (if using unsalted butter)
4 cups powdered sugar
2 tablespoons heavy cream (or milk) heavy cream whips up nicer and thicker
½ teaspoon vanilla extract
optional-orange and green food color
Instructions
Prepare a 9x13 pan with a baking spray (not just an oil spray) or grease and flour the pan.
In a large mixer bowl, beat eggs, oil, vanilla, and sugar on medium speed until smooth.
Add in flour, baking powder, baking soda, salt, cinnamon, nutmeg, and ginger.
Slowly pour in milk and mix on low to combine.
Stir in carrots and walnuts until well-mixed. (If using additional items add them now)
Pour batter into the prepared cake pan.
Bake at 350° degrees for 20-30 minutes or until a toothpick comes out clean.
Allow the cake to cool for 15 minutes, or until the pan is cool to the touch, then turn it out onto a cooling rack.
Place on serving plate, or leave in pan.
Cool completely before icing.
In the bowl of a mixer whip butter and cream cheese, then add powdered sugar, cream, and vanilla (salt if adding) until smooth.
Portion out a small amount of frosting to tint some with orange food coloring and a couple of tablespoons of frosting to tint green.
Spread cream cheese frosting over the cooled cake with an offset spatula or with the back of a spoon creating a little swirl.
Then pipe on the carrot design and stem.