Pie. It's one of the most simple and delicious desserts that seems more complex than it is. Use my easy pie crust recipe and bake a pie today, it's sure to put a smile on your face! This simple homemade pie crust recipe is made using a food processor.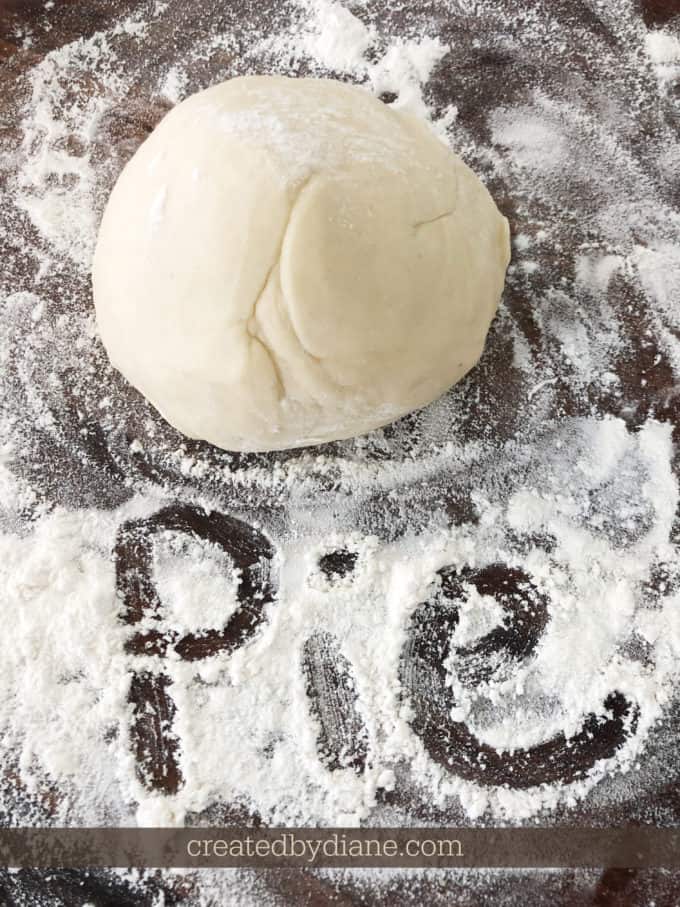 Are you ready to take the guesswork out of pie crust?
I've been making pies for years.
I recall the first pie I ever made, it was a GLORIOUS Banana Cream Pie, I was young and trying to impress someone.
It worked 🙂
There is something impressive about a homemade pie,
so whether you are making a pie to impress, or just to enjoy.
This post will help you get a perfect pie crust in minutes.
Really!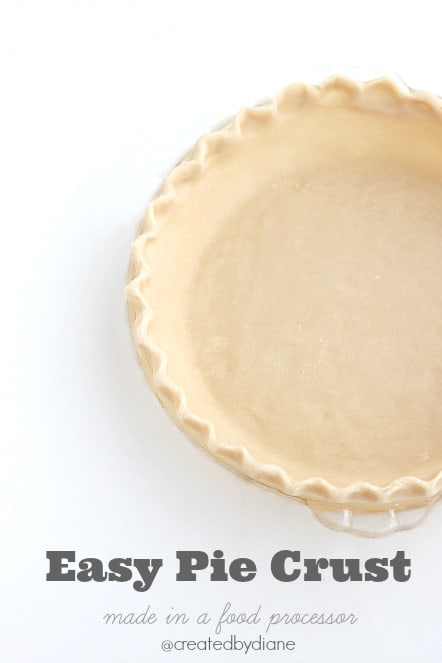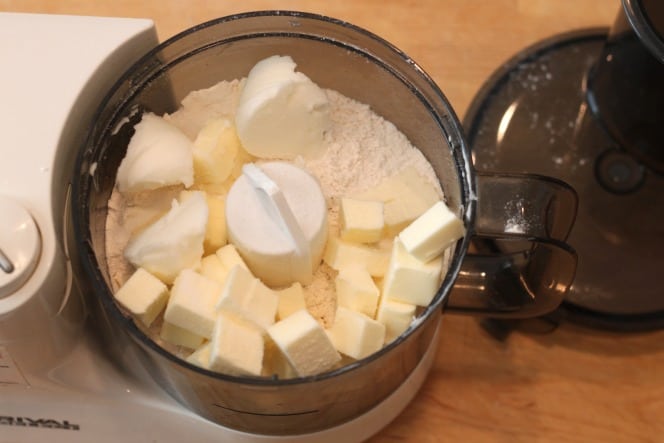 In a food processor add the flour, salt, butter, and shortening.
Pulse it until it's blended and looks crumbly.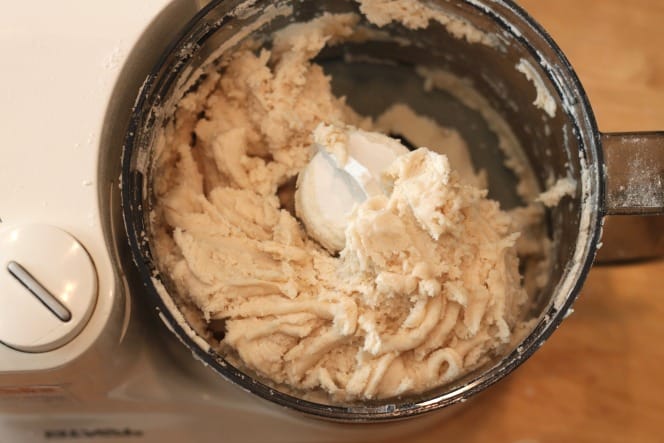 while it's processing pour in the water and keep mixing until the dough comes together and pulls away from the side all on its own. See the above photo, it's pulling away. Give it another couple pulses and it'll pull all away like the photos below.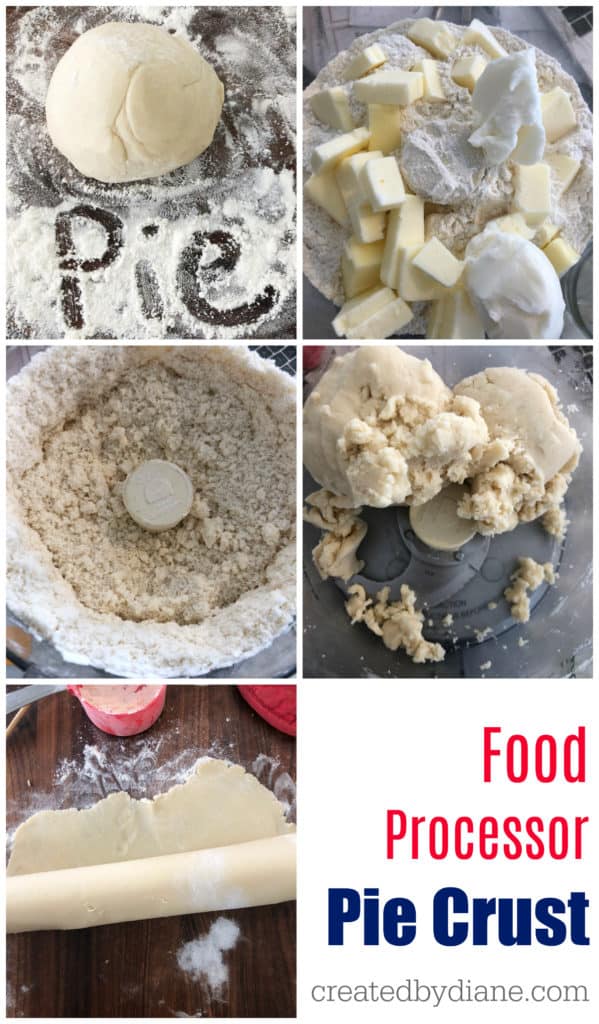 This is the easiest way to make pie crust!
If the pie crust is a little "soft" add a tablespoon of flour, I find once I roll it out on a floured surface the pie crust is very easy to manage.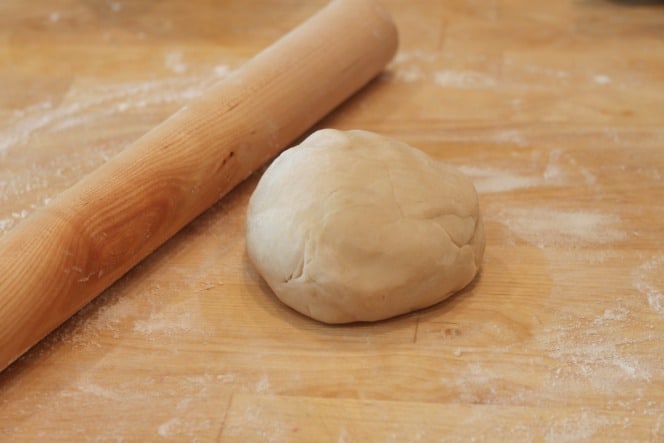 This recipe will make 2 nine-inch pie crusts. Cut the dough in half and roll out one crust at a time on a lightly floured surface. Roll the dough from the center out to the edges until it's between 1/8″-1/4″ thick.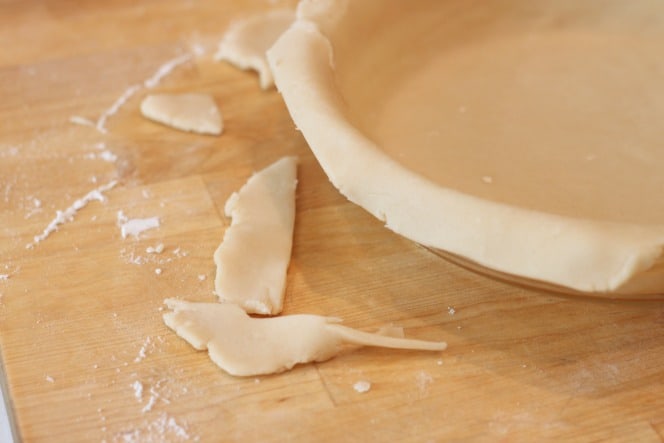 Place the dough into the pie plate (the larger and deeper the pie plate the more crust you will need. Be sure to measure your pie plate. I have many that are 10 inches by over two inches deep, they need more crust.
Cut off the excess dough so that it's even all around the pie plate.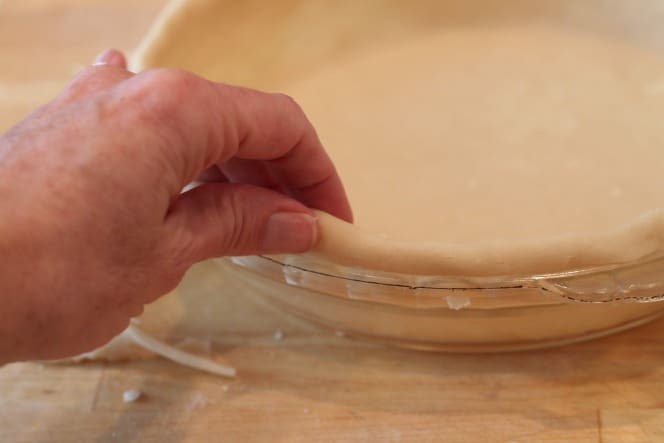 Fold the cut edge under the rim of the pie plate to form a thicker edge.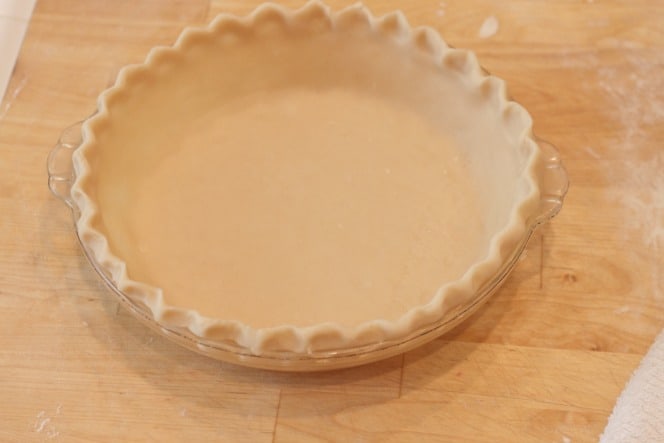 Press the edge between your thumb and two fingers, or use two hands and use one knuckle on one hand and to on the other to flute the edge of the pie crust.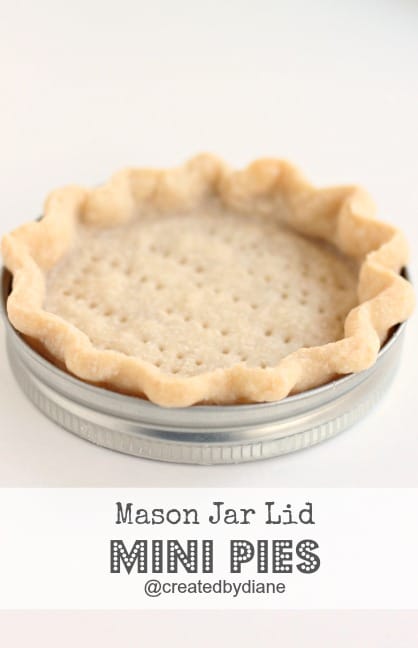 And if you want mini pies, don't forget to check out my mini jar lid pies… HERE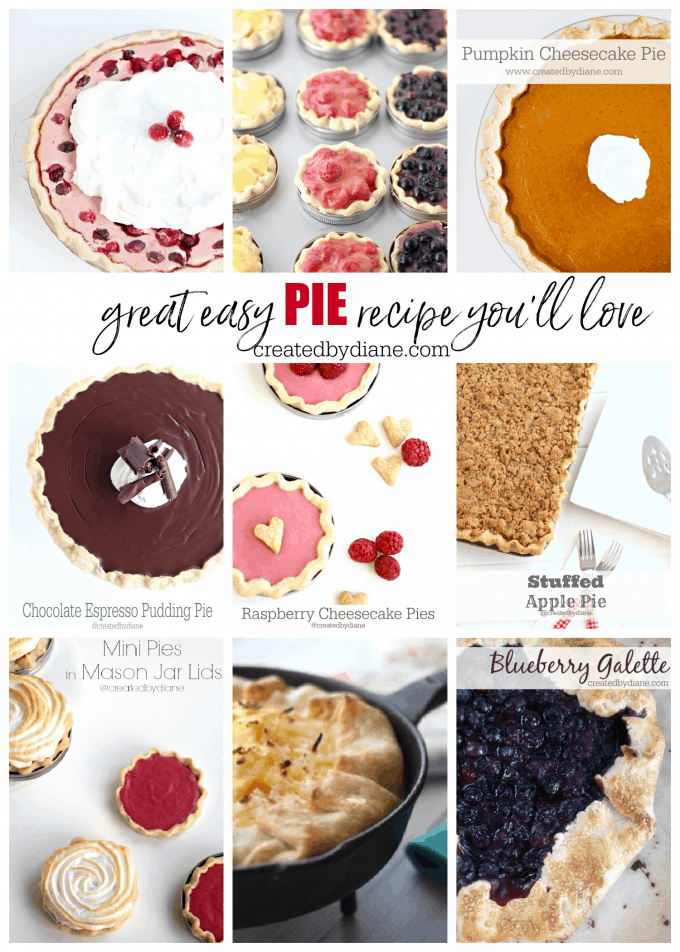 Savory recipes with pie crust include Easy Empanadas, Tomato Galette, and Spinach & Goat Cheese Pies.
If you love pie, but do not want to fuss with fluting the edge, but want a simple pie top… try this.
I cut pie crust into circles, then used a small heart cookie cutter to make the heart shape, after I made this raspberry cheesecake pie filling I poured it into dishes and simply topped it with these baked pie crust rounds.
This recipe makes 2-9″ pie crusts. 
Use the pie crusts immediately or cut the recipe into two portions and wrap the pie crusts with plastic wrap in a disk shape and refrigerate 3-4 days in the fridge.
Easy Pie Crust made in a food processor
The best pie crust recipe results in a tender flaky crust perfect for pie, galettes, and a great base for other baked goods.
Author:
Diane Schmidt Created by Diane
Recipe type:
Bread, Dessert, pastry
Cuisine:
American, French, Greek
Serves:
2-9inch pie crusts or 12 mini pie crusts in wide mouth jar lids
Ingredients
2 cups flour
1/2 teaspoon salt
3/4 cup cold unsalted butter
3 tablespoons shortening
1/4 cup ice-cold water
Instructions
Place the flour, salt, butter, shortening into the food processor and pulse until it forms a crumbly mixture.
Pour water into the chamber on top of the food processor as it's moving.
Stop the food processor as soon as the dough pulls away from the side.
Lightly flour your work surface, pour the dough onto your work surface and roll gently into a ball.
Cut the ball in two.
Roll each ball as minimally as possible to prevent the dough from becoming tough and not flaky.
For two balls of dough and roll each out from the center of the ball of dough to the edges until it's between 1/8"-1/4"
place the dough into the pie plate and cut the excess dough off and flute the edge.
Bake crust according to the pie recipe you are making.
If you want to bake a "blind" pie crust, press a fork into the sides and bottom of the dough so it does not puff up as it bakes.
Bake at 375 degrees for 15 minutes. If you are going to bake it again.
If you want a golden pie crust for a pudding pie, then bake it at 400 degrees for 10-12 minutes or until golden.
Apple pies don't need to be baked ahead of time, they bake for quite some time so just fill the pie crust and bake, or top with a second crust and bake.
Oh, how I love pie!
Notes
Alternatively, you can mix the dough in a bowl with a pastry cutter.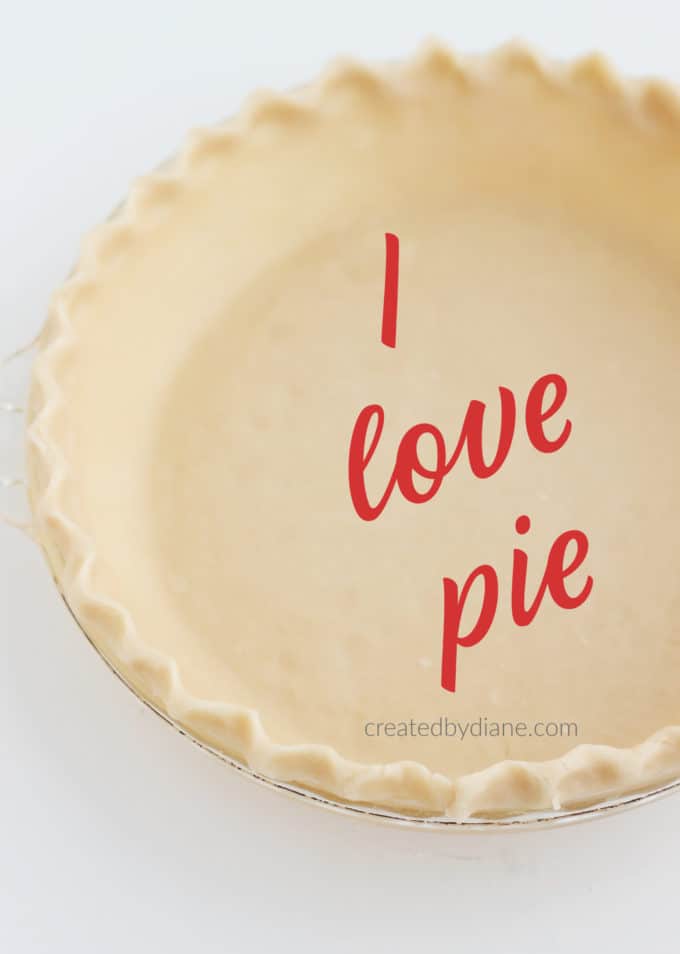 Take a look at my Mason Jar Lid Mini Pies here, perfect for individual desserts! This recipe makes 12 mini pies.