You won't need another Apple pie recipes after trying this delicious, stuffed apple pie… also known as sour cream apple pie. It's the BEST!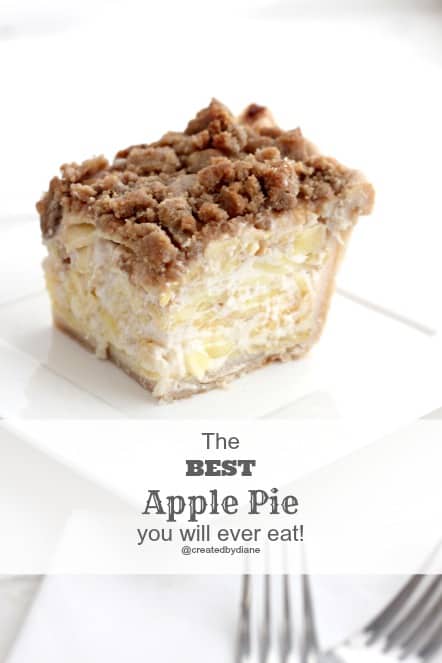 I know that it's quite a big claim to say it's "the BEST"
but it really is.
I've been baking this pie for years.
But  there were some years I didn't have it and I would just dream about it.
You see when I met my Mr. we would go to this really great restaurant that was located in an old Victorian house. Each room was decorated differently, one was a garden, one room was all decked out peach and looked very glamorous with a huge chandelier, another room looked like a library. It was my favorite place to go. The food was so delicious, each meal I had there was better than the last and then the dessert.
I recall asking what they had for dessert.
They said they had this delicious apple pie, that it wasn't your typical apple pie and that I just had to try it.
Well I am so glad I took their suggestion.
It really was the most delicious apple pie I had ever had.
The piece they served was so thick, I just LOVED that about it.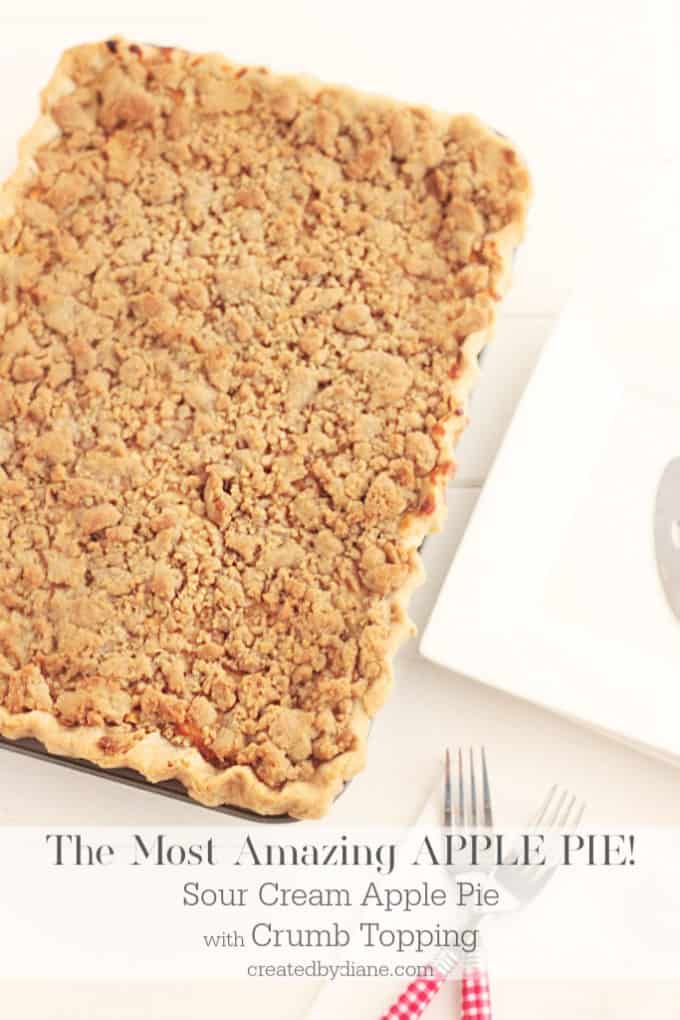 I made this pie many times when my kids were young they would ask for me to make "that pie" you know that pie we love. At the time I would say, oh that "special" apple pie, is that the one you mean? They'd ask if it had a filling, I'd say the apple pie that is stuffed with all that creamy filling. They would scream YES! That one, that is the pie we want you to make. So everyone in a while, I'd make it. It was delicious, but there was never enough pie in my opinion and it just wasn't PERFECT. It was really good, and it brought back such special memories.
I adjusted a few things and used a different pie crust, everyone agrees this is it!
Not only is it so delicious, but it really is exactly the same as the pie in that restaurant some 20 years ago. I also think it's great that I'm not the only one with such a vivid memory of the pie. That is another reason that it is perfect.
Now I don't need to dream that my pie will be "like" the pie I remembered, it now IS the pie I remember.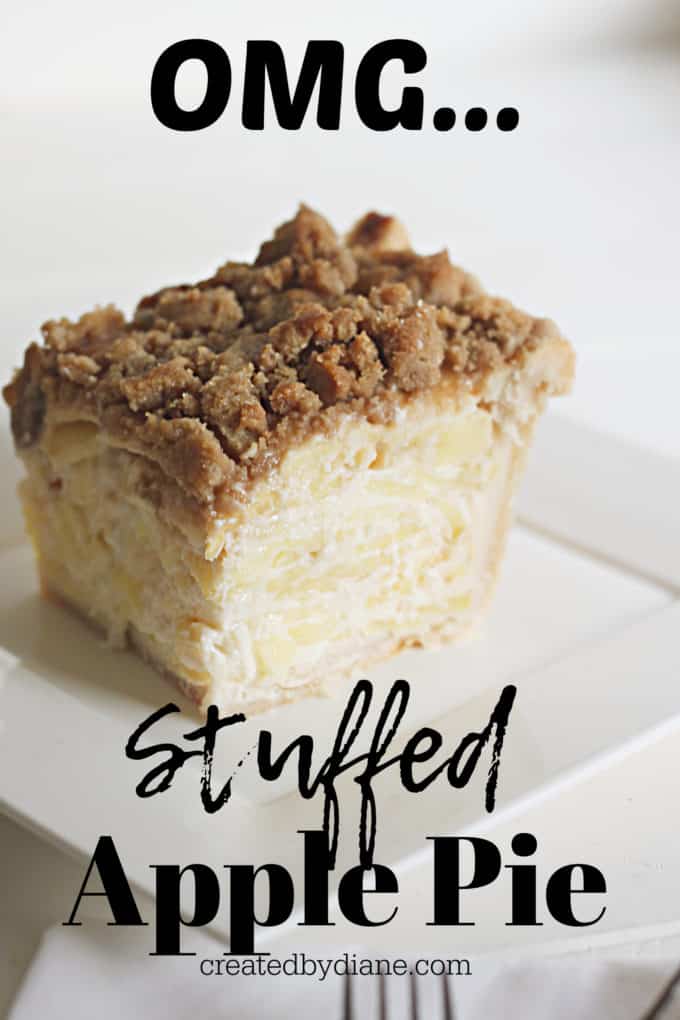 Baking the pie in a rectangle dish seems to have made all the difference,  it's now super thick and over-stuffed with apples and creamy filling and topped with a great crumb topping and a pie crust that can stand up to such a dense dessert without being too much.
Since this pie is big, that means there is plenty to have the next day….
for breakfast even.
Who says pie isn't for breakfast.?
I recall ordering a slice of pie to go from that restaurant just so I could have some the next morning. I not only fell in love with this pie, but I just happen to fall in love with someone at the same time.
It's no wonder this pie holds such great memories. This is a very special pie.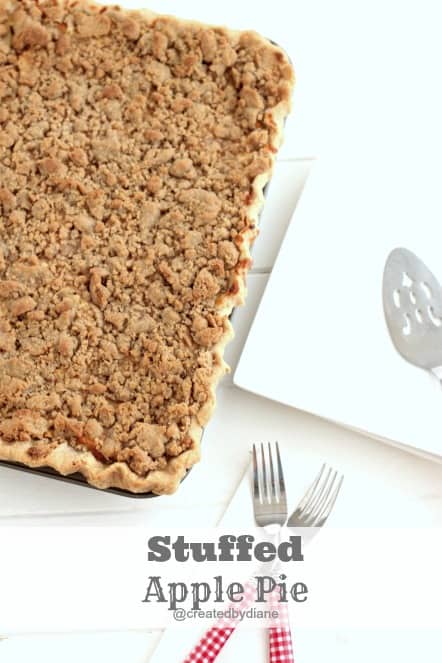 For years I referred to it as "special apple pie" my kids couldn't remember the name, so then I would say you know the stuffed apple pie and well that name seemed to stick and although to me this is the most special apple pie for many reasons, it certainly is stuffed. Stuffed to the HILL. It's stuffed with apples, it's stuffed with a creamy filling…yea, Stuffed Apple Pie it is!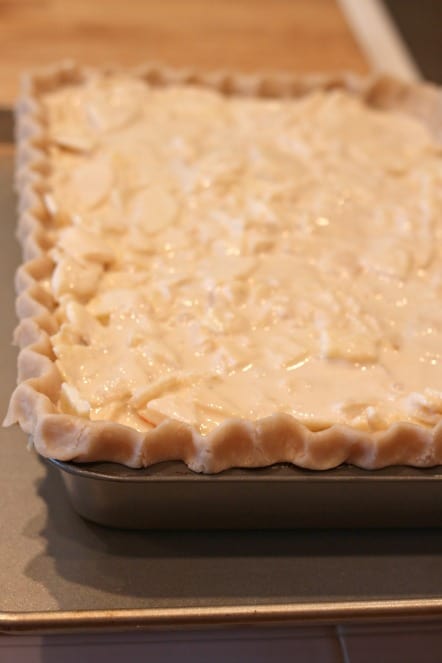 Each part of this recipe is printable below.
The Crust, The filling and The Crumb Topping.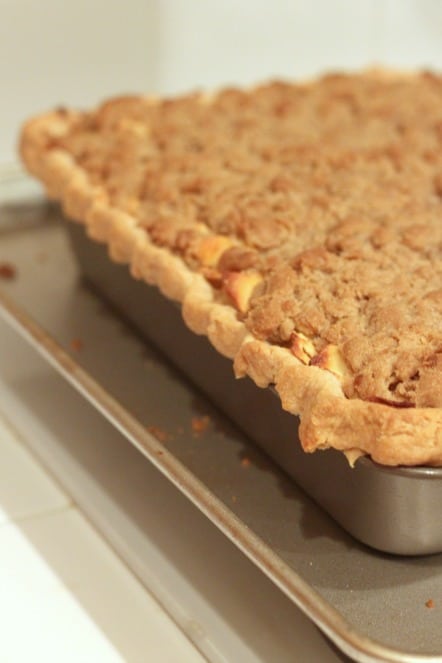 (I use a 9×13 pan that is 2inches high, as you can see it's full to the rim before baking)
It's all set to go into the oven, I placed a tray on the bottom in case there were any spill-overs. Luckily there weren't.
This crumb topping will be great on so many desserts!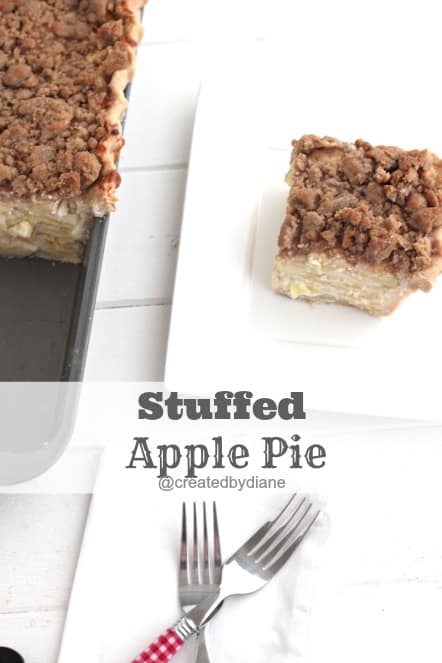 Be ready for the WOW's this pie will get!
This apple pie is like lasagna, it's best to prepare it ahead of time. Slicing a fresh-baked apple pie does not give it time to set up and slice nicely. I like to refrigerate this pie overnight. Plan ahead and make this pie the day before.
This is a very big apple pie, you can reduce the recipe in half if you want to make a smaller pie like a heaping 10″ pie. 
HERE is my pie crust recipe, alternatively you can use purchased pie crust, you'll need 2 to fit a pan this size, you can roll purchased crust together and re-roll it into a rectangle or layer them in the pan and cut it to fit the pan.
Stuffed Apple Pie
13x9 apple pie, perfect for a party or to enjoy leftovers all week! The best apple pie I've ever eaten!
Author:
Diane Schmidt, Created by Diane
Ingredients
8 pounds tart apples (granny smith or Jazz)
3 cups sour cream (or 1 1/2 cups sour cream and 1 1/2 cups greek yogurt)
1 cup sugar
1 teaspoon salt
3 eggs
2 teaspoons vanilla extract
1/2 cup flour
Instructions
Use a 13x9 pan that is 2 inches high for this pie, it will be full to the top before baking, so place it on a baking sheet in case any overflows. But mine did not overflow, I put it just in case and it makes it easier to remove the pie without having to grab the edge of the pan since the pie is really over the edge.
Peel, core, and slice apples. I used an apple corer peeler as it makes it really easy especially for 8 pounds of apple, but they can easily be done with a knife also)
Mix sour cream, sugar, salt, together
Lightly beat eggs and mix in vanilla
Pour egg mixture into sour cream mixture, then stir in flour.
Pour that combined mixture over the apple and stir them until they are fully coated.
Place filling into the pie crust.
Bake 400 degrees 15 minutes,
then adjust the temperature to 350 degrees and bake for 45 minutes
then add crumb topping bake at 375 degrees for 20 minutes
Total time (1hr20min)
This is one very large deep dish pie, great for a crowd or to have plenty left over otherwise.
Crumb Topping
Ingredients
1 1/2 cups brown sugar
1 cup flour
1/2 cup butter
1/4 teaspoon cinnamon
Instructions
with a pastry cutter or a fork, mix ingredients in a bowl until the mixture is crumbly, with your hands firmly press the mixture into large crumbles.
Place on top of apple pie when instructed and bake 20 minutes.