This is the perfect combination of sweet and slightly tangy, in a pie suited perfectly for your holiday dessert table.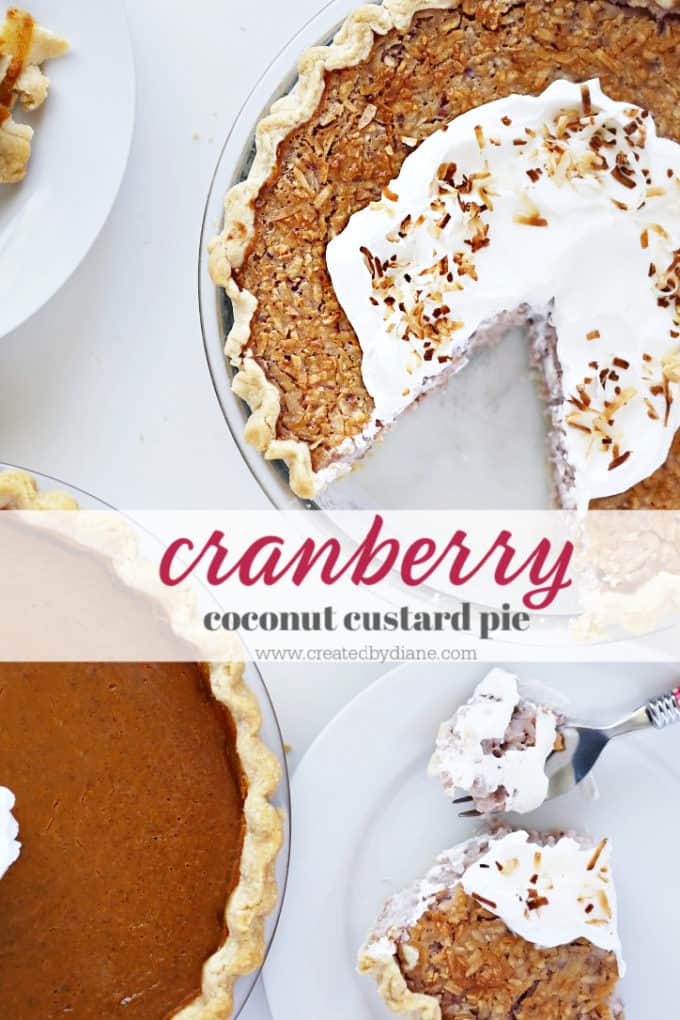 I've always loved coconut,
so coming up with a delicious pie for the holidays this year,
I incorporated the great flavor of cranberry into a coconut custard pie.
It's creamy, thick, and delicious with a nice tanginess from cranberries… all neatly tucked into a pie crust. 
The cranberries allow the pie to be not overly sweet… which even the person with the biggest sweet tooth loved and ate at least 4 pieces of. I think that really says it all!
Oh, how I LOVE pie, don't you…
I topped the pie with stabilized whipped cream and toasted coconut:
I love pie so much, I've been known to bake extra pies… just so I can enjoy a slice for breakfast for a week, things like that always drove my dad crazy, I would just laugh, and put the pie in my mouth. He's a pie lover too, but not for breakfast, but he'll certainly enjoy one or two slices for dessert!
Other fun recipes I've made with coconut is this beautiful Pink Coconut Cake, and these Coconut Cookies along with this fun Single Layer Coconut Cake with toasted coconut.
Cranberry Coconut Custard Pie
Ingredients
1 pie crust, unbaked
1 cup cranberries
1/4 cup water
2/3 cup + 2 tablespoons sugar
3 large eggs, room temperature
1-14 oz can coconut milk
3/4 cup whole milk
2 tablespoons flour
1 1/2 cups shredded sweetened coconut
1/4 teaspoon salt
1/2 teaspoon coconut extract
Instructions
In a skillet over medium-high heat stir cranberries with water and 2 tablespoons sugar.
Preheat oven to 350 degrees,
Simmer until cranberries are softened, press them with a spatula and cook the mixture until the liquid has thickened and dried out a bit, like a paste.
Place cranberry mixture with coconut milk into a cup or bowl and blend with an immersion blender until smooth or in a food processor.
In a medium bolw, whisk 2/3 cups sugar with eggs until fluffy.
Stir milk into the egg mixture then mix in flour, coconut, salt, and coconut extract.
Stir cranberry mixture into egg mixture unitl smooth.
Pour pie filling into pie crust.
Cover the edges of the pie crust with foil so it doens't brown too much.
Bake for 20 minutes, then remove foil and bake for 40 more mintues or until a knife inserted into the center comes out clean.
Let pie completely cool, then put it in the refrigerator to completely chill at least 4 hours.
Topping
Top with whipped cream and toasted coconut (instructions and links for those posts here > Stabilized Whipped Cream, toasted coconut in the oven toast cocont in a pan on the stove.