Mini Savory Pies with Spinach and Goat Cheese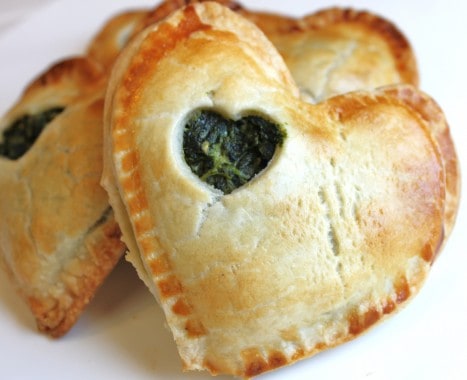 Since I love pie so much, I thought it would be fun to make some mini savory pies.
These fun heart-shaped pies are filled with spinach and goat cheese…yummy!
I purchased the mold from Williams-Sonoma I liked to it if you want to see what it looks like.
You could use a cookie cutter to make them like I did when I made these
if you don't have a need to get the mold.
As soon as I saw they had a heart shaped mold, I grabbed it and started imagining what I would fill it with first.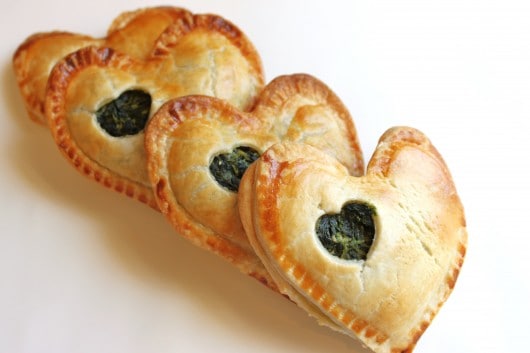 Mini Savory Pies with Spinach and Goat Cheese
In a food processor blend:
one package frozen spinach (thawed)
2 oz. goat cheese
2 scallions
1 clove garlic
salt and pepper
I used refrigerated pie crust, rolled it a bit to stretch it out, then cut it with the mold as directed. I filled each pie with 2 tablespoons of filling, brushed them with an egg wash and baked them for 18 minutes at 400 degrees. They were golden brown and delicious.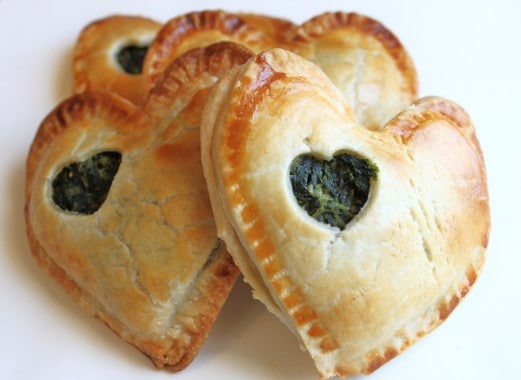 I had enough filling to make 5, but the pie crust I used allowed for 4 so I will most likely put the remaining filling in an omelet 🙂
I'm looking forward to making more pies soon!