One bite into one of these Raspberry Cheesecake Pies and you will want to eat them ALL!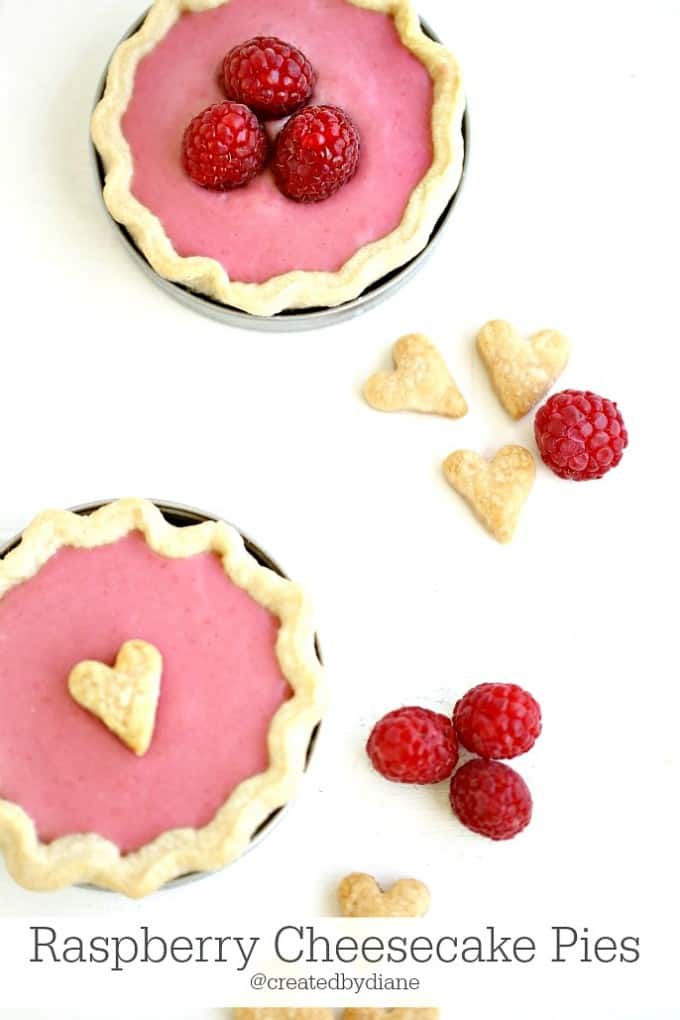 Raspberry Cheesecake Pies
Don't miss one delicious recipe and get my FREE e-cookbook click here!
I call these my stove top cheesecakes. The filling is made on the stove, then poured into the mini pie crusts.
These are so great, they taste amazing and are easy to prepare.
I just LOVE mini pies and I'm sure you will too.
Individual pies are so wonderful on a holiday dessert table, one could go missing and no one would know!
You can't say that about a slice of pie or piece of cheesecake now can you?
The creamy delicious taste of cheesecake and sweet juicy raspberries mixed up to make these is just PERFECT.
Once you see how easy these are to make, you will want to make them all the time.
They don't take long to prepare and make such a great presentation.
These Raspberry Cheesecake Pies are perfect to serve anytime especially the Holidays.
They can be made ahead of time and keep well in the fridge.
Now get ready to make cheesecake on the STOVE, yes this cheesecake is cooked on the stove, then poured into the pie crust.
How fantastic does that sound, no long waiting for this cheesecake to get out of the oven.
Once the pie crusts are baked (which doesn't take long at all) your oven is free for other baking, or if a turkey needs to go in there or all your side dishes are being heated. These pies can be made ahead of time or last minute. They only need an hour to chill to set up.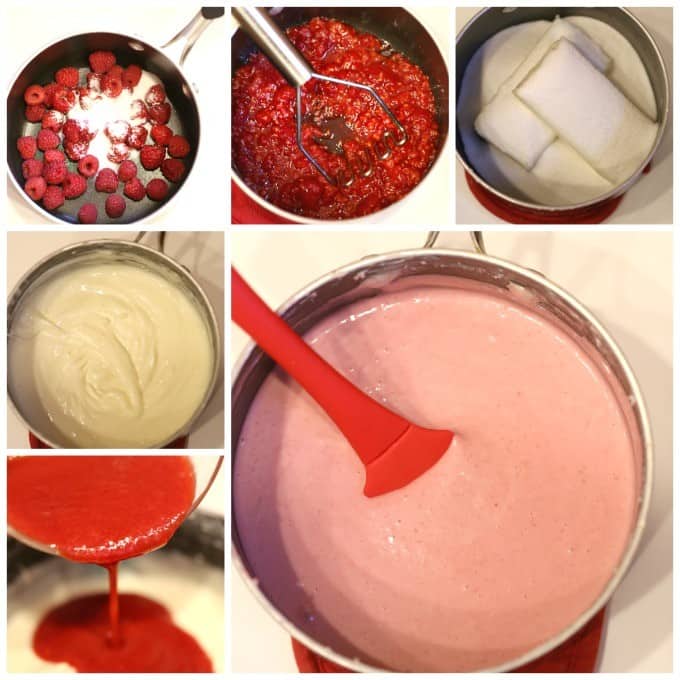 Would you believe with these simple steps, the cheesecakes will be almost complete?
First, cook the raspberries with sugar and strain the puree to remove the seeds.
Then heat the cream cheese and sugar and mix in the puree,
then add vanilla and pour the mixture into baked pie shells.
Find my post on Mason jar lid mini pies HERE and you will find my Easy Pie Crust Made in a Food Processor recipe here.
The delicious fresh flavor of fresh raspberries is what makes these cheesecakes so fantastic.
It's so true how fresh ingredients make for better tasting recipes! The raspberries are the real star here, so perfectly bright and red and they make the filling a gorgeous pink, these mini pies couldn't be any prettier!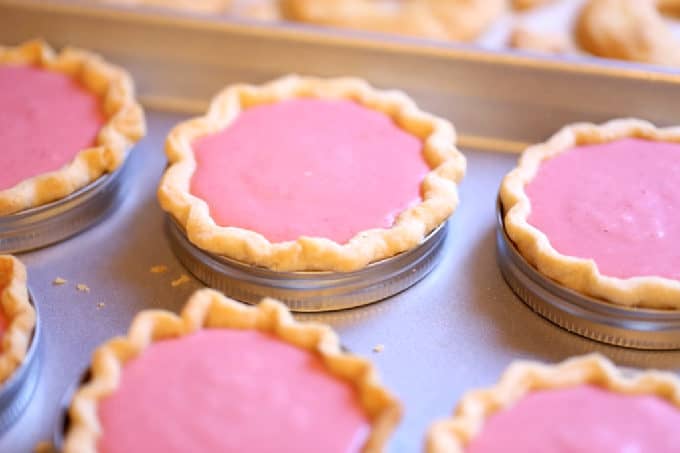 These cheesecakes are creamy and delicious and then add to it
that they are made in pie crust.
Nothing ordinary going on here, just exceptional cheesecake pie…. oh just wait until you try this.
Cheesecakes usually have a graham cracker crust, which would be delicious too, but I think these just look adorable and the raspberries are the real hero here!
Not only are they gorgeous on top of the pies and add just great flavor.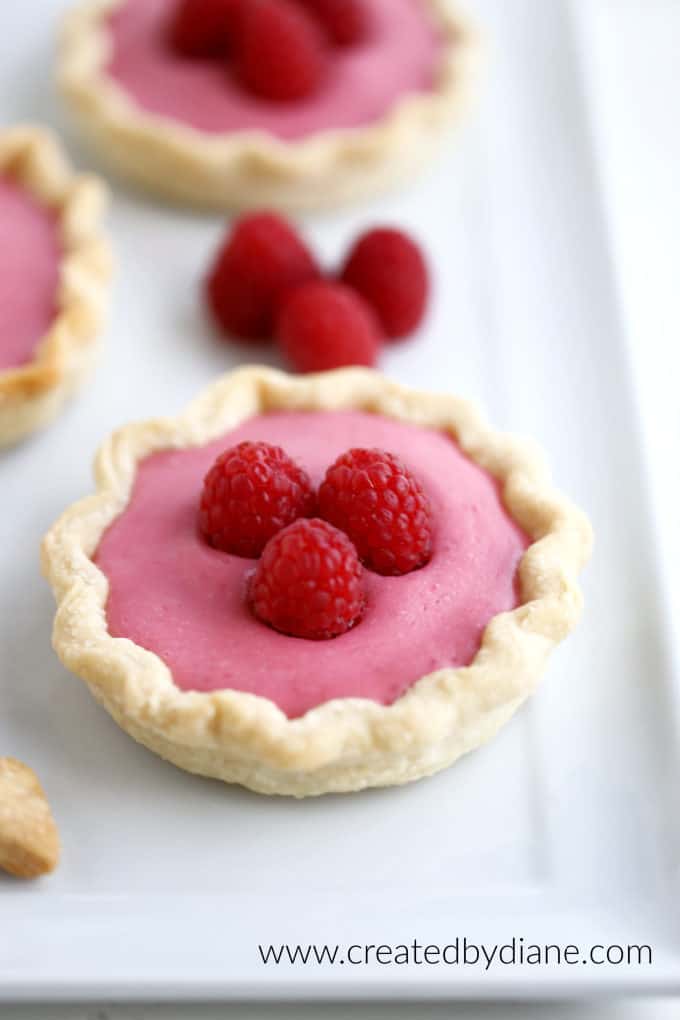 Driscoll's berries are always delicious and I look for them every time I go to the store. I can always count on great quality when choosing their berries.
Everyone raved over the delicious raspberry flavor in these pies.
These can be whipped up when last-minute plans are made, which makes them the perfect pie recipe to have at the busiest time of year. I am always picking up extra packages of raspberries to add to salads, putting them in my water to pretty it up, and to pop in my mouth for a quick snack.
OMG isn't that color just gorgeous.
I love hearts and use the cutest mini heart to make mini pie hearts, 
and I have one more thing to share…
Now if you like pie just as much as me, but want it even easier, just cut pie crust into circles (you can use the bowl you'll be putting the filling into for the shape) and bake them, then pour the pie filling into dishes and refrigerate them, then top with pie crust rounds before serving!
Raspberry Cheesecake Pies
Ingredients
1-6 oz package fresh Driscoll's Raspberries for filling + 2 oz raspberries for garnish
2/3 cup sugar + 2 tablespoons sugar (measured separately)
2-8oz packages cream cheese
1 teaspoon vanilla
Instructions
First, prepare your pie crust and allow them to cool before filling.
Then prepare the raspberry puree by bringing 6 oz raspberries and 2 tablespoons of sugar in a medium saucepan over medium-high heat to a boil. Mash the berries as they heat to break them down. Boil for 2-3 minutes and allow the moisture to evaporate.
Press the mixture through a fine sieve with the back of a spoon.
Set puree aside.
In medium saucepan heat cream cheese with 2/3 cup sugar, and whisk until it's smooth.
Add in raspberry puree and heat and then add vanilla.
Remove pie filling from the stove.
Pour filling into pie shells.
Garnish pies with pieces of baked pie crust and raspberries.
Refrigerate until completely cool. (an hour minimum)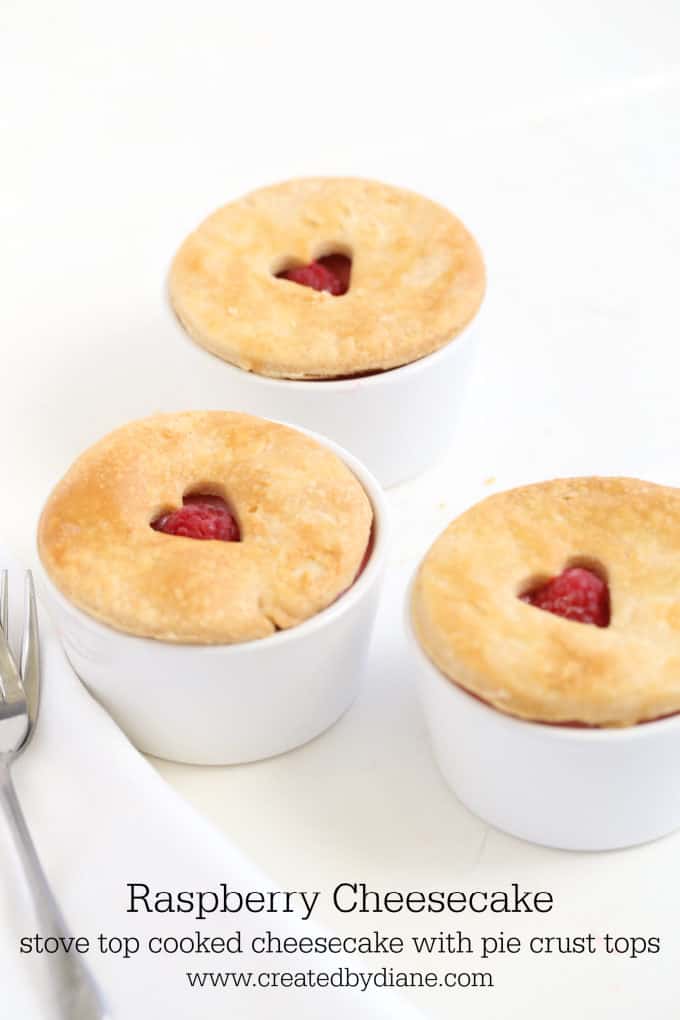 simple pie filling made on the stove, perfect for the baker that does not like making pie just fill some jars or bowls with the stove topped cooked raspberry cheesecake filling and top it with baked pie crust rounds.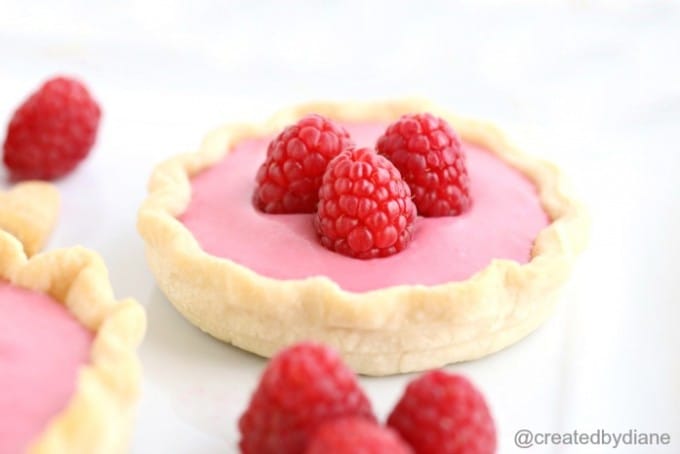 Aren't these just the cutest!
Such a pretty pink color.
Nothing better than a dessert topped with fresh raspberries.
I've decided that these are going to be my go-to dessert this holiday season, and they are pretty great to enjoy on a Monday, Tuesday or Wednesday too.
No excuses, whip up a batch and surprise your family tonight with pie, they'll love you for it!