Strawberry Pies scream SUMMER, and these are so irresistible!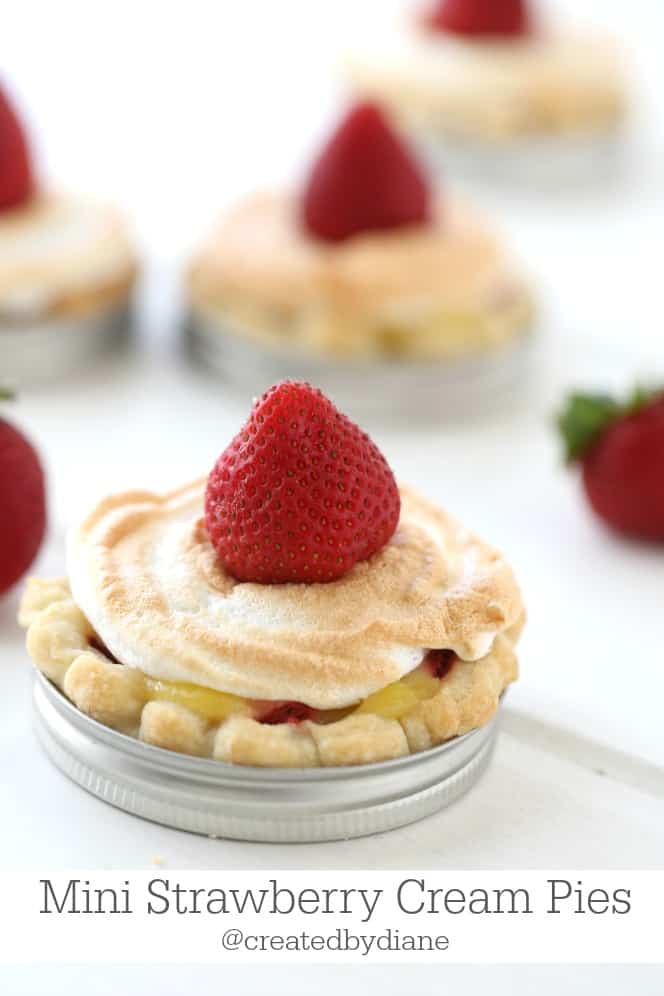 Mini Strawberry Cream Pies
Pin this to your dessert or pie board on Pinterest to save it for later!
Follow Created by Diane on Pinterest to see more delicious recipes
I don't want to TELL you what to do, but you really should bake up some of these cute mini pies.
Everyone will LOVE you for it.
I just love fruit pies that are FULL of fruit, I also like a deliciously creamy, custard-like filling, oh yes, these have that too…
then they are topped off with some pretty meringue and a strawberry.
These will look great on any summer dessert table!
Here is where you will find my Easy Pie Crust made in a food processor Recipe (this recipe will make 16 pie shells)
Here you will find how I make the Mason Jar Lid Mini Pies 
Don't let the thought of pies intimidate you (for those of you who cringe at pie crust making, making it in the food processor takes the guesswork out of it) plan ahead when making pies. You can make the pie crust a few days ahead and have it ready in the fridge, that way you aren't trying to do too much on one day (we all know how Holidays get, plan ahead and make the dough ahead of time, it's my number one tip to reduce stress on holidays which is most often some of the busiest pie baking days) But if you are making the pie for any occasion, what is the harm in having a step or two done ahead…nothing at all. It's the smart way!
These have a great fresh flavor, I added fresh lemon juice to give the pies a balance with the sweetness. I used strawberries that were red and ripe on the inside. If you use strawberries that are white inside and you eat one and they aren't that flavorful, the pies won't have that delicious great strawberry flavor. So look for the ripest strawberries possible. If that is not an option and you just have strawberries that are lacking in flavor, add in some strawberry extract.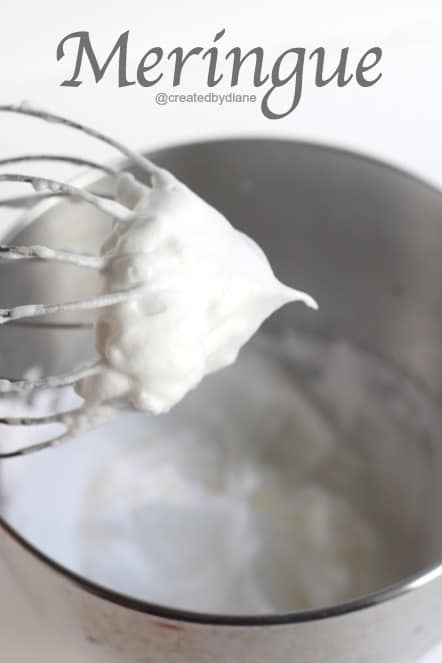 You will find information on How to make Meringue Here. Meringue is best baked on warm filling, it won't separate from the filling when the pies are chilled.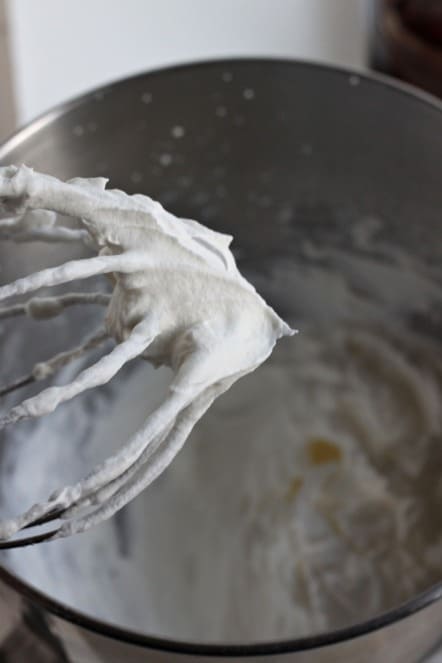 Whipped Cream is also a great topping for pies, just whip 1 cup cold heavy cream with 1 tablespoon powdered sugar. Spread or place a dollop on top of the pies and you are all set to serve them. This works great if the pies are cold.
Below are instruction if you want to make 4 or 16 mini pies.

Mini Strawberry Pies (4 mini pies)
Ingredients
1/3 cup sugar
1 teaspoon cornstarch
1/4 cup water
1 egg yolk
1 teaspoon butter (not tablespoon)
1 tablespoon lemon juice
slight pinch of salt (tiny amount)
1/4 teaspoon vanilla extract (if your strawberries aren't ripe add 1/4 teaspoon strawberry extract also)
1 cup strawberries
Instructions
In medium saucepan whisk sugar, cornstarch, water, egg yolk, butter, lemon juice, salt, and vanilla together.
Heat over medium heat whisking until it's thick
Add strawberries and gently stir (so you don't mash the fruit)
Heat one minute.
Pour filling into baked pie shells.
Top with meringue and bake at 350 degrees for 10 minutes or until the meringue is cooked and lightly brown on edges.
Refrigerate pies once they are cooled.
Garnish with a strawberry before serving.
Alternatively, you can top the pies with fresh whipped cream, but if making them a day ahead I've found I like the meringue topping and adding fresh fruit the day of serving.