I love pie, through and through I'm a pie lover, but I hear lots say they don't prefer pie crust.
So this pie has no pie crust, but I swear you'll hardly miss that there is none.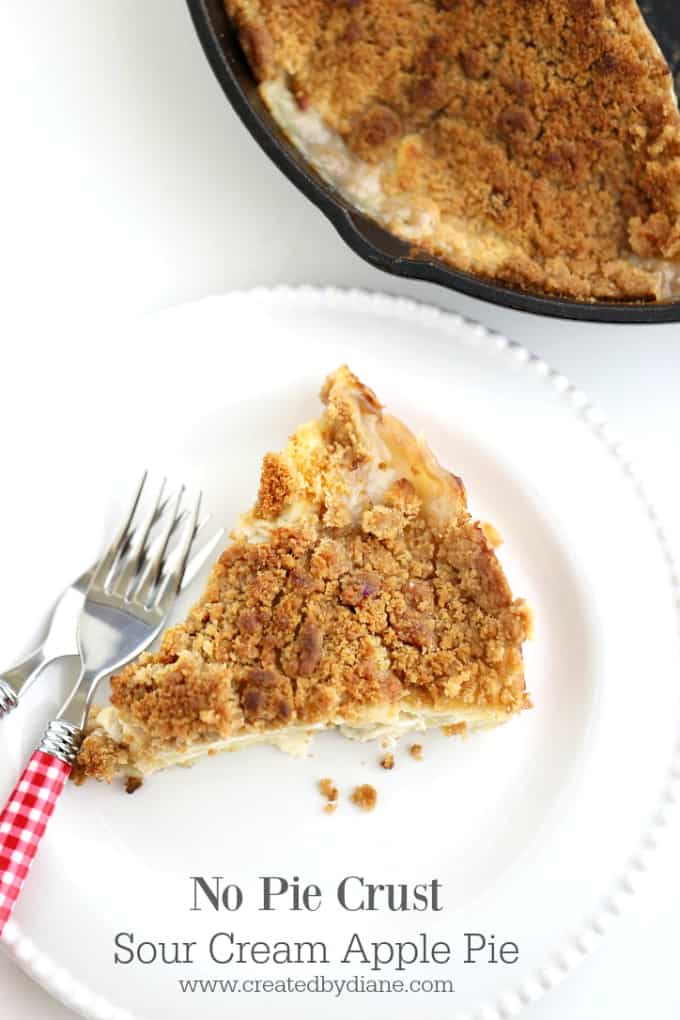 This pie is FULL of flavor and the filling bakes up sort of like a custard type of filling so the apples really have something to hold onto and as you can see…
the slice of pie doesn't float all over the plate when sliced!
There is a super delicious crumb topping and it's full of apples.
I just love this pie so much and like I said I LOVE pie and pie crust but this pie will surely surprise you. It tastes amazing!
This pie is easy to make and does not take long at all to prepare.  This has become our NEW favorite in our house, it seems since a WHOLE pie is more time consuming to make I don't make them as often as we'd like and now we can enjoy pie ANYTIME with this easy recipe.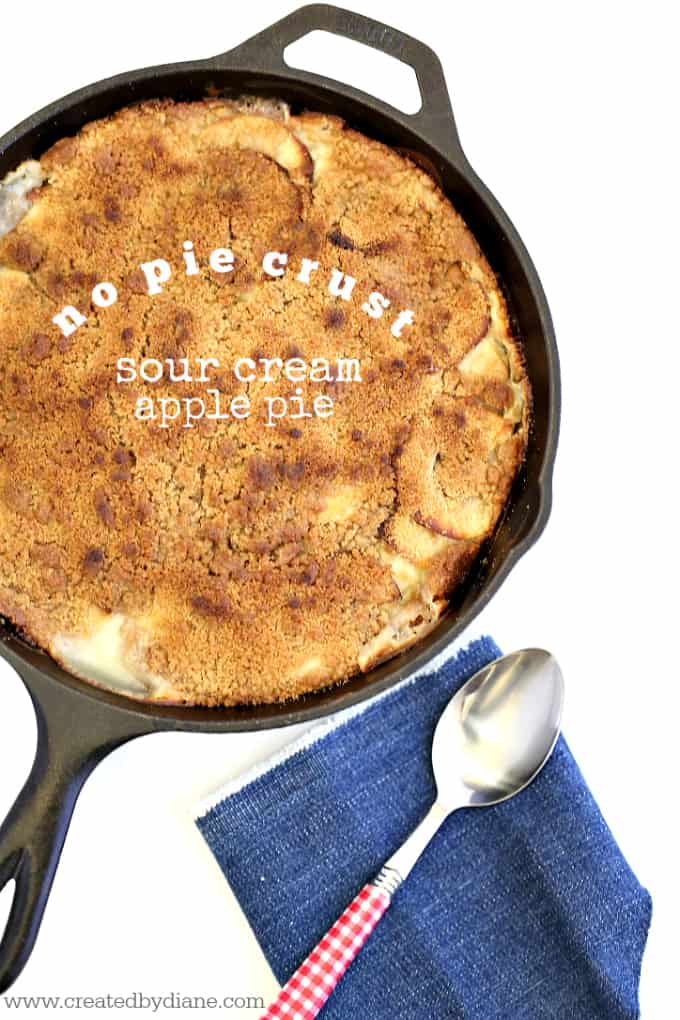 I baked the wonderful pie in an 10″ cast iron skillet, you can certainly bake it in a glass, metal, or ceramic pie plate. And it also bakes up nicely in a 12″ cast iron skillet too
And you can bake it in a pie crust, homemade pie crust, refrigerated or frozen.
Lots of choices here!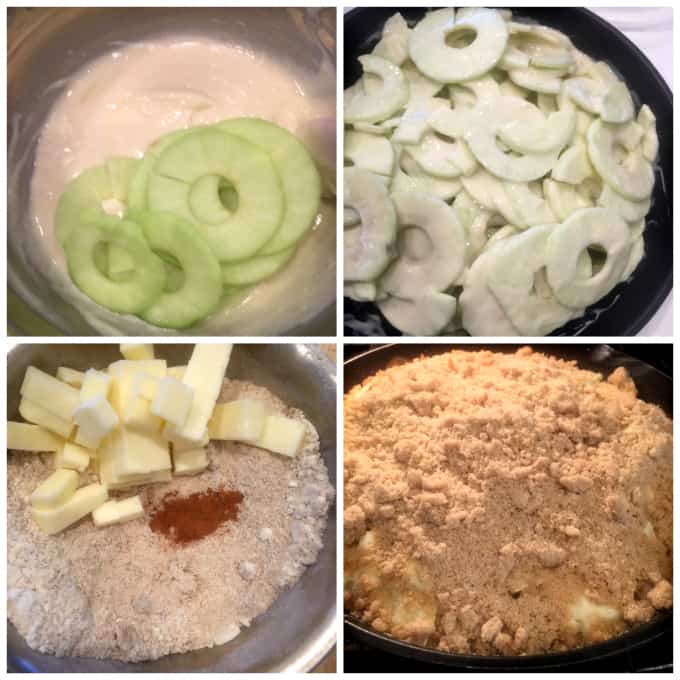 Now doesn't that look just a few simple steps, it is!
Now I'll admit I thought I liked ice cold pie and I do, sometimes I like it heated up with ice cream, this pie, you can even scoop out warm and enjoy it right away!
I just LOVE when things are so versatile!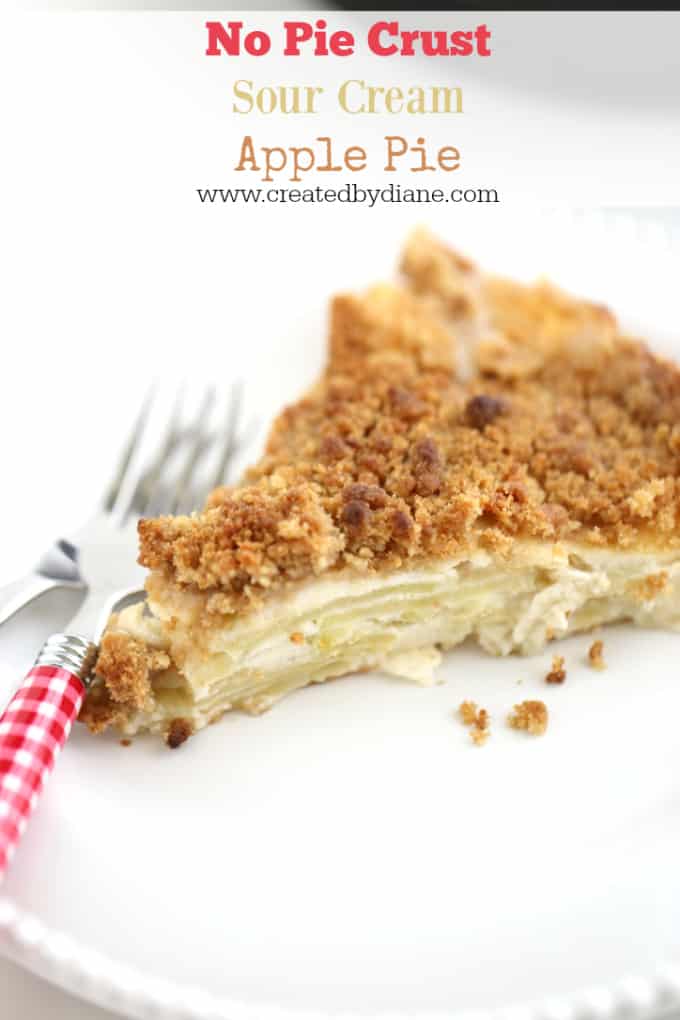 This pie is simple to make, which means it'll be great on your holiday dessert table, or to make it for a great ending to a weeknight meal. You can also just the thing to make when company arrives so you can all scoop it out after dinner and sit and chat. I just love sitting and chatting around the kitchen table!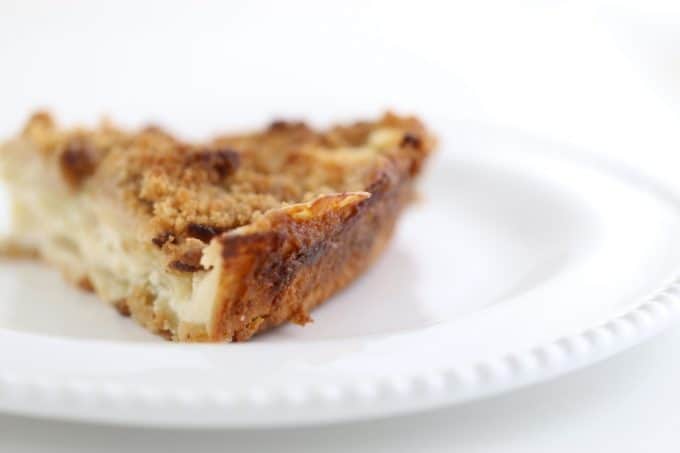 This great recipe creates a sturdy edge and still, there is no fussing with a pie crust!
THIS is the skillet I use and love all the time,  and I use it so much I have 3 of them and more in other sizes too like the 10″ I mentioned, it's a kitchen must have.

No Pie Crust Sour Cream Apple Pie
Prep time:
Cook time:
Total time:
Ingredients
2 lbs granny smith apples
1¼ cups sour cream
½ cup sugar
⅓ cup flour
¼ teaspoon salt
1½ teaspoons vanilla
1 egg
topping
½ cup brown sugar
½ cup flour
¼ cup cold butter
½ teaspoon cinnamon
Instructions
Preheat oven to 400°
Peel, core, and slice apples. (I use this to do them)
In a medium bowl mix sour cream, sugar, flour, salt, vanilla, and egg together with a whisk.
Gently stir in apples to coat them completely.
Pour the mixture into a cast iron skillet I baked this one in a 10" for the photo above, but also have baked it in a 12" or you can use another pan of similar size, like a cake pan, or pie plate.
The smaller the diameter the thicker the pie will be.
This recipe can be easily cut in half and baked in an 8" pan for two large servings.
Bake for 20 minutes.
Prepare topping
In a small bowl with a fork or pastry cutter blend brown sugar, flour, butter, and cinnamon.
Place in fridge until the 20-minutes is done.
Then top the pie with the topping and bake for another 20 minutes.
Allow pie to cool for 10 minutes if serving hot, or allow to cool to the touch, then place the pie in the fridge until it's chilled.