When it's cherry season, there is no better time to make some cherry syrup great for all sorts of things. On desserts, in mixed drinks or to add to lemonade or seltzer for a refreshing drink.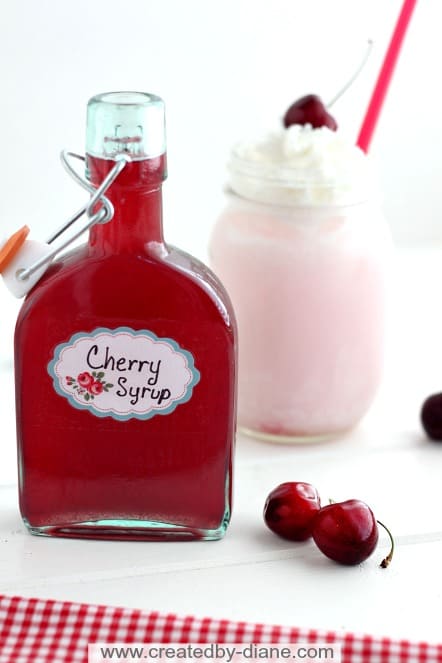 Oh, my CHERRIES are in season and they are…
OH so delicious!
I couldn't resist making some homemade cherry syrup.
There are endless items to put this syrup on and I'll be sharing some ideas with you and some more cherry recipes soon.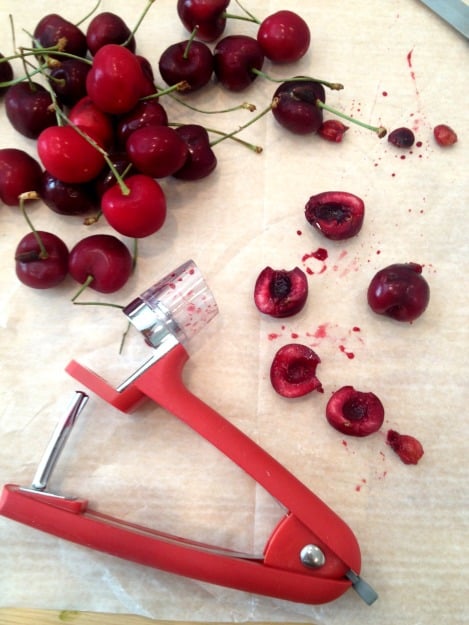 I measured a heaping cup of cherries and pitted them with THIS Cherry Pitter,
oh, how I love this cherry pitter,
it's easy to use and in a few minutes, all the cherries I need are pitted and ready to use in this recipe.
I like the "splash guard" that this cherry pitter has it's helps me from getting the cherry juice all over me when I'm pitting the cherries.
Bring 1 cup of water, 1 cup of sugar, and one cup of pitted and sliced cherries to a boil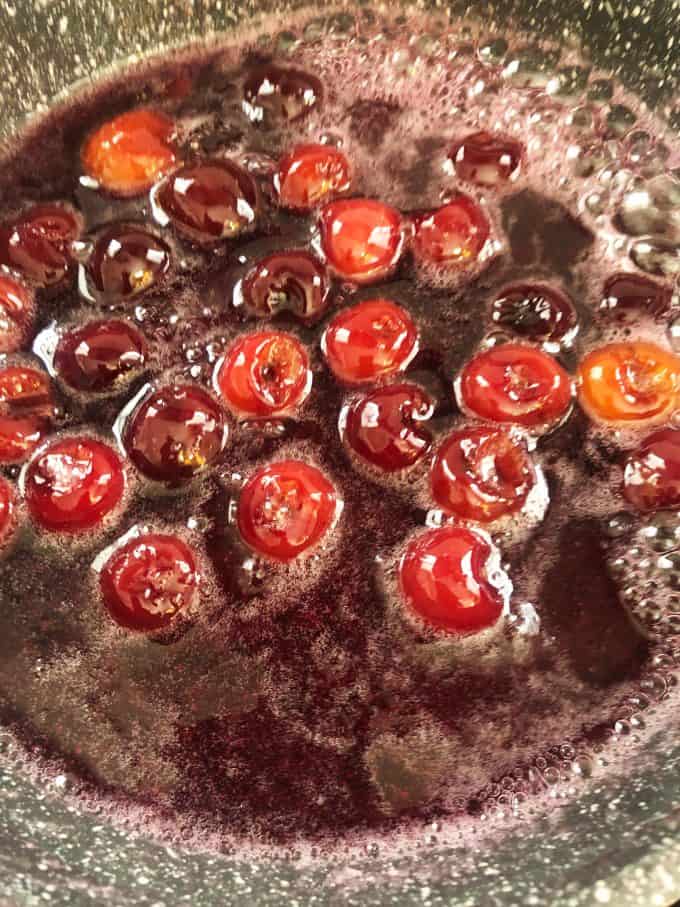 simmer for 2 minutes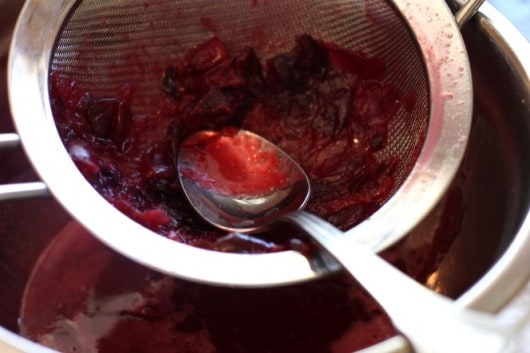 Strain the sauce and press on the cherries so that only the skin of the cherries remain and discard them.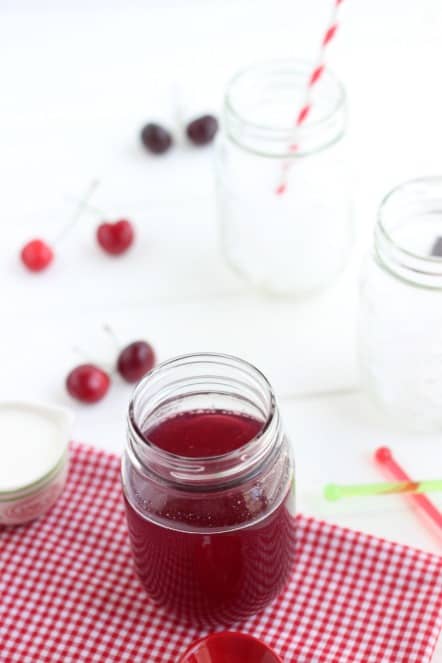 Pour the cherry syrup into a glass jar or container. The cherry syrup can be stored in the fridge for a month.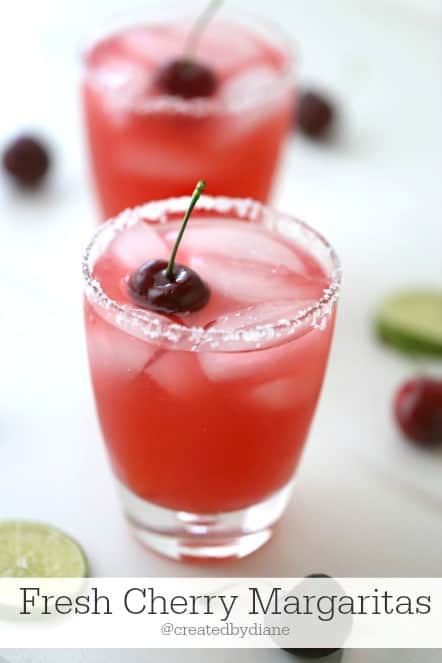 Cherry Margaritas are REALLY Delicious so give them a try!
If you're a vodka drinker, make some cherry vodka drinks
Add some cherry syrup, vodka with cranberry
or cherry syrup vodka with seltzer 
or cherry syrup, vodka, and lemonade for a fun summertime drink!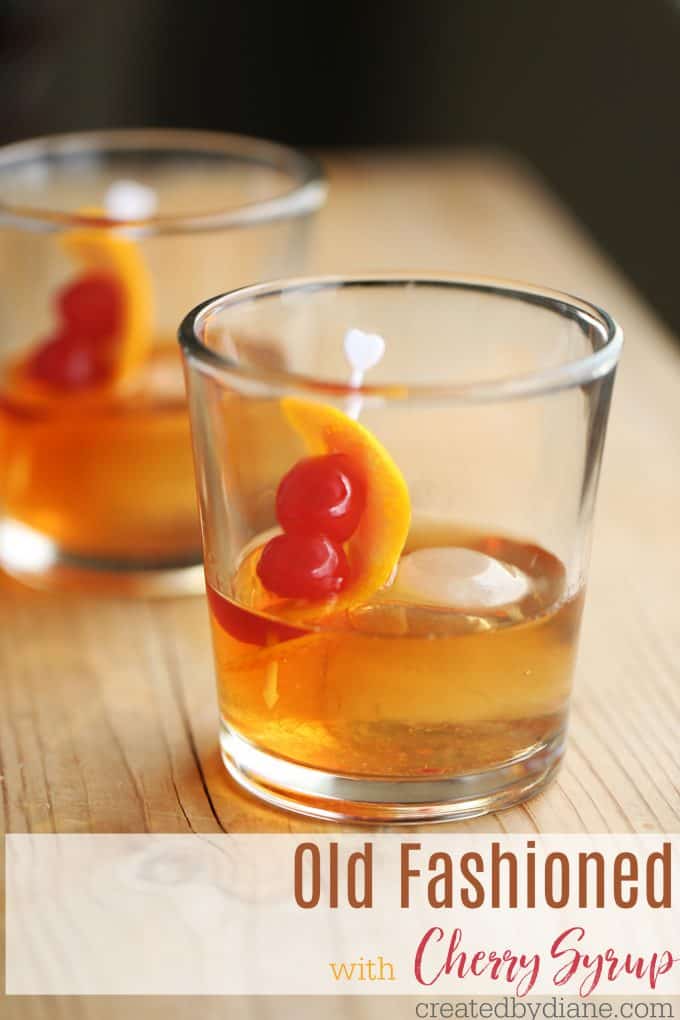 One of the yummies old fashioned I've ever had is this one… with fresh made cherry syrup!
If you're an Old Fashioned fan, this is a winner!
Add in some seltzer for a lightened-up cocktail to sip while sitting by the pool.
Another great option for summer sipping is cherry syrup with lemon seltzer to mimic cherry lemonade on the lighter a bubbly side, add in some vodka and make it a hard cherry lemonade!
To make the Old Fashioned add some cherry syrup, bitters, and bourbon.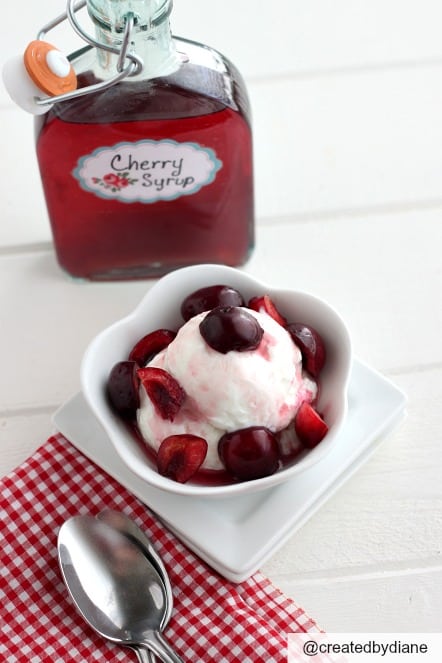 Cherry syrup is really delicious on ice cream, frozen yogurt or greek yogurt with fruit for breakfast….I've had all three and still can't seem to decide which one I like better.
One of my favorite recipes to use this homemade cherry syrup is Cherry Italian Cream Soda. Let's just say I've definitely made my fair share of them and I'm hooked on them! So be sure to check out that post, you won't want to miss it.
How to make Cherry Syrup
Ingredients
1 cup fresh cherries (pitted and cut in half)
1 cup sugar
1 cup water
Instructions
Bring cherries, water, and sugar to a boil,
Simmer for 2 minutes giving the cherries a chance to soften and the flavor to release.
Strain syrup in a fine strainer pressing the cherries though leaving just the skin on the cherries to discard.
Place in a glass/plastic jar and store in the refrigerator for 4 weeks.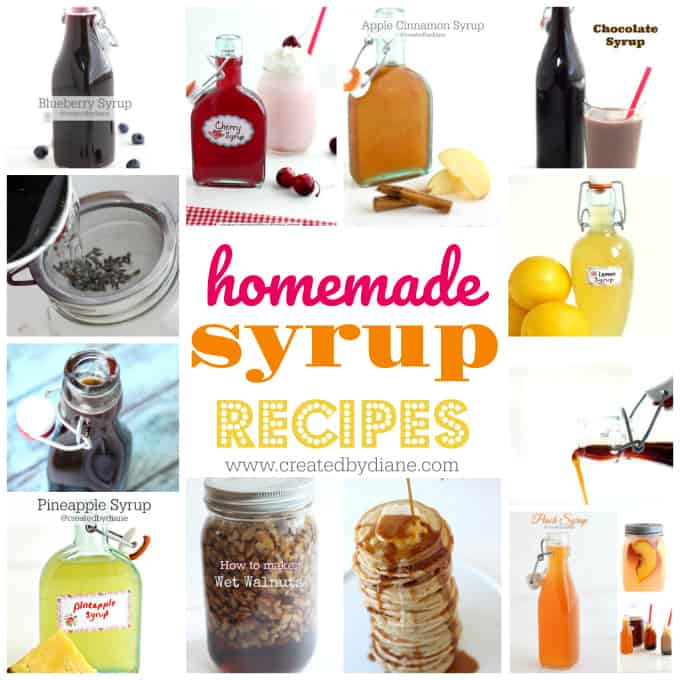 Click on the links below to find each syrup recipe:

* I was not compensated to write this post, I just like sharing products I love.