These warm Cinnamon Apples have a delicious flavor and the aroma will knock you over in a good way (of course)! This is the perfect side dish and makes a great quick dessert too.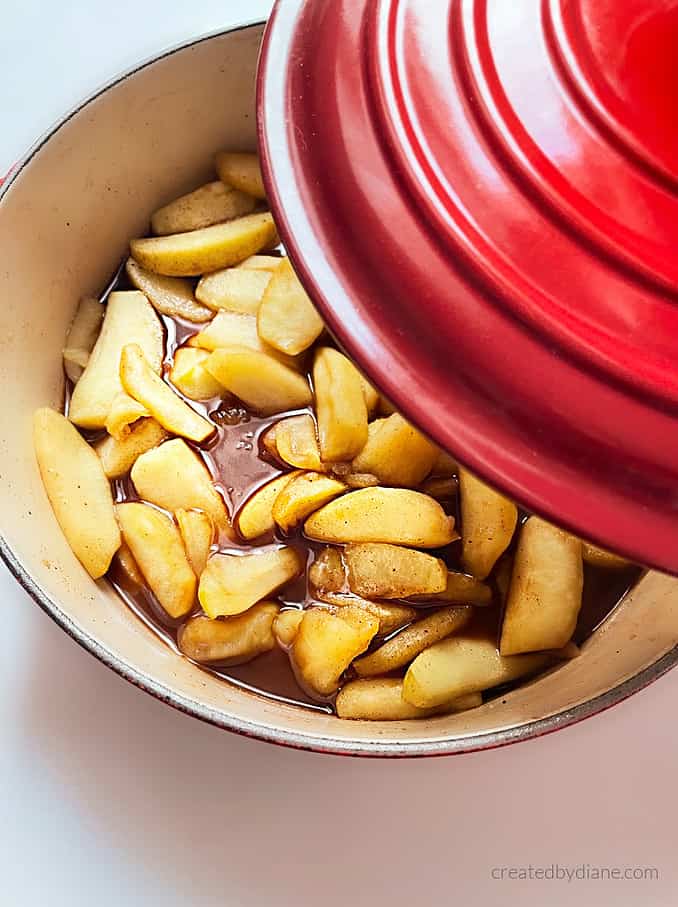 The aroma of cinnamon and sugar on the stovetop brings back lots of memories, reminding me of all things apple and cinnamon from apple sauce on toast with cinnamon, to Apple Pie. It also reminds me of colder days indoors when the house was quiet and everyone seemed to give over to the peace and calm it brought.
And today I cook warm cinnamon apples to help conjure up those nostalgic feelings, but also to serve with a whole host of dishes as a side, or even as a topping.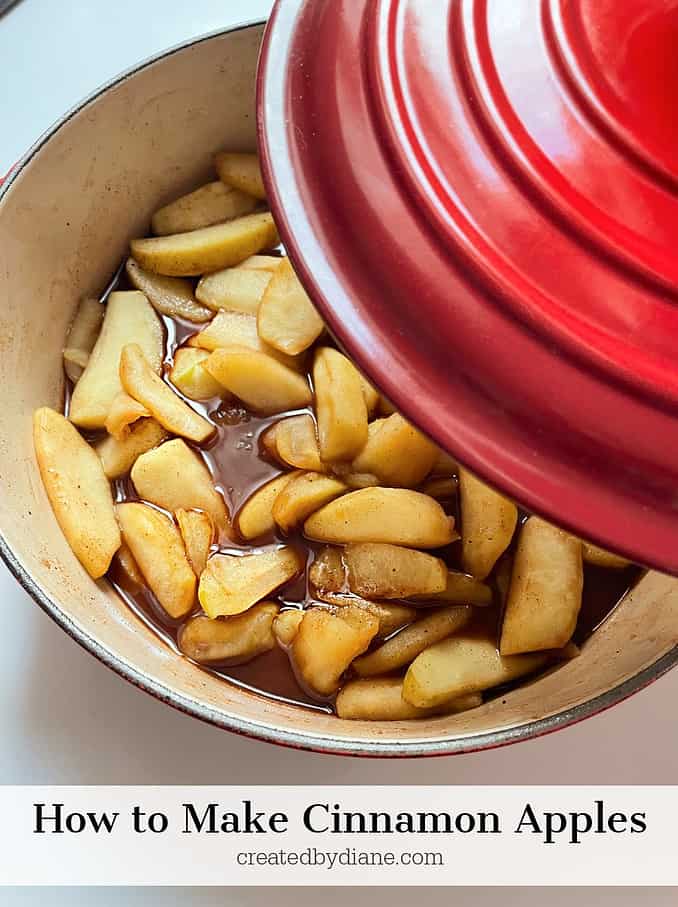 There's a long history behind using apples in recipes–in fact, baked apples are believed to go back to 1685 in a London cookbook. The recipe called for peeled, cored, and quartered apples that were baked in claret wine, citron, candied oranges, and sugar. From there another version of cooked apples shows up in 1784 in another London cookbook, and it wasn't long before apples baked and cooked made their way to the United States, where New England became known for baked apples. From there, cooking apples and adding maple syrup, cinnamon, brown sugar, and sometimes even walnuts. 
Winter, Spring, Summer, Fall… this is the best side dish of all.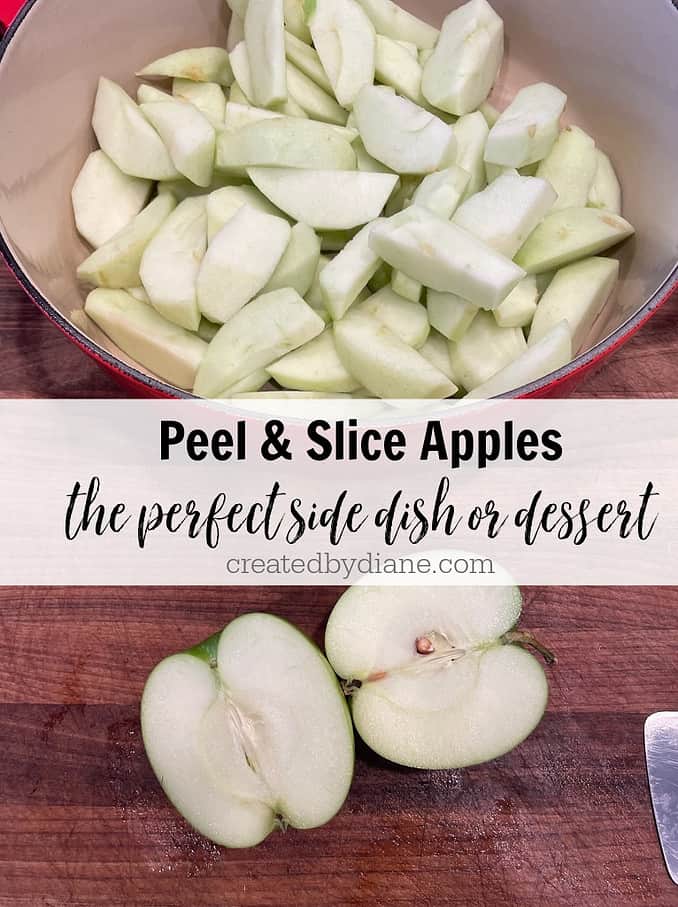 This recipe is quick and easy and cooked on the stovetop and uses cinnamon, nutmeg, butter, and sugar–all similar flavors that would be found in an apple pie.
But they are excellent paired with savory dishes such as roasted pork, grilled chicken, and more. 
Here are a few dishes of mine that these warm cinnamon apples will go well with:
Skillet Chicken and Stuffing: A simple heartwarming dish made quickly and easily in under an hour that reminds everyone of Thanksgiving!

Tri Tips

: This is an easy, in the oven, Tri Tip recipe that would pair well with cinnamon apples.

Overnight Turkey

: This recipe is perfect for people on-the-go, and requires very little effort on your part. And the turkey is moist and delicious. Serve with cinnamon apples for a sweet savory treat.

Instant Pot Shredded Pork

:

Another quick and easy meat dish. Pork and apples are a classic combination, as the sweetness from the apples balances the saltiness of the pork.
And there's plenty more, take a look and see what speaks to your tastebuds.
For an added cinnamon kick, turn these into red hot cinnamon apples, you can add some cinnamon red hots, they'll melt and the apples will get a nice pink color and it'll have a nice spicy cinnamon flavor.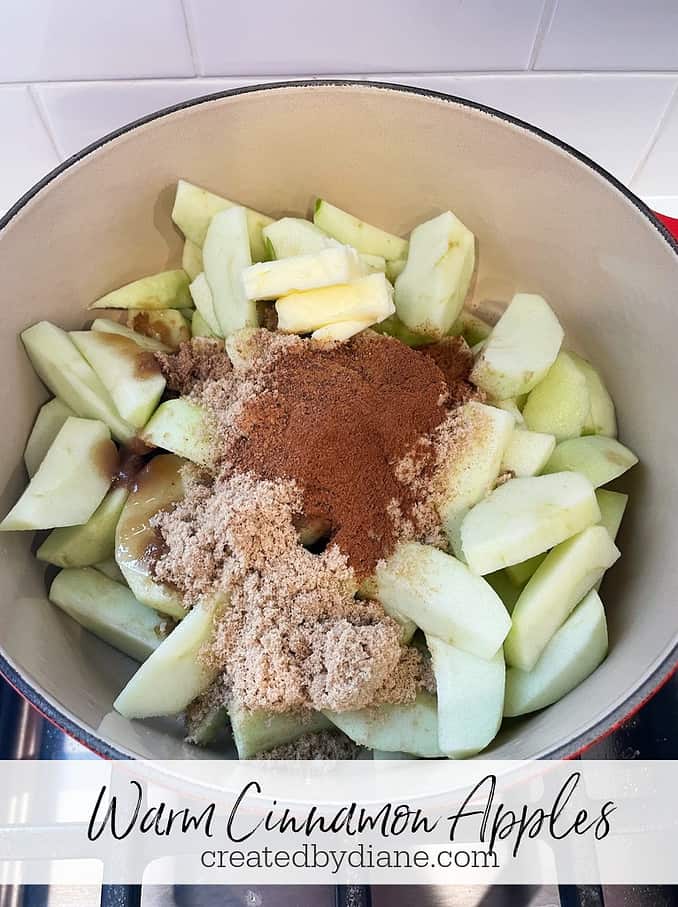 This is the side dish…
to entice kids to eat their veggies or items they ordinarily may fuss with!
Now, let's take a look at how quick and easy it is to make these warm, cinnamon apples.
Wash, peel, and slice apples. Don't slice them too thin or they'll be mushy.
In a pot or skillet, place butter, apples, brown sugar, and cinnamon.
Stir over medium heat and cook for 2 minutes. Cover and cook for another 3 minutes.
The apples don't take long to cook, they are done when they are tender and pierced easily with a fork. Remove from stove. Cover to keep warm if serving immediately.
Now, there are a couple of things to consider with this recipe. Thinner apple slices will be mushier, whereas thicker apple slices will retain their bite but still be cooked through.
If you prefer a thicker sauce, remove the apples to a separate bowl. Then, mix 3 tablespoons of water with 1 tablespoon of cornstarch. Mix well and pour it into the pot with the remaining apple liquid and simmer until thick. Place the apples back into the sauce.
Apples and cinnamon are always a winning combination… here's more of the dynamic duo:
What are some other varieties of apples that can be used?
I use granny smiths for this recipe because I like the way the tartness of the apple pairs with the sweetness of the sugar. However, there are plenty of other varieties you could use such as Honeycrisp, Pink Lady, McIntosh, or Gala.
Should the apples be peeled?
Yes, remove the skins. These apples are still firm, the skins would not be soft and the texture would not be the best.
How long will these keep in the fridge?
They'll keep nice in the fridge for a week.
Can these cinnamon apples be served as dessert?
Absolutely, you can serve them topped with whipped cream, ice cream, or place the warm cinnamon apples over top of scones, on Danish, or on a nice vanilla cake like this… oh the possibilities, drizzle on some caramel for a real party!
Can I use this as an apple pie filling?
Yes, to make it more like a pie filling double the sauce, or reduce the apples. This recipe is great in hand pies, filling a pie crust, topping for ice cream, putting it over pancakes, waffles, French toast.
Serve these apples with Roasted Pork Loin as well as these Grilled Pork Chops.

How to Make Cinnamon Apples
Warm cinnamon apples are so delicious and the perfect side dish for so many meals, chicken, ham, pork, turkey, or beef, they take minutes to make and pack tons of flavor! A great topping to cake, and scones, also perfect served with whipped cream or ice cream.
Author:
Diane Schmidt, Created by Diane
Recipe type:
dessert, side dish
Ingredients
1/2-1 teaspoon cinnamon (adjust the amount according to taste)
1/2 teaspoon nutmeg
2 tablespoon butter
3 tablespoons water
1/2 cup brown sugar
2-3 lbs apples, granny smith, or another firm apple. Peeled and sliced about 1/2" thick
Instructions
In a pot or skillet, place butter, apples, brown sugar, and cinnamon, stir over medium heat cook for 5 minutes, and cover after 2 minutes, apple slices should be tender when pierced with a fork then remove from the stove. Cover to keep warm.
If you want to thicken the sauce, remove the apples to a separate bowl, mix 3 tablespoons of water with 1 tablespoon of cornstarch mixed well and pour into the pot with the remaining liquid and simmer until thick, then place the apples back into the sauce.
Notes
Thinner slices will produce mushy apples, and nice thicker slices will hold their shape after being cooked.