This sheet pan stuffed pork chop dinner will have dinner on the table in no time at all, and everyone will enjoy a comforting meal.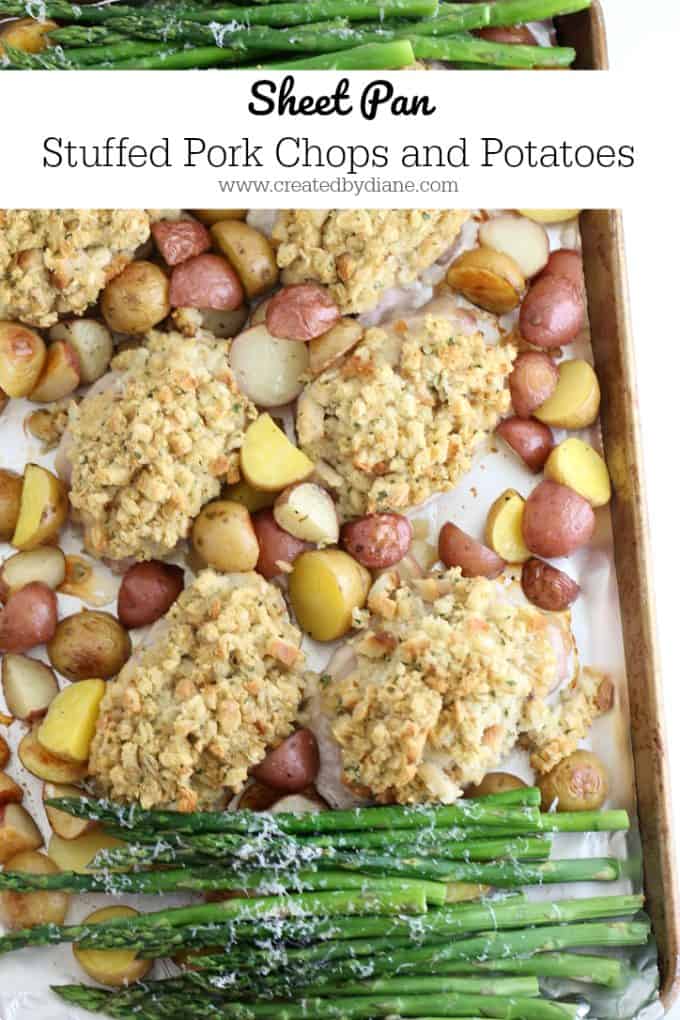 When you need a delicious dinner you're only a sheet pan away!
Weeknights are the only time we all need easy meals, this one is perfect anytime.
This meal is full of flavor and tastes as comforting as a Sunday night dinner I remember having as a kid. Serve this with some cranberry sauce and you'll think it's a holiday meal!
I split this into to sheet pans, I like a lot of veggies, so the asparagus was on its own pan, but they baked in the oven at the same time.
I topped with asparagus with some grated Romano Cheese which was so yummy!
The pork chops bake nicely and stay moist with the stuffing on top, the potatoes are roasted and crispy.
This is a go-to meal and can be ready in about 30 minutes! Which is just one more reason to LOVE it!
try my other great meals: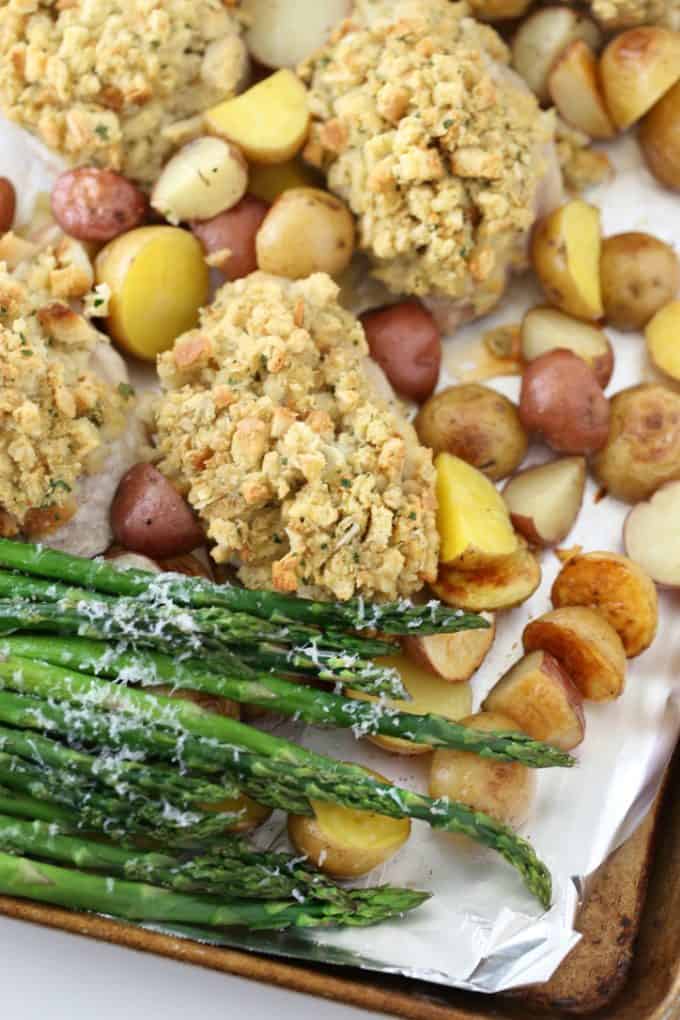 The small potatoes cook up quick, you can use another variety, just cut them small so they are done cooking at the same time as the pork chops.
If you don't prefer asparagus, you can make broccoli, carrots or brussels sprouts, they would be perfect with this too.
If you prefer fruit in your stuffing, just dice up and apple and add it to the stuffing mixture, you can add a 1/2 cup chopped walnuts too.
If you don't prefer pork, you can make this with boneless skinless chicken breasts.
Sheet Pan Stuffed Pork Chops
Ingredients
6 boneless pork chops
1 package Stove Stop Stuffing (6 oz. size box)
2 lbs small potatoes
1 lb asparagus
(grated Romano/Parmesan Cheese)
Olive Oil
Salt and Pepper
Instructions
Line a sheet pan with non-stick foil
Mix the stuffing according to package directions.
Place the pork chops on the sheet pan.
Place stuffing on top of each pork chop
Slice the potatoes (in half or quarters) and drizzle them with olive oil, salt, and pepper and place them on the baking sheet.
I used a smaller separate sheet pan for the asparagus and cook it at the same time in the oven if you can fit everything on one sheet pan, if not use two.
Bake at 375 degrees for 30 minutes.
Test the pork chop with a thermometer to be sure they have an internal temperature of 160° degrees.
Grate some Romano Cheese (or Parmesan) over the asparagus.
Notes
I cook my asparagus on a separate pan and take it out when it's still fairly firm. I don't like it soft, cook to your desired doneness.
If you like this or any other recipe on Created by Diane be sure to share the post with the ones you love. You can click on the "share" buttons on the top and the bottom of each post, you can share it on social media or in an email.
~Sign up for email updates and GET delicious recipes delivered right to you! Plus get my free e-cookbook too.
Thanks ~Diane