Thinly sliced pork chops are the star of this dish, enrobed in a creamy delicious wine sauce with rosemary.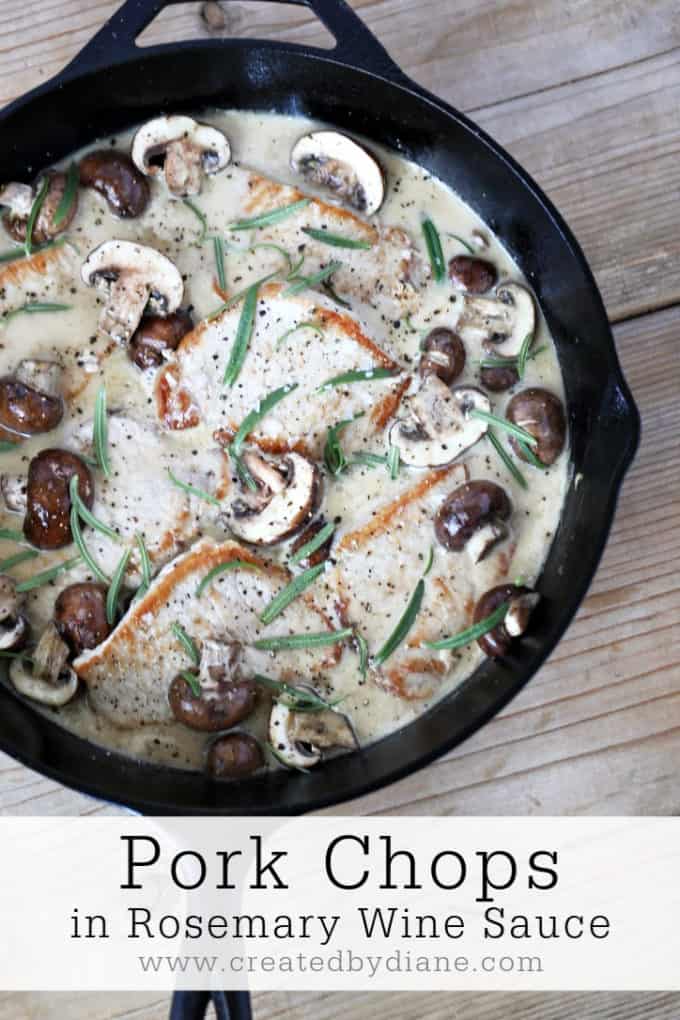 No matter how you like your pork chops this dish will work for you.
I flip flop back and forth between in loving thin pork chops and thick pork chops… today we're talking thin (but if you like them thick, you can still use this recipe for them too) 
On weeknights, I'm all about super-fast meals and since these pork chops are thin the meal is done in about 15 minutes, how's that for fast food!
These Pork Chops in Wine Sauce is flavored deliciously with rosemary, a little rosemary knowledge for you… did you know all rosemary is edible, I had no idea. I looked it up recently and was surprised to hear that.
I have a rosemary plant growing in my yard, but if it's not looking great, which typically happens in the 100°+ days in our summer weather, (it gets dry and spots if the water dries by the sun on it, I really need to put up some shade for it) I grab a small plant in the grocery store.
Rosemary is hardy and lasts longer than a lot of other herbs and stay tuned I have another rosemary recipes coming soon… maybe if you let me now you like rosemary I'll write it up this week. I love rosemary and even make Rosemary Candied Walnuts this time of year for Christmas gifts… so be sure to check that post out too, super fast to make and everyone raves over how delicious they are.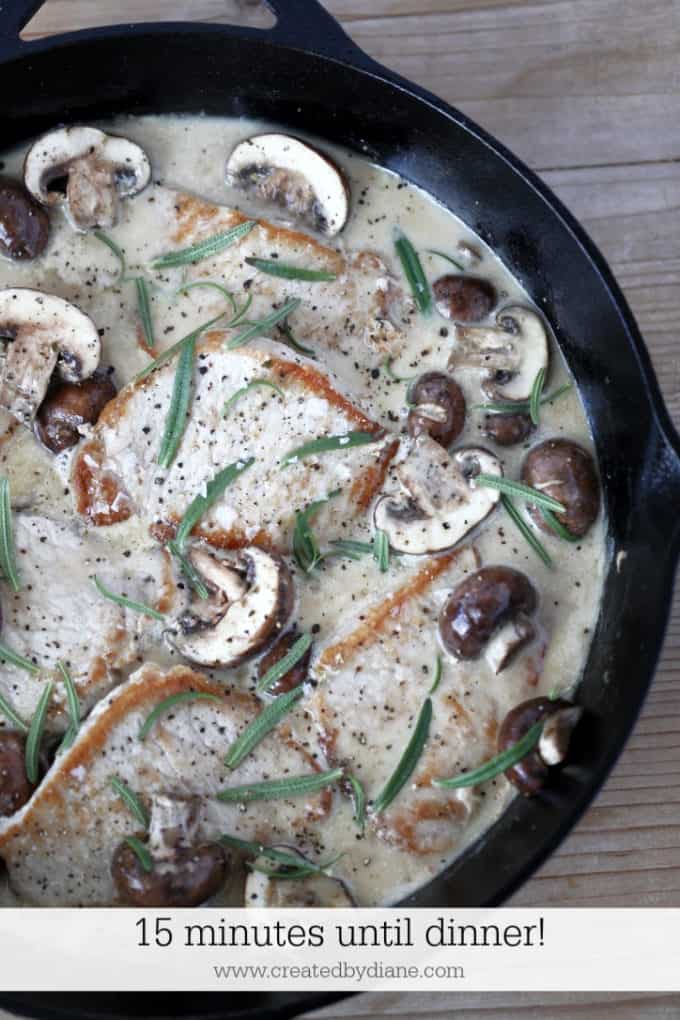 I really like thick pork chops grilled, but when whipping up a quick meal thin pork chops are the winner to me.
Be sure to use a thermometer to be sure you don't overcook the pork, or boil it too high for too long that will also make pork tough. 
Steps to cooking pork chops:
Using a cast-iron skillet to cook this recipe, this ensures the pork will brown nicely.
And since cast iron retains its heat this recipes will cook quickly.
Be sure to have the sauce ready before you put the pork chops in the pan because it cooks so quickly.
Also, remember to have the mushrooms sliced in half. 
If you'd like to add another vegetable, spinach or broccoli would be nice.
Pork Chops in Wine Sauce
a simple dish that tastes fancy, the perfect meal any time with rich delicious flavor you won't forget any time soon.
Ingredients
1 tablespoon oil (I use avocado oil)
1-1/4 lb thinly sliced pork chops (6 chops) or similar, adjust sauce and cooking time if you increase the amount.
1/3 cup white wine (I use Chardonnay)
1/3 cup chicken broth
1 teaspoon cornstarch
1/4 cup heavy cream
8 oz mushrooms, sliced in half (I use baby portabella)
1 sprig rosemary about 3-5" (fresh or dried) whole or chopped
Salt and Pepper to taste
Instructions
Get the sauce ready so when your skillet it hot it's ready to pour, in a 1 cup measuring cup add wine, chicken broth, and cornstarch and whisk until smooth.
Heat skillet, I use cast iron as I like how it sears the meat.
Then add in the oil and place the pork chops in skillet.
Allow the pork chops to brown on each side.
Add in sliced mushrooms.
Pour in the sauce, then turn the temperature to medium-low until the saue simmers, then add in the cream.
Cover with a lid, until the pork chops have an internal temperature of 145°.
Then add rosemary, salt, and pepper.
Notes
If you use thicker pork chops turn the burner to low and simmer until they reach an internal temperature of 145°
If you want your pork chops thinner, but have thick pork chops "filet" them thinner carefully.
*If you want this dairy-free, omit the heavy cream.