Cheesy Baked Potato Recipe
This is one of the easiest potato dishes to make, it gets DEVOURED every time I make it.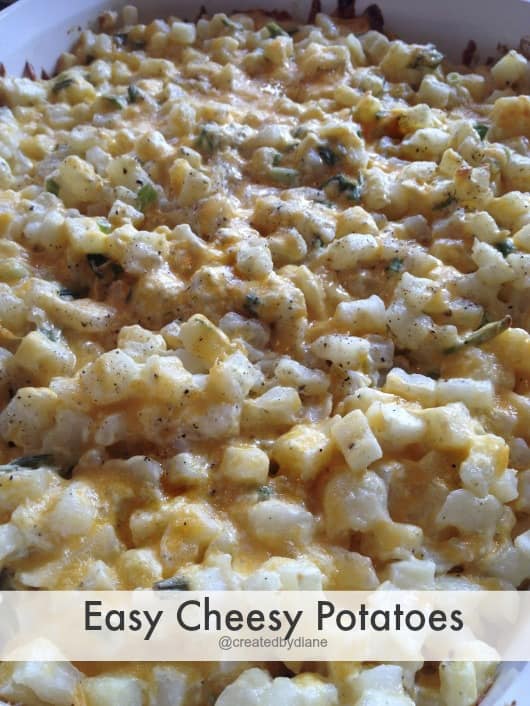 This is one dish that gets requested OFTEN! These are also known as funeral potatoes (of course I hope you never need to actually bring them to a funeral)
But this recipe makes a large casserole size, is super-delicious and creamy and cheesy…
and these Easy Cheesy Potatoes are hard to resist.
Easy and Cheesy and is great for Breakfast, Lunch, and Dinner.
Goes with EVERYTHING!
It's perfect for weeknight meals, HOLIDAY Meals, BBQ's and well you just about name it and it will go great.
It makes a great side dish for brunch and its perfect with a ham or turkey.
It all begins with frozen hash brown, the kind that are diced squares is what I use (you could dice potatoes if you prefer, or use any type of hash brown)
So no peeling and cutting,
YEP, I told you it was easy.
Now potatoes and cheese are such a favorite combo that once you put your fork into these and see the creamy cheesy goodness
you'll start making them more often.
I love diced green onions in this, so add them if you like.
I've made them and added bacon,
jalapeno makes for a nice spicy potato dish,
you can dice up a few slices of ham for an easy one dish meal.
the possibilities are endless.
I've made many many batches, and often double the recipe and sometimes have made it x's 4. Yes, I fill two 1/2 chafing dish tins with it and bake it and bring it to parties and get together.
 You can thaw the frozen potatoes first if you want to shorten the baking time.
You can bake it in a more shallow pan that is larger so it bakes faster, especially good for weeknight meals when you're in a hurry to get the food on the table fast.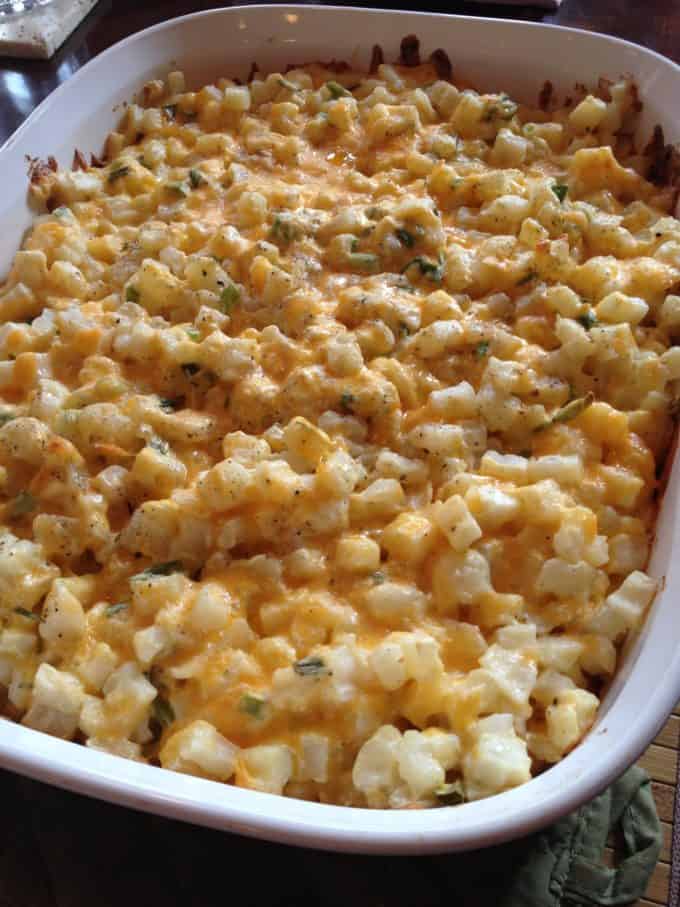 I've made these NUMEROUS times, some call them "funeral potatoes", potato casserole, party potatoes… no matter what you decide to call them… 
EVERYONE will call them Delicious!
Cheesy Baked Potatoes
Ingredients
1 large package frozen hash browns
8 oz sour cream
1 can cream of chicken soup
1½ cups shredded cheddar
garlic pepper
optional-chopped scallions
Instructions
In a large bowl, combine all ingredients together and mix well.
Layer it in a 13x9 dish (smaller if you want it thicker, but it will take longer to bake, or bigger or more shallow dish to be crispier and it will take a little less time to bake)
Bake at 375 for 45 minutes, until the cheese, is all melted and bubbly and the inside center of the dish is thoroughly hot.