Happy Christmas in JULY!
These rosemary chocolate chip cookies are full of delicious flavor! 
It's Christmas in July… I'm not crazy but wanted to share these fun cookies with you and today seemed like the best day to do it.
They are filled with chocolate, all different types, and are full of fresh rosemary aroma and flavor. I topped them with sea salt flakes which brings the flavors together nicely.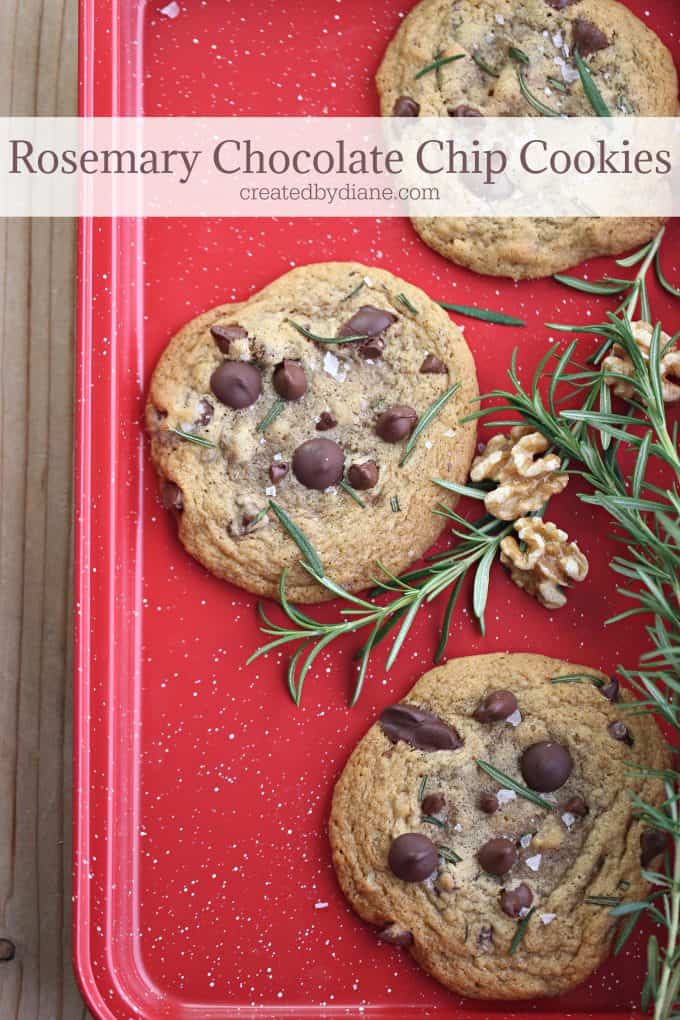 I don't just wait until December rolls around to make these.
These cookies have a nice crispy edge, chewy center, and the variety of chocolate which puts them in the over the top delicious category!
Really soft, warm, or melted butter will result in flatter, greasier cookies.
If you don't mix the butter and sugars together well until creamy the result will be greasier cookies.
These cookies are full of all the warm fuzzy feelings you'll want all winter long and in the summer, they are a reminder that great flavors should be enjoyed all year long!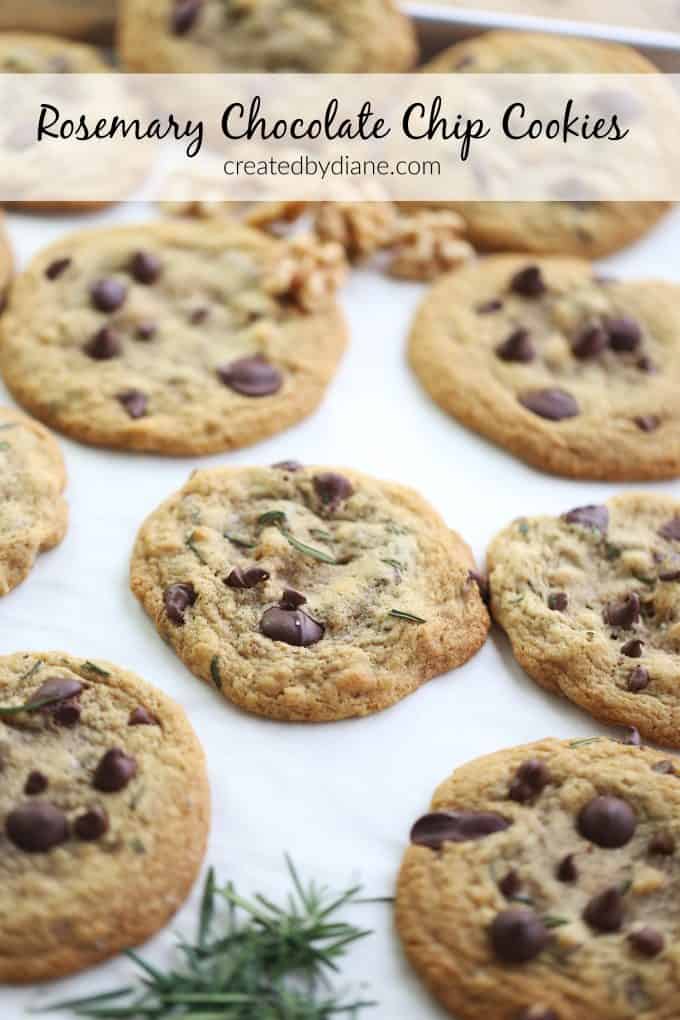 These cookies are just one more reason to have a rosemary plant. Did you know all rosemary plants are edible, they grow well where I live in pots or I'm the ground They get tiny purple flowers in the spring, and you can cut and use the rosemary all year long, depending on how cold the winters get. Luckily they sell small rosemary plants you can keep in the kitchen that last a while if you have a green thumb.
I have a couple of rosemary plants and I just love using it in recipes…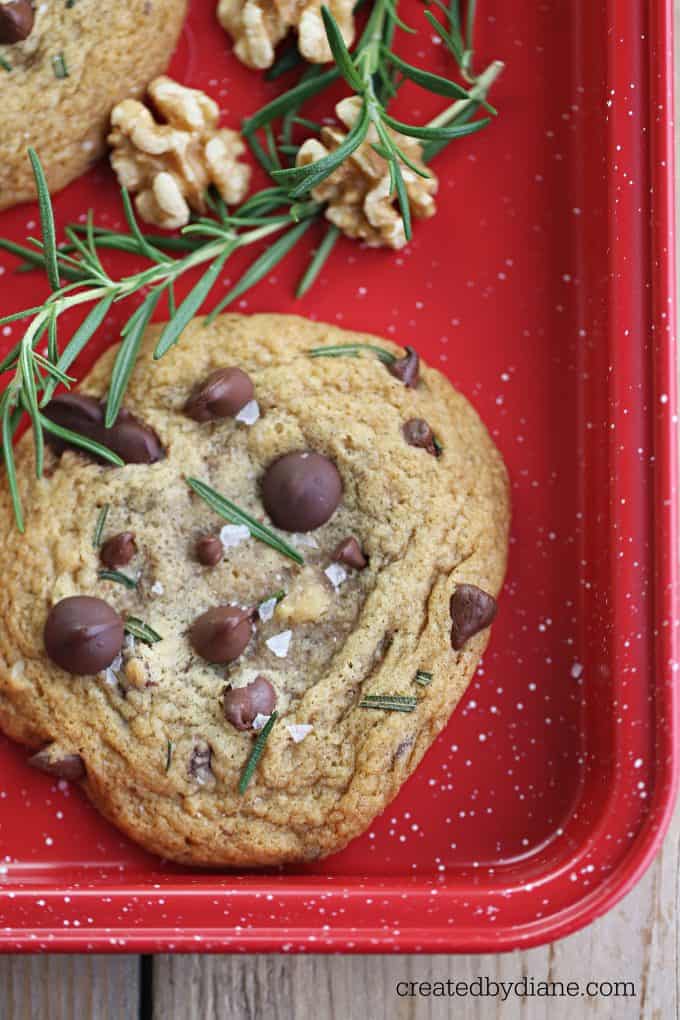 Give some of these Cookies try:
Rosemary Chocolate Chip Cookies
chocolate chip cookie with a variety of chocolate, and fresh rosemary, and topped with flakes of sea salt for a delicious flavor combination.
Author:
Diane Schmidt, Created by Diane
Recipe type:
Dessert, cookies,
Ingredients
2 1/2 cups all-purpose flour
1 teaspoon baking soda
1/2 teaspoon salt
1 cup salted butter, softened (2 sticks)
3/4 cup granulated sugar
3/4 cup packed brown sugar
2 teaspoons vanilla extract
2 large eggs
1/2 cup mini chocolate chips
1/2 cup 60% Ghirardelli chocolate chips
1/2 cup Hershey's special dark chocolate chips
1 cup finely diced walnuts
2 tablespoons fresh chopped rosemary
1 tablespoon sea salt flakes (I use molden sea salt for the tops of cookies)
Instructions
Preheat the oven to 375° F.
IN the bowl of a mixer beat butter, granulated sugar, brown sugar, and vanilla extract until light and creamy.
Add in eggs and mix well.
Add in flour, baking soda, and salt, and mix to combine.
Stir in most of the chocolate chips (reserving some if you want to see chocolate on the tops of the cookies.
Add in the nuts and most of the rosemary, and reserve a teaspoon for tops.
Use a 2 tablespoon scoop and place the dough onto parchment-lined baking sheets, place some chips, and rosemary on top of each cookie.
Bake for 9 to 10 minutes or until the edges are golden brown.
Add the sea salt flakes now, when the cookies just come out of the oven.
Allow the cookies to cool and set up before serving, warm cookies are good to serve.