I'm a HUGE snacker since the possibilities are endless when it comes to snacking I often look for healthier alternatives. These chickpeas fit right into a healthier… and good thing, they are irresistible.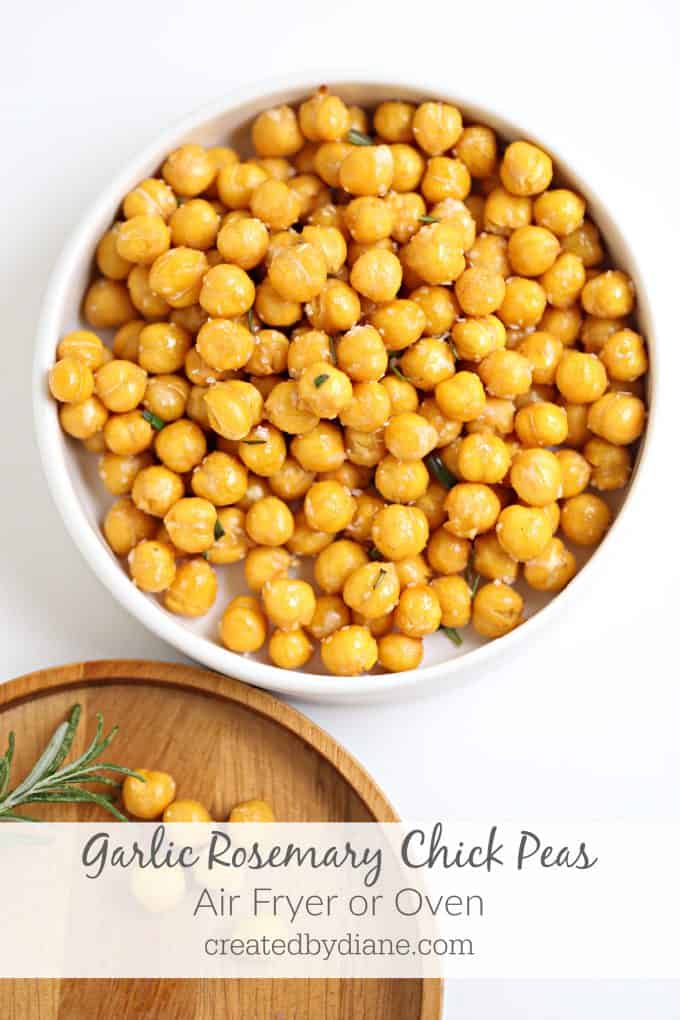 These garlic rosemary chickpeas can be made in minutes and then they are ready for snacking. It's just a few ingredients with 1 can of garbanzo beans for crispy roasted chickpeas.
Simply grab a can of chickpeas, aka garbanzo beans, and in minutes you'll be enjoying these garlic rosemary chicken peas. The flavor options are endless, and they are so easy to make, I'll give you other flavor options below.
I'm sure you've seen the headlines about the Mediterranean diet being #1 diet we've heard it for years. The chickpea is a versatile staple on the eating plan. It's a type of legume that's high in fiber and protein and is packed full of vitamins and nutrients good for your overall health.
Mediterranean cuisine uses chickpeas in soups, salads, stews, and they can even be ground into flour. The most popular way to use them in the United States is to make hummus.
If you haven't seen it already, here's my hummus recipe. I eat it with pita chips or as a dip for vegetables.
Apparently, chickpeas provide me with a lot of snack foods!
Now, there is an unlimited list of roasted chickpea flavors, but these garlic rosemary chickpeas are my favorite. All salty and crunchy and completely filling, you don't feel like you're still hungry after eating them. I love rosemary and have a big fragrant bush of it growing in my backyard to support this. Pairing it with something that will stand up to its strong aromatic flavor, like garlic, makes for a bold and flavorful combination that I can't resist.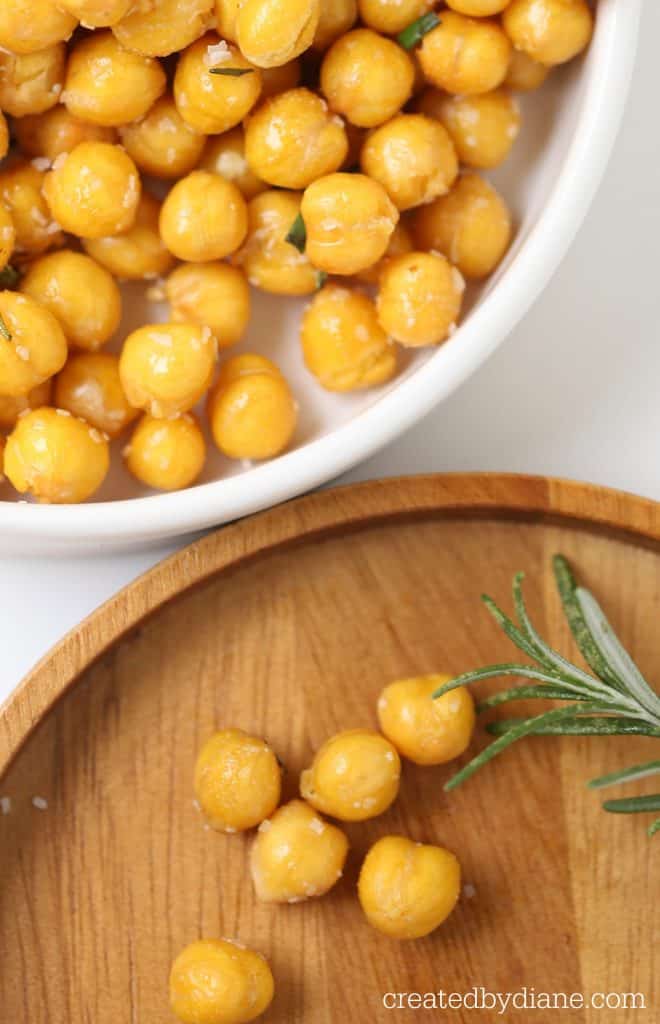 What are some other flavors of roasted chickpeas?
If you can think of it, you can make it happen. Chickpeas have a mild, nutty flavor and make a great base for any flavor combination. Here are some popular flavors:
BBQ, lightly coat chicken peas with a couple of tablespoons of bbq sauce or use a dry rub seasoning

Ranch, hidden valley ranch seasoning, or the type in the popcorn aisle

Italian, Italian dry salad seasoning

Nacho, try some popcorn seasoning, it's dry and available in the popcorn aisle

Garlic parmesan, use garlic powder and the shaker type of parmesan cheese

Dill Pickle (Dry Seasoning)
Sour Cream and Onion (dry seasoning)

Cinnamon Sugar, use cinnamon mixed with sugar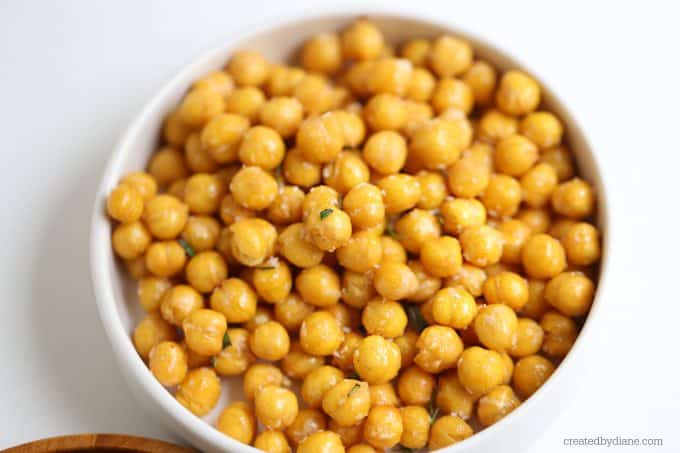 How do you get them crispy?
Drain, rinse and dry really well.

Be sure your oven is HOT

Be sure they are on a single layer on a baking sheet
You can use an air fryer to make these, 400° for 12-15 minutes
Garlic Rosemary Chick Peas
Ingredients
1-15 oz can chickpeas (garbanzo beans)
1 teaspoon oil (avocado oil, olive oil, or vegetable oil)
1 teaspoon garlic paste (or 1/2 teaspoon garlic powder)
1 tablespoon fresh chopped rosemary
1/4 teaspoon coarse salt.
Instructions
Rinse chickpeas, toss chickpeas with oil and garlic.
Place chickpeas on a baking sheet or in the basket of an air fryer.
Bake in the oven at 425° for 25-30 minutes
or cook in the air fryer at 400° for 12-15 minutes or until they are crunchy.
Halfway through cooking time toss the chickpeas so they roast evenly and add rosemary and salt at this time.
Finish cooking and serve warm or cooled.