There is one thing I know for sure, it's hard to make a batch of cookie dough without tasting it, this recipe is for edible cookie dough, no eggs, no raw flour. Takes minutes to make and is irresistible!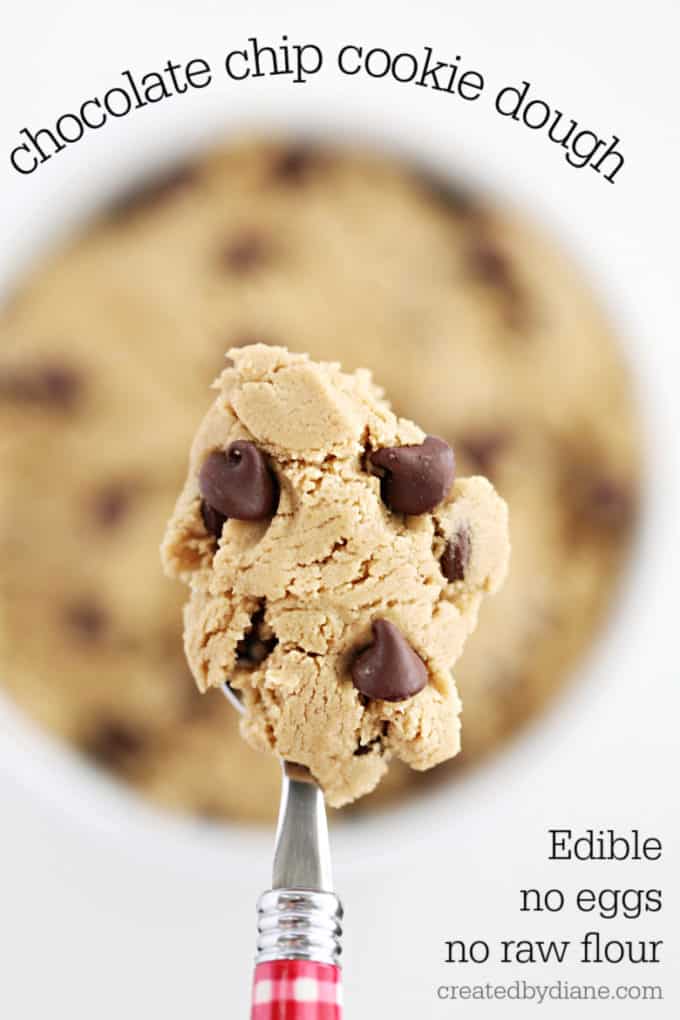 Yea…
I'm the one with the spoon in the bowl,
no matter if it's cookie dough or cake batter, I want a taste!
This cookie dough is just that, the same great taste of chocolate chip cookie dough,
but no worries if you'll get ta tummy ache. We've all heard we shouldn't eat raw eggs, or raw flour, and will put all your worries aside.
You can enjoy it off a spoon or like me, portion it out to enjoy again and again.
Put some in the freezer, keep some in the fridge, put some in jars, and share it with a friend.
This delicious no-bake chocolate chip cookie dough is a sweet tooth's lifesaver when you don't want to turn the oven on, are tired, want a sweet snack, or have a cookie craving that needs satisfying!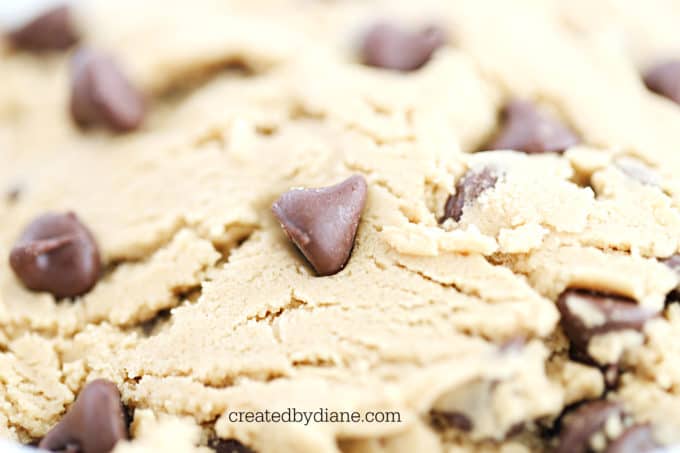 I've made edible cookie dough before, but sometimes it tasted a little grainy. I was looking to make it a bit smoother, and WHAMO… I got it. 
This is creamy and smooth and it's HARD to resist!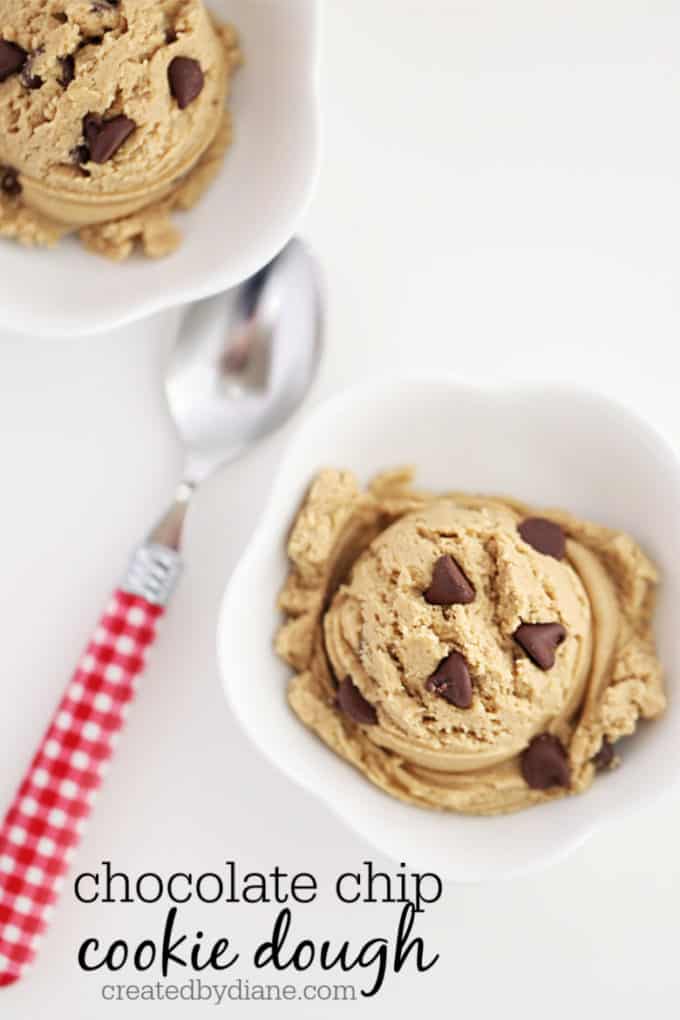 It can be portioned out to eat in a dish, 
you can put some on top of your ice cream,
pile it high on a brownie (OMG over the top delicious!)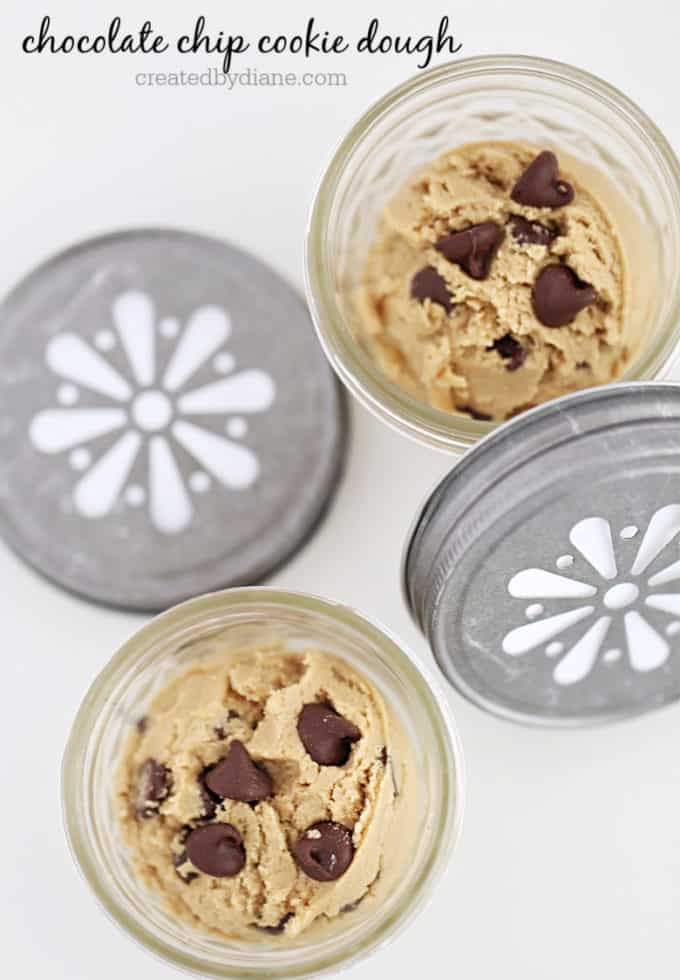 This cookie dough is safe to eat, it contains no eggs and no raw flour. 
Mix the butter and sugars together really well, this will ensure it's not gritty. Doing this with an electric mixer is easiest, a really creamy texture is what you want.
Use the speed of the mixer to whip the ingredients together so it's fluffy after the flour is mixed in. 
Then stir in the chips by hand so they don't melt into the dough.
When I'm sharing this, or storing it in the fridge, I like to position it out into small 4oz canning jars, they look great and give me portion control help 🙂 Easiest enough to take on the go, put into a lunchbox, share with a friend, believe me, hand someone this and no matter what the matter is, it'll cheer them up!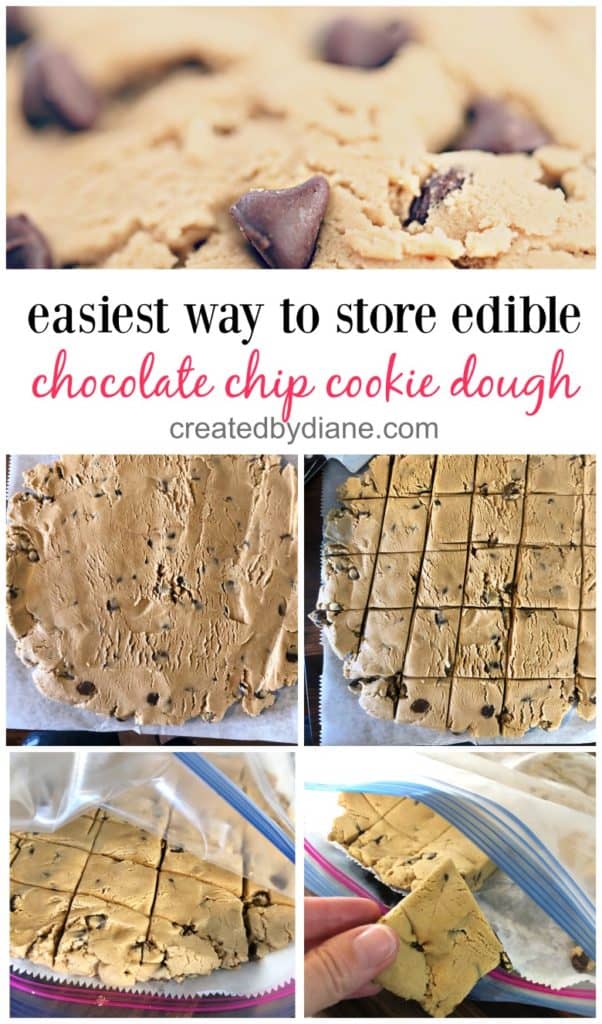 Now, I always love having a batch in the freezer too, so I flatten the dough and score it with a knife on a piece of wax paper. Then I slide the dough on the wax paper into a freezer zipper bag and seal it up, when I take it out of the freezer it's easy to "snap" a piece off and enjoy, no thawing required! it's thin and melts in your mouth. 
I would not put it in the fridge or freezer in a large portion, it's hard to scoop it out, and just takes time and when you want cookie dough… YOU WANT IT NOW! No time to be fiddling around 🙂 
So portioning it out is the best way to go!
Can this be made without brown sugar?
Yes, you can use granulated sugar in its place, along with the amount already called for in the recipe, and add a teaspoon of molasses if you don't have molasses, try some maple syrup. It'll give it a similar flavor.
Can nuts be added to this?
Yes, you can add 3/4 cup chopped walnuts, peanuts, almonds, or pecans to this recipe.
Is it necessary to cook the flour before making this?
Yes, to ensure there is no bacteria in the flour, heat the flour to 165°. This takes about a minute in the microwave. 
Can I heat the flour on the stove instead?
Yes, place the flour in a frying pan and heat it on medium-low temperature, until it reaches 165°. Alternatively, you can put the flour on a baking sheet and heat it in a 350° oven for 8-10 minutes or until it reaches 165°. THIS is the thermometer I use, it's really fast and one of the best kitchen items I use every day.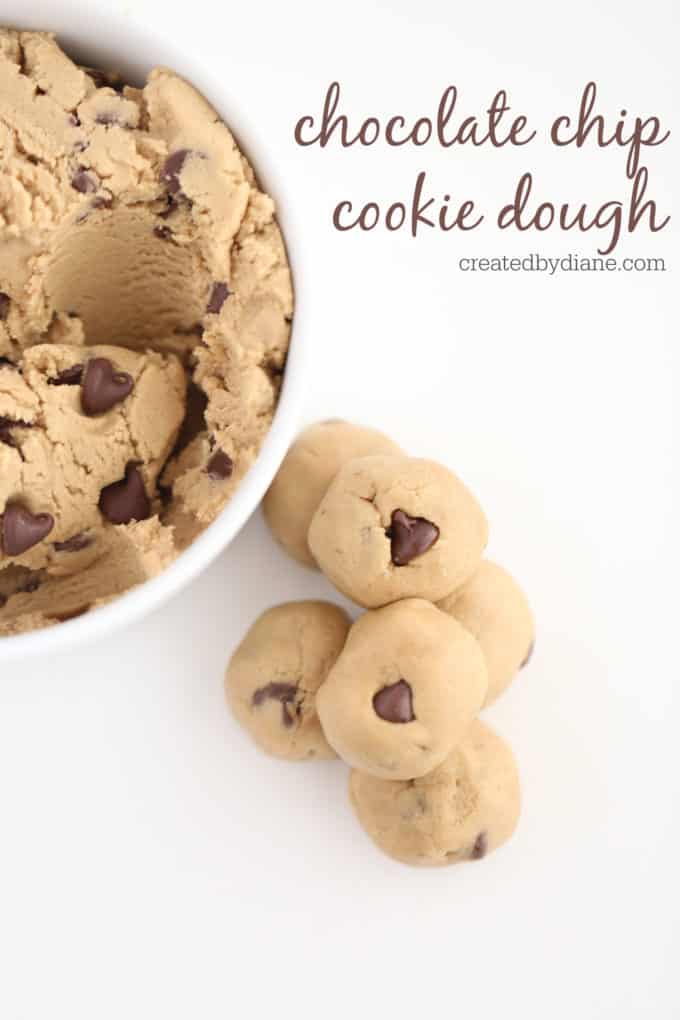 The cookie dough can also be scooped with a 2 tablespoon scoop, rolled into balls, placed onto a baking sheet, and freeze them until firm enough to put them into a zipper bag or container to store in the freezer.
How can I change the flavor of this dough?
 Add 1/2 teaspoon maple extract for a great warm flavor.
Add a pinch of cinnamon for a nice change of pace.
Add a tablespoon or two of peanut butter to this to make it a peanut butter chocolate chip cookie dough.
Change up the chocolate chips and use peanut butter chips, swap out the chocolate for butterscotch chips, or mint chips for a fun flavor option.
Add in two tablespoons of sprinkles to make it look colorful.
Add in 1/2 cup mini m&m pieces for a great candy taste.
Add in 1/2 cup chopped pretzels for a salty-sweet flavor combination.
chocolate chip cookie dough
Edible chocolate chip cookie dough without eggs, no raw flour, safe to eat. Enjoy anytime, takes minutes to make, the best no-bake dessert in minutes.
Author:
Diane Schmidt Created by Diane
Ingredients
2 cups all-purpose flour
1 cup butter, room temperature
3/4 cup brown sugar
1/4 cup granulated sugar
1 teaspoon salt
2 teaspoons vanilla extract
3/4 cup chocolate chips
Instructions
In a microwave-safe bowl, heat flour for 30-second intervals (twice) stir at 30 seconds. This will ensure the flour is safe to eat.
Allow the flour to cool, stir it to soften it if it gets firm. You can sift the flour, this will make it "lighter" in texture, which I tend to like. Not necessary as I made it both ways.
In the bowl of a mixer beat butter until smooth and whipped, add in both sugars and mix on medium-high until combined fully, scrape down sides and mix again.
Add salt and vanilla, mix to incorporate.
Add in flour slowly on a low speed to combine, then mix on medium speed to medium-high speed and mix well, the dough should pull away from the sides of the bowl.
Stir in the chocolate chips by hand.
The cookie dough is ready to eat, it will be nice and soft to scoop into ball shapes, you can line up scoops on a baking sheet and freeze them, you can roll them into balls to freeze, you can coat them in chocolate for truffles, or scoop it into serving dishes or jars to eat immediately or refrigerate or freeze for serving later. After you freeze the cookie dough on a baking sheet for an hour, place them in an airtight bag or container.
It's best to portion out the dough individually before refrigerating it, or it will become solid and hard to portion out after it's cold. Alternatively, you can press it flat on a piece of wax paper and cut it gently with a knife to score it, then place the wax paper covered cookie dough in a freezer bag, then when it's frozen the scored pieces will easily break apart to eat frozen, or you can remove them from the freezer to thaw for 20 minutes to enjoy.