This is one slow cooked meal that will be REQUESTED again and again.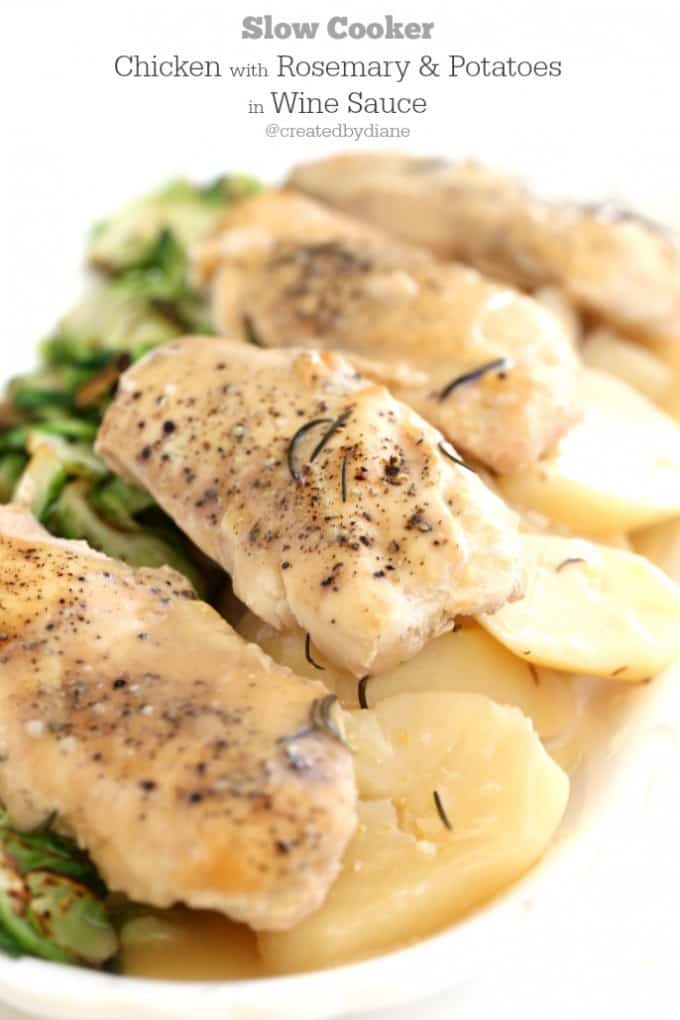 Slow Cooker
Chicken with Rosemary and Potatoes in Wine Sauce
Pin this on Pinterest to save it for later!
Don't miss one delicious recipe and get my FREE e-cookbook click here!
You could be the biggest fan of slow cooking or simply use one to keep food warm at parties…
I get asked all the time for crock pot recipes, so here it is…
This is a great recipe to give a kick to your dinner routine.
It only takes minutes to prep and finish off and the sauce is just SUPER-DELICIOUS!
It was loved by all, even slow cooker cynics.
The flavor was not bland or muddled and since there was the addition of wine,
well… need I say more.
It was wonderful!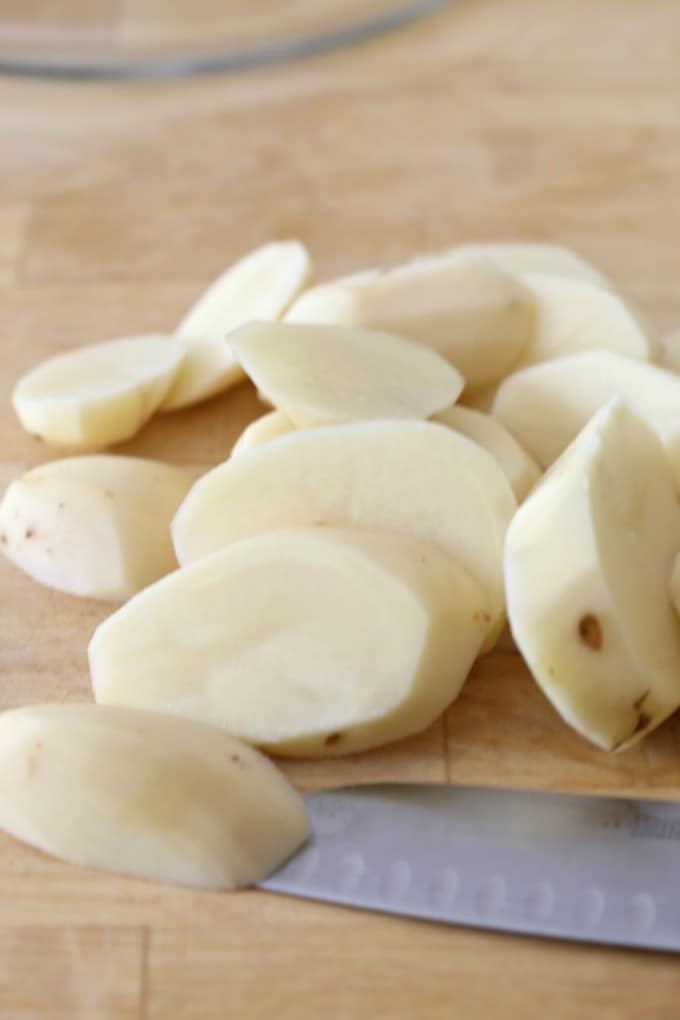 Peeling and slicing the potatoes was pretty much the prep for this dish
ok, there is a few items to pour in to make the sauce, but it's really quick.
The weather is cooling off and it's time to bring out the COMFORT food,
this will be a nice change from Chili or Stew if that is all your crock pot normally sees!
Perfect for a day of pumpkin picking, hayrides, and pumpkin carving. You can spend all your time enjoying the day and none of it worrying what will be for dinner!
And don't forget to hunt out to find a corn maze, those are my favorites!
This year I'm on the hunt for a blue pumpkin, I already have a white one and a rustic dark rust colored pumpkin. Maybe I'll get lucky and find one!
Slow Cooker Chicken with Rosemary and Potatoes in Wine Sauce
Ingredients
4 boneless skinless chicken breasts (about 2 lbs)
4 medium russet potatoes (peeled and sliced lengthwise)
2 sprigs fresh rosemary (or 1-2 teaspoons dry rosemary)
16 oz chicken broth
1/2 cup white wine
1/4 teaspoon coarse salt
1/8 teaspoon cracked black pepper
1 tablespoon butter
1 tablespoon flour
1 pound Brussels Sprouts
Instructions
Place potato slices in bottom of crock pot.
Lay chicken on top of potatoes
Add rosemary salt and pepper
Pour chicken broth and wine over top and push the chicken down into the liquid. (you don't want it to dry out)
Add a 1/2-1 cup water if needed.
Place in slow cooker on low for 6 hours
Remove chicken and potatoes.
In a saucepan, heat 1 tablespoon butter with 1 tablespoon flour add in hot broth slowly while whisking to thicken the sauce.
Stir fry 1 brussels sprouts in a separate pan on high for 4-5 minutes.
Plate the food on a platter and drizzle the sauce over the dish.