I just love a side dish that comes together quickly and tastes so AMAZING, these Rosemary Garlic Skillet Potatoes will rock your world!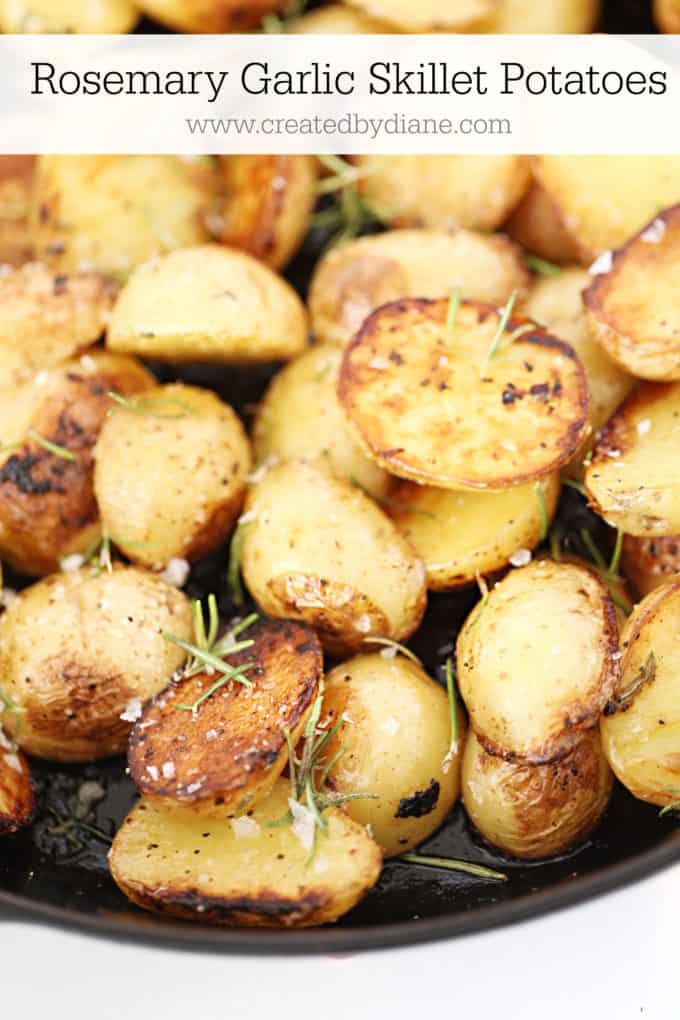 Have you ever eaten some delicious potatoes at a restaurant that are crispy on the outside but oh so tender on the inside and they have a delicious buttery flavor along with garlic and… the great flavor of rosemary.
You'd often picture having these potatoes with a nice steak, pork chop or chicken… oh, truth be told, just make a whole skillet of these bad boys and grab a FORK! 
They really are that amazing!
As you may already know I'm cast-iron skillet crazy… I have lots of recipes made in it so be sure to peek at my other Cast Iron Skillet Recipes
I have mentioned before how much I love Yukon gold potatoes, and this is just one more reason to love them.
They have a great creamy texture and I love that they sell "baby" sized potatoes, they cook nice and quick.
Now add in the great flavors of garlic and rosemary and this dish is a true WINNER!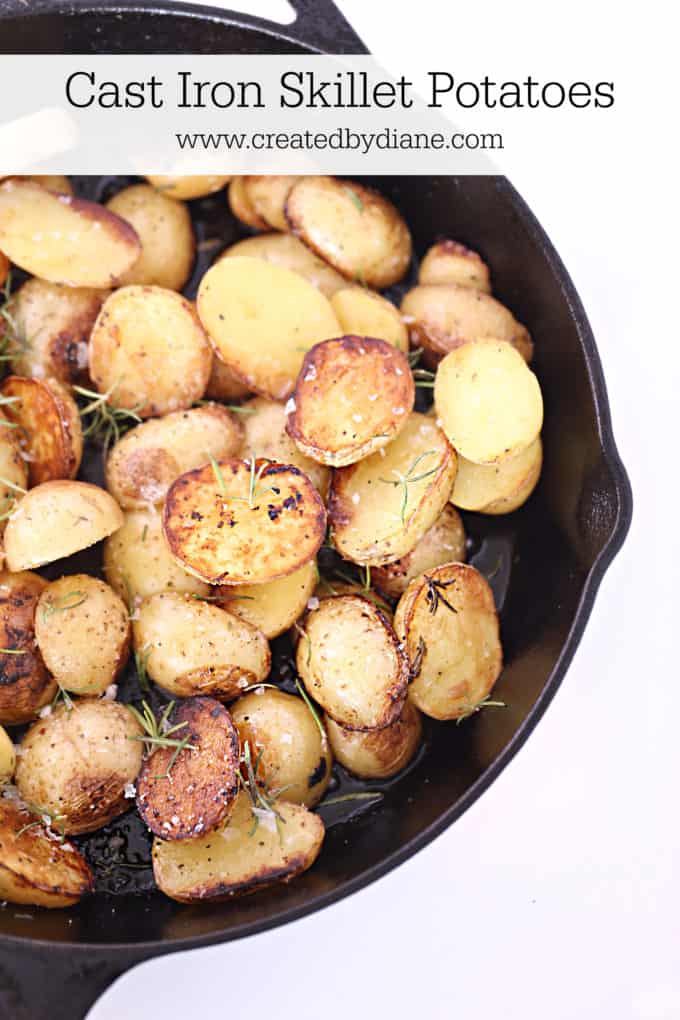 I just love how fresh herbs really elevate a dish
that is one reason I tend to some finicky herbs for months in my garden. Sometimes I think it's totally a waste, but it's totally worth it…
when you can just grab some fresh herbs and elevate your food!
But don't worry, if you only have dried rosemary it'll work too.
My motto is don't stress, its' only potatoes and potatoes no matter how you serve them are delicious!
But if this year you see one of those rosemary plants in the shape of a Christmas tree… get one, and you too can have rosemary whenever you want, rosemary is a hearty plant and even I manage to keep it alive.
The key to having the potatoes crispy and browned is getting the pan HOT!
for me… that means using my cast iron skillet…
THIS is the one I use most often, HERE it is with the lid, I have three of them, and other sizes as well, they are just invaluable, I have mentioned using cast iron many times.
I love how they crisp food, heat evenly, hold their heat, and don't have some odd item flaking off into my food that shouldn't be!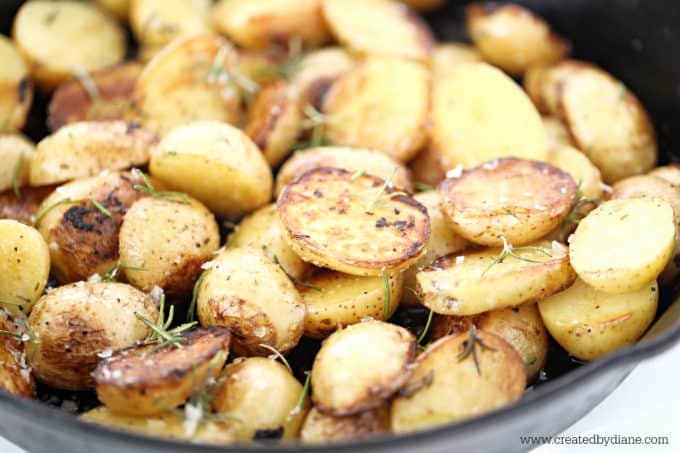 This is one of those "minimal" recipes: so if you're a minimalist and have all your cabinets have lots of space in them,
everything is just so and neatened up really nice with no excess "stuff" around… this is going to be right up your alley.
But there is no need to do all that just to make these potatoes… but sure would be nice to wake up and have all the clutter magically gone, am I right?!?
 These Garlic Rosemary Skillet Potatoes are crispy and tender and so flavorful they'll become your new favorite!
Garlic Rosemary Skillet Potatoes
Ingredients
2 tablespoons oil
2 lbs baby gold potatoes, sliced in half
2 tablespoons garlic paste or minced garlic
2 tablespoons fresh rosemary, chopped
salt and pepper
Instructions
In a skillet (I use cast iron to ensure the potatoes will be crisp.
Heat skillet until it's hot.
Add in oil and potatoes and stir to coat potatoes.
Cook over high heat for 3 minutes, then turn potatoes, add garlic to the top of the potatoes and stir, then add a tablespoon or two of water to the pan and place lid on top.
Cook until the potatoes are tender when pierced with a knife.
Add in rosemary, salt, and pepper and serve. If you want to add more garlic add it at the end, then stir so the garlic gets hot from the pan and it's not raw.