In minutes you could be enjoying hibiscus syrup, the weather is warming up and there is no better time to make this hibiscus simple syrup, pour it over ice and make some delicious drinks, you can easily make a spritzer or add in some booze for a fun cocktail or enjoy it with some champagne.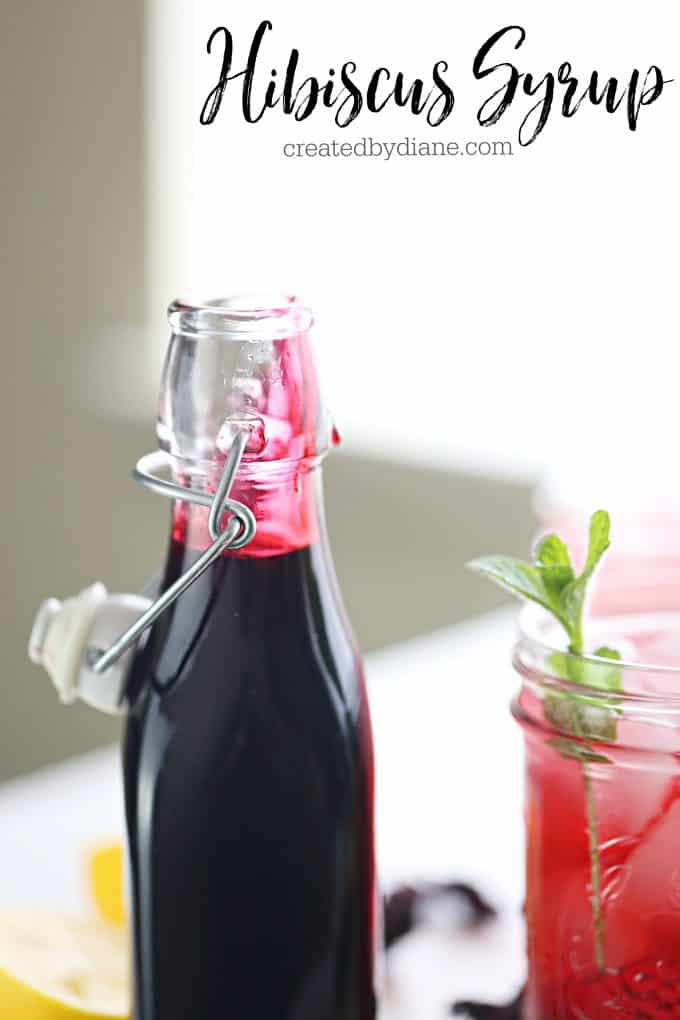 If there is one thing for sure, I love new recipes and if they are as pretty as this hibiscus syrup you'll want to make it too. It's a hibiscus simple syrup recipe that uses dried hibiscus flowers and they are quickly cooked in syrup for a delicious syrup to use in drinks.
I was shopping the other day and I saw this bag of dried hibiscus flowers and knew immediately I was going to make a syrup with them, and I'm glad I did. It's delicious. The aroma of the dried hibiscus flowers reminds me of a rich earthiness the flowers have a flavor that is similar to cranberries or pomegranate. This produces a sweet and slightly tart syrup. And just like cranberries, it is loaded with antioxidants and I was so excited to see the gorgeous color of the syrup…
It's a deep hot pink color and it turns drinks a gorgeous color.
I use this hibiscus syrup for lots of things but some of my favorite ways to use it are in cocktails and drinks! And nothing says summer like lemonade.
My Blueberry Basil Lemonade could easily be adjusted to accommodate the hibiscus, just replace the blueberry for this hibiscus syrup and you have a very refreshing treat. Or simply add seltzer to a glass with a bit of this syrup for a fizzy refreshment! And if you're celebrating something, a little bit added to a glass of champagne is a great way to toast any event.
But it's not just for drinks, you can use this in food as well! I LOVE this syrup drizzled over pancakes, and not just any pancake but my Yummiest Pancake Recipe, or even on Cornbread Pancakes. It adds such a nice flavor with a touch of sweetness, and it looks pretty too!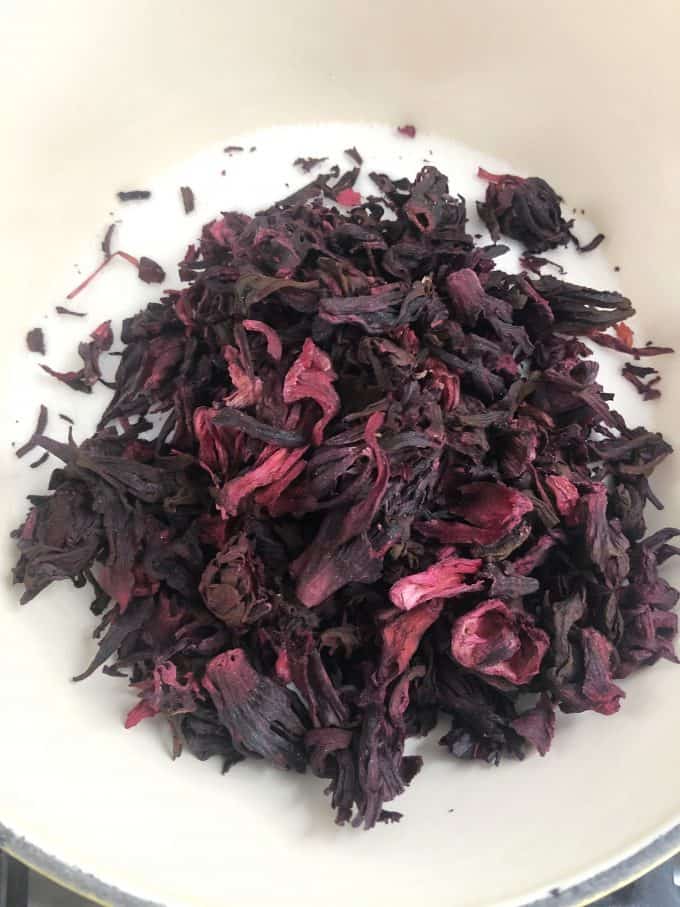 You'll only need 3 ingredients to make this
Dry Hibiscus Flowers (hibiscus online) I've found them in many stores near me, for quite a bit less money. But listed them for you for reference if you're unable to find them locally. 
Sugar (or sugar substitute, adjust according to taste)
Water (use filtered water for best results)
I love this syrup with some lemon juice and seltzer, it's cool and refreshing, and if you want a cocktail… add in some vodka or champagne. If you make hibiscus tea it is great iced with a shot of bourbon. So there are many options here, add some hibiscus syrup into your favorite drinks and give it a try.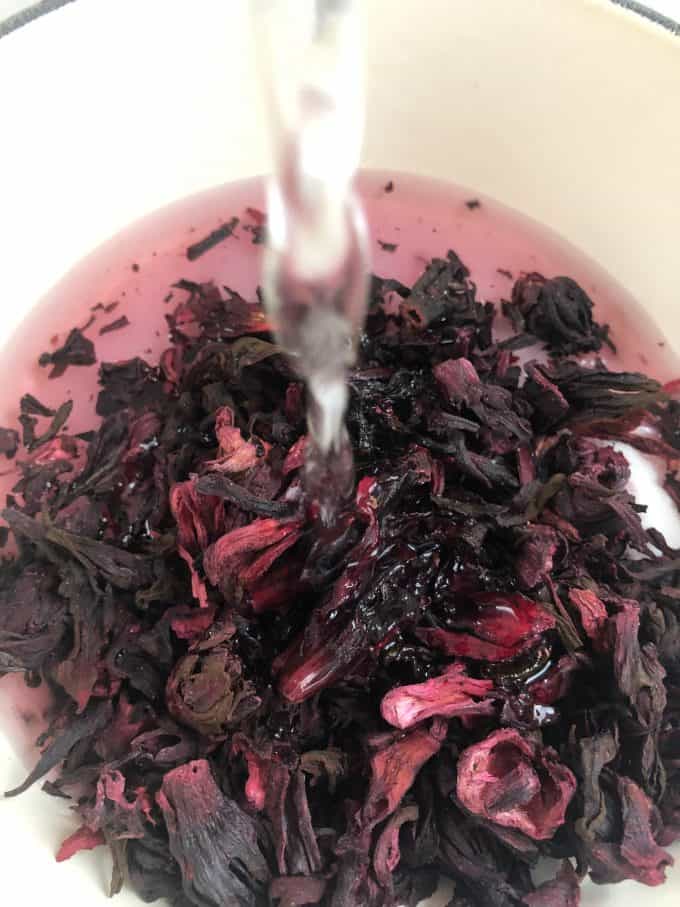 What other flavors can be added to this syrup
Fresh mint  or basil leaves
Lemon juice (fresh is best here)
Add your favorite berries 1/2 cup, blueberries, raspberries, strawberries are all great options
If you're looking for a  sugar substitute 1/2 cup erythritol or 1/2 cup monk fruit are great options.
Now, let's begin, this recipe is very quick and can be made in a jiffy!
 In a saucepan bring the dried flowers, sugar, and water to a boil, simmer for 3 minutes.
Allow the syrup to cool for 10 minutes.
Once cool for handling, pour the syrup through a strainer.
Discard the flowers, and place the strained syrup in a glass jar for storing.
This syrup can be stored in the fridge for up to 3 weeks.
If Hibiscus isn't your flavor, don't worry I have that covered. Like I said, I try to keep a few varieties on hand. My Blueberry Syrup is perfect for lemonades, or in my Italian Cream Soda. It's delicious on ice cream too!
When Autumn approaches, I reach for my Pumpkin Spice Syrup, add to your espresso, and warm milk for a spiced latte when the weather turns chilly. I have so many to choose from, that to share it all here would take forever.
Enjoy all my syrup recipes here, you can look through your options and choose a few to keep on hand in your own kitchen!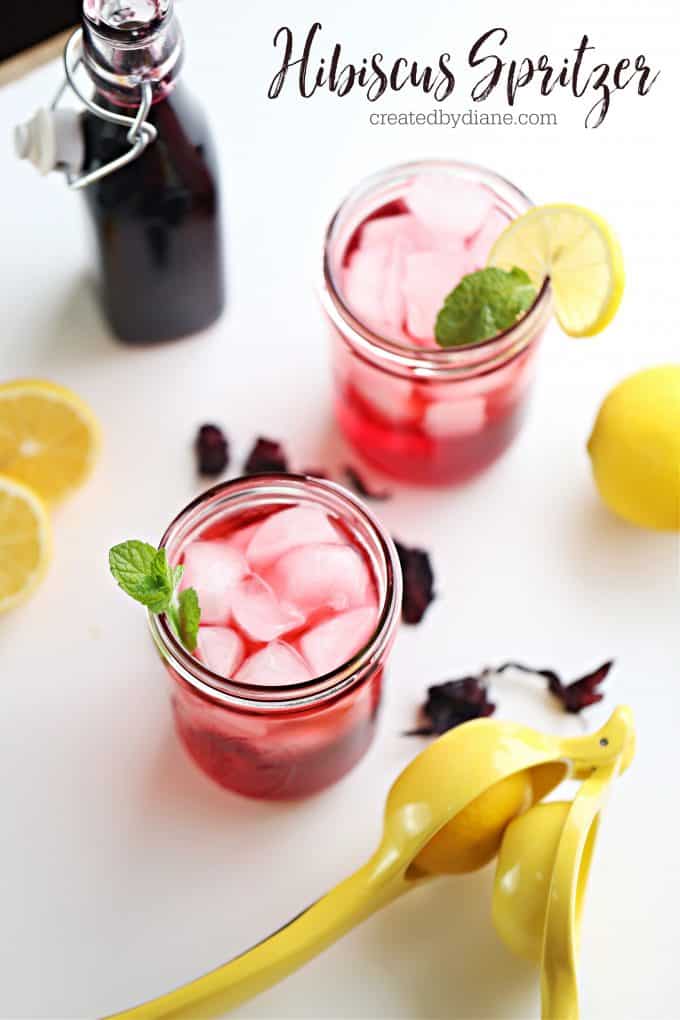 I added fresh lemon juice, it's so refreshing… and poured seltzer (sparkling water) over top. 
What can I use instead of lemon juice?
Lime juice is a good option.
I love the mint for a nice flavor addition, basil works well too. Add in some fresh leaves of mint or basil when you're finished boiling the syrup and as it cools the minty flavor will impart into the syrup.
Feel free to add some fruit, blueberries, raspberries, or cranberries are all great additions.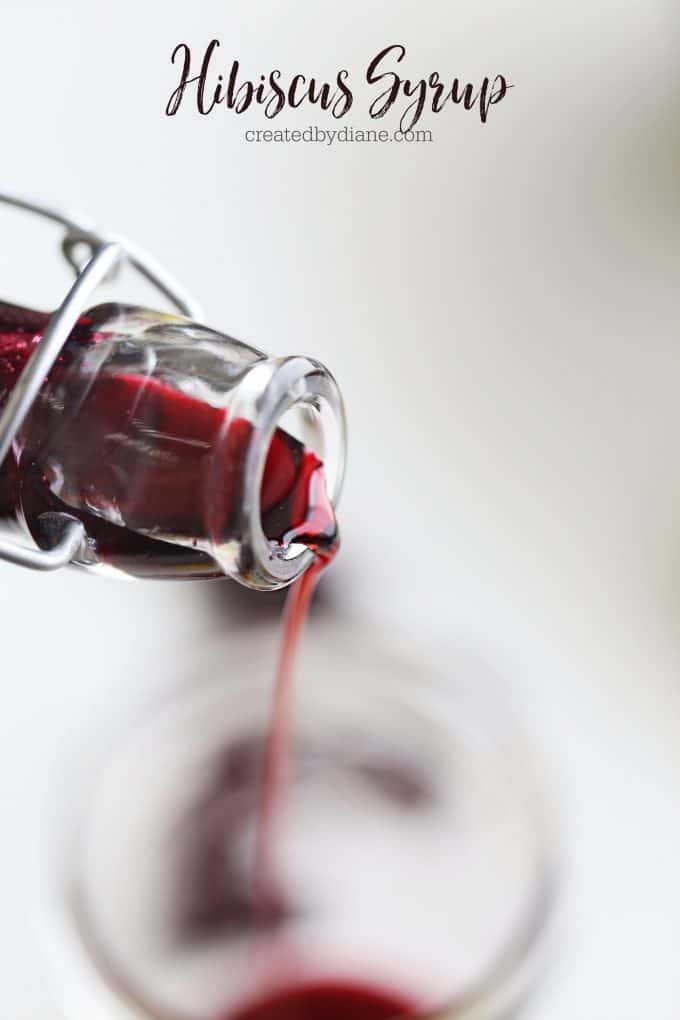 Can you make tea from this?
Yes! Hibiscus tea is super easy to make. And once it's brewed you can add your syrup and a little seltzer water for a delicious drink. To make the tea:
48oz water, 3 tablespoons hibiscus flowers, and a cinnamon stick or two (optional). Bring to a boil and let steep for 10 minutes. Once cool add your hibiscus syrup and enjoy! Store your tea in the fridge.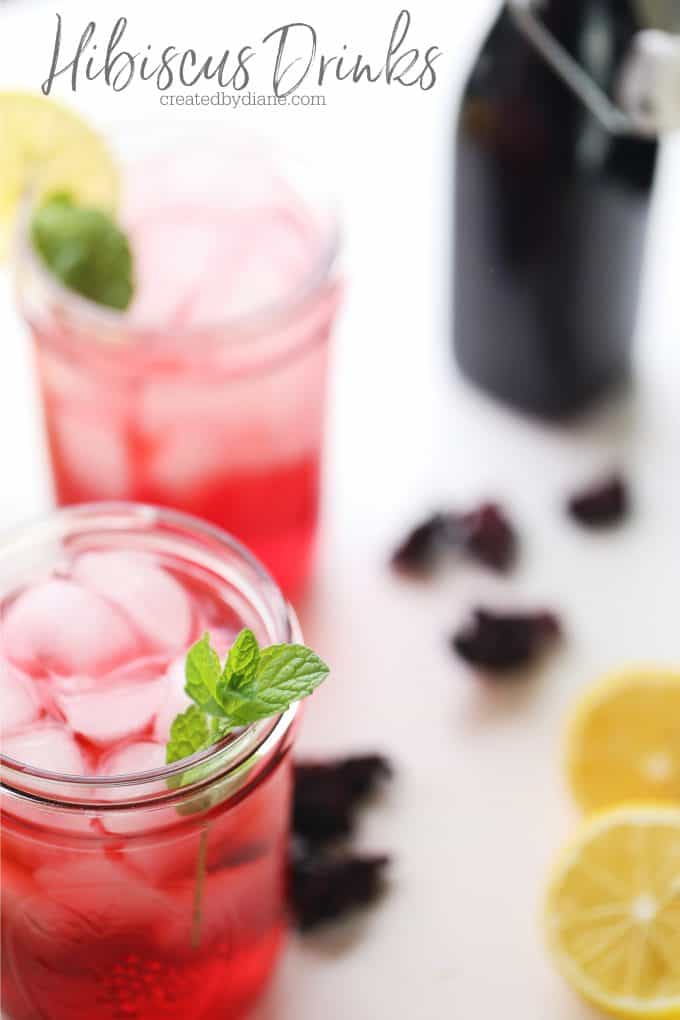 What other uses are there for hibiscus leaves?
There are a lot of uses for this flower, it's been used medicinally for years. As a food option, it's been used in sauces, as a marinade, in pavlovas, and of course a variety of punches and drinks.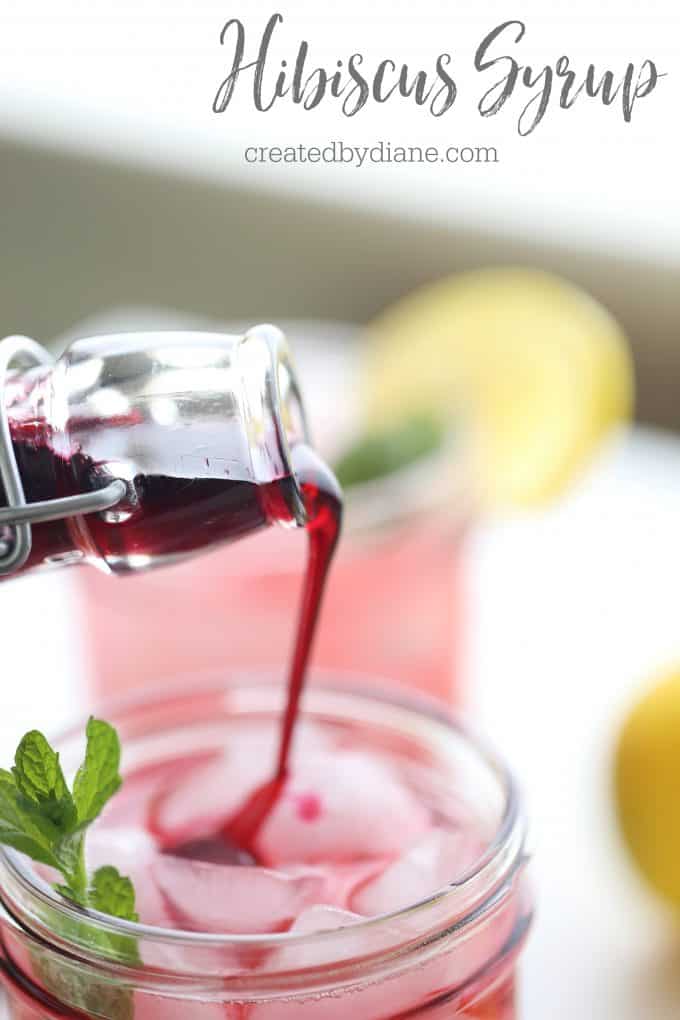 What are the best jars for storing?
I like Ball jars as they have a tight cap, this will prolong the life of your syrup.
How else to enjoy Hibiscus Syrup-
This syrup is great with champagne – I'm obsessed with the mini bottles of prosecco for a single serving it's so great.
Italian cream soda – add some milk or cream to a tablespoon of syrup, then add ice and pour seltzer on top, so yummy.
Lemonade for a fun summer drink and fizz it up with some seltzer too.
Hibiscus Syrup
A delicious syrup with a great flavor that is not too flowery, reminds me of the aroma of cranberries but isn't fruity. Great in drinks.
Author:
Diane Schmidt, Created by Diane
Ingredients
1 cup dried hibiscus flowers
1 cup granulated sugar
1 cup water, filtered
Instructions
In a saucepan bring the dried flowers, sugar, and water to a boil, simmer for 3 minutes.
Allow the syrup to cool for 10 minutes.
Pour the syrup through a strainer, the flowers will be in the strainer, those you can discard.
Place the strained syrup in a glass jar for storage.
Place syrup in the fridge for up to 3 weeks.
Use in drinks, over pancakes, add it to your favorite cocktail, or make an Italian cream soda with it.