Lemon Sour Cream Sheet Cake tastes like sunshine! With a bright yellow color and real lemon juice in the cake and the Lemon Buttercream Frosting, it's sure to have you looking forward to sunny days.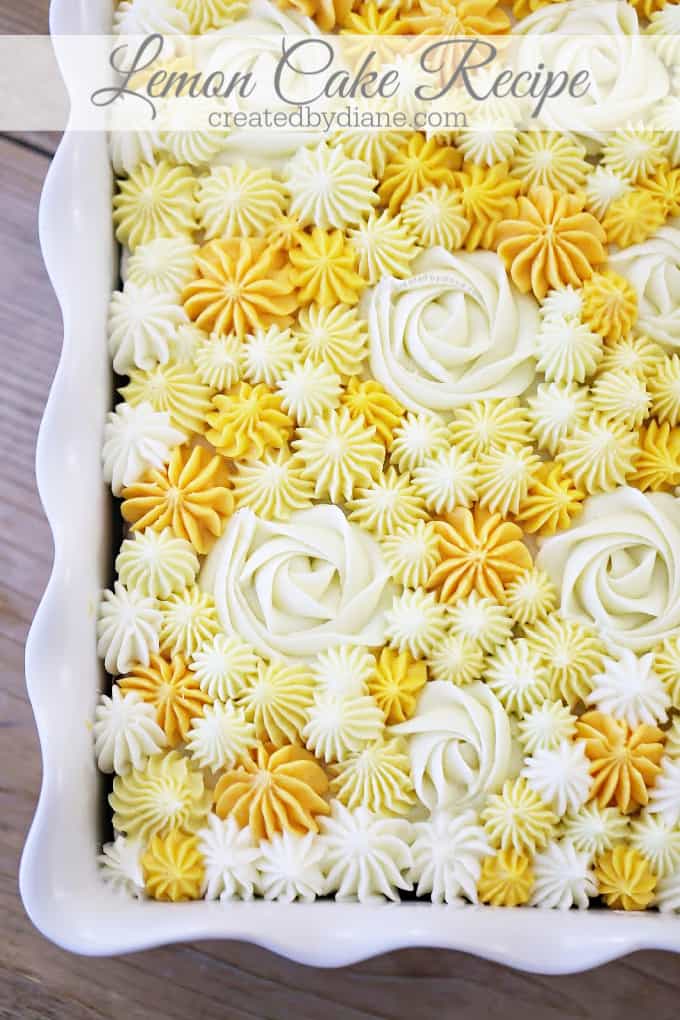 Hello sunshine!
Just looking at this cake makes me happy! As much as I love cozy cold weather and snuggling up with soup and spiced treats, I am ready for some warmer weather.
Spring just feels like a new start, and the bright lemon flavor of this Lemon Sour Cream Sheet Cake accompanies that feeling perfectly.
While Lemon Cake isn't my favorite pairing with coffee, it goes great with tea!
Whether it's a glass of iced tea with lemon in the afternoon or a hot citrusy herbal tea in the evening, add a good book and I'm perfectly content. Treat yourself! You won't regret it.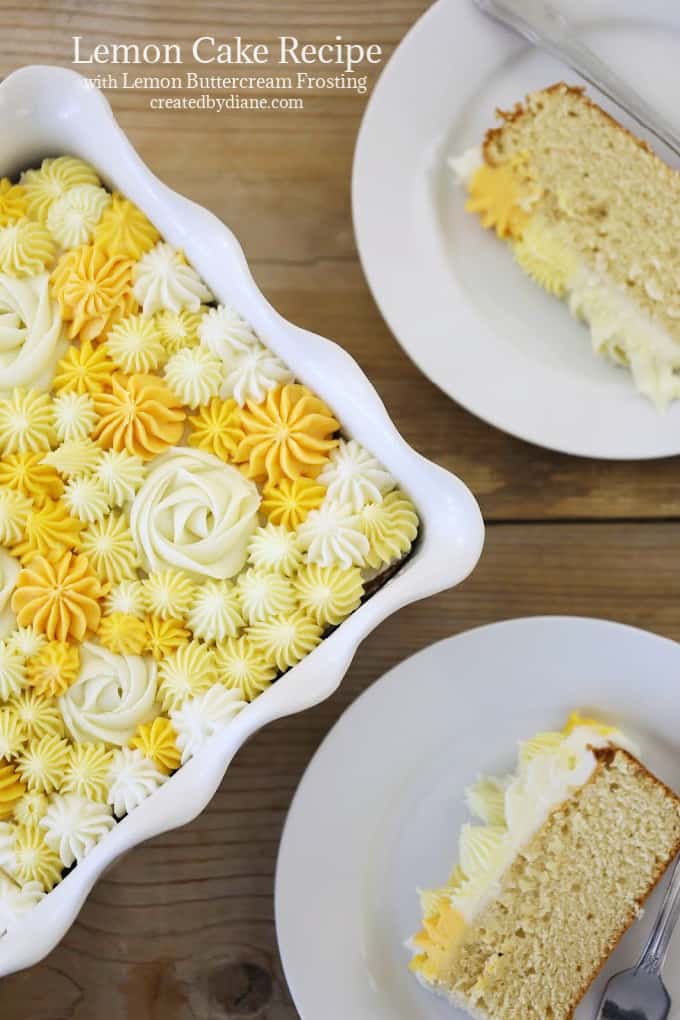 What is the Best Way to Juice a Lemon?
Although you can always just squeeze lemon halves into a measuring glass, inexpensive little juicers can be bought at most grocery stores. For best results, microwave your lemons for 10-30 seconds each, then let cool for about a minute. Roll on the countertop with your hands a few times, cut in half, and squeeze or use your juicer. You get so much more juice that way!
How Many Lemons Do I Need for ½ Cup of Juice?
Typically, 4 medium or 3 large lemons will yield about ½ cup of lemon juice. Meyer lemons will provide more lemon juice that most other lemons. Heat really firm lemons in the microwave for 20 seconds to soften them so they will provide more juice when squeezed.
Can I Use Bottled Lemon Juice Instead of Fresh Lemon Juice for Lemon Cake?
I've always been fond of the phrase, "just because you CAN, doesn't mean you SHOULD," and that applies perfectly here. Yes, you can certainly use the bottled lemon juice you see in the squeeze bottle at the store. However – I do not recommend it. There's no comparison to freshly squeezed lemon juice! Yes, it's a bit more work, but you'll reap the rewards when you taste this cake! If you don't have real lemon juice, go without bottles lemon juice will not give a good result, you'll be better off with a vanilla cake with a little lemon extract if need be, but the lemon juice adds so much to this cake be sure to get some fresh lemons!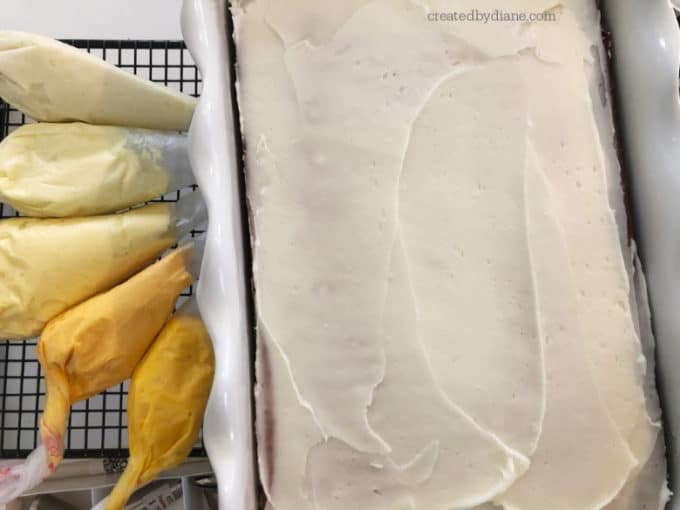 Can I Make a 13×9 Cake Recipe in Round Cake Pans?
While this Lemon Sour Cream Sheet Cake Recipe makes one 13×9 cake, you can also divide into two prepared 8-inch round pans. Keep in mind that you'll have to adjust the baking time (start checking the cakes at 25 minutes) by keeping an eye on them and testing with a toothpick as they begin to look done. The Lemon Cream Cheese frosting will most likely have to be doubled if you plan on frosting it as a layered cake.
What Are Good Toppings for Lemon Sour Cream Sheet Cake? 
Candied lemon slices (or any candied citrus), fresh raspberries, or strawberries would be perfect additions to this cake! Just be sure to wait to add fresh fruit until just before serving. If you're not great at piping frosting onto the cake, spread some frosting on top and add some sprinkles.
How To Store Lemon Sour Cream Sheet Cake
This cake can be stored covered and unfrosted at room temperature for 2 days, or frosted and covered in the refrigerator for up to 4 days.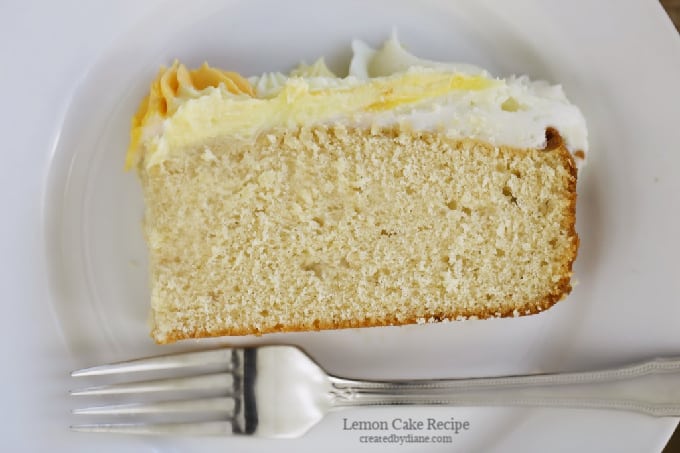 I hope you love this cake as much as I do!
If you're looking for more cake recipes, here are a few we love:

piping tips used for this frosting:
857 darkest yellow (this is the largest tip)
195 light yellow
4B light yellow 
508 very light yellow
2D creamy white


 
Lemon Sour Cream Sheet Cake
Ingredients
1 1/2 cups granulated sugar
1/2 cup brown sugar
4 eggs
2 1/2 cups all-purpose flour
2 1/2 teaspoons baking powder
1/2 cup milk
1/2 cup fresh lemon juice
1/2 cup butter, melted
2 tablespoons oil
1/2 cup sour cream
1 teaspoon vanilla extract
1 teaspoon lemon extract
lemon buttercream frosting
1/2 cup butter, room temperature
4 cups powdered sugar
2 tablespoons lemon juice
1 teaspoon lemon extract
yellow food coloring (I used a couple of shades of yellow and added varying amounts to create similar shades) I used lemon yellow, egg yellow from Americolor Coloring.
Instructions
Preheat oven to 350°
Prepare a 13x9 baking pan with a baking spray or shortening and flour (for easy release).
In the bowl of a mixer beat sugars with eggs until well mixed.
Add in flour and baking powder, as you mix it pour in the milk, lemon juice, melted butter, oil, sour cream, vanilla, lemon extracts and mix them until the cake batter is combined. You'll mix this on low at first then on medium until it's all thoroughly mixed.
Place the cake batter into the prepared pan and bake for 40 minutes or until a toothpick comes out clean.
Allow cake to cool for 15 minutes, you can either let the cake cool completely in the baking pan or turn the cake out onto a cooling rack if you won't be frosting it in the pan.
lemon buttercream frosting
In the bowl of a mixer beat butter until smooth, then add in the powdered sugar, lemon juice, and lemon extract and mix on low until combined, then turn to medium until thoroughly mixed and blended smooth.
Separate the frosting into 5 bowls and tint the frosting the desired colors and place them into separate piping bags fitted with piping tips.
I reserved about a 1/2 cup of frosting to slather over the cake before piping so there wouldn't be any "holes" in between the design of the piping.
Pipe the frosting over the top of the cake into a fun alternating pattern with colors and designs.