This is lemon at it's finest. Delicious lemon cake, filled with lemon pastry cream and topped with lemon cream cheese frosting.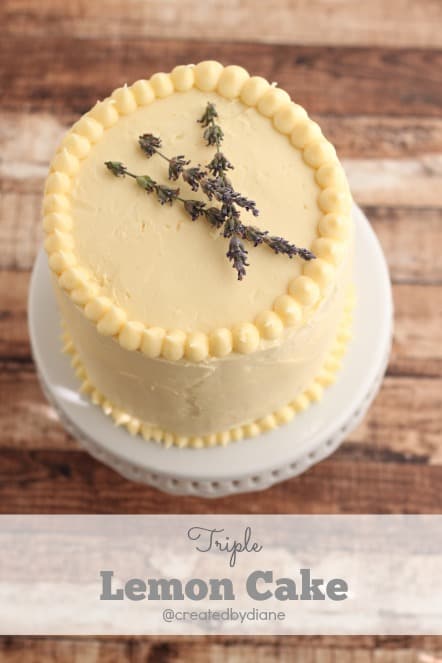 You know the days when life hands you lemons…
First thing is call your mom….that always helps and since my mom brings me lots of lemons off her wonderful lemon trees,
next I make lemonade, because chatting with her and a cold glass of lemonade is sure to be the perfect fix.
That worked for a few years, I tried adding vodka to it but it made it challenging to get on with the rest of my day/life without consequences so early in the day…then I moved onto Lemon Cookies.
I can not tell you how many lemon cookies I've baked.
That is until the teenage years settled in.
Wow, my parents warned me about the teenage years, but apparently NOT enough.
Now the cure all…
is lemon cake and that is not a bad thing at all…..
because…
I LOVE cake.
Between hormones, school work, learning to drive, dating and all the rest of the stuff the teen years bring,
Trust me I needed more than lemonade to deal with it and my solution is LEMON CAKE!
My solution is working well and anyone who stops by gets to have a slice and help me cope with all this FUN!
But I still call my mom and with Mother's Day around the corner, I think I'll be making her one of these, after all it's the least I could do considering she made it through the teenage years with me!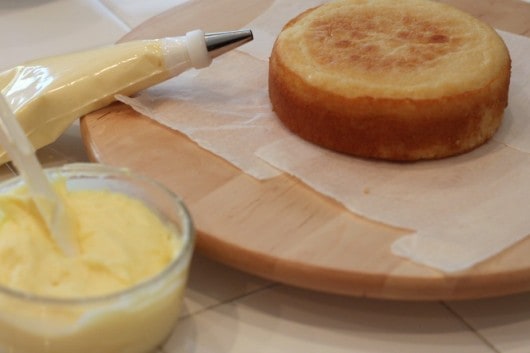 To layer and decorate a cake, I use a lazy-susan, I place wax paper pieces under the cake so I can remove them easily when I'm finished decorating.
I have my piping bag filled with frosting and a  round tip to pipe the frosting along the outside so that the filling won't seep out the edges of the cakes.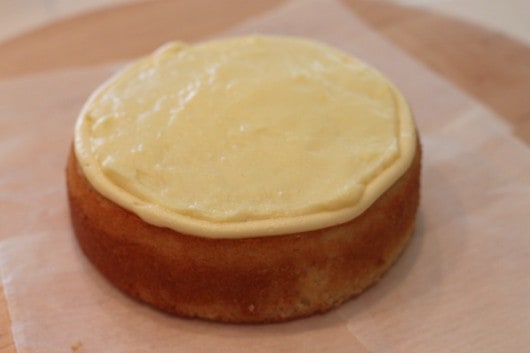 having the frosting and the filling the same color makes for a seamless look when the cake is sliced. I added a little bit of coloring to the lemon cream cheese frosting to match the lemon filling color.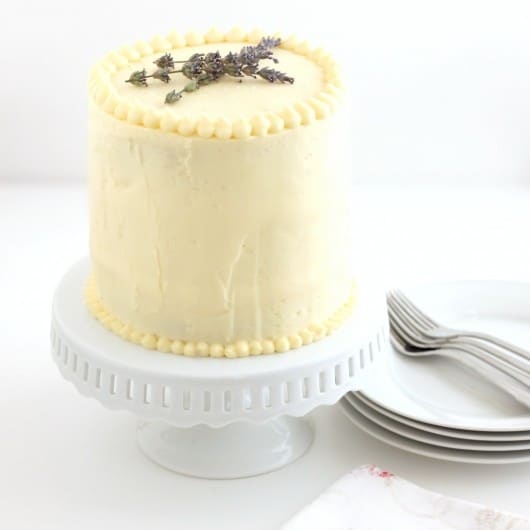 As I slowly turn the lazy-susan I smoothen the frosting with a large offset spatula and then piped dots with the same piping bag I used to make a damn for the filling on the top and bottom edge of the cake. I like the simplicity of the cake but wanted to add something pretty on top,
so I went to my yard to check out what flowers I could use…lavender was the perfect option it looks pretty without worrying about it wilting and the contrast of the lavender and yellow is the perfect combo I think. I love lavender. I've made Lavender Lemonade, Lavender Scones and Chocolate Lavender Cookies.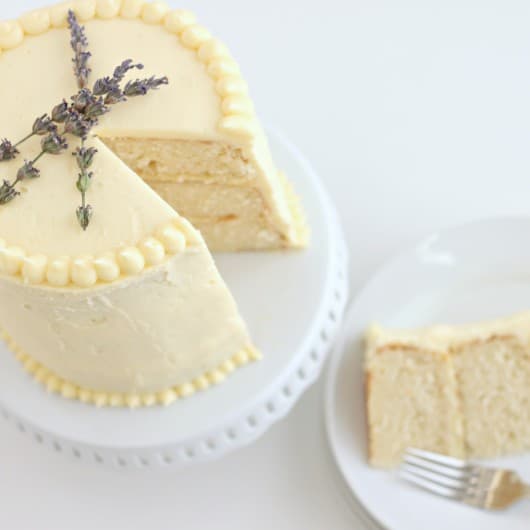 Cut a BIG piece and enjoy!
I baked the cake in 3-6″ pans, the batter will fit into 2-9″ round pans, or a 13×9 pan if you prefer to bake it in different sized pans the timing will need to be adjusted, be sure to check to see how it's baking and add time from there, the larger than pan the longer the cake will take, but of course you don't want to overbake and dry it out.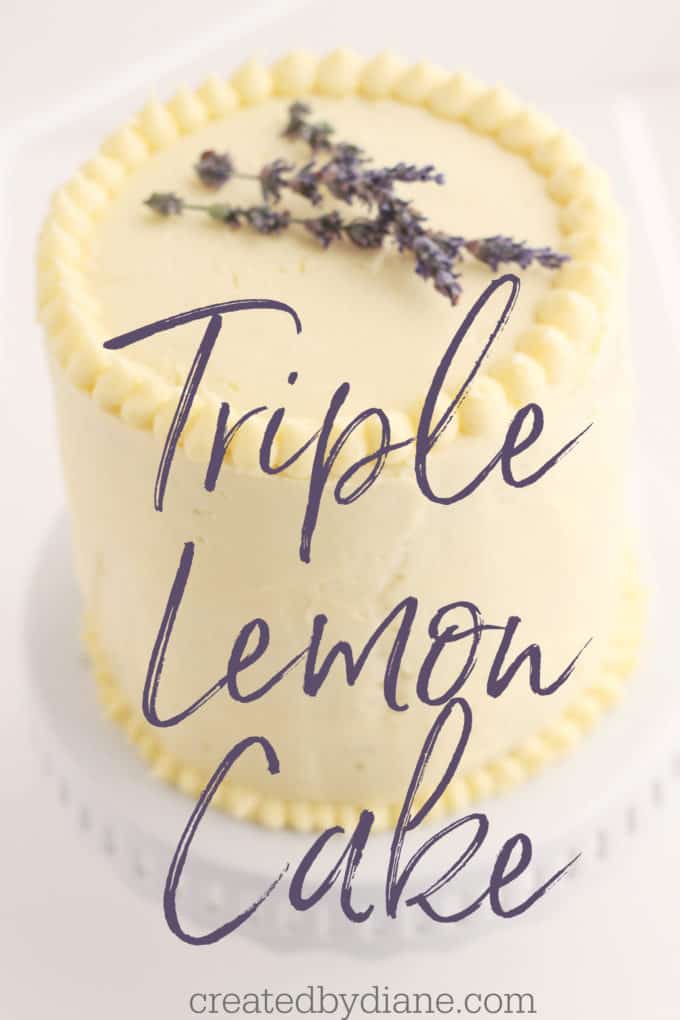 Triple Lemon Cake
Ingredients
2 1/4 cups flour
1 1/2 cups sugar
3 1/2 teaspoons baking power
1 teaspoon salt
1 1/4 cups milk
2 tablespoons oil
1/2 cup butter (softened)
1 tablespoon lemon baking emulsion (or lemon extract)
1 tablespoon fresh lemon juice
3 eggs
Instructions
place parchment paper in the bottom of 3 round 6" cake pans and spray with a nonstick baking spray.
Preheat oven to 350 degrees.
In large mixer bowl blend flour, sugar, baking powder, salt together.
Place milk, oil, butter, lemon extract and lemon juice in a bowl, mix throughly.
Pot wet mixture into dry mixture,
Mix on medium speed, scrape down sides of the bowl and mix for another minute.
Add in eggs, and continue beating 2 more minutes.
Portion out the batter evenly into the cake pans.
Bake for 20 minutes or until toothpick comes out clean.
Cool for 10 minutes then turn out onto a cooling rack.
Lemon Pastry Cream
Ingredients
4 egg yolks
1/2 cup sugar
1/4 cup cornstarch
1/4 teaspoon salt
2 cups whole milk (separated 1/2 cup and 1 1/2 cups)
4 tablespoons unsalted butter
2 teaspoons lemon baking emulsion (or lemon extract)
Instructions
In a medium bowl, mix sugar, cornstarch and salt together, then add to it 1/2 cup milk and whisk smooth.
In a small bowl mix egg yolks, then add them to the mixture and blend until creamy.
In a small sauce pan, heat the remaining milk to a simmer. (small bubbles around edge, not a full boil)
Slowly pour the heated milk into the egg mixture while whisking constantly. Allowing the egg mixture to slowly heat to temper the eggs so they don't scramble.
Place the mixture into the saucepan and heat on medium low heat whisking until it comes to a boil and is smooth and creamy. This takes about 5 minute.
Remove pan from heat, stir in butter and lemon emulsion.
Place pastry cream into a bowl and cover with plastic wrap, allow it to cool 15 minutes, then put it into the refrigerator to chill
Lemon Cream Cheese Frosting
Ingredients
1 8oz. package cream cheese (room temperature)
1 cup butter (room temperature)
6 cups powdered sugar
2 tablespoons heavy cream (or milk)
2 teaspoons lemon baking emulsion (or lemon extract)
2-3 drops egg yellow coloring
Instructions
beat cream cheese in mixer until smooth, add in butter and mix for 3 minutes until it's smooth and creamy and well blended, add powdered sugar, heavy cream and lemon along with yellow coloring.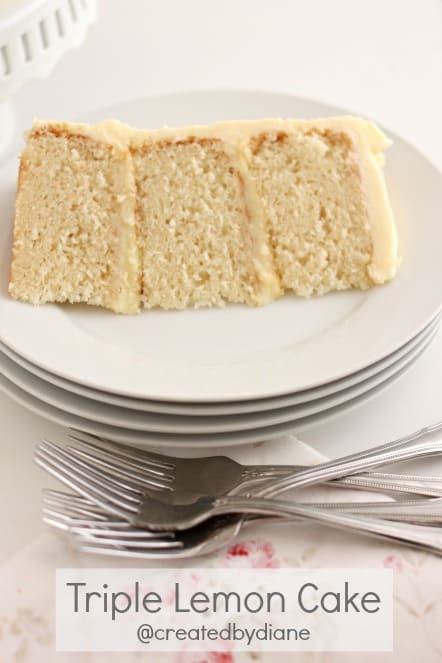 This is the perfect cake for Mother's Day and here are a whole bunch of recipes that will help you plan out your day….even if you end up making them for yourself, or send the recipe to the person you hope will make it for you!
Stop on by to see what great recipes my blogging friends have in store for you for this Mother's Day Holiday Food Party:
1. Coconut Cupcakes from That Skinny Chick Can Bake
2. German Apple Cake from Magnolia Days
3. Baked Lemon Pasta with Broccoli and Shrimp from What Smells So Good
4. Cinnamon Pear Cake from Roxana's Home Baking
5. Strawberry Whiskey Sour from Girl in the Little Red Kitchen
6. Huevos Rancheros from Crumb Blog
7. Triple Lemon Cake from Created by Diane
8. Banana Chocolate Chip Bread from Chocolate Moosey
9. Lemon Thyme Shortbread from Jen's Favorite Cookies
10. Pineapple Coconut Sweet Rolls from Pineapple and Coconut
11. Caramilk Stuffed No-Knead Brioche from Gotta Get Baked
12. Mom's World Famous Sponge Cake from Hungry Couple NYC
13. Brown Butter Pecan Fudge Ripple No-Churn Ice Cream from Cupcakes and Kale Chips