If you like chocolate this cake is just for you! This is a deliciously moist chocolate 3 layer cake with whipped chocolate pudding frosting. You can add coffee and cinnamon if desired. Either way… it's really delicious.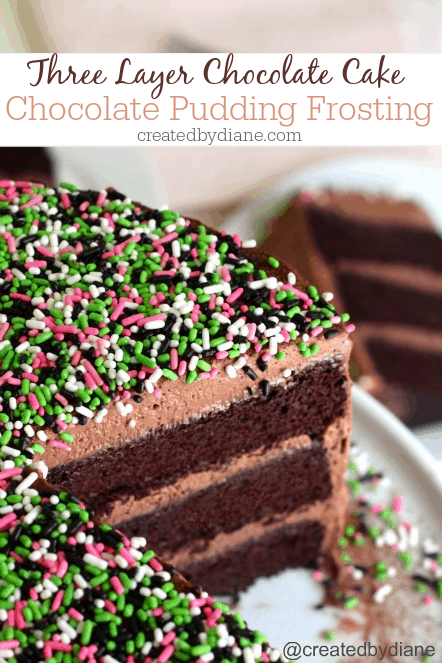 To easily decorate the cake, I just poured some sprinkles on top,
sprinkles are just to pretty to ignore.
I love ice cream with sprinkles too, but no need to stop there…
cakes and cupcakes are just the perfect items to use sprinkles on too.
Choose any color you like, here is a combination of green, white, pink, and brown… so pretty!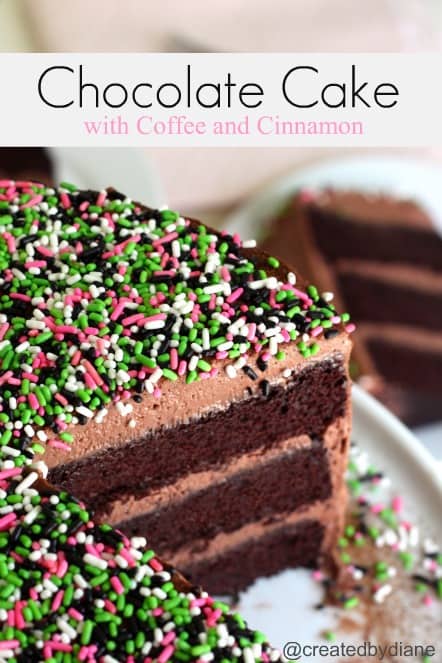 You can use boiled water or coffee in the cake to enhance the chocolate flavor. Add in some cinnamon or leave it out if you prefer… 
I've made it both ways and OMG so yummy no matter how you slice it!
Coffee and Cinnamon are right smack in the middle of this chocolate cake and believe me that is exactly where they belong!
I took my favorite chocolate cake recipe that my mom has made me for so many birthdays, it's hard to keep track.
The addition of coffee and cinnamon will now be a permanent addition to this amazing chocolate cake recipe I've been making for years.
Can I bake this in another pan?
Yes, you can use a 14″ round cake pan
or a 13×9 pan but it'll be pretty full… maybe don't fill it so high and bakes some in a smaller pan if needed.
24 cupcakes can also be made.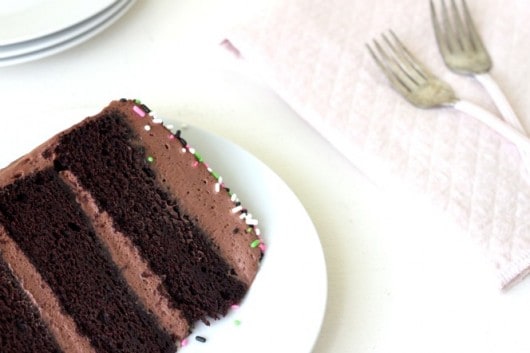 The frosting on this cake is light and creamy and one of my favorites. It's whipped cream, with the addition of instant pudding mix and some milk to make it creamy and smooth.
I recall my mom making this frosting on cakes since I was a kid. My family loves it.
To me, this is the perfect cake.
Rich and delicious, but you are able to slice a BIG piece and enjoy it!
Chocolate Cake with Coffee and Cinnamon
a rich delicious chocolate cake, perfect for every occasion, the frosting is a whipped pudding frosting that is light and delicious without being sugary sweet like buttercream
Author:
Diane Schmidt Created by Diane
Recipe type:
cake, dessert, chocolate
Ingredients
1 cup unsweetened cocoa
2 cups boiling water or coffee
2 3/4 cups sifted flour
2 tsp. baking soda
1/2 tsp. salt
1/2 tsp. baking powder
1 cup butter
2 1/2 cups sugar
4 eggs
1 tsp. vanilla extract
2 teaspoons cinnamon
4 teaspoons instant coffee (you can omit this is using coffee above)
Chocolate Pudding Frosting
2 3.4 oz boxes chocolate instant pudding
16 oz. heavy cream
16 oz. milk
topping
1 teaspoon cinnamon
1 teaspoon instant coffee
sprinkles
Instructions
Preheat oven 350 degrees
(you'll be using 3 bowls, one with the mixer, and 2 smaller bowls)
In a small/medium bowl combine cocoa with water mixing with wire whisk until smooth.
Cool completely.
In another small/medium bowl whisk flour with baking soda, salt, and baking powder so there are no lumps.
In a large bowl of a mixer, beat on high the butter and sugar.
Add in the eggs, and vanilla, cinnamon, and instant coffee (if using) until light and whipped about 5 minutes.
On low-speed mix in flour mixture and cocoa mixture.
Do not overbeat.
Prepare 3 8" baking pans with parchment on the bottom and baking spray on the sides for easy removal of cake after it's baked.
Divide the batter evenly in the 3 pans.
Bake for 25-30 minutes or until a toothpick comes out clean.
Cool cake in the pan, then turn the cake out on a cooling rack to be sure they are completely cooled. I refrigerate my cake so it's cold when the frosting goes on. A couple of hours or overnight.
Prepare frosting right before you are ready to use it.
Whip cream, milk, and pudding on high until fluffy.
Place about 1 cup of frosting in between the layers of cake and smooth it out with a spatula.
Place the remaining frosting on the top and sides of the cake and smooth nicely.
Dust top with cinnamon and coffee through a sifter. Then add sprinkles before icing sets up.
Place cake in the refrigerator to set up. Remove cake 30 minutes before serving so it's easy to slice and not too cold.