Get ready for a sheet pan of deliciousness!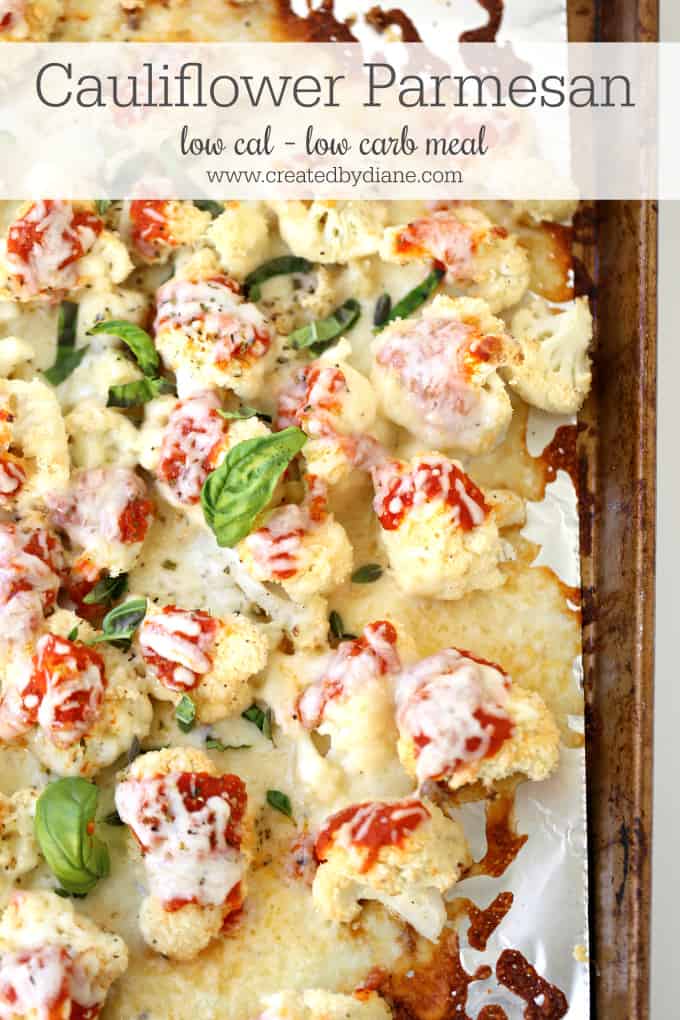 This is an easy sheet pan dinner I've made a few times with RAVE reviews,
now it is actually a vegetarian dish..
and it "tastes like chicken" was some of the comments that were made when given to the non-vegetarian eaters… which is fun, I don't avoid chicken but it was funny how the texture and taste were familiar and similar to chicken.
Sometimes naming dishes doesn't go as planned, there is more mozzarella cheese in this than parmesan, but it reminds me so much of chicken parmesan that it's kind of a play on words as well as the perfect title.
I coated the cauliflower with some egg white then covered them with almond flour.
The almond flour toasts up so nicely it gives the cauliflower a great texture.
If you like sauce and cheese like I do you may like these great meals too:

I love how quick and easy this is, and it tastes so yummy!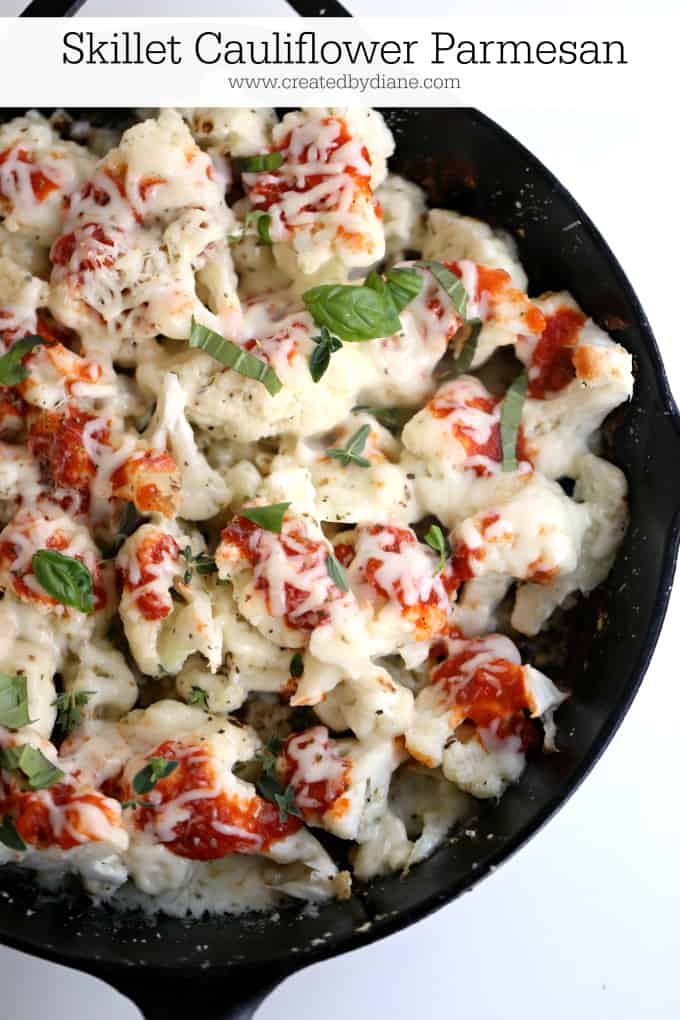 I've made it in a skillet too, but prefer the texture of the cauliflower in the oven better, but if you want to make it in a skillet that is certainly a good option, you can use less almond flour for the photo above I omitted the egg white and just sprinkled on 2 tablespoons of almond flour, this cut the calories and made it a simple dish that took under 10 minutes to make, I added a little water and placed a lid on top to help make the cauliflower cook faster, then added the sauce and cheese and added the lid until the cheese melted.
Cauliflower Parmesan
Ingredients
1 head of cauliflower cut apart
2 egg whites
2 tablespoons water
1 1/2 cups almond flour
1 cup tomato sauce
1 cup mozzarella cheese
1/3 cup parmesan cheese
Instructions
Line a sheet pan with non-stick foil.
In a medium bowl coat cauliflower pieces with egg white,
then pour on the almond flour, add one cup and coat, then add more if needed.
Place the coated cauliflower on the lined baking sheet.
Bake at 425° for 10 minutes or until the coating starts to get golden.
Turn the cauliflower over and add some sauce to each piece of cauliflower with a spoon.
Cook for 5 more minutes so the sauce gets heated well and the cauliflower continues to cook.
Top with mozzarella and parmesan cheese and bake until the cheese is all melted about 5 more minutes.
This dish is great served immediately and reheats well if you have any leftovers.